Kate Middleton looked ever stylish as she stepped out in Cardiff on Tuesday.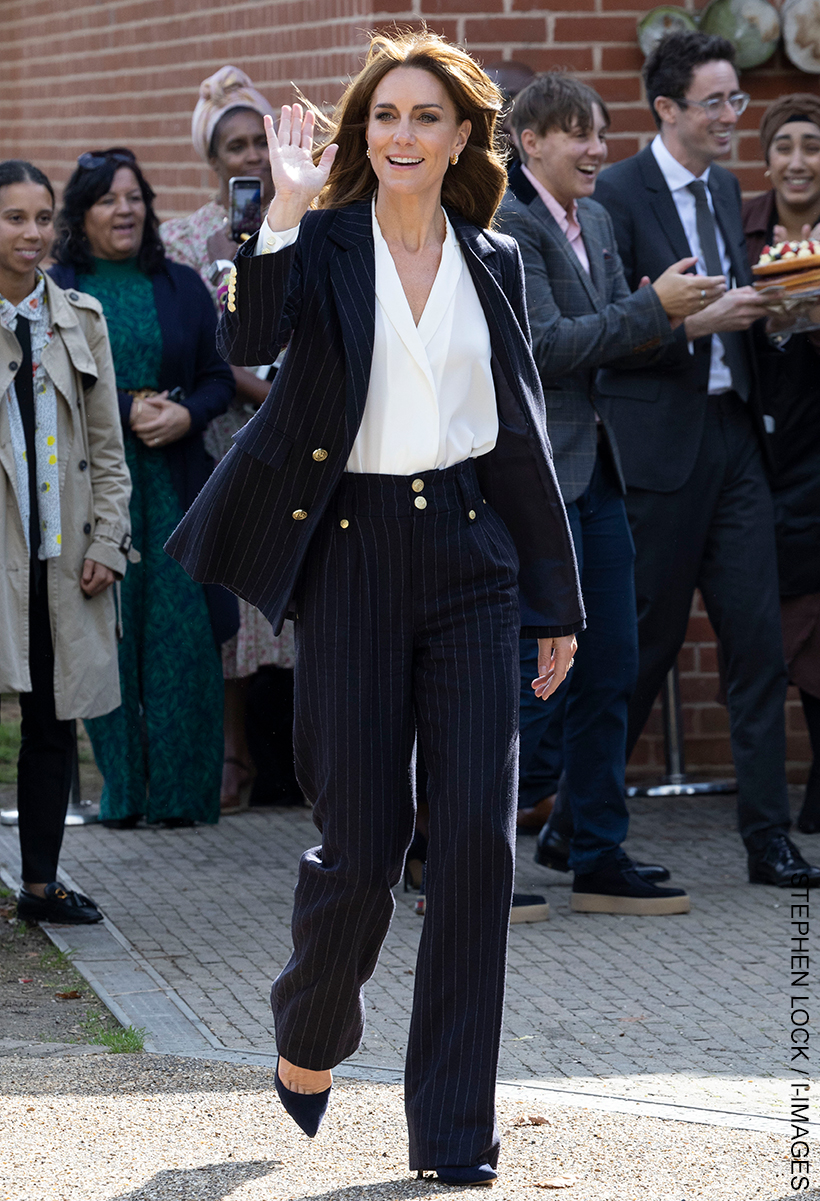 Does her navy pinstripe suit feel familiar? That might be because she only wore it a few days prior to meet Apple CEO Tim Cook. The blazer and trousers are from Holland Cooper.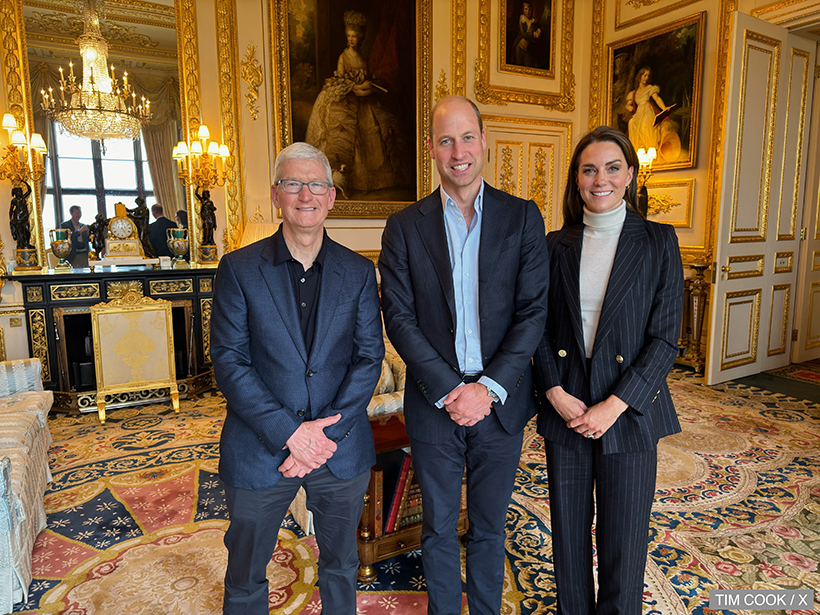 The Prince and Princess were in Cardiff for a belated celebration of the 75th anniversary of the arrival of the HMT Empire Windrush, and to mark the start of Black History Month, which runs throughout October in the UK.
Windrush Day, observed on 22nd June, commemorates the Windrush Generation, individuals who moved from the Caribbean to Britain between 1948 and 1971. This day is a nod to the SS Empire Windrush, which brought the first group of postwar immigrants to the UK on 22nd June 1948. It's a day to appreciate the significant contributions made by the Caribbean community to British society over the years.
The momentum for a dedicated commemoration day picked up following the Windrush scandal in 2018, where wrongful detentions and deportations of Caribbean individuals occurred due to lack of proper documentation, which was not initially provided to them upon their arrival in the UK.
Earlier this year, William awarded Professor Uzo Iwobi—the founder of Race Council Cymru—with an CBE. On the day he made a promise that he'd visit Cardiff and meet with Windrush elders.
Sticking to his word, the Prince and Princess headed to Grange Pavilion in Grangetown, Cardiff. Grange Pavilion is a revamped community centre that used to be an empty bowls pavilion.
The community centre now boasts a café and offers employment and training opportunities for locals. It has also become a key meeting place for the Windrush Cymru Elders, Black History Cymru 365 and the the Ethnic Minority Youth Forum—three groups William and Kate engaged with during their visit.
The Windrush Cymru Elders is a group of 50+ elders who promote understanding of ethnic minority elders concerns, needs whilst celebrating key milestones and marking the contributions of people of African descent.
The group meets weekly in Cardiff to enjoy each other's company and take part in creative activities in and around Wales.
The Prince and Princess heard about the lived experiences of the elders, and the incredible impact the Windrush generation has had in Wales.
The pair also spent time with the Ethnic Minority Youth Forum, a youth advisory panel for Race Council Cymru. The group gives young people the opportunities to express their issues and contribute their ideas to achieve a positive change in Wales.
(For my readers outside of the UK, I should probably point out that Cymru is the Welsh word for Wales!)
The Prince and Princess also met local young people from the Somali community which forms a large portion of Grangetown.
The pair spent time with members of Wales Somaliland Youth Links and Cardiff Bay Warriors FC and heard about the community projects they have been involved in – from football to youth unemployment and building friendships between the young people in Cardiff and Somaliland.
After, the couple visited Fitzalan High School to discuss its inclusive curriculum and the educational initiatives centred around the Windrush generation.
Fitzalan High School serves one of the most diverse and disadvantaged communities in Wales and in September 2023 they opened a new school building with a range of state-of-the-art facilities to help pupils achieve their highest potential. A number of pupils in the school are also direct relatives of the Windrush Cymru Elders and are from a variety of cultural backgrounds with 70% of pupils speaking English as a second language.
During the visit, William and Kate interacted with sixth form pupils, explored a gardening project, delved into local Windrush Generation history, and admired a new entrance gate embodying the school's ethos, crafted in collaboration with designer Lara Sparey and the pupils.
This isn't the first time Kate has marked Windrush Day. In June last year, She visited Brixton House in London to meet with young creatives from the British Caribbean community. The visit culminated in the unveiling of the National Windrush Monument at Waterloo Station, a permanent tribute to the generation's contributions to British history.
Let's move on to the fashion portion of the blog post now.
Kate's outfit in Cardiff:
I know some of my regular readers will have sighed when they saw the photos of Kate in Cardiff—not only is she wearing YET ANOTHER suit, but one that she already donned mere days ago. (And I know some of you weren't so keen on the tailoring of the suit, either!)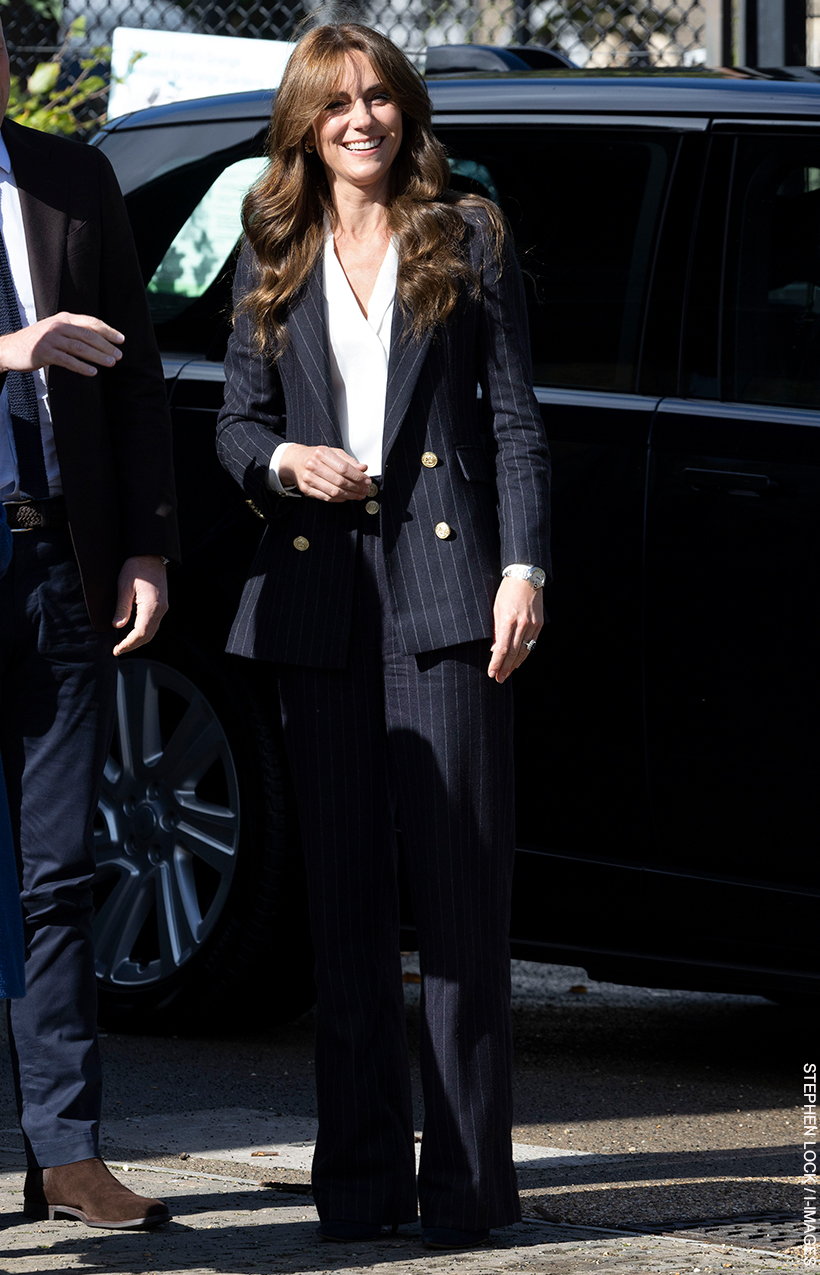 Kate's really learning into a shaper, professional look at the moment. She's worn suits and blazers non-stop since her return from the summer hiatus. Pretty much exclusively. In September, we saw the Princess wear 11 different outfits in public. Out of these 11 outfits, 9 outfits were suits or blazers-tailored trouser combos (some shown below).
Kate wore a lot of suits/blazers earlier this year, and last year too, but the pattern has become really noticeable in this last month or so.
For those who missed last week's post, Kate's pinstripe suit in Cardiff is from Holland Cooper. Kate wears a double breasted-blazer and matching high-waisted straight-legged trouser, both in navy blue with a chalk white pinstripe: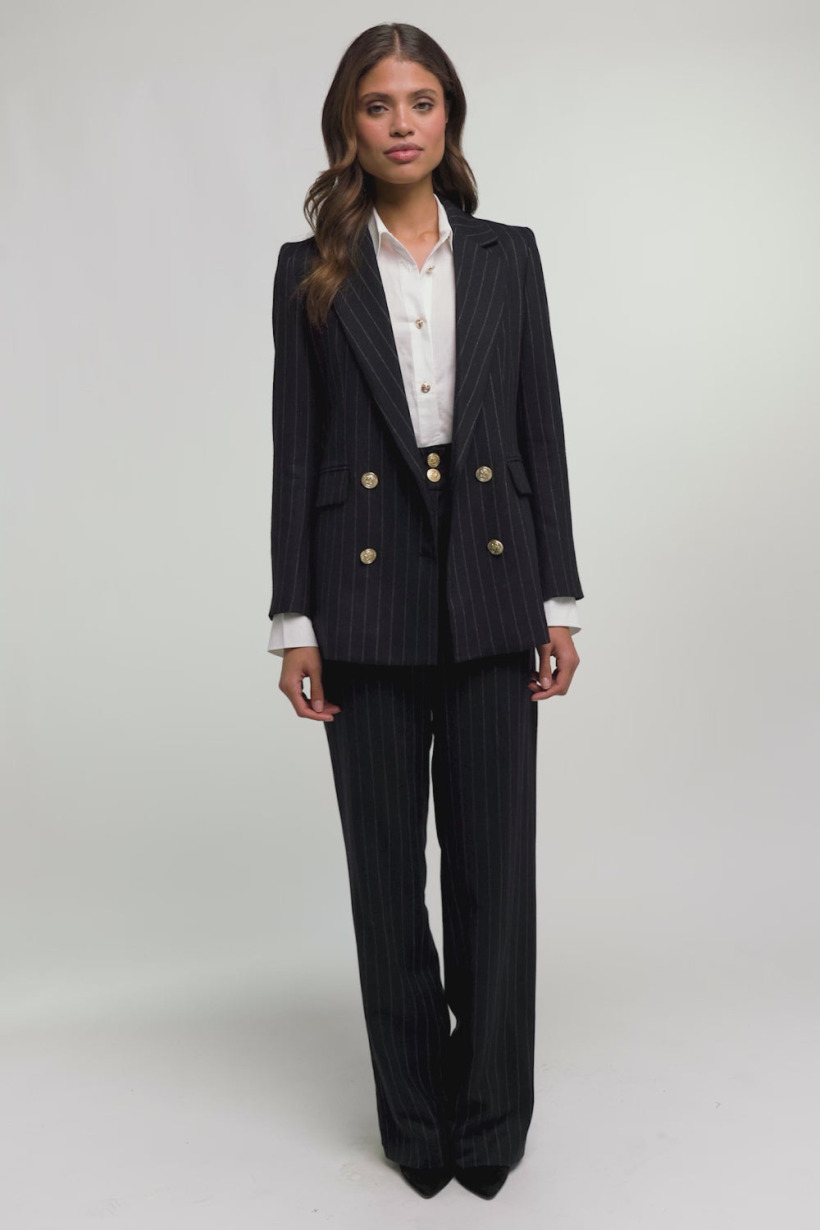 I'm going to copy and paste the blurb in from my other post now—work smarter not harder, that's what I say:
The blazer is crafted in the UK and designed to sculpt a sharp silhouette. It features a classic pinstripe pattern, bold lapels, subtle hip pockets, and is adorned with signature gold hardware by Holland Cooper. It is also fully lined with a luxury stretch lining for added comfort.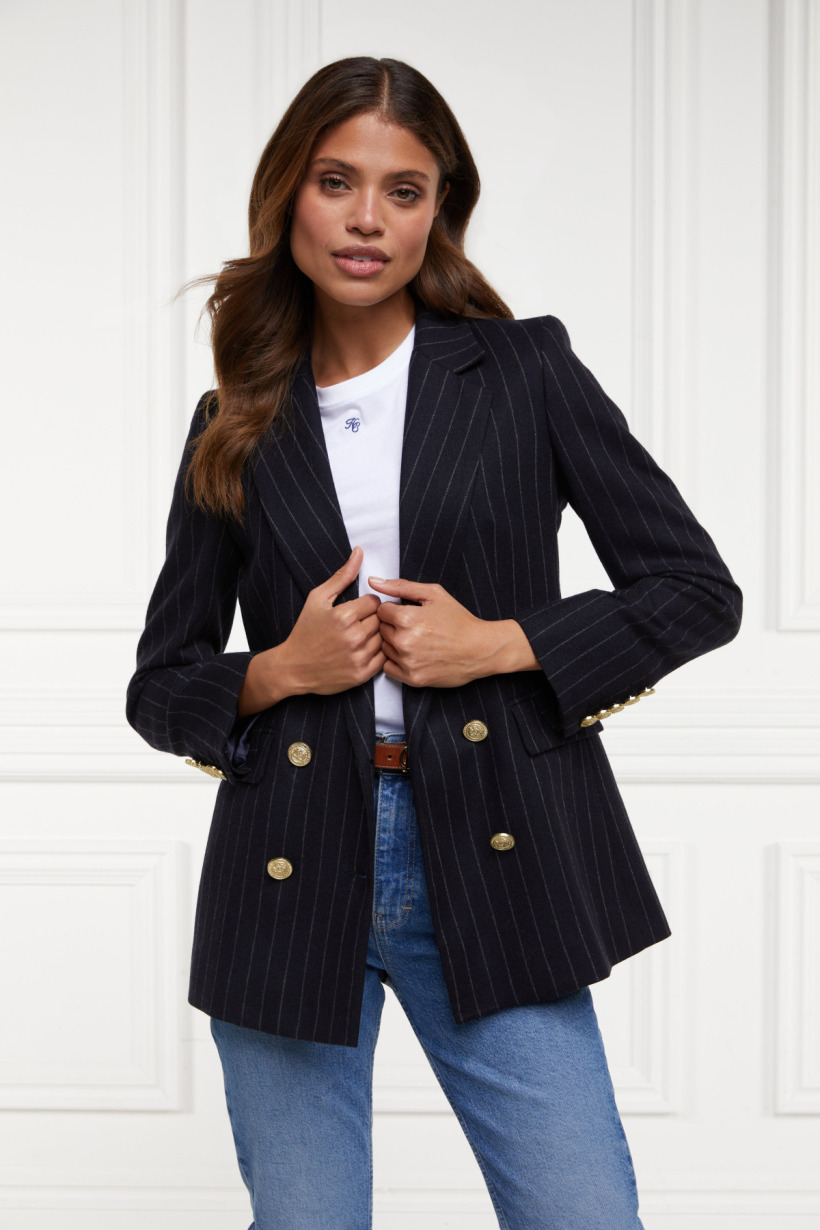 The blazer is still available to buy and costs £549.00. Each piece is custom made to order, so expect a delivery window of 14 to 28 working days.
The matching trousers are crafted from a luxurious wool blend. They're UK-made too, and feature a wide waistband, two large side pockets, and iconic gold hardware detailing. They offer a flattering fit with a straight-leg design and a high-rise waist.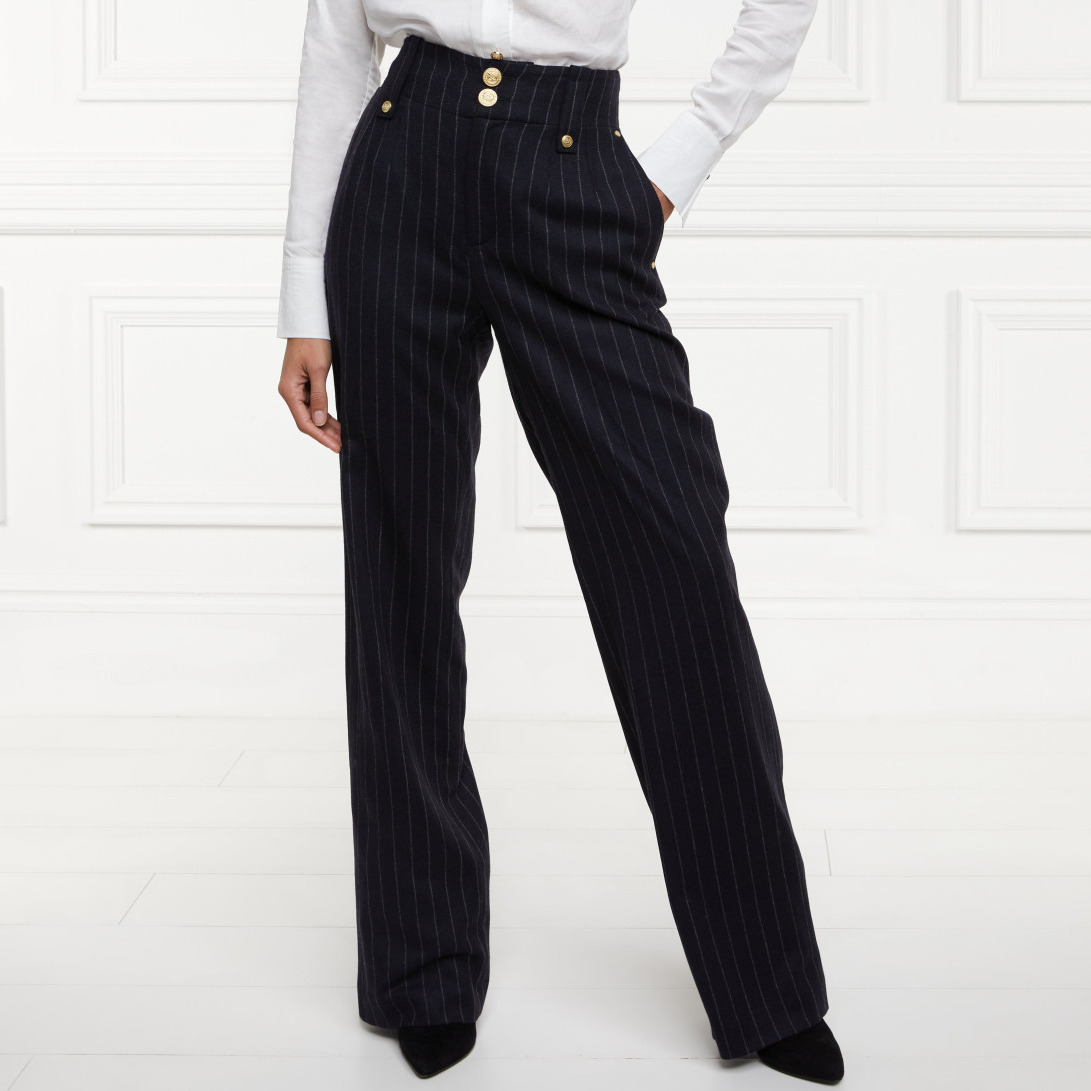 Available for purchase on Holland Cooper's website, they come in sizes 6-16 and are priced at £249.00. Estimated delivery time: 3-5 working days (they're not made to order).
Under, Kate wore a white shirt bodysuit under her suit—another Holland Cooper piece.
Holland Cooper calls the garment a "stunning lightweight shirt bodysuit" that was "designed with a day to night concept in mind". It's finished with Holland Cooper's signature branded gold buttons on the cuffs and shoulders.
Thanks to our nylon elastane thong base, made with our superior knitting technique this ensures our bodies have a flawlessly smooth fit every time. This piece creates the impression of a seamlessly tucked-in blouse. With an inverted dart back pleat, this well designed shape creates for a flattering silhouette.

Holland Cooper
Priced at £149.00, the shirt bodysuit remains available to buy today in sizes S-M-L.
Kate's worn the bodysuit a handful of times since its debut in 2021.
Kate's quite the fan of the Holland Cooper brand, she has added several items to her wardrobe in recent years. I assume she likes the company's classic-meets-contemporary British aesthetic, and that the garments are made here in the UK.
Neither Kate's shoes nor earrings were new.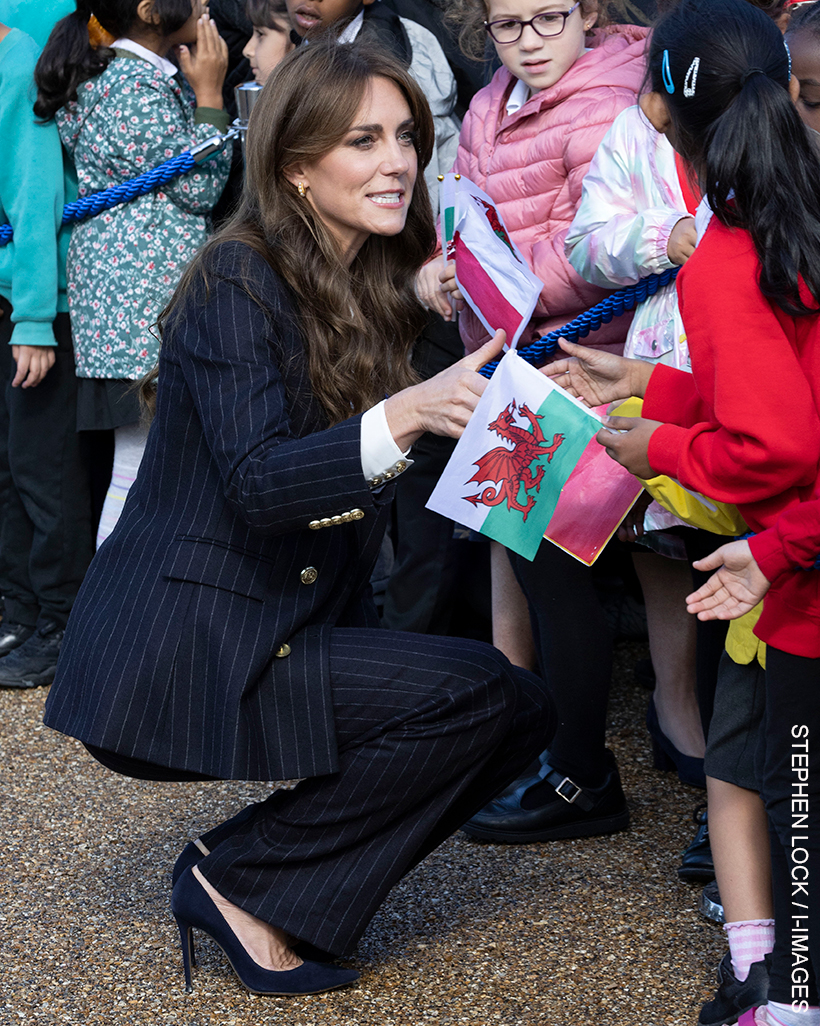 The Princess wore her Gianvito Rossi 105 pumps in navy. The sleek midnight blue suede shoes feature a pointed toe. The 105 part of the name comes from the heel height, which measures in at 105mm.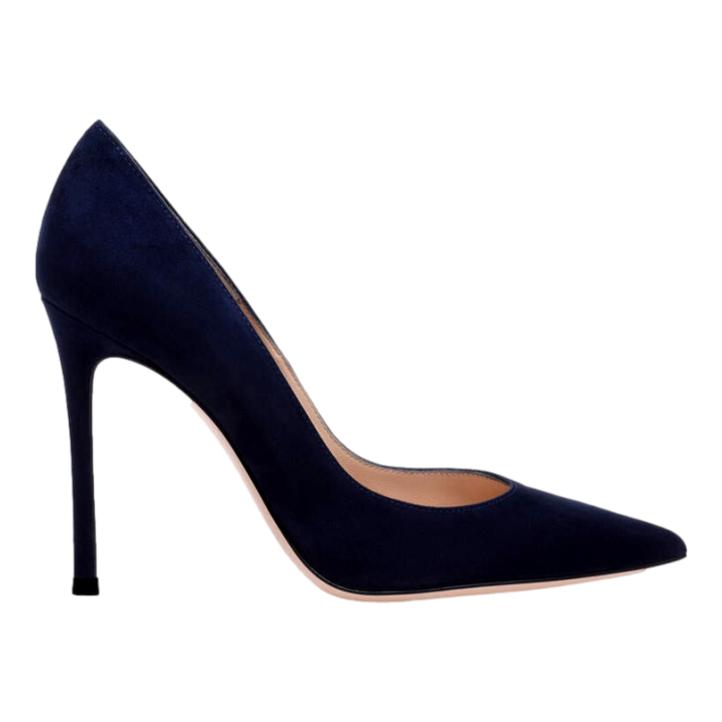 Hand-finished in the label's Italian factory, these smooth suede pumps boast a cushioned leather footbed for ultimate comfort.
For anybody wanting to step up their shoe game, you'll be pleased to know they're available to buy. Find them at Farfetch and MyTheresa.
Kate debuted the blue heels during a previous visit to Cardiff, during the Jubilee weekend in 2022. This is the ninth time we've seen her wear the the blue heels in public.
Longtime readers will know Kate LOVES Gianvito Rossi. She owns the 105 pumps in eight other colours and a further 11 pairs of the designer's shoes, sandals and boots too. Gianvito Rossi is the brand Kate's most loyal to when it comes to designer heels.
Gianvito Rossi inherited the finesse of shoemaking from his father, the renowned shoe designer Sergio Rossi. Gianvito has since carved his own niche in the fashion industry, launching his eponymous label in 2006. Today, the designer's known for his feminine, sophisticated, and modern aesthetics. His commitment to blending refined elegance with a contemporary touch has earned him a distinguished spot in the realm of luxury footwear.
Let's finish up by looking at Kate's gold and pearl earrings. They're from Shyla London. The Rosalia style. (Shown below last week.)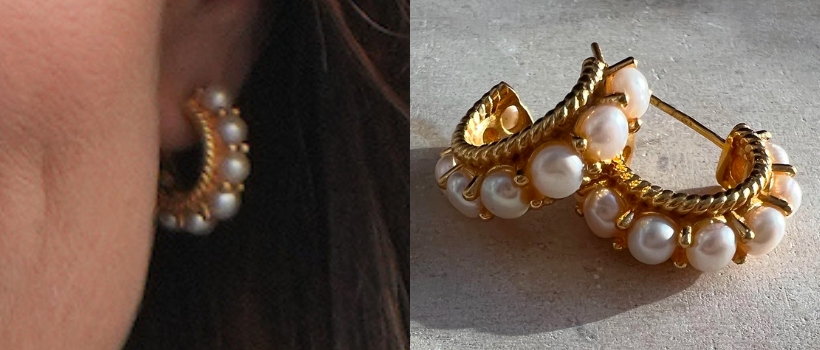 They feature circular freshwater pearls set in 22 carat gold on sterling silver. They cost £68 and can be purchased from the brand's website, shylajewellery.com.
Kate debuted the earrings during a visit to Leeds last week. This is the second time we've seen her wear the style to date.
Kate has two other pairs of Shyla London earrings in her jewellery box: the Biarritz Squiggle hoops and the Chunky Knot Baroque Pearl Drops, both debuted in 2022.
Shyla London offers timeless jewellery designed for today's conscious consumer. Founded by Alice Blofeld in London, the brand champions sustainability through its use of recycled metals and natural stones. But it's more than eco-friendly—it's a brand with a mission. Shyla not only fills the fashion gap for affordable, high-quality jewellery but also actively uplifts women, partnering with charities to educate impoverished women in India.
Liked this outfit? Tired of suits? Just happy to see Kate out and about? Let me know your thoughts in the comment section below!