On the 14th of September 2012, the Duchess of Cambridge (Kate Middleton) wore Beulah London's Sabitri silk dress in light blue during a visit to the As Syakirin Mosque in Kuala Lumpur City Centre, Malaysia. The visit took place during the 2012 Diamond Jubilee Royal Tour.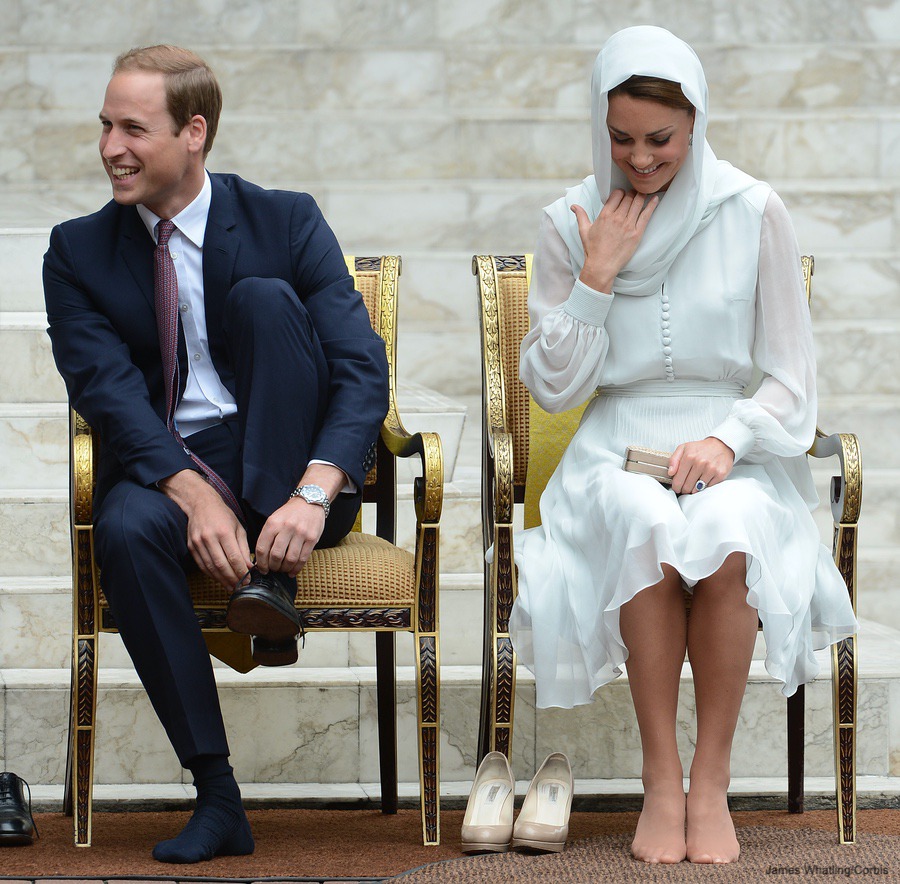 About the Beulah Sabitri dress:
The pale blue dress features covered buttons and a knee-length sweeping skirt. It features long cuffed sleeves and a tie belt to cinch the waist. It's made from 100% silk georgette fabric.
Buying the dress:
Although the Duchess first wore the Beulah Sabitri dress eight years ago, you can still order it from the company today. 
Each dress is made-to-order in London and costs £1,450. Delivery is free but takes up to six weeks.
Sadly, the pale blue colour worn by Kate is not available to order, but you can choose from nine other beautiful shades.
Kate and Beulah London:
Kate regularly wears clothing from Beulah London.  She owns dresses, coats and scarves from the brand: 
Above: Kate wearing the red Sarai dress to the 100 Women In Hedge Funds Gala in 2011; Kate wearing the olive green Yahvi dress to meet the finalists of the 2019 Tusk Conservation Awards; Kate holding the company's Blue Heart Clutch, she's carried it regularly since 2017; Kate wearing Beulah's Calla Rose-Red dress during the Mental Health Minute campaign in May 2020.
About Beulah London:
Beulah London sells ethically-produced luxury clothing. The company is owned by William and Kate's friend, Lady Natasha Rufus Isaacs.  Prince William has known Lady Natasha since they were children as their fathers are close friends.
Lady Natasha and co-owner Lavinia Brennan are committed to raising awareness for human trafficking and sex trade in Delhi. Their ethical fashion label helps to provide a sustainable livelihood for those who have come out of sex trafficking. Every purchase you make from Beulah London "helps to break the chains of poverty in some of the world's most marginalised communities".
Beulah London donates 10% of their profits to projects that empower women around the world.