Kate Middleton owns the Victoria Beckham Quincy Bag in White.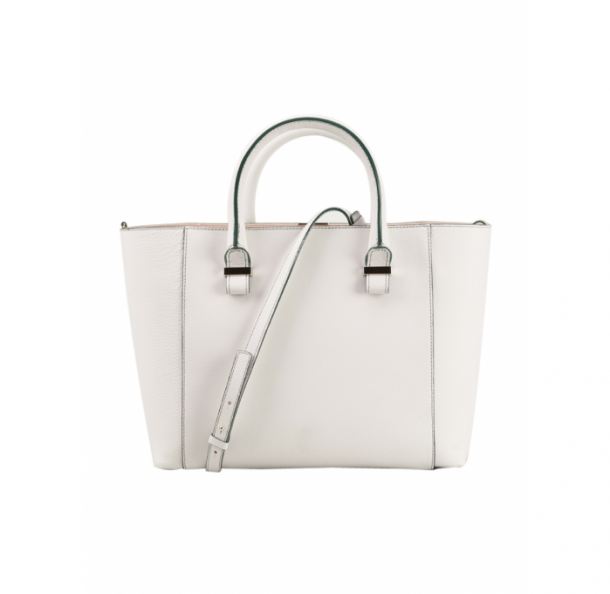 Kate's carried the tote bag on at least five occasions in public to date. She debuted the bag in July 2016, at Wimbledon women's semi-finals.  
Most recently, Kate was spotted with bag during a visit to Bath in May 2023. She carried the bag in a video shared by Kensington Palace.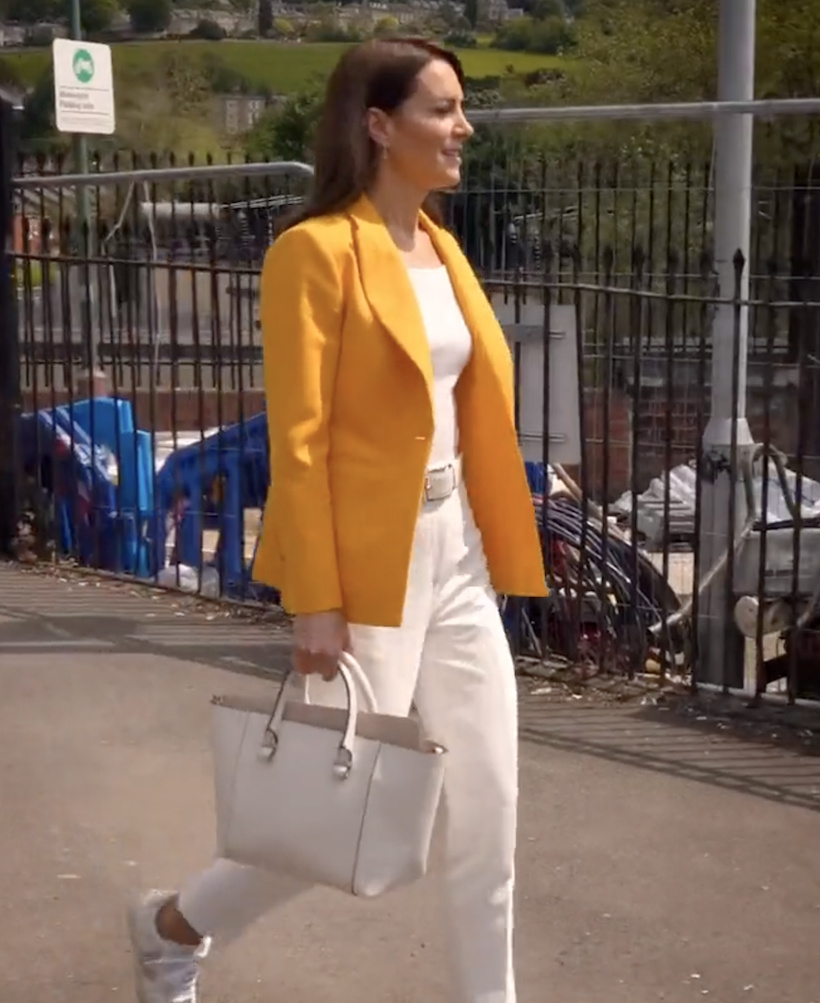 About the Victoria Beckham Quincy bag:
The chic tote handbag came in many colours, but Kate carries it in a crisp white hue.
The bag features a structured rectangular silhouette with delicate grey edge detailing, offering a subtle contrast. The sturdy short handles made the bag ideal for hand carrying, though it also came with an adjustable longer strap for versatile wear.
The minimalist silver hardware accents elevate the bag's elegance, while the spacious interior, makes it both fashionable and functional choice.
This bag exudes understated sophistication and would be a perfect accessory for a variety of occasions, from office days to weekend outings. It's the kind of timeless piece that effortlessly complements an array of outfits.
Here's how Victoria Beckham described the Quincy bag on her website:
The Quincy bag has a leather detachable strap and a top looped tab fastening to adjust the shape.  It can be handheld, worn over the arm, over the shoulder or cross body with accompanying shoulder strap.  It has an internal file pocket at back and adjustable shoulder strap.  The bag is finished with a pale-gold, logo-embossed label.
The large white handbag was from Victoria Beckham's SS14 collection.
Where to buy the Victoria Beckham Quincy bag:
Victoria Beckham has officially retired the Quincy bag from her collection. If you're still keen on snagging this gorgeous bag, your best bet now is to head to luxury resale platforms. Happy hunting!
Shop bags at VictoriaBeckham.com
Has Kate Middleton worn anything else from Victoria Beckham?
She has indeed. The ever-so-elegant Princess sported a biscuit-coloured dress from Victoria Beckham at an engagement in Leeds in January 2023. The piece beautifully encapsulated the minimalist, yet luxurious aesthetic of the brand, making it a perfect fit for Kate's polished style.
Are Kate Middleton and Victoria Beckham Friends?
While Kate and Victoria have never spoken openly about their relationship, it's assumed yes, they are friends. There are plenty of news articles out there suggesting the two women are friends.
I believe David Beckham has known Prince William for years. In fact, the Beckhams attended William and Kate's fairytale wedding in 2011.
Victoria Beckham even shared posts from William and Kate's "Head's Together" campaign during the pandemic lockdown in 2020.
So it's certainly looking likely!
About Victoria Beckham:
For those new to the brand, Victoria Beckham launched her eponymous label in 2008. The brand exudes a sense of refined simplicity and has carved its own niche with a focus on clean lines, contemporary cuts, and subtle sophistication. A go-to for the modern, style-conscious woman, Victoria Beckham's designs are a masterclass in understated luxury.