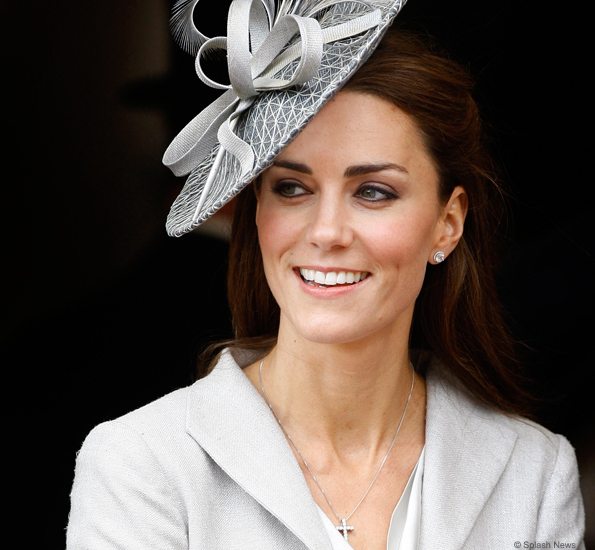 Catherine, the Duchess of Cambridge, attended the Order of the Garter Service at Windsor Castle today, arriving along with Camilla the Duchess of Cornwall.
Kate was very well received, gaining applaud from the large crowd that had gathered hoping to get a glimpse of the future Queen.
Kate looked amazing in a silvery-grey outfit with matching hat: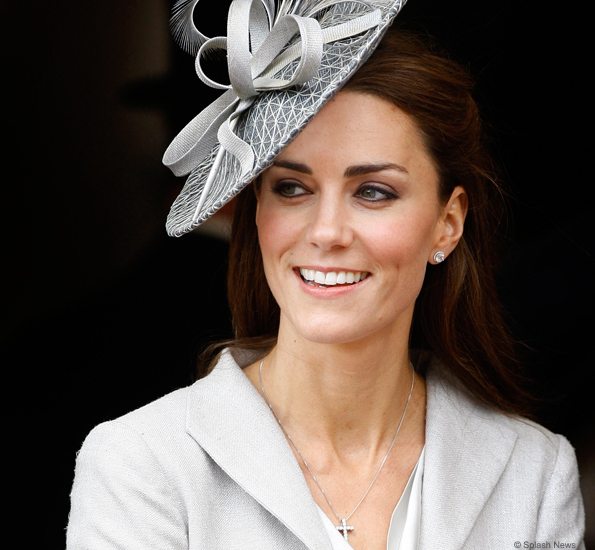 Kate's dress coat is by Katherine Hooker.  Both are named the "Buxton".   Katherine Hooker informs us that the dress is cut on the bias and made from a "Mercury crepe silk satin".
Kate also chose the matching £740 Buxton Coat in Ash Simla silk with a beaded lace trim on the cuffs and waistband.  The coat had been designed especially for Kate and featured an antique clasp.
Here's Katherine Hooker's comment on her Facebook page:

Kate's wonderful hat is by Rachel Trevor–Morgan millinery.  A spokesperson told me that it is the first bespoke hat they have made for Kate, and that it was made from a straw mesh disc with curled pheasant feathers.  Unfortunately, because it is bespoke, there are no photographs for us to show you.
Kate is wearing her white topaz and diamond stud earrings from the Kiki McDonough Grace collection.
She finished her outfit with a pair of Rupert Sanderson Malone shoes in grey suede and carried a (currently unidentified) silver-grey clutch bag.
Shop Rupert Sanderson heels:
Kate at the Order of the Garter Service:
About the Order of the Garter:
The Order of the Garter is the most senior and the oldest British Order of Chivalry.  It was founded by Edward III in 1348.
Read more on the official website of the British Monarchy here.