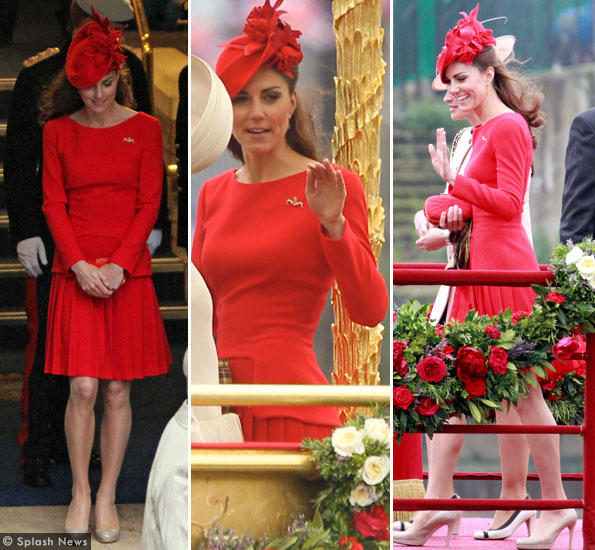 This evening The Duchess of Cambridge joined Her Majesty to Queen in hosting a reception at Buckingham Palace to recognise the dramatic arts in the United Kingdom.
The reception was held in honour of The Royal Academy of Dramatic Art (RADA), of which The Queen is patron.
Around 250 guests attended the reception from a range of backgrounds, including acting, playwriting, teaching, producing and directing. Notably, several A-listers were present, including Helen Mirren, Roger Moore, John Hurt, Alan Bennett, Uma Thurman, Joan Collin and Joely Richardson, amongst others.
The Official British Monarchy page on Facebook uploaded this program ahead of the event, which I share via the What Kate Wore page.   As you can see, the event was titled "A Celebration of Dramatic Art."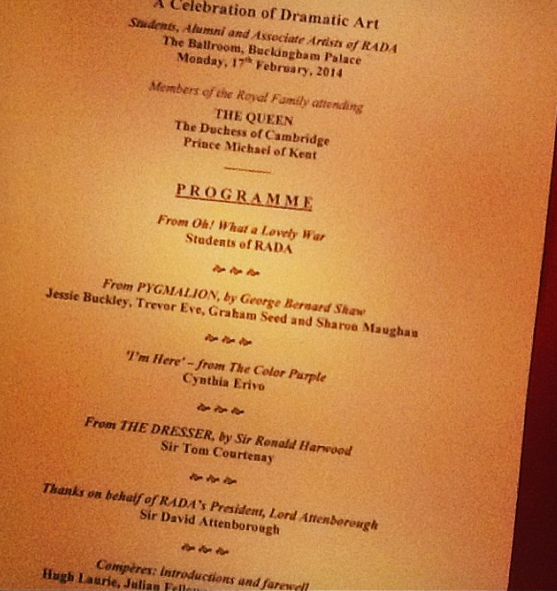 At the start of the evening, Kate and The Queen greeted guests before moving on to the Ballroom to watch a series of short performances.
After the performances, The Queen, Kate and other members of the royal family met guests and attendees as they made their way through the State Rooms.    
One fun tidbit from the evening, according to reporters, Comedian Lenny Henry met The Queen and then introduced her to introduce to others by saying "this is Helen Mirren, she's brilliant."  Hilarious.   For those who don't get the joke, click here.
About Kate's Outfit:
Kate 'recycled' her red pleated Alexander McQueen dress, which we previously saw her wear back during the Jubilee River Pageant back in 2012, as below.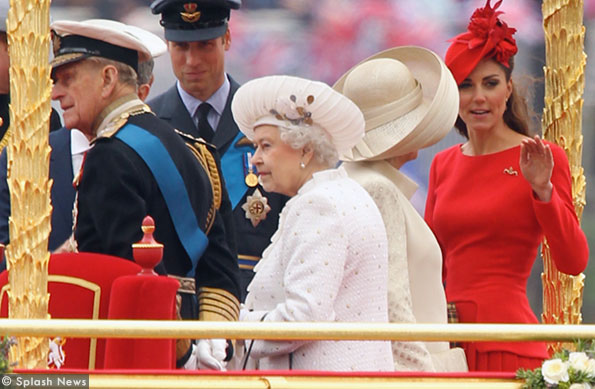 As regular readers will recall, back in 2012 we speculated that Kate's Alexander McQueen dress might have been a custom made version of a similar sleeveless ready-to-wear dress the company sold in 2011.   Here's a picture of the dress on singer Tulisa (left) and a model for the brand (right)
Kate wore her Cassandra Goad Temple of Heaven earrings.
Duchess Kate has worn these Cassandra Goad earrings on a number of occasions previously, including with a grey dress at her visit to the Imperial War Museum in 2012 and to Zara Phillips' drinks reception before her wedding.
Kate also carried her 'Maud' clutch bag from Anya Hindmarch and wore her black Prada pumps.  (With thanks to Anna from My Small Obsessions for the shoes ID.)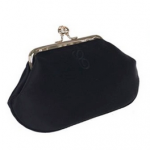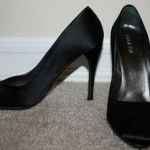 Maud clutch bag:
About The Royal Academy of Dramatic Art:
RADA is a drama school and registered charity based in London, which provides vocational training for actors, stage managers, directors, designers and technical stage craft specialists.   RADA is one of the oldest drama schools in the UK, and is often regarded as one of the most prestigious in the world.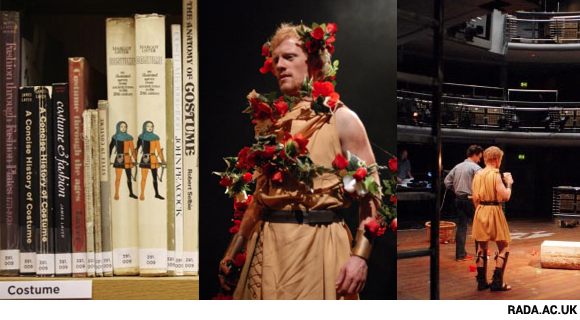 Kate's gold baby charm necklace IDd:
This morning my good friend Bella shared her copy of Hello Magazine, which ran a full page exclusive about the gold necklace Kate was photographed wearing in October 2013. The necklace featured three little charms, including one of what looked like a baby boy. A company called Merci Maman Boutique posted the photo to their Facebook page and explained they'd gifted Kate the necklace after baby George was born, and are currently selling it to the public. The necklace is called "The Duchess" and can be customised and engraved.
I spoke to Merci Maman earlier today and the company have to run a competition and give away one of these beautiful necklaces to one lucky winner.  More details in the coming week.
Also, keep your eyes peeled for an Elemis giveaway later this week.  Remember to sign up to our newsletter so you don't miss a thing!  You can sign up in the purple box below: