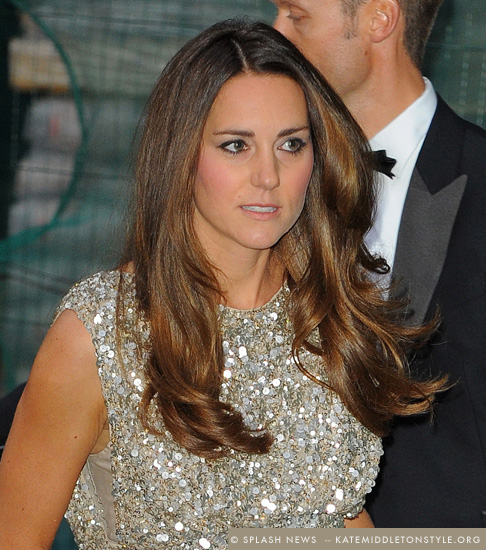 On Thursday 12th September, the Duke and Duchess of Cambridge attended a dinner and awards ceremony for Tusk Trust, a small charity organisation with a big goal: to raise money for conservation, community development and environmental education programmes across Africa.
The Tusk Conservation Awards were held at The Royal Society in London.  Kate dazzled on the red carpet in a sequined Jenny Packham dress:
A number of celebrity guests attended the ceremony too, including Kate Silverton, Ronnie Wood and Ben Fogle.
Kate's Jenny Packham Dress:
Kate wore a glittering sequinned dress by her go-to designer Jenny Packham.
The dress was described by St. James' Palace to reporters as "a drop waist gown."  At first, royal fashionistas thought the dress was this stunning £1,953 (approx $3,090) figure-hugging number from Jenny Packham's 2011 collection (below, left) but upon closer inspection, we now think Kate is actually wearing this dress from Jenny Packham's "diffusion line" dresses, from the No. 1 Jenny Packham collection for Debenhams (below, right).  This is more reasonably priced for a gown: it originally retailed for £225, before being reduced to £180 in Debenhams' sale.  (approx $285).
Something is still not quite right about the ID, though, that's why I emphasised the word think in the paragraph above.  Check the embellishment under the bust line on the photo of Kate (below, centre), plus the colour seems a little off (though this could be due to the reflection from photographers' flash bulbs).  Is Kate's dress bespoke? Did Jenny change the embellishment for Kate? If we hear any more from Jenny Packham on the matter, we'll be sure to keep you updated.
Meanwhile, here's a closer look at Kate's back in the dress, with the Debenham's dress side-by-side for comparison:
You'll notice the fabric strip around the bustier part of the dress?  Some claim this is for comfort, to stop arms being rubbed by sequins.
Shop Similar Dress:
At the time of writing (November 2016) this similar dress by No. 1 Jenny Packham is available in UK sizes 6-22.  It costs £159.20 (was £199).  Click here to view it at Debenhams and Amazon.
Kate accessorised her sequinned dress with her pair of Jimmy Choo Vamp platform sandals, a diamond bracelet and matching earrings.  (The earrings were barely visible due to Kate's long hair!)  Here we show them in Silver, but there's some debate about if she's wearing the more 'champagne' colour.  You can still find the Jimmy Choo Vamps in silver  at Nordstrom, or the "Champagne" colour on Jimmy Choo's website.
As you'll have seen from photos, Kate wore her hair loose with a slight curl, and her makeup was fairly natural with the exception of some eyeliner and blush:
About Prince William and Tusk Trust:
Prince William is Royal Patron of the Tusk Trust and has been working with the organisation since 2005.  You'll remember that both William and Kate attended the London premiere of the film African Cats back in April 2012, plus they've been guests at a host of other events too.  You can read more about those events and William's involvement  with Tusk Trust here.
Tonight's awards ceremony recognised the outstanding achievements of individuals involved in the world of wildlife conversation.  There were more than 50 nominations from a panel of experts, but only two awards were presented:  The Prince William Award for Conservation in Africa and The Tusk Award for Conservation in Africa.  You can read more about both awards and the finalists on the Tusk.org website.  At the end of the ceremony, William gave a short speech.
Video:
Watch a video of William and Kate's red carpet entrance:
ITV documentary:
Don't forget: this Sunday, fans can watch an interview with Prince William that is to be broadcasted on ITV. William gave the interview shortly after Prince George was born.  In the documentary special, William speaks out about the baby, Kate and his passion for Africa.  We've been told by Marie Claire Magazine that there will also be exclusive footage from the Tusk Trust event added into the documentary.
William Quits RAF Job:
In related news, it was announced today that Prince William has worked his last shift as an RAF search and rescue pilot and is now going to concentrate on conservation work.  Over the next few weeks, William, Kate and Prince George are expected to move from their rented home on Anglesey to Kensington Palace.  William will continue to support the Royal Family and The Queen through a programme of official engagements, both at home and overseas.  However, he is not becoming a 'full-time royal.'  Instead, William will be working with the Royal Foundation of The Duke and Duchess of Cambridge and Prince Harry as the President of United for Wildlife.  Read more about United for Wildlife here.