Kate Middleton wears a pair of Cassandra Goad Temple of Heaven earrings in gold.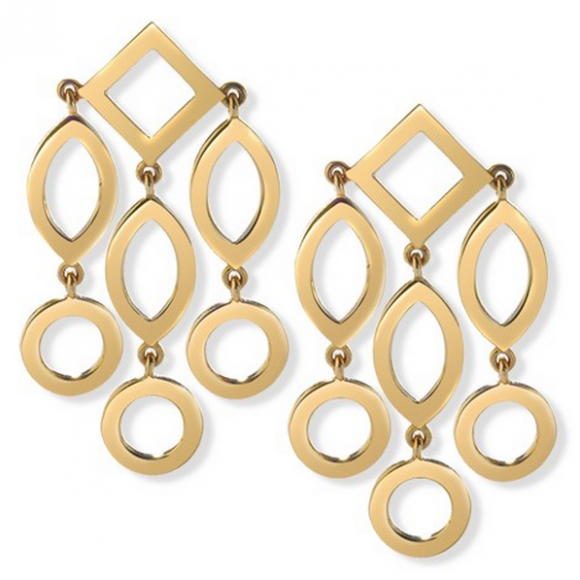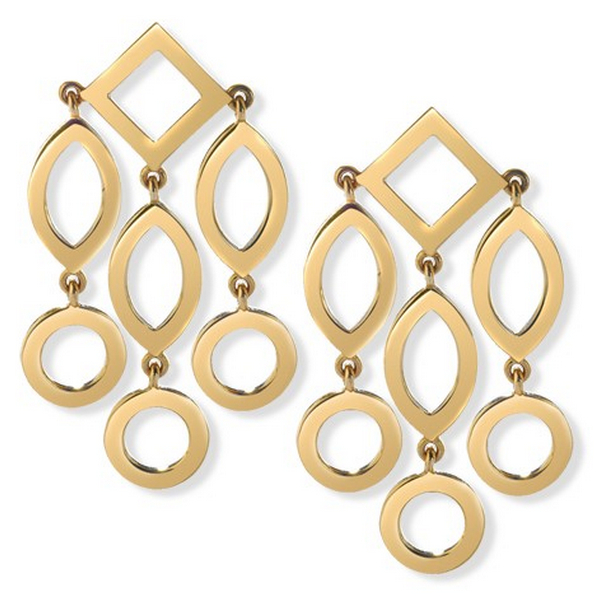 Kate Middleton has flaunted the Cassandra Goad Temple of Heaven earrings on various occasions including weddings, royal engagements, and social events from 2010 to 2018. Notable outings include the British Consul-General reception in LA (July 2011), the Imperial War Museum visit (April 2012), the Dramatic Arts Reception (February 2014), the Place2Be Wellbeing awards (November 2014), the Royal Tour of India/Bhutan (April 2016), the Natural History Museum's Hintze Hall opening (July 2017), and the BBC Radio 1 Teen Hero Awards (October 2018). Given their recurrent appearances, it's plausible we'll see these elegant earrings on Kate again.
About the 'Temple of Heaven' earrings:
These striking gold-tone chandelier earrings feature geometric shapes, notably squares at the top, leading to a series of elongated ovals. The sleek cutouts and polished finish give them a contemporary feel. Perfect for elevating an evening ensemble, they'd be equally at home with a chic day look.
The intricate design, inspired by the Temple of Heaven in Beijing, features a delicate lattice pattern that reflects a sense of heritage and modernity. Cast in gold, these earrings exude a warm, sun-kissed glow, making them a versatile piece for both day and evening soirees. Their lightweight nature ensures comfort, while the subtle gleam of gold adds a touch of royal allure to any outfit.
They capture a modern elegance, reminiscent of pieces you'd find gracing the pages of high-end fashion magazines. Ideal for those looking to make a subtle yet sophisticated statement.
They are made from 9ct yellow gold.
Where to buy the gold chandelier earrings:
The Cassandra Goad Temple of Heaven earrings can be acquired from Cassandra Goad's boutique in Sloane Street, London or through their official website.
Kate Middleton and Cassandra Goad:
The gold chandelier earrings are one of two pairs by Cassandra Goad that Kate keeps in her jewellery box. We also know she owns the 'Cavolfiore' pearl studs.
Did you know:  Photographers snapped Kate's mother Carole window-shopping at Cassandra Goad's flagship Chelsea boutique in December 2021. Perhaps she found a piece of jewellery she'd like to buy for one of her daughters—as a Christmas gift for Pippa or a 40th birthday present for Kate? If Kate sports a new pair of Cassandra Goad earrings anytime soon, we'll know who bought them!
About Cassandra Goad:
Cassandra Goad is a brand synonymous with heritage, fine craftsmanship, and an elegant aesthetic. Established in London, it has carved a niche in the luxury jewellery realm, often drawing inspiration from historical and architectural motifs. The brand's ethos lies in creating pieces that are both contemporary and timeless, a marriage of tradition and modernity that resonates with those of discerning taste.