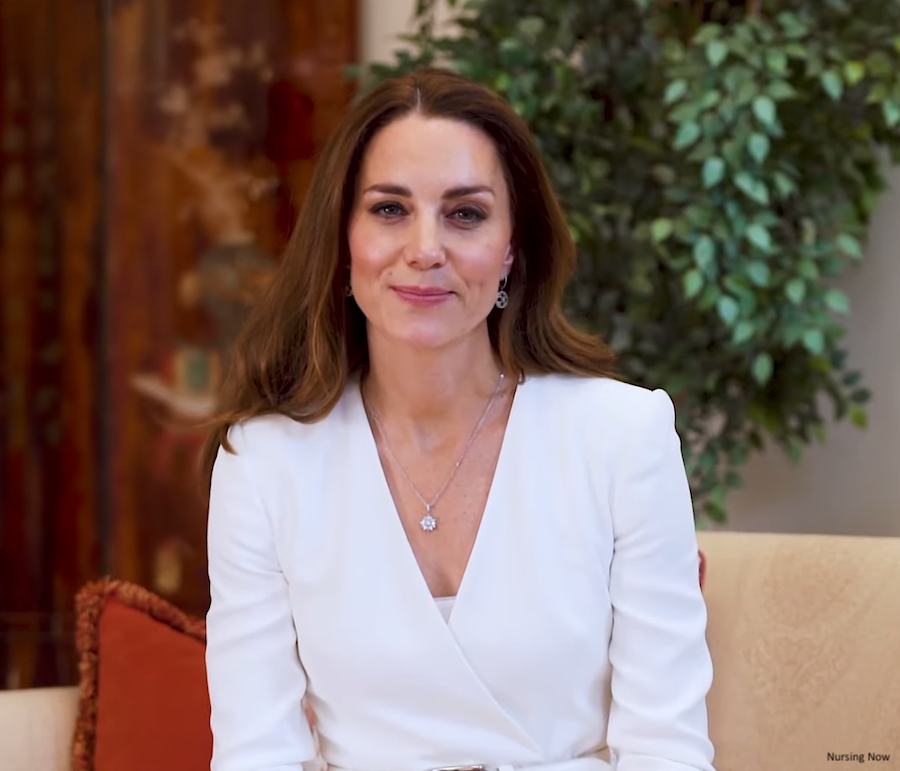 Monday, 24th of May 2021—The Duchess of Cambridge (Kate Middleton) sends her thanks and congratulations to nurses who've participated in the three-year Nursing Now campaign, which draws to an end this month. The video aired during a virtual event today. You can watch it below:
You may recall that Kate is Patron of Nursing Now, the campaign to raise the status and profile of nursing globally. The campaign is a collaboration between the World House Organisation and the International Council of Nurses. (Below, Kate at the launch in 2018).
The Nursing Now campaign has been a success! Over 31,000 young professionals have signed up for the Nightingale Challenge, a campaign to "equip and empower" the next generation of nurses. It has also led to a greater investment for over 60 nursing groups across the world and has encouraged more nurses into leadership positions.
A transcript of the video:
Although we cannot be together in person at this closing of the Nursing Now campaign, I wanted to say a huge congratulations for the incredible work that you've done over the last three years. When Nursing Now was launched in 2018, we had no way of knowing just how much the work, dedication and infinite care of nurses would be tested, needed and appreciated. COVID-19 has highlighted the vital role that nurses provide, which we all rely on and it's made all the more extraordinary when we consider the huge sacrifices and personal demands that have been placed on all of you by the pandemic.

It has been the hardest of years and my heartfelt thanks to you and your colleagues around the world for the incredible work you do every day.

This short film shows some of the amazing work that nursing now has been doing over the last three years to develop the confidence, training and leadership potential of over 30 000 nurses and midwives worldwide.

I had the pleasure of interviewing Harriet, who is featured in the film, earlier this year. Her passion vision and dedication to the community she cares for is both humbling and inspiring.

I wish you all the very best for your future work.

The Duchess of Cambridge
Kate's outfit:
It looks like Kate wore her Alexander McQueen Peplum Coat. You may remember it from the 2017 tour of Poland.
The Duchess wore the coat in Warsaw on the first day of the tour. It is made from a blend of wool and silk. It features three-quarter length sleeves, a knee-length skirt, a feminine v-neckline and a rippling peplum with soft folds.
Net-A-Porter sold the coat dress in both ivory and black. I believe Kate's is a bespoke version in white.
In some parts of the video, you can just catch a glimmer of a belt buckle. Sadly, I have no further information about this, Kate didn't wear it in Poland.
Kate wore her Asprey London Daisy Heritage Diamond Pendant, a pretty necklace with micro marquise diamond petals and a pavé diamond centre. It's set in 18ct white gold. Kate first debuted the necklace earlier this year. It retails for £9,975.
Finally, Kate wore her sparkling Mappin & Webb Empress earrings. You may remember that she first debuted them for Princess Charlotte's christening in 2016. The brand sell lots of different Empress earrings with various diamond weights, so it's impossible to pinpoint the exact pair Kate wears.