Kate Middleton wears the olive green 'Tracker' utility jacket from Troy London.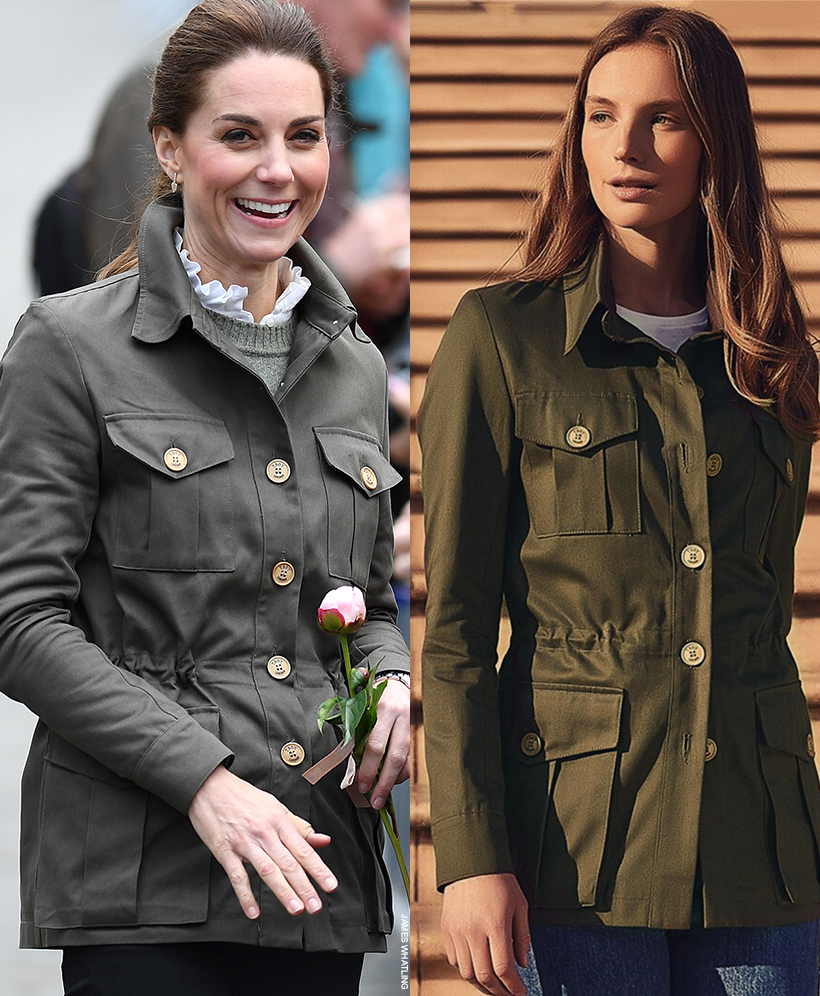 The Princess added the green jacket to her coat collection in 2019. She's worn the garment just once in public so far, to an engagement in Cumbria (pictured above). It wouldn't surprise me to see her wear it at a casual event soon.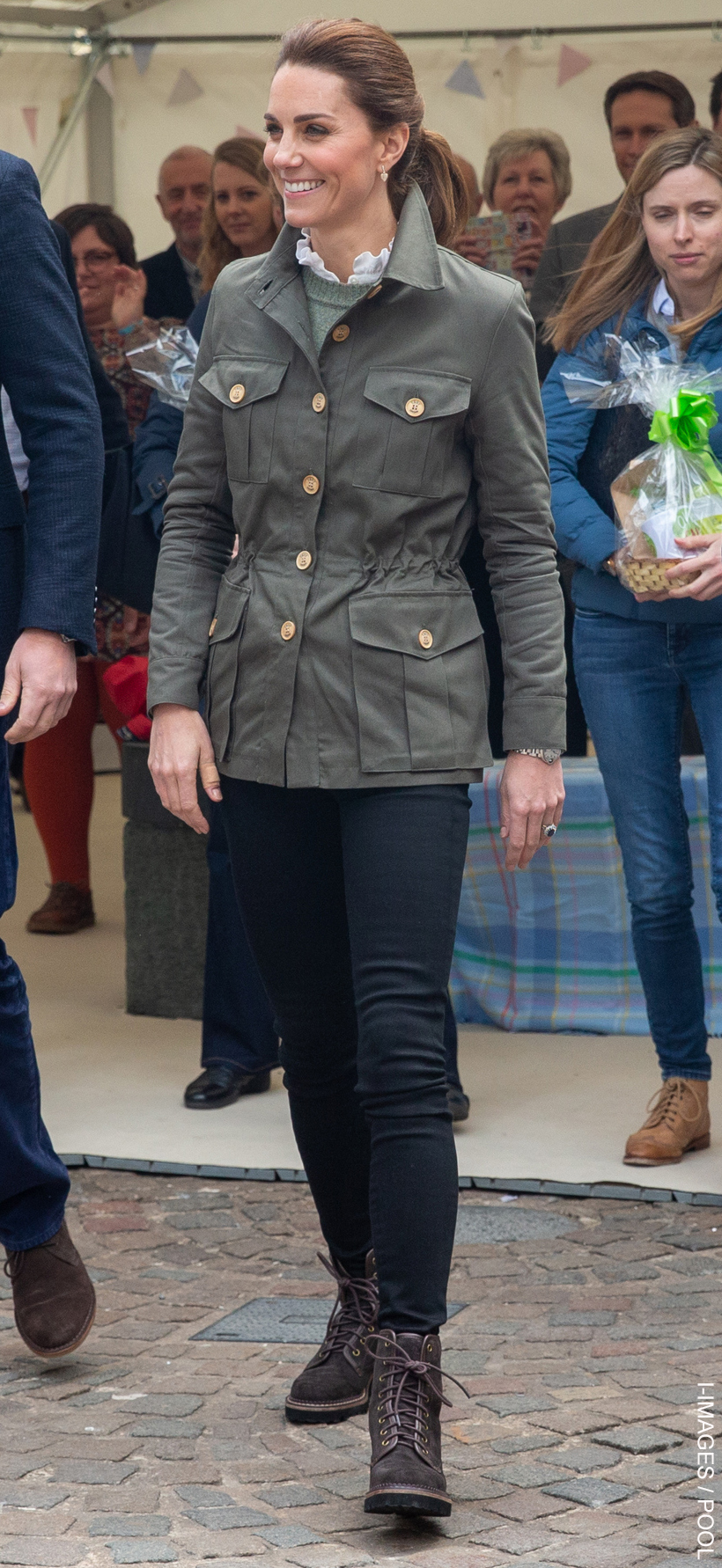 Although Kate is a country girl with a closet full of outdoorsy jackets, she keeps abreast of trends. She clearly knows that utility jackets are having a moment. She styled hers with brown combat boots, a green wool sweater and a ruffled pie-crust collar shirt.
About the jacket:
The lightweight coat is handmade in England from cotton drill, a sort of tightly woven fabric that's often used for safari jackets and military uniforms—it's stout and durable without being too heavy or rigid.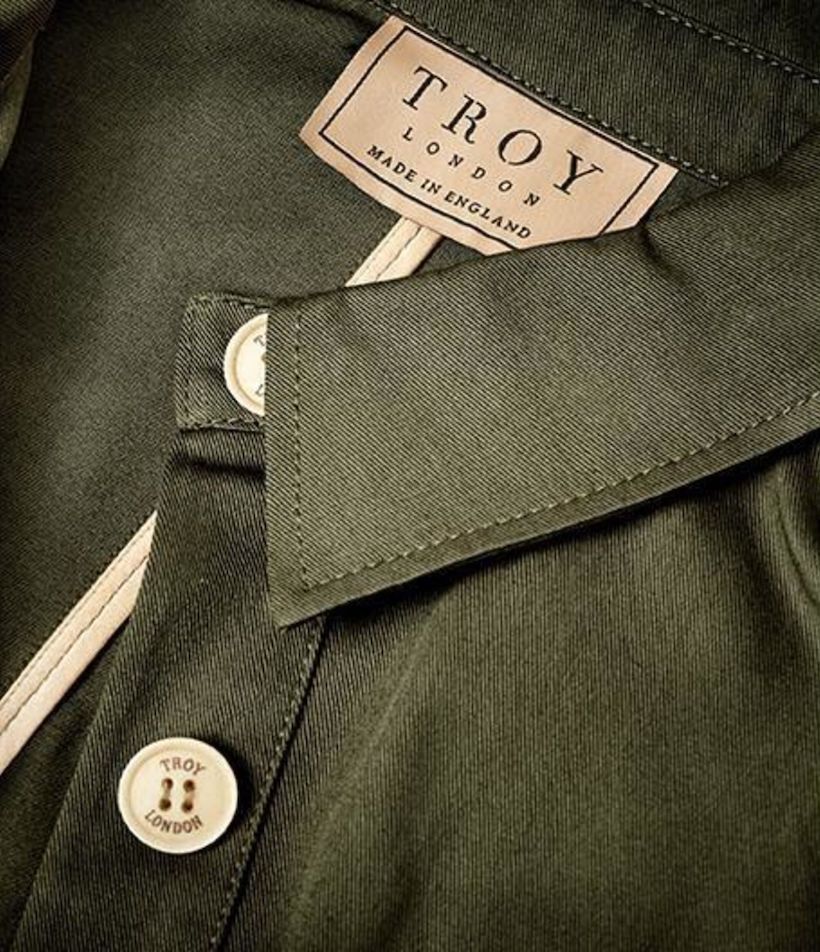 There's a drawstring inside the waist which means you can tailor the coat to your shape. The utilitarian pockets are finished with Troy London logo buttons.
The jacket has received plenty of accolades in the press—The Telegraph recommends the design for both country and town. While other publications call it "beautifully detailed and fitted", and "truly a gem that will last for years".
Copy Kate:
Copy Kate's immaculate casual style by throwing this coat over jeans and a sweater and wearing with boots—effortless.
The utility jacket is still available to buy with free worldwide returns. RRP £275 GBP / $313 USD / €317 EUR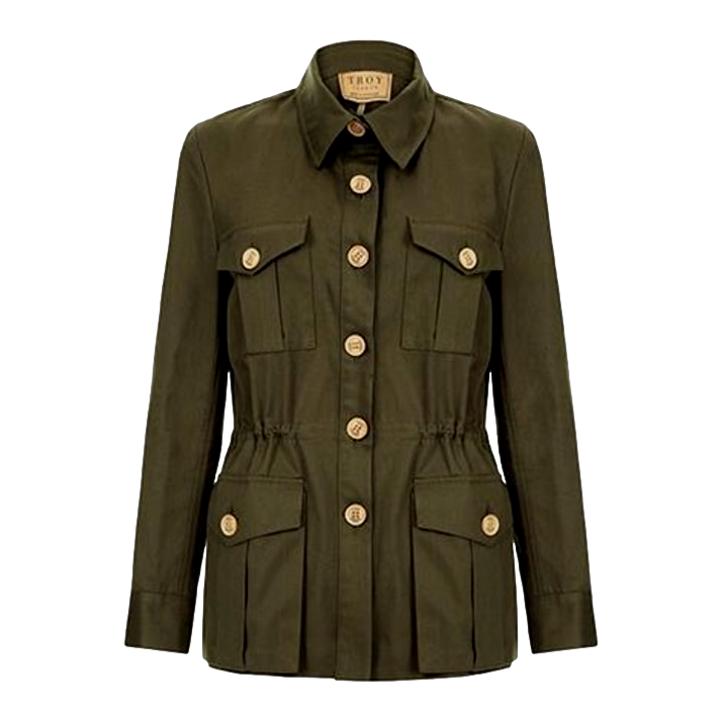 Troy London 'The Tracker' Utility Jacket, Olive Green
Exact match! This is the perfect jacket for your morning walk, darting around town, picking the kids up from school or visiting friends. Throw it on as you head out the door.
Does Kate Middleton own any other pieces from Troy London?
Yes, the Princess owns three jackets by Troy London (that we know of) and a fair isle sweater.
In addition to 'The Tracker' jacket featured on this page, the Princess wears the company's Wax Parka in both khaki green and navy blue. She also wears the almond-coloured wool fair isle sweater Troy designed in collaboration with Brora—another great British brand!
About Troy London
Troy London designs timeless country clothing that's made to last. Their garments are manufactured in Britain.
The company was founded by sisters Rosie van Cutsem and Lucia Rick Keene. Rosie van Cutsem is married to one of Prince William's friends and Prince William's godfather – William van Cutsem. They live in the countryside in Norfolk, near Anmer Hall, William and Kate's home.