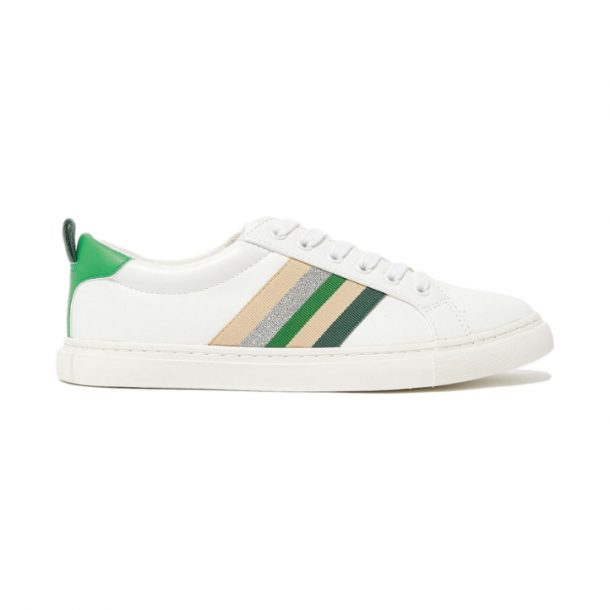 In February 2020, the Duchess of Cambridge (Kate Middleton) attended an event for the SportsAid charity at Olympic Park in East London. Dressed top-to-toe in emerald green and navy blue, the Duchess debuted a new pair of coordinating trainers (or sneakers if you're outside of the UK). They were from Marks and Spencer. They're the British brand's Ribbon Detail Lace Up Trainers.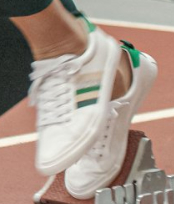 About the green & white trainers:
The white lace-up trainers feature green contrast detailing at the heel and green, nude and glitter 'ribbons' on the side. Here's how they were described at marksandspencer.com, where they sold for £29.50:
Striped ribbon trims with a dash of sparkle give these clean-cut trainers by Marks & Spencer a personality boost. This lace-up pair is made with our Insolia Flex® technology, endorsed by the UK College of Podiatrists for comfortable walking. Made from vegan-friendly materials.
Where to buy Kate's trainers:
The shoes quickly sold out after Kate wore them, though Marks and Spencer did restock them once. As of March 2021, you can purchase an updated version of the trainers in three new colours: black mix, silver and navy.
If you're really keen to own the original white and green trainers worn by Kate, head over to eBay. You might find them listed in your size!
My review:
This is NOT an ad, it is a genuine review. I purchased the navy blue ribbon trainers from Marks and Spencer on the 16th of March 2021. I live very near to a store, so I used their click and collect service.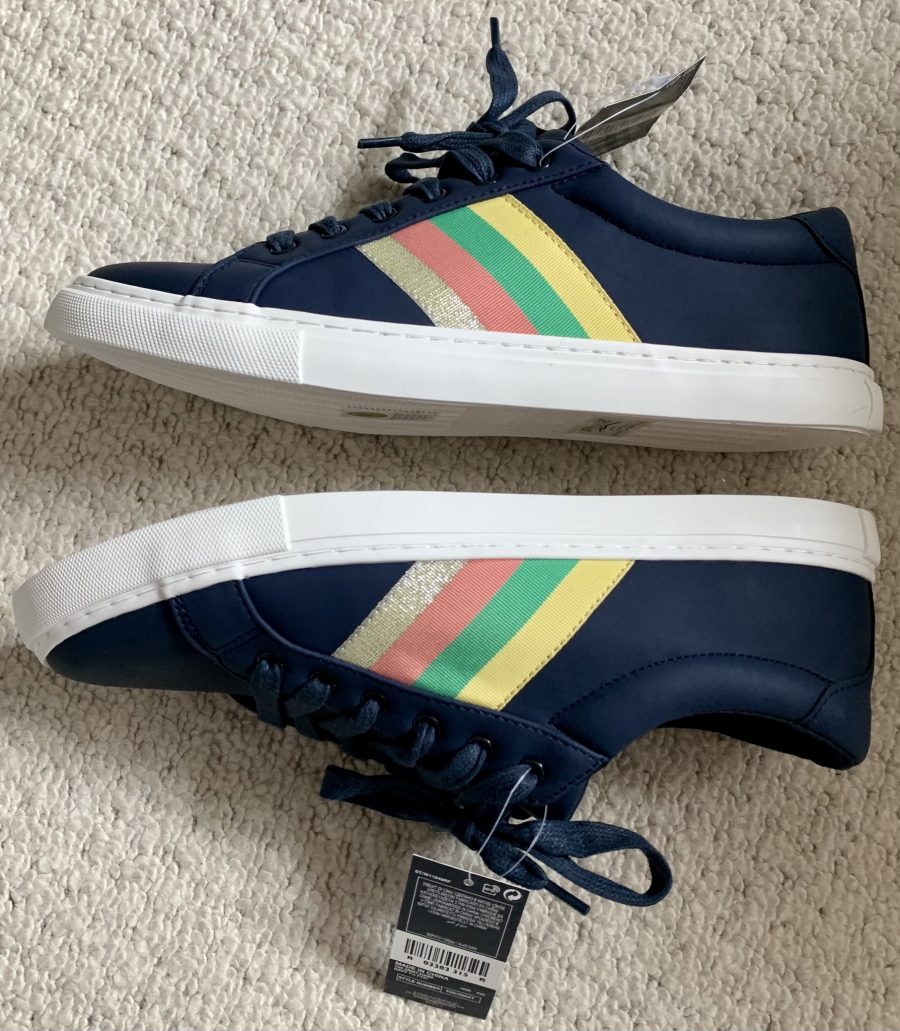 I tried the shoes on immediately and they're a good fit! This pleased me, as I can never find shoes that fit well. I was pleased these shoes came in a half size and they fit my slightly wide feet! I particularly like the fact the trainers are made from all-vegan materials, as I'm a vegetarian and I tend not to buy leather. It took me a minute to get used to the Insolia technology, to be honest. But it didn't put me off wearing the shoes. I'm hoping the Insolia technology will save my feet from aching in the future, perhaps during a big shopping trip or a day out with my family!
Kate Middleton wearing Marks and Spencer:
The Duchess of Cambridge has a few pieces from Marks and Spencer in her work wardrobe. We know that Kate owns a pink suit from the company, she's worn it during a handful of 'official' engagements (both together and as separates). She owns an M&S blue floral dress too, which she recently wore for a 'Zoom' call (sadly, both are now sold out).
About Marks and Spencer:
Marks and Spencer is a stalwart of the Great British high street—you'll find one or two stores in towns and cities across the UK.
Although Marks and Spencer rose from humble beginnings in Leeds, Yorkshire, they're headquartered in London and synonymous with British fashion, they're very much a global company today. They serve millions of customers all around the world each year and have over 1,000 shops across 57 countries!
M&S started as 'Penny Bazaar' back in 1884. Now they sell a huge range of clothing, homewares and food. They also have a financial services offshoot and sell renewable energy.