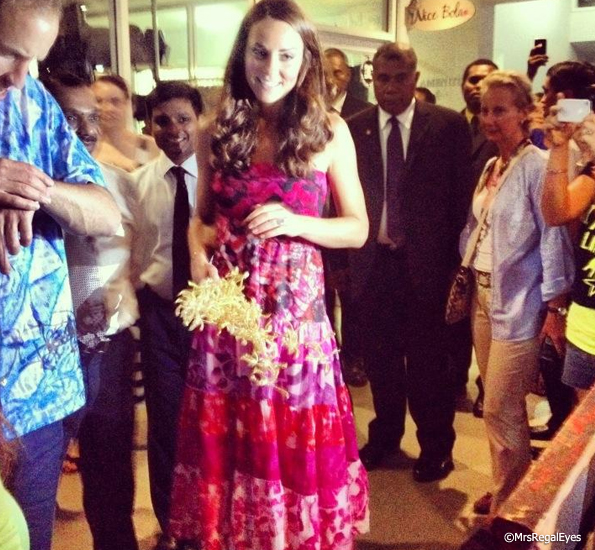 William and Kate spent the sixth day of the royal tour in Honiara, the Solomon Islands today. After a colourful welcome and a service at the city's cathedral, the couple retired to their hotel room. That evening they attended a traditional Island Feast at the Governor-General's official residence. The royal couple were entertained by pan pipers wearing grass skirts, white body paint and beads around their heads.
During the feast, Kate was overheard chatting to the Governor-General's wife Lady Grace. She called the earlier service held at the cathedral "beautiful", adding: "All the singing – it was lovely."
Kate's outfit:
Both Kate and William got into the spirit of the South Pacific by donning traditional Island dress for the feast. According to journalists, Kate had only tried on the dress one hour before dinner. She had intended to wear a dress she'd chosen but changed her mind last minute after seeing the dress, which her hosts left in her hotel room.
The dress was a fabulous magenta-pink, which really suited Kate.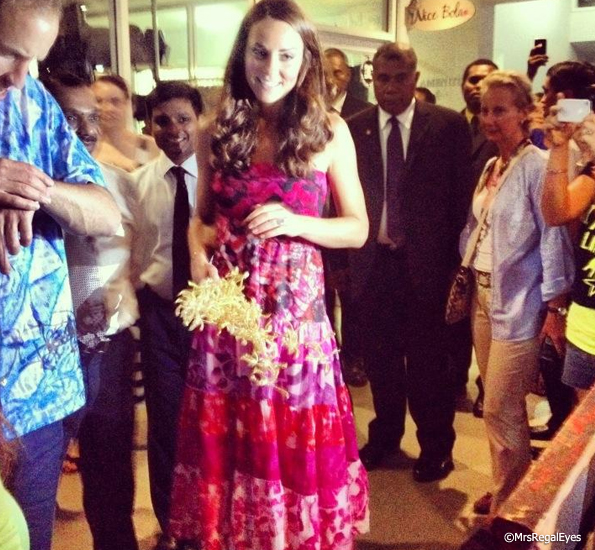 Update: Tarita-Maruia commented on this blog to explain that Kate's dress was designed and made at Rarotonga, Cook Islands, by Cook Island designer Ellena Tavioni Pittman of designhouse TAV. Here is a look at similar styles from Tav's website: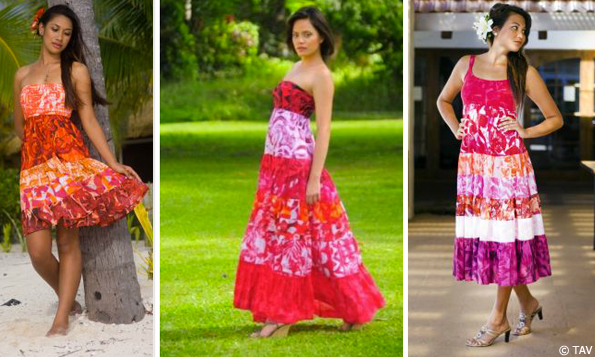 A quote about the dresses and the work that goes into making the prints:
Established in 1987 TAV the brand represents the romance and escapism that is the mood of the Pacific by utilizing traditional motifs, such as sea life, flora and fauna patterns in print designs – namely block printing, hand painting and dip dyeing all of which are done by hand using various fabric paint and techniques. Printing is labour intensive using natural sunlight to dry prints prior to heat setting.

TAV specialises in Resort wear / Ready-to-wear with an emphasis on prints and designs derived from the natural environment and Polynesian traditions. TAV also tailors swimwear.

As each piece of fabric is created on the island of Rarotonga.
The Duchess paired the traditional dress with her Stuart Weitzman Minx Wedges, a leather sandal with braided leather strap at the ankle and a 4″ cork platform wedge. (Pictured below on another occasion).
Kate's Jewellery:
Kate sported two pieces of jewellery at the Island Feast.  She re-wore the gold Catherine Zoraida bracelet from a few nights previous, worn to the dinner with the King of Malaysia.  She also had on a new pair of earrings from Serretta (which cost a bargain £36).
Kate purchased the earrings from My Flash Trash after the PR ladies from the company attempted to contact Kate via her personal assistant before the tour. Abbey, the Head of PR told us,
"We had been going back and forth for months and when I was told she wanted to buy 7 pieces to take on tour I was over the moon!"
About the earrings, from the website:
"These stunning Red Coral Sponge Earrings by our British designer Serretta are a gorgeous way to add an exotic edge to your look. Hand made in England using rolled gold chain tassel, the detailed bright coral is strikingly elegant."