Welcome back to our round-up of the Royal Jubilee Tour 2012.  This morning, Kate and William's tour of Malaysia continued with a "cultural event" at the As Syakirin Mosque, an Islamic place of worship located in Kuala Lumpur City Centre.  Here we see William and Kate at the mosque: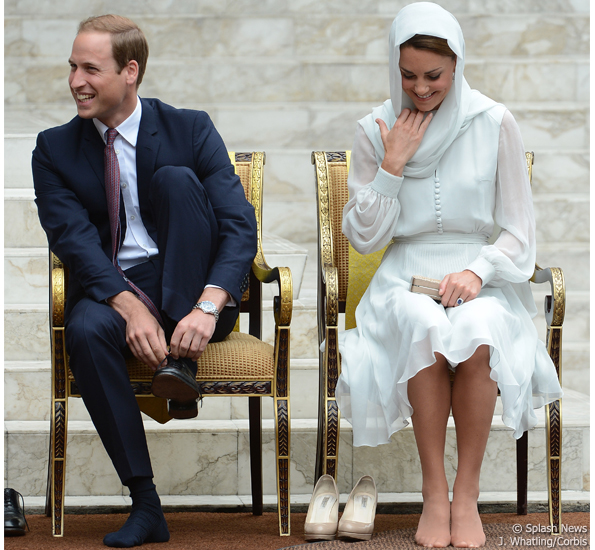 Kate and William removing their shoes at the mosque
As you can see in the photo above, in accordance with Islamic practices, both Kate and William removed their shoes in the mosque.  Kate also covered her hair her a scarf and as WhatKateWore.com notes, her toenails were not painted (it is inappropriate for a women to paint her toenails when attending a mosque.)
The As Syakirin Mosque is the largest in Malaysia; the building is very modern in style, it is situated next to a large shopping centre and the two striking Petronas Towers.  The mosque can hold up to 12,000 people.  Here we take a look at the building: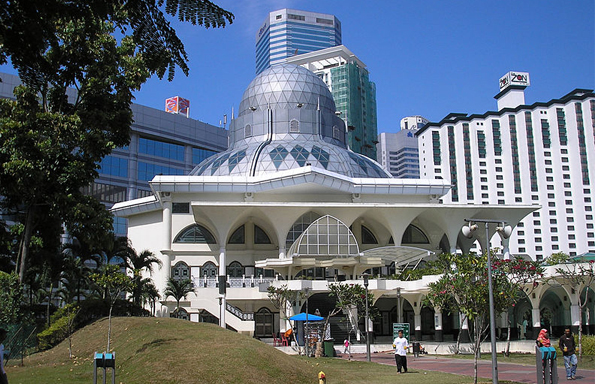 If you look for the video of Kate visiting the mosque on this page you can hear Kate asking, "How many mosques are there in Malaysia?" She learns that there are "thousands", and she looks surprised when she's informed each district in the country will have at least a large and a small mosque for worship.
After their visit and a walk about in Kuala Lumpur City Centre, Kate and William attended a lunch hosted by the British Malaysian Chamber of Commerce, where a range of delicious foods were served, the Royals got to sample crabmeat timbale and goats cheese roulade appetisers, plus oven-roasted Black Atlantic Code with Tapenade served with Confit Spear Asparagus for the main course.  There was more too, you can view the full menu here.  Yum yum!
Kate's dress:
Kate wore a pale blue "Sabitri dress" from Beulah London.  The silk dress is described as "original, flattering and feminine in a versatile way that can be worn from day to evening."  Here we take a look at the dress on the Beulah London website, and a shot of the dress from the back, courtesy of Tasnim Aznan on Instagram: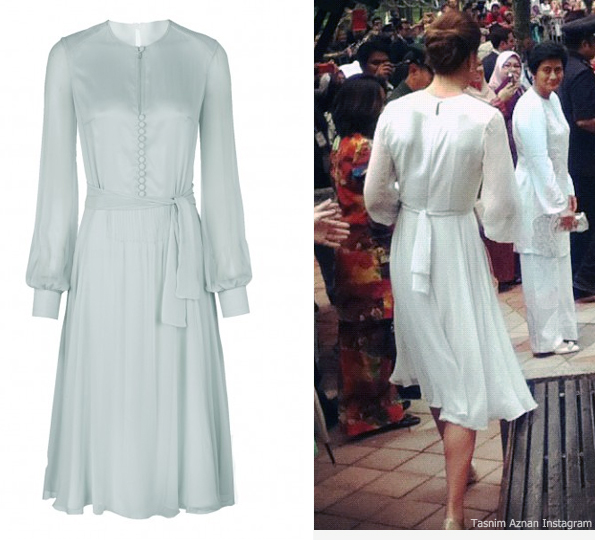 You may be interested to know that the dress is a bespoke version of the "Blossom" dress, which you will recall Kate wore to a wedding in June this year.  Beulah London are only running a limited number of this dress and  it can take up to 6 weeks for delivery.
You may recall that Beulah London is owned by Lady Natasha Rufus Isaacs, a friend of Kate and William's.  Lady Natasha and co-owner Lavinia both are committed to raising awareness for human trafficking and sex trade in Delhi.  Their ethical fashion label helps to provide a sustainable livelihood for those who have come out of sex trafficking.  Every purchase you make from Beulah London "helps to break the chains of poverty in some of the world's most marginalised communities."
Kate's accessories: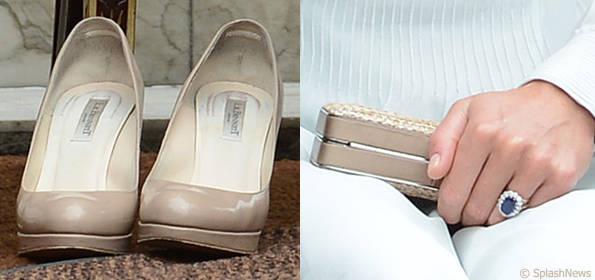 In case anybody out there ever questioned whether or not Kate owned L.K. Bennett shoes, we now have conclusive proof from when Kate took her shoes off in the mosque.  Kate paired her gorgeous pale blue dress with these L.K. Bennett Sledge shoes, along with her Natalie clutch bag by the same brand.  L..K. Bennett still have both items in stock, just click an image below to find out more about each item:
Kate also wore her new drop earrings again.  Anna from My Small Obsessions (a must for anyone obsessed with Kate's jewellery, accessories and clothing) says the designer of the earrings still remain a mystery.  Take a look at them in detail (and join Anna's Facebook Page) here.
Kate's hair:
Kate wore her hair tied up in a pretty bun.  We're sure the up-do will have helped to keep Kate cool today. Here's a picture from ntv7 on instagram.