On May 2nd 2015, The Duchess of Cambridge left St. Mary's Hospital (Lindo Wing) with her new baby girl, Princess Charlotte of Cambridge.   For the momentous occasion, Kate wore a bespoke dress, custom made for her by British designer Jenny Packham.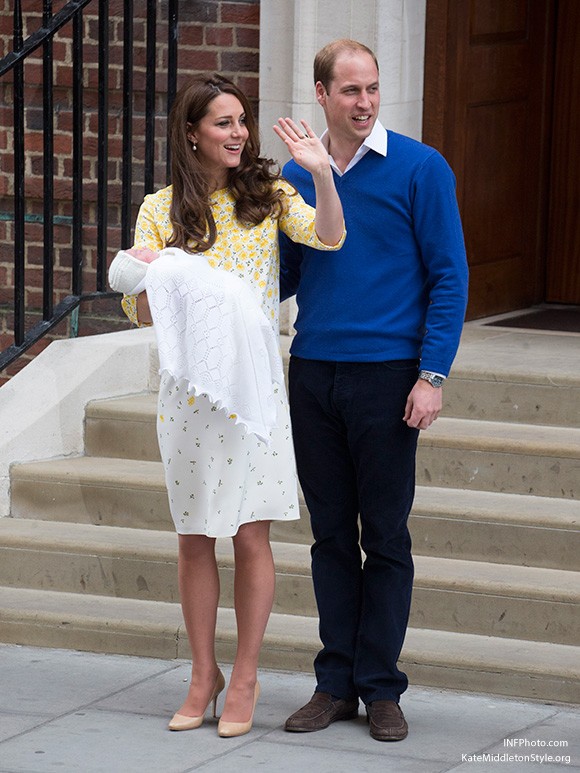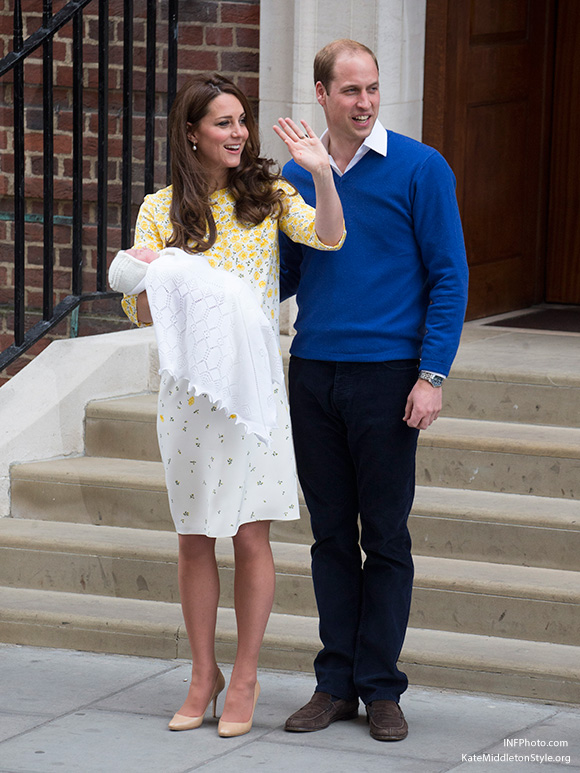 The white silk dress featured a yellow buttercup print clustered densely at the top, which graduated down towards the hem.   Within days, The Elegant Dress Co. in China had designed, manufactured and listed a similar dress for sale on AliExpress.com.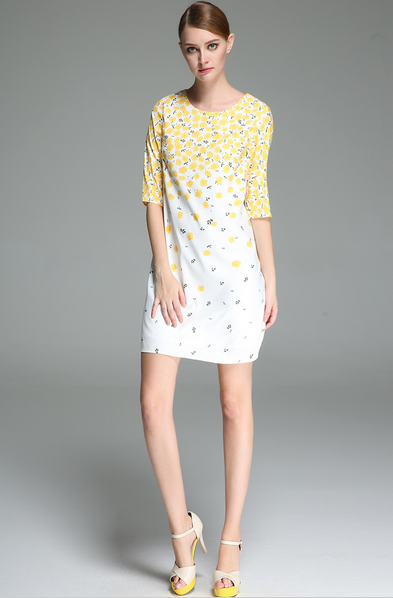 At the time of writing, the dress costs a very reasonable price of $44 (approximately £28).  The company have listed the dress with a coordinating yellow bow belt.  I think this really adds a special touch to the outfit: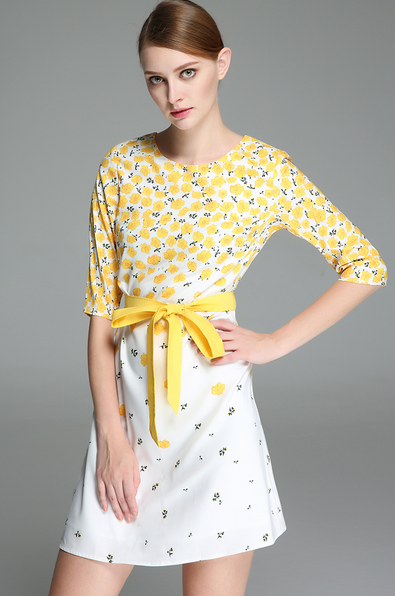 The dress is described being "satin type" polyester fabric, fitting above the knee. There's a size chart on the website with chest, length and UK/US sizing details.
The listing shows that the dress will be shipped for free to the United Kingdom, by China Post Registered Air Mail and will be delivered between 15 and 29 days.
Shipping to the United States is also free.  The dress will be sent via ePacket and will be delivered between 5 and 15 days.
At the time of writing, there's a $2 promotional coupon, which you can redeem on the page itself (under the buy now, add to cart and wish list buttons).
On the listing itself, it says the shop owner accepts returns and offers refunds, but scroll down to the bottom of the page for more information.  The company clarifies they'll only accept returns if the dress is different to that described.
About AliExpress.com
Aliexpress is part of the Alibaba Group, and one of the biggest websites in China.  In fact, Wikipedia reports that 60% of all parcels delivered in China during March 2013 were from Alibaba Group websites!
Aliexpress is just like eBay.  Individual sellers list their products.  In this instance, the yellow buttercup dress is sold by The Elegent Dress Co.
If you've used eBay before, you'll know it is better to buy from somebody who has sold a lot of items in the past and has a decent feedback score. Also just like eBay, it pays to do your research about a company (or item) before you buy.
Sadly, I do not have any reviews of this dress to hand at present, but if you've purchased this piece (or intend to) I encourage you to in your thoughts (and pictures) so we can help others thinking of purchasing this dress in future!