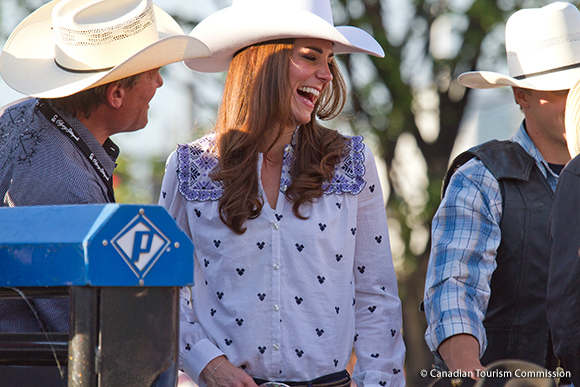 In early July, William and Kate were in town for the Calgary Stampede, as part of their tour of Canada.  Earlier in the evening, the royal couple carried out a couple of engagements, with Kate wearing a primrose yellow Jenny Packham dress.  Read more about that by clicking here.
Kate and Will rode into town on a stagecoach.  Here's another look at them:
They both wore white cowboy hats (which were gifts from the Mayor of Calgary) especially for the event:
Kate's outfit:
Kate wore a blue and white shirt from the Temperley London diffusion line, Alice by Temperley.  The shirt is called "Armonia" and it forms part of the designer's 2012 resort collection.
Even though the Armonia shirt is sold out, you can still view its former page on Net-A-Porter.com – the online retailer describes the blouse as having "bohemian spirit".  They add:
Be sure to wear your hair up to showcase the ruffled neckline – styling with leather shorts and flats will give this piece a contemporary contrast.
Here's a look at the back of Kate's shirt –
The Armonia blouse is made from white semi-sheer cotton, with purple and navy blue embroidery detail.  The blouse features a ruffled high neck and bib detailing, with buttoned cuffs.
A number of newspapers reported that Kate's bootcut jeans were by Goldsign.  Back in 2011, Goldsign tweeted me to say they love Kate, and were pleased to announce she was wearing their "Passion Bootcut Jeans" in "Habit."
London-based boutique Austique blogged about Kate buying the jeans from their store.
Kate's boots were made by R. Soles, an independent retailer on London's King's Road.   In July 2011 the brand confirmed that Kate did indeed wear their boots. Kate owns the Vegas Setter style.
Finally, Kate wore a silver and leather belt.
The brown leather belt features a silver cross, enclosed in a circle.  The cross appears to be adorned with green and turquoise colour stones.  It's from London-based boutique Butler and Wilson.
Finally, Catherine wore a pair of Vinnie Day gold plated "logo leaf" earrings.
Here's how Vinnie Day describe the earrings:
These are a wonderful pair of earrings which we find never go 'out of fashion'.  They are easy to wear both by day and night. Comfortable to keep in the ears.  The hoops themselves are 1.5cm with the leaf hanging off each hoop being 1.5cm so in total the earrings hang 3cm from the ear hole.
Watch a video of the procession: