On the 7th of November 2017, the Duchess of Cambridge (Kate Middleton) attended a gala dinner for the Anna Freud National Centre for Children and Families (AFNCCF).  If you follow our blog, you'll know that the AFNCCF is a children's mental health charity based in London.  Kate became their Patron last year.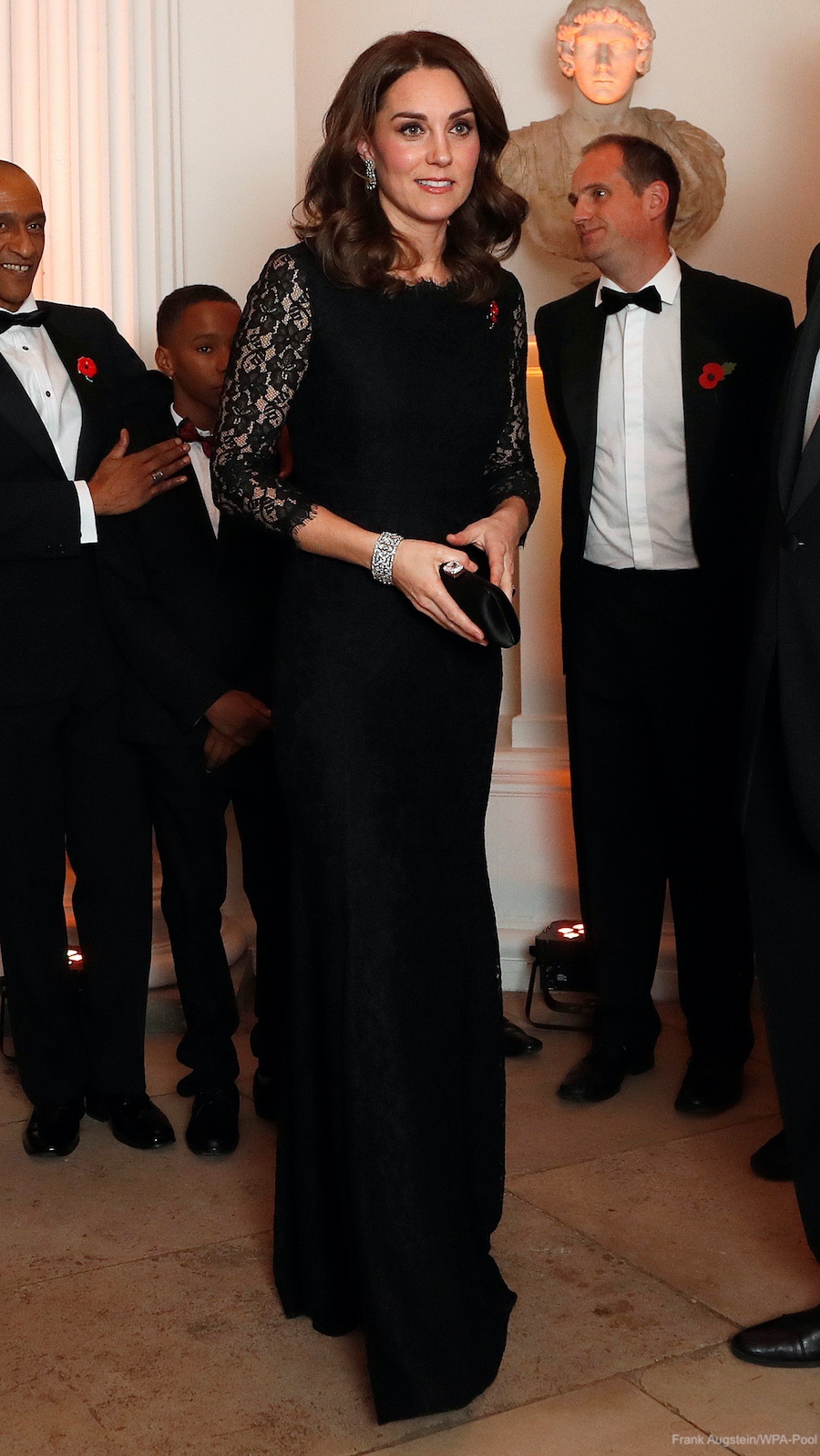 The gala event celebrated the AFNCCF's new Centre of Excellence, a £39 million project currently under construction in Islington, London.  The new Centre will bring people and organisations together from the fields of mental health, education, social care and neuroscience, alongside children and families often in vulnerable situations.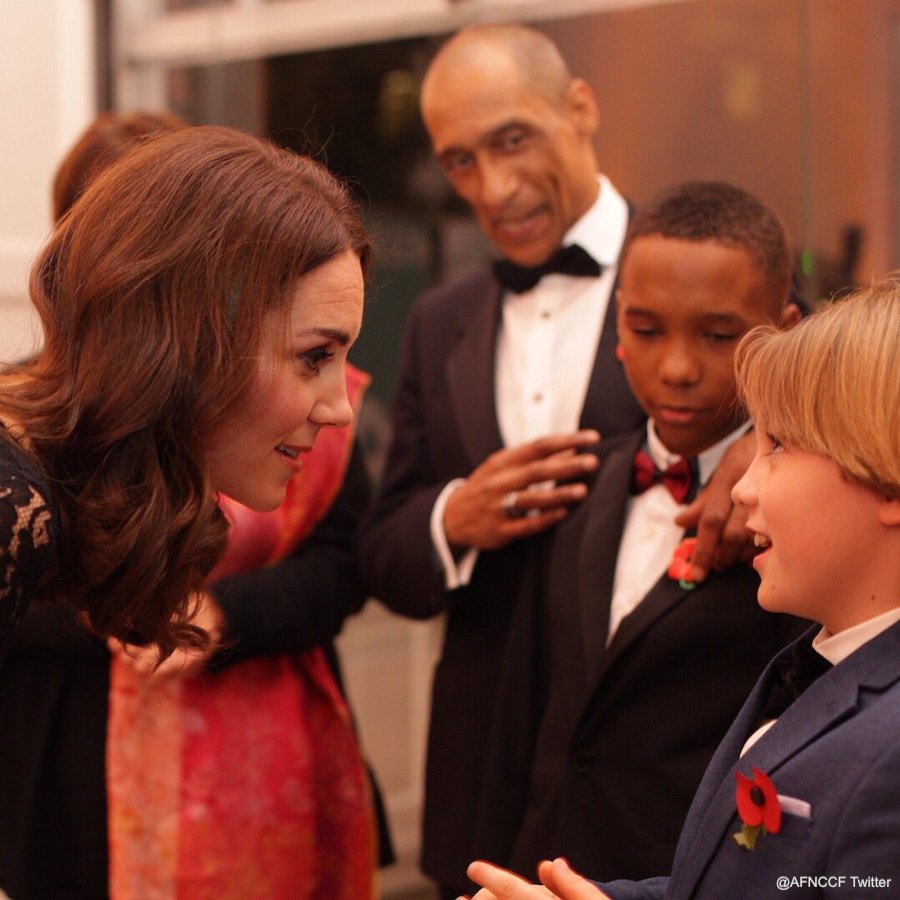 It will also provide additional space for The Family School, an alternative provider of education for children with emotional and behavioural issues who've been excluded from mainstream schools.  The Centre is scheduled to open in early 2019.
During the gala, Kate met with a number of guests who either support the AFNCCF charity or have benefited from their services.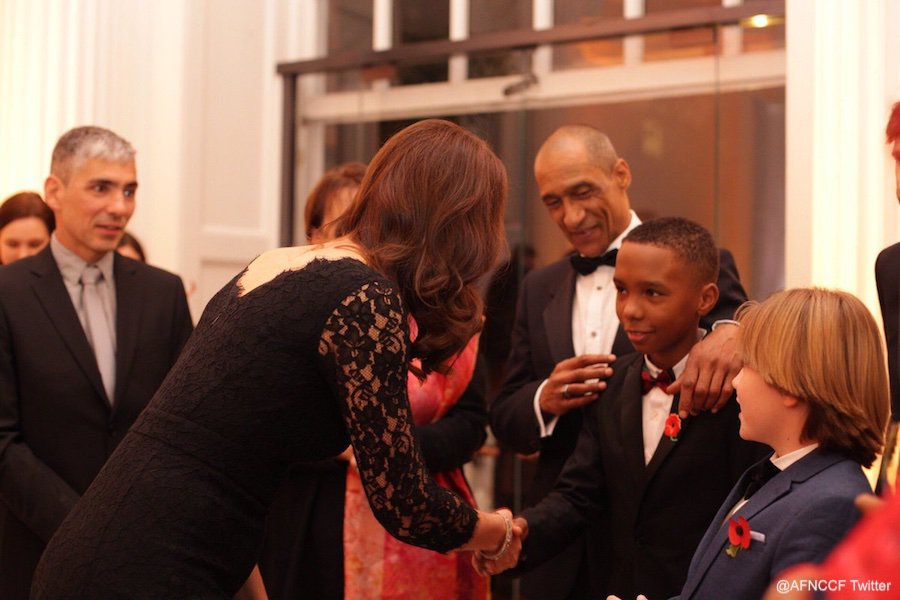 The gala event took place in The Orangery at Kensington Palace.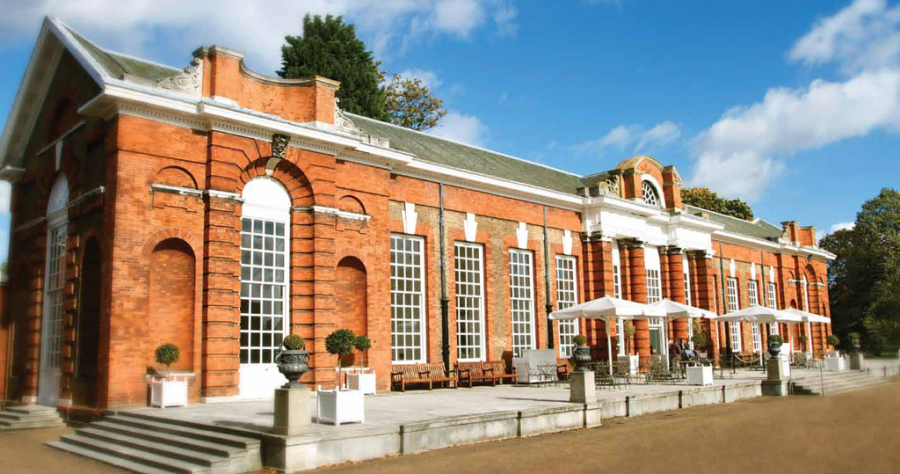 The Orangery was built in 1704-05 and used by Queen Anne for entertaining.  Today, it is mainly used as a cafe/restaurant for tourists and is the only royal palace in London that offers afternoon tea.  The building boasts soaring ceilings and classical 18th-century architecture.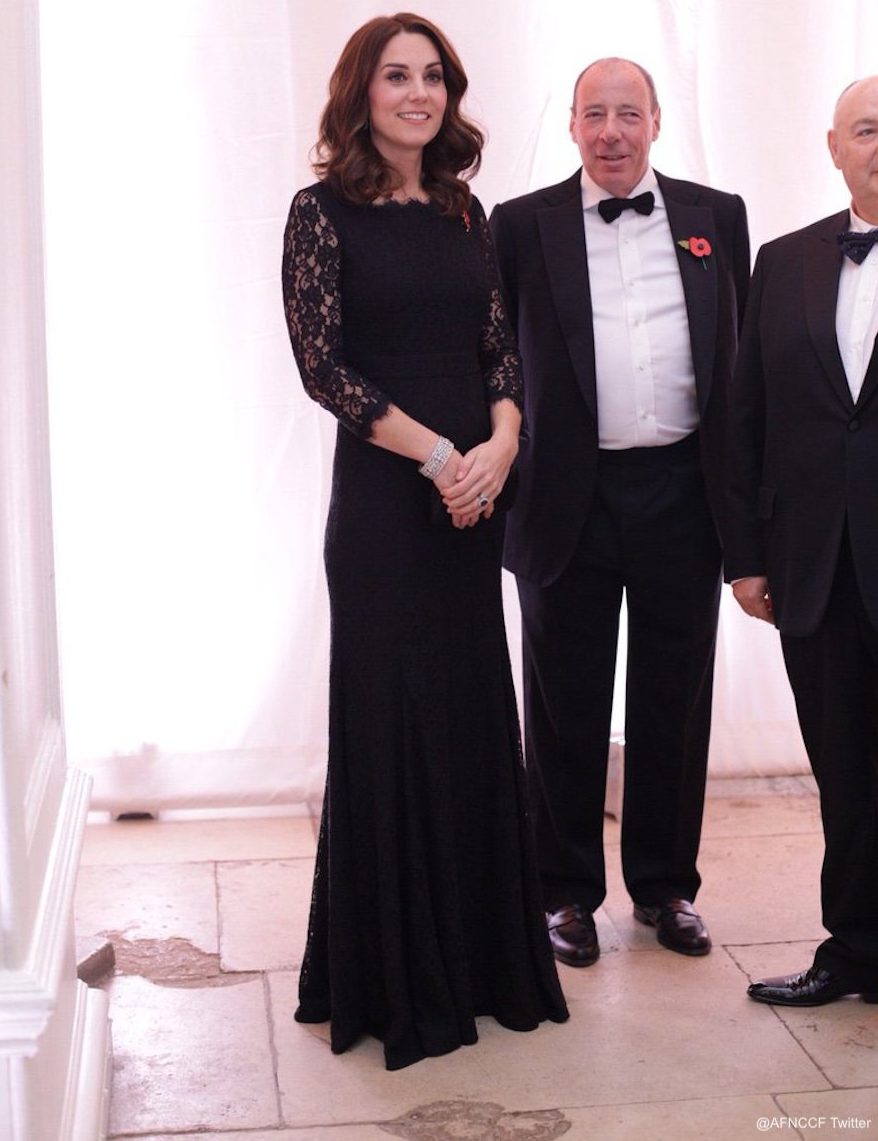 A look at the room set up before the event, via AFNCCF's Instagram page: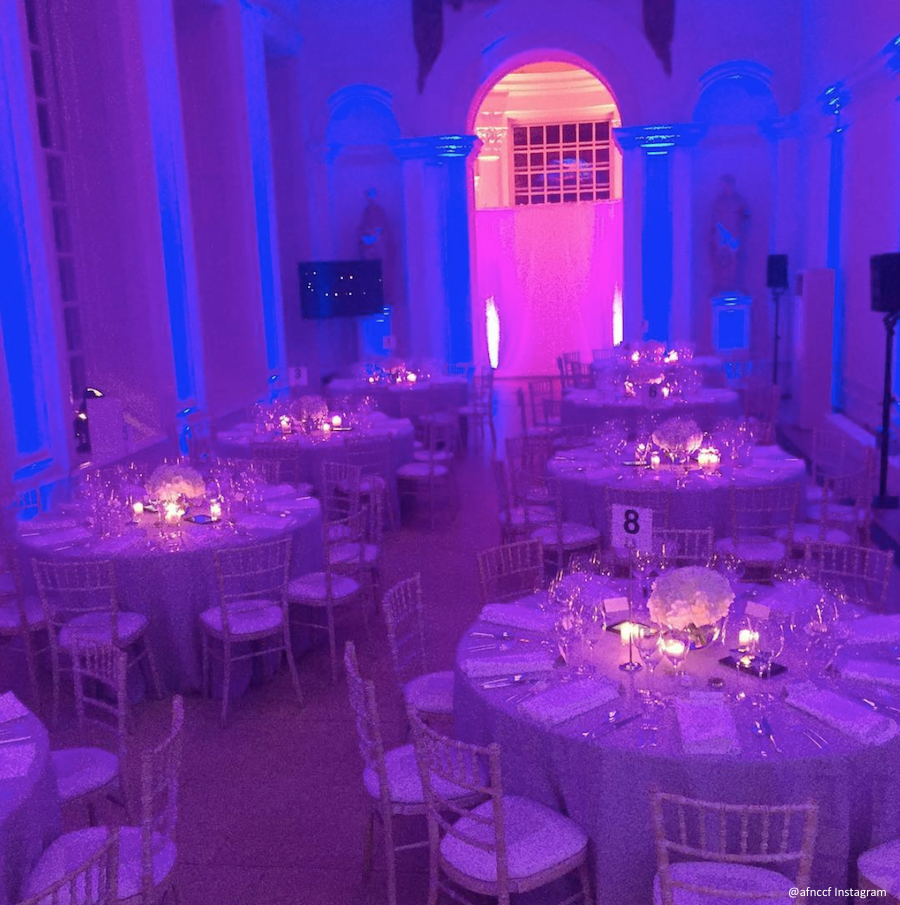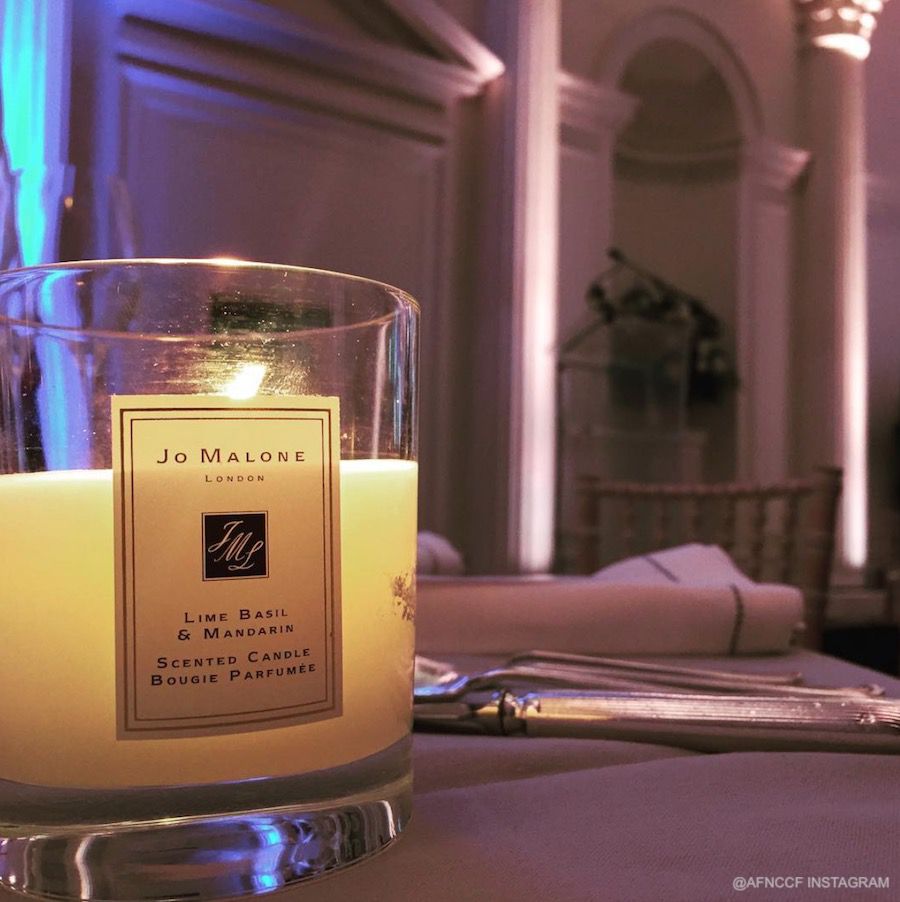 Each table featured a lime, basil and mandarin scented candle by Jo Malone London, who support the Anna Freud Centre's work.  You may remember that Kate used Jo Malone fragrances at the Royal Wedding. She stocked the Abbey with the brand's scented candles and toiletries, including hand washes and lotions. According to Vogue Magazine, 'Lime, Basil and Mandarin' is one of the scents Kate chose for her big day.  It's stocked at all major department stores, including Nordstrom and John Lewis.
Kate's outfit:
If Kate's long black lace dress feels familiar, it's because she's worn it before. It's the Zarita Lace Gown by Diane Von Furstenberg.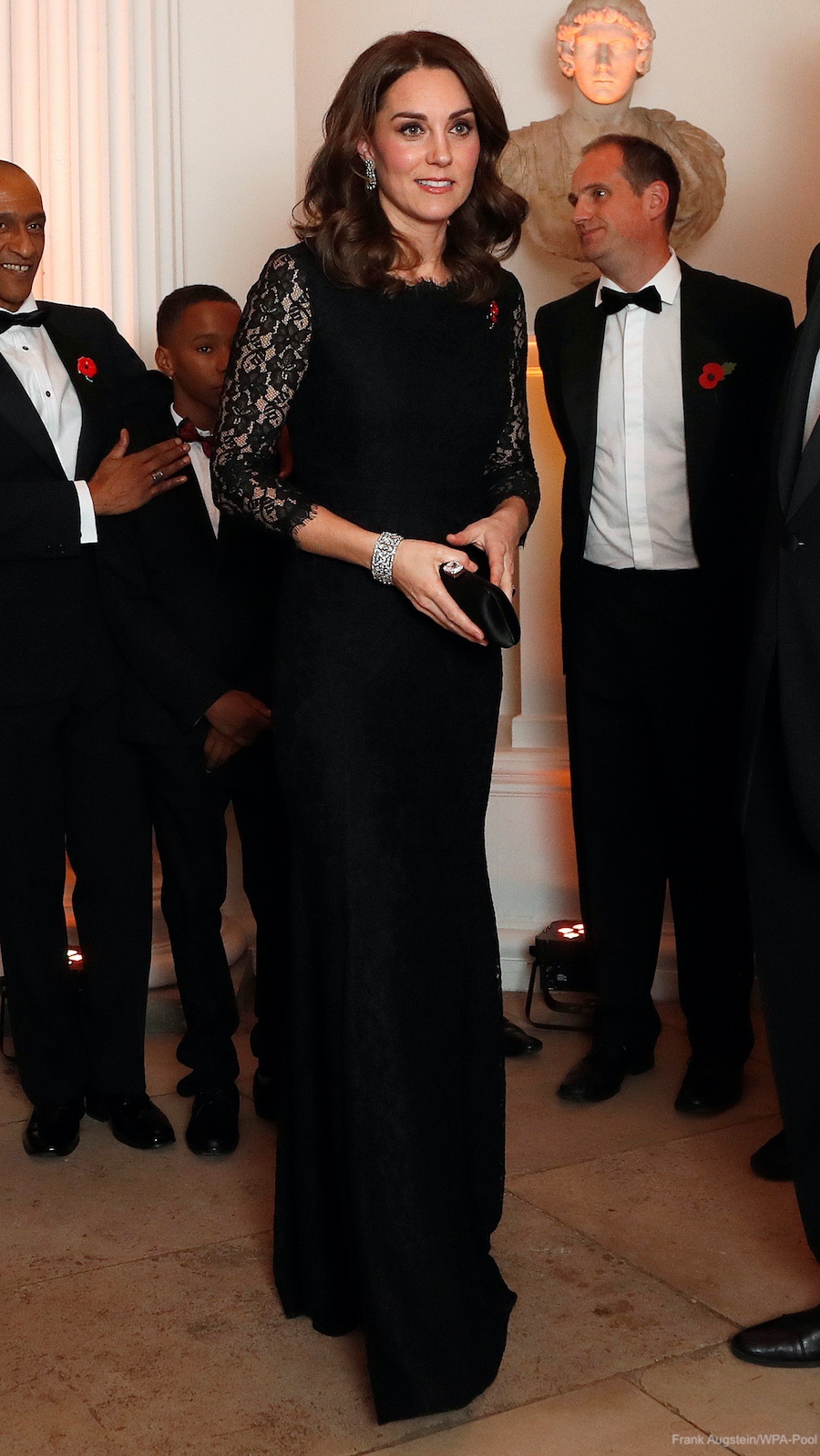 The full-length gown features a fitted bodice that opens up into a sweeping fluted hem.  It has three-quarter length sheer lace sleeves and a deep V-neck back.  The neckline and sleeves feature scalloped eyelet lace.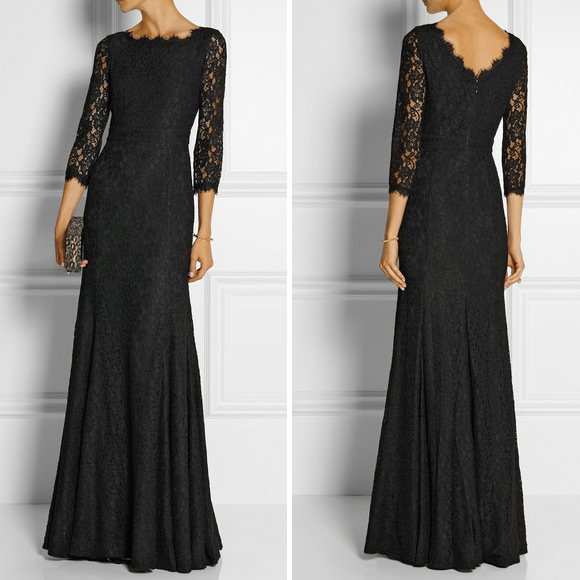 Sadly, the designer no longer stocks the gown, although the shorter version can still be purchased in a number of colours from DVF.com and Matches Fashion.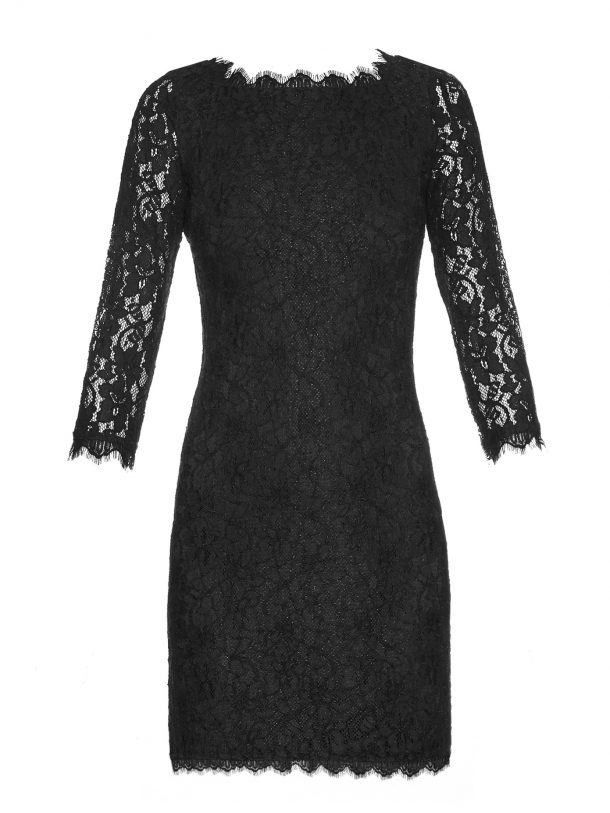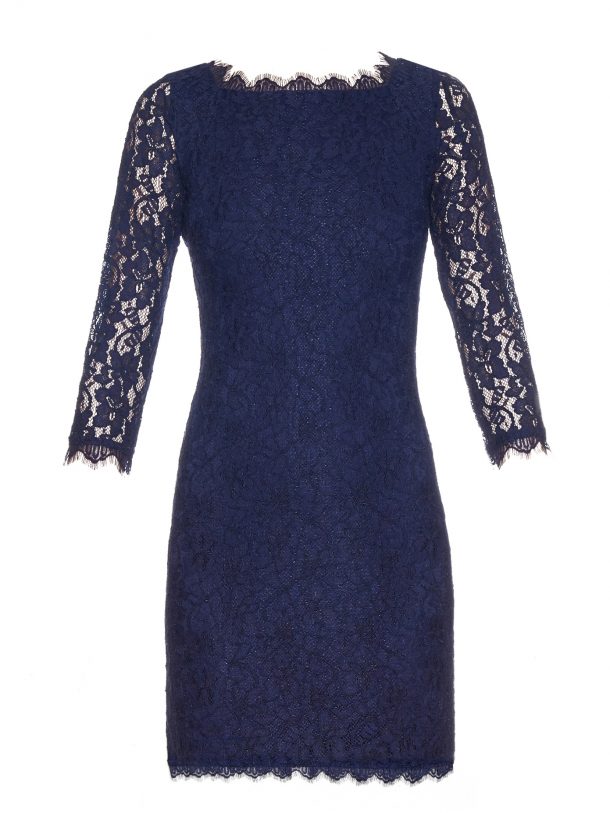 Kate first wore the long gown to the Royal Variety performance in December 2014 while pregnant with Princess Charlotte.  A month later, she wore the gown to a friend's wedding.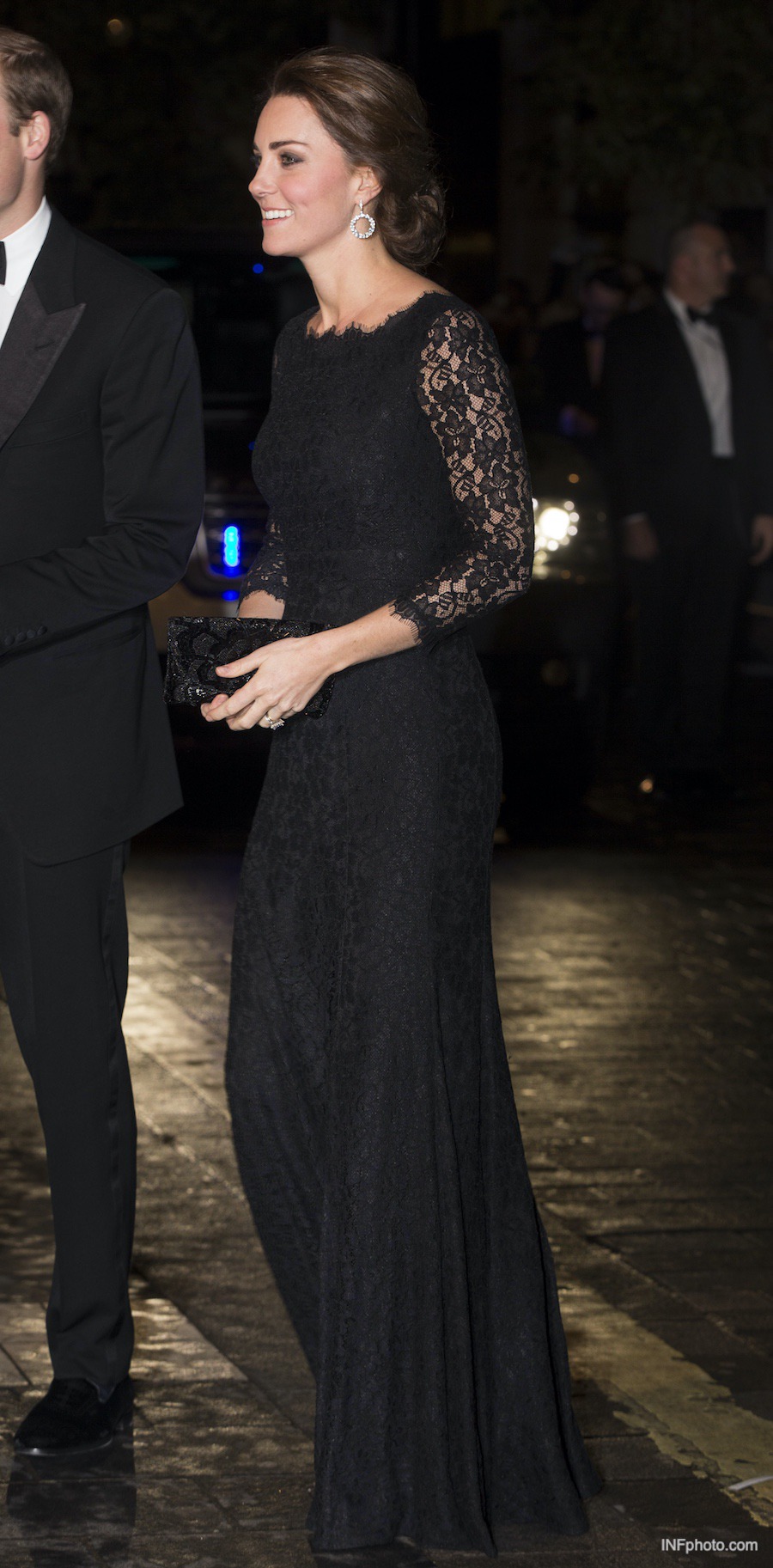 Copy Kate's style
Check out this almost identical dress by Adrianna Papell
Kate accessorised the black lace gown with a pair of sparkling diamond drop earrings, loaned to her by the Queen.  She's worn them on a number of occasions since 2016.  She also wore a sparkling poppy brooch and her sapphire engagement ring.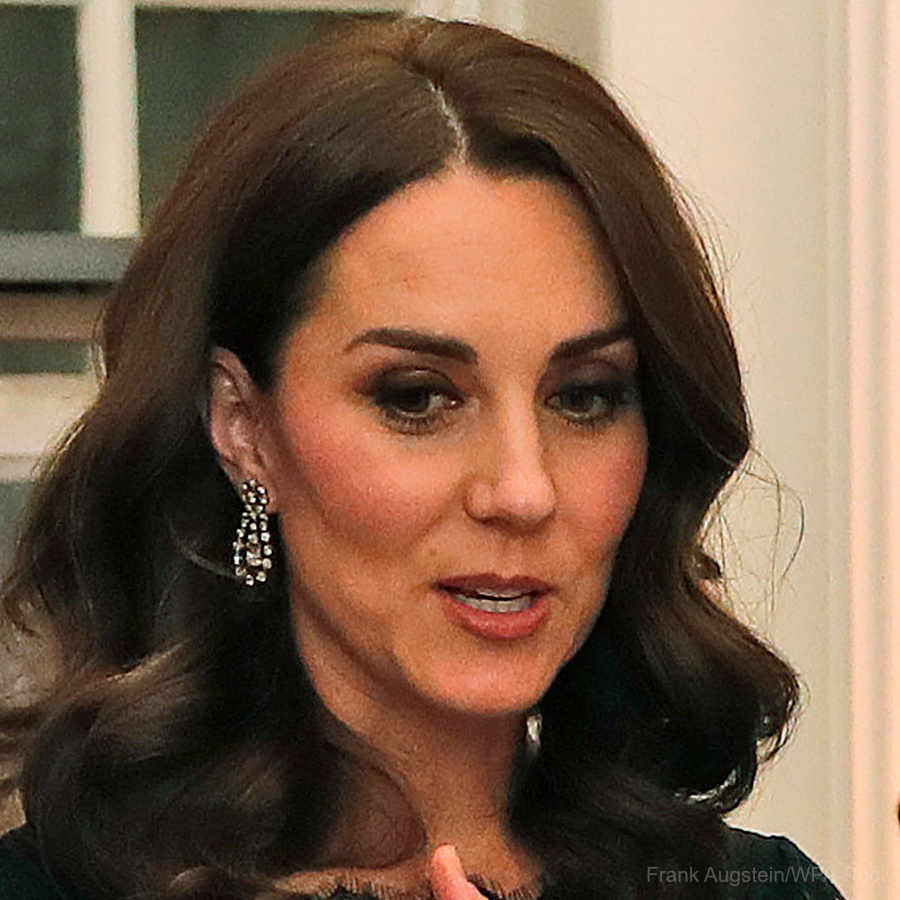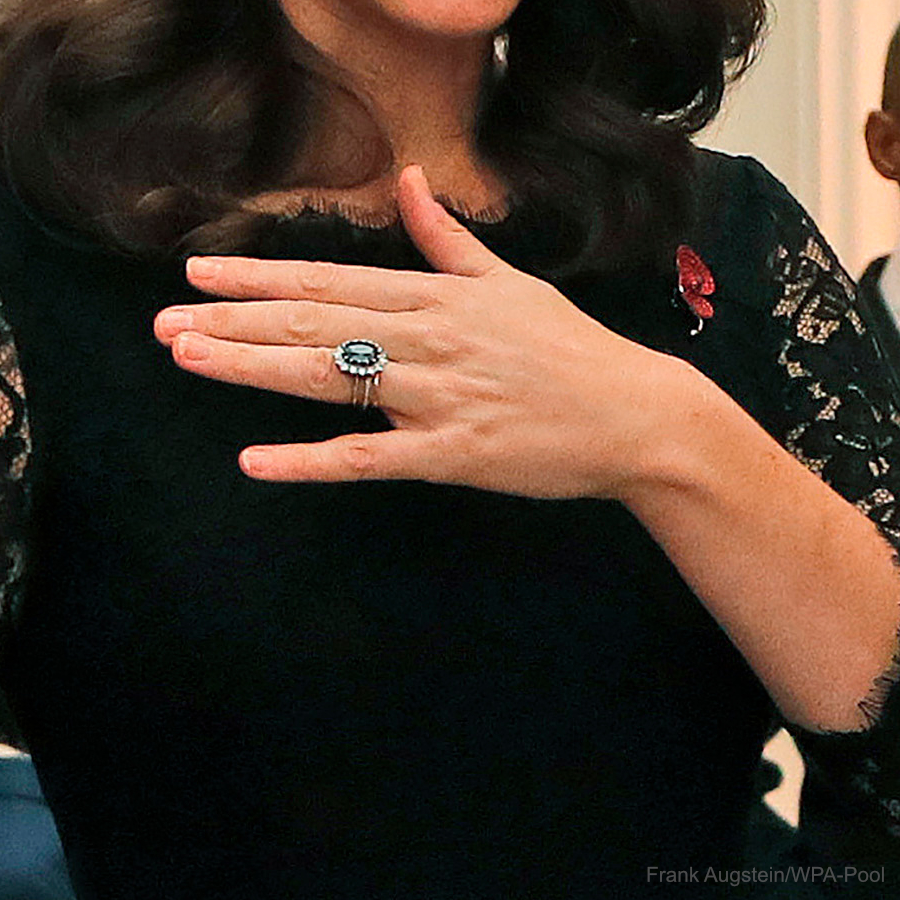 Kate carried her black box clutch bag by Prada.  It is made of satin and features gold-plated hardware.  A few years ago, it retailed on Prada.com for £940 (around $1,232 at today's rates).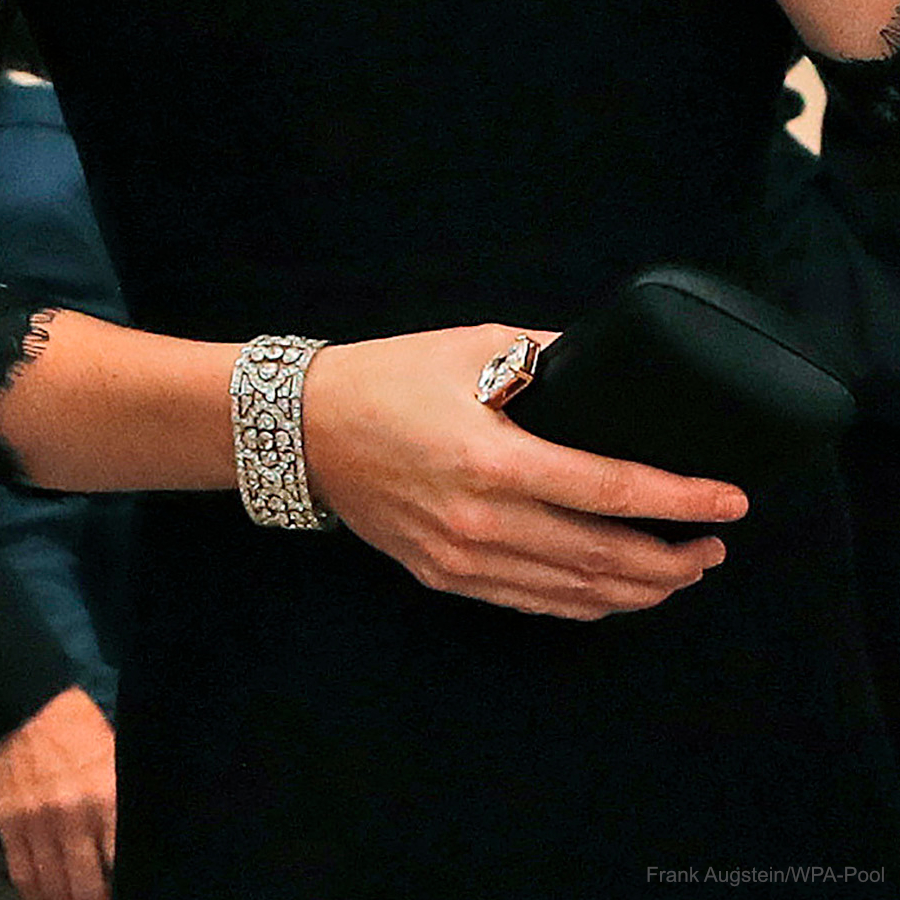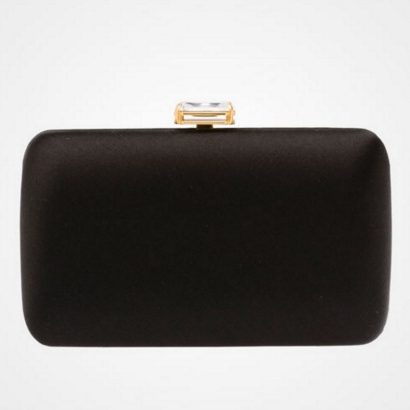 In the photo above, you might notice Kate's wearing a glamorous glittering bracelet.  It's from the Queen's jewellery collection. It's known as the Diamond Quatrefoil Bracelet:
The wide diamond bracelet features multiple diamond quatrefoil motifs, the four-lobed design popular in architecture, art, heraldry, and elsewhere. Each quatrefoil outline is filled with five individual diamonds.
Here's a look at the Queen wearing the bracelet at the State Opening of Parliment in 2010.