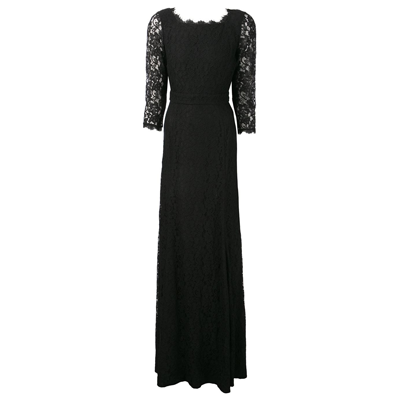 In November 2014, the Duchess of Cambridge (Kate Middleton) wowed attendees at the Royal Variety Performance at the Palladium Theatre in London by turning up to the event in a full-length gown crafted from black lace.   Kate had chosen Diane Von Furstenberg's "Zarita" dress for the occasion.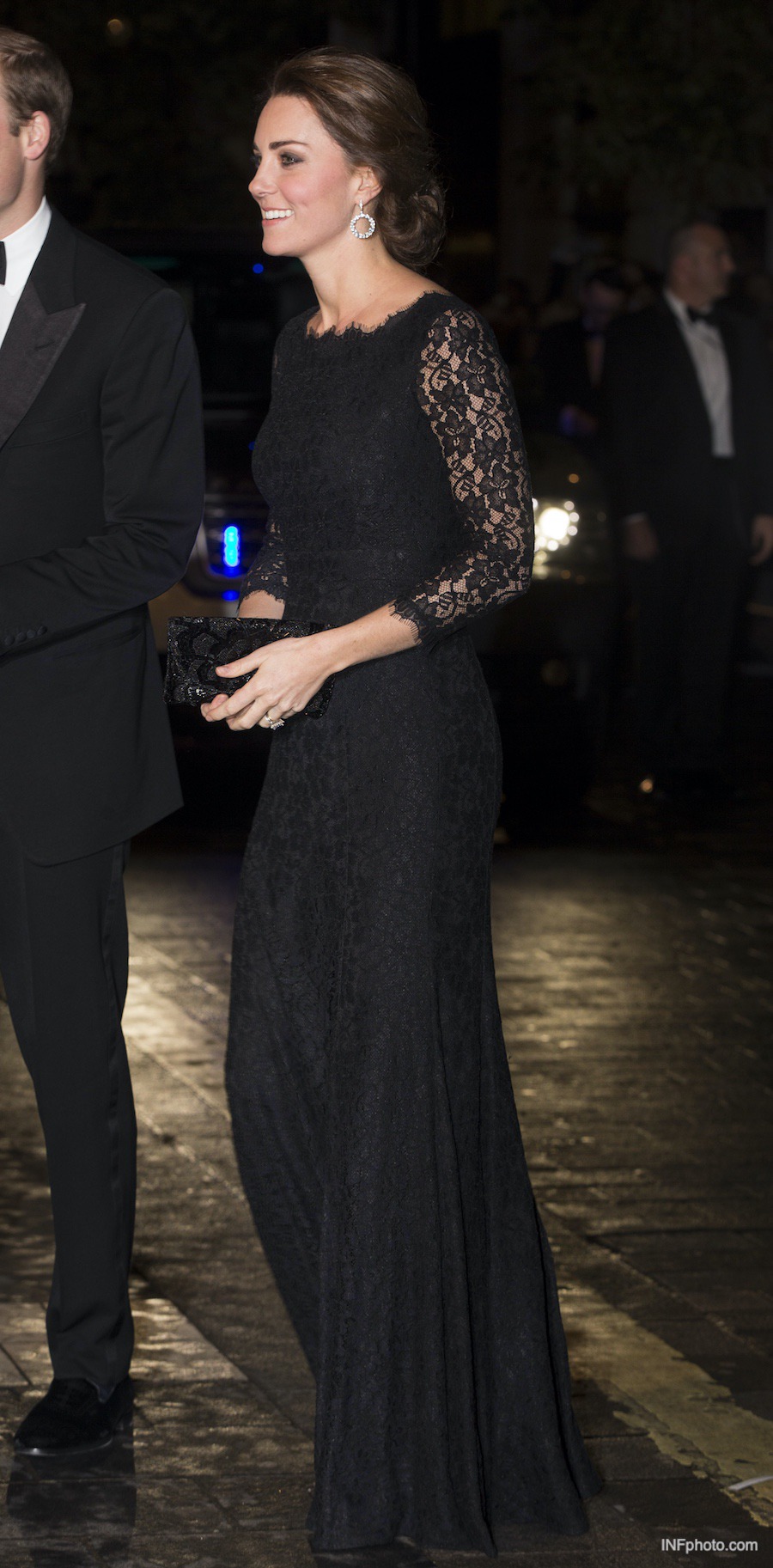 A month later, Kate wore the black lace gown again, this time to a friend's wedding at Chelsea Old Church in west London (photos here).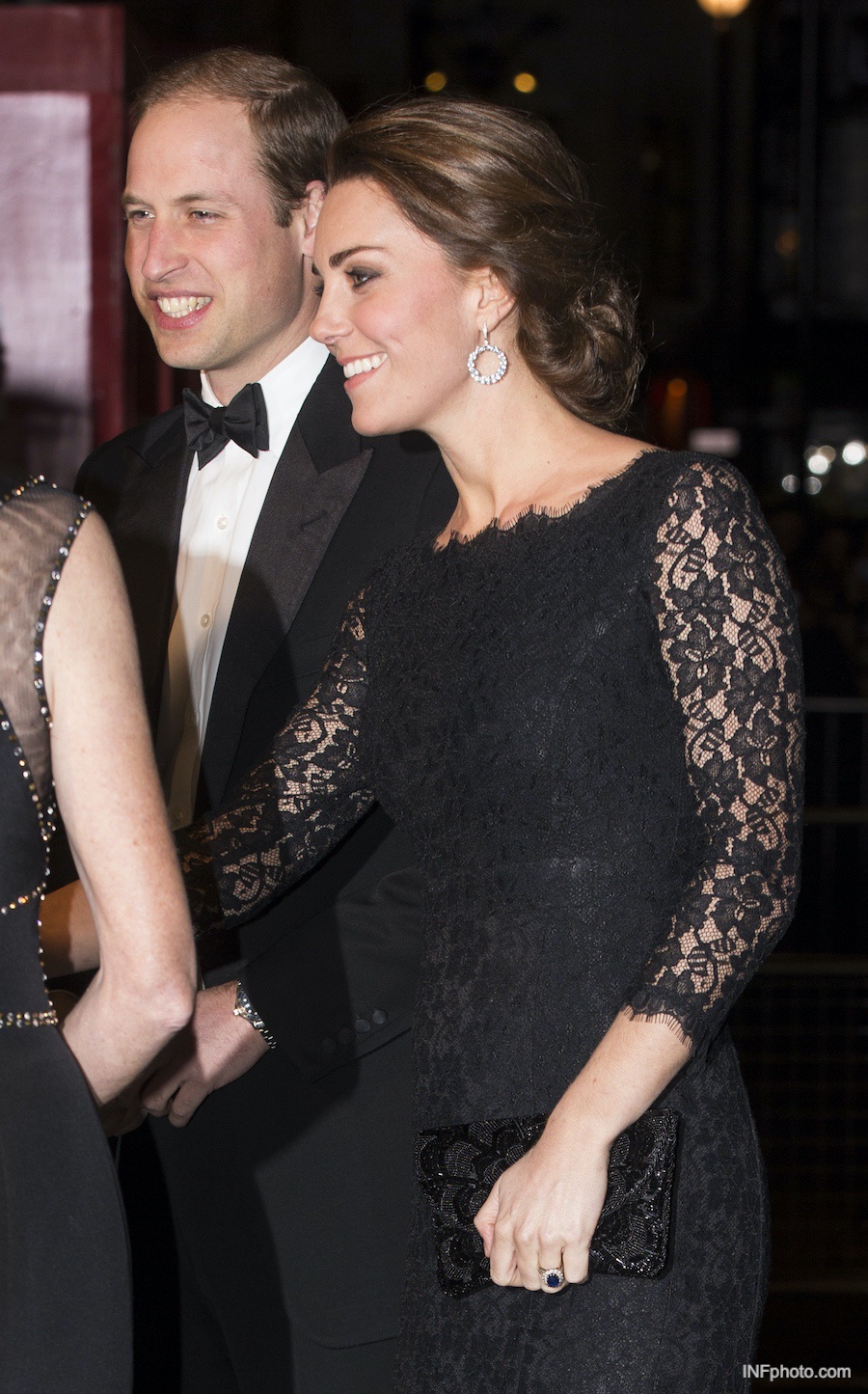 In 2017, Kate wore the dress in public for a third time, to a gala dinner celebrating the Anna Freud Centre's latest project.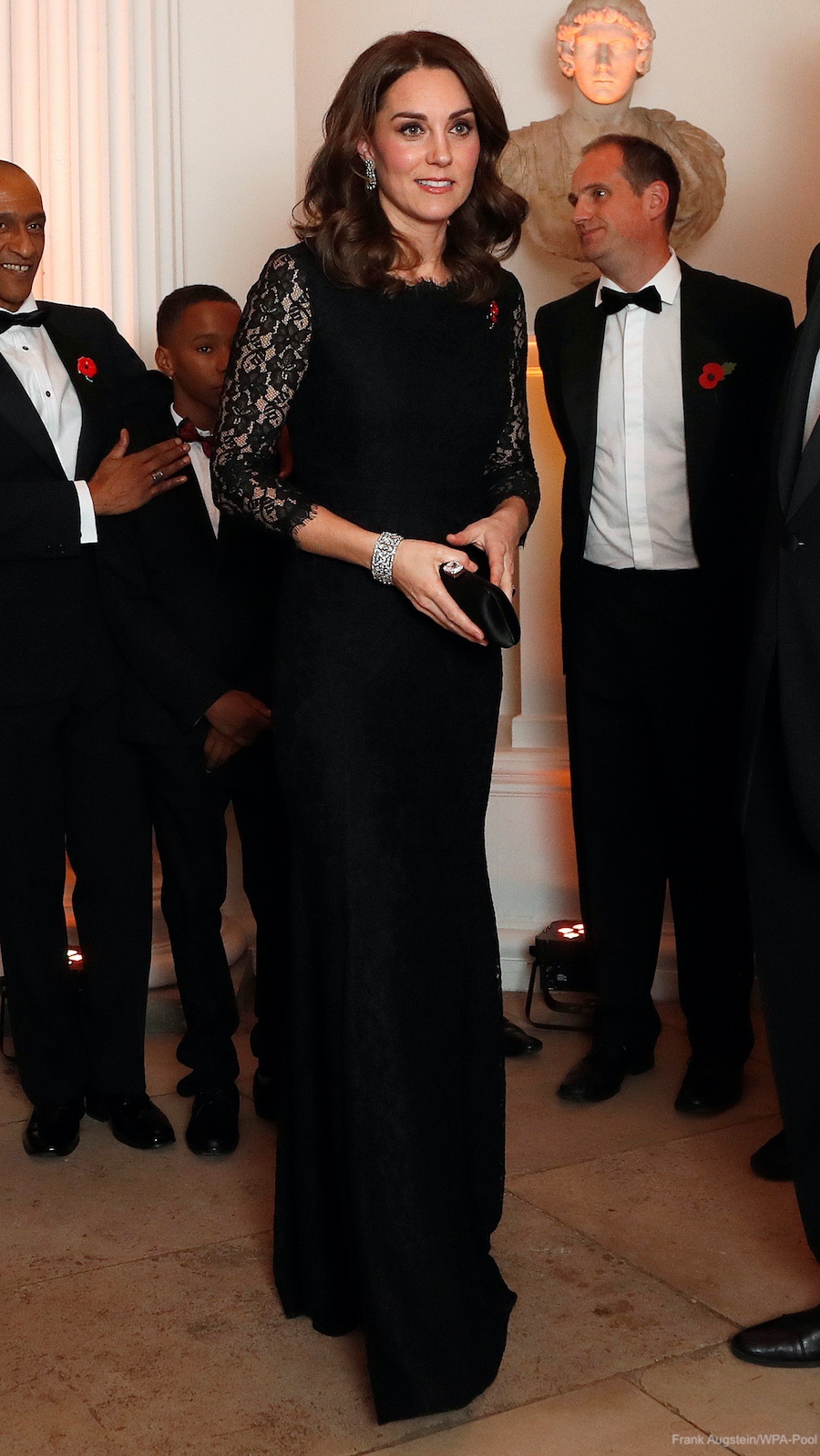 She chose the dress a few weeks later, for celebratory dinner with the Queen and Prince Philip.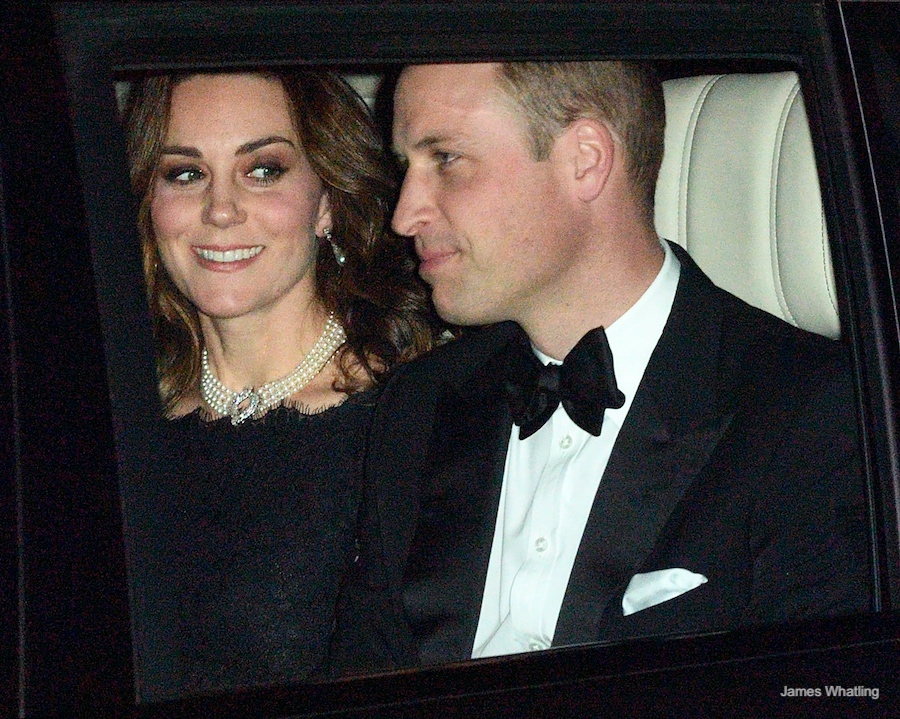 About the Diane Von Furstenberg Zarita Lace Gown:
The "Zarita" is a full-length lace gown with a fitted bodice that opens into a sweeping fluted hem.  The dress features scalloped detailing, three-quarter length sheer lace sleeves, and a deep V-neck back.  It is fully lined.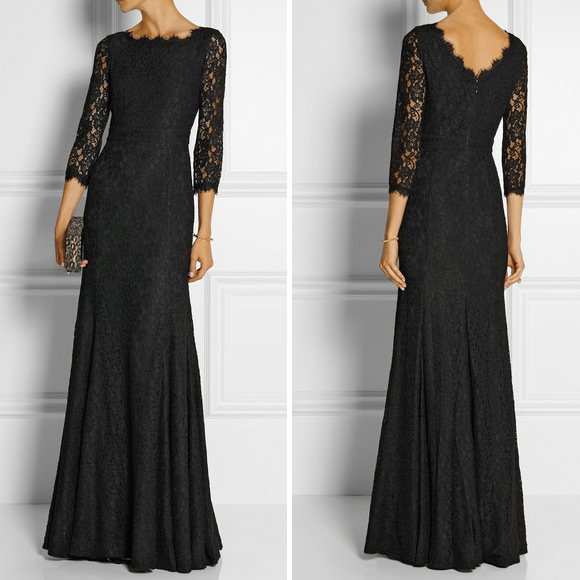 The lace dress is made from a rayon-nylon mix, which offers 'stretch' properties, flattering the body and allowing for movement.
Here's a closer look at the scalloped eyelet lace on Kate's dress: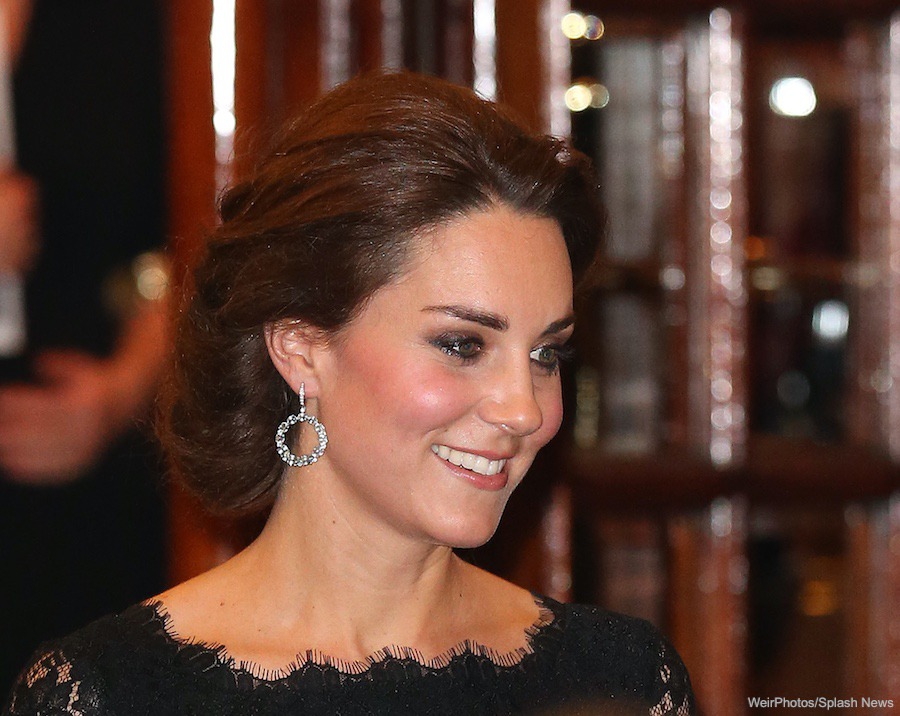 Where to buy Kate's DVF Zarita dress:
Sadly, the full-length version of the dress is now sold out in black.  However, you might be able to find it on eBay.
Shorter version still available:
The "Zarita" is one of Diane Von Furstenberg's signature designs.  The designer offers the Zarita dress in a multitude of styles, lengths and colours.  At the time of writing, the designer no longer stocks the long length worn by Kate, however, the shorter version can still be purchased in a number of colours from DVF.com and Matches Fashion.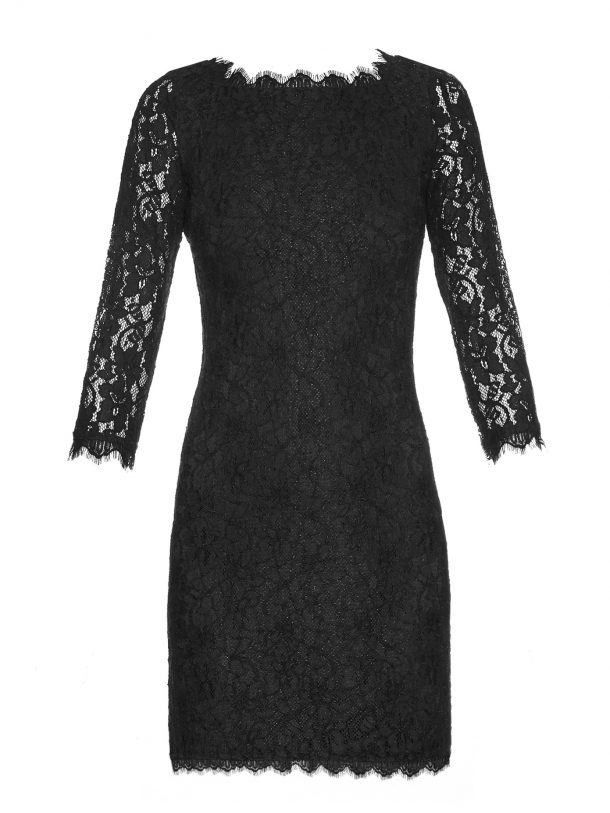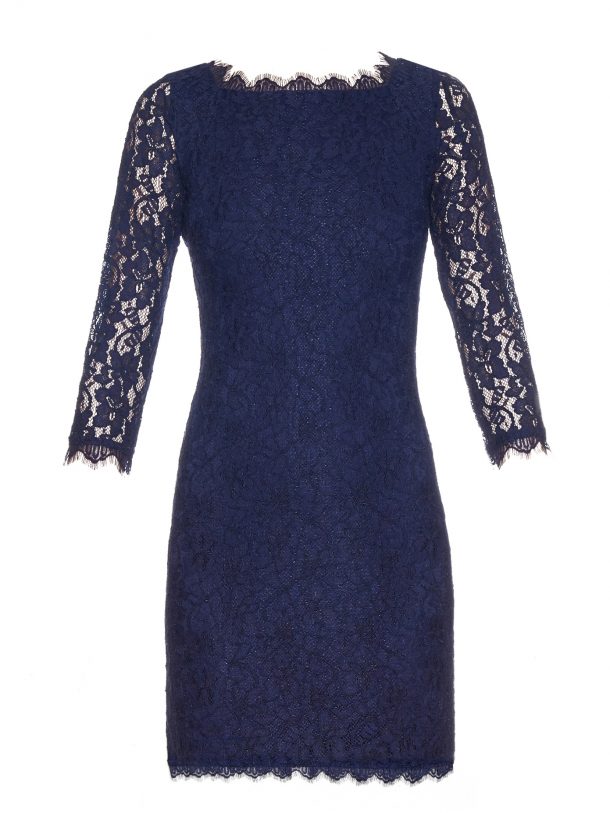 RepliKate:
If you'd like to copy Kate's style, Adrianna Papell sells a fairly identical dress.  It's floor-length with the same low back, scalloped lace detailing and sheer black lace sleeves.
At the time of writing (8th November 2017), the Adrianna Papell dress can be purchased from:
Kate and Diane Von Furstenberg
The Duchess owns several dresses from DVF – the "Maja" dress in green and the "Patrice" dress in navy Ikat Batik print spring to mind.  The Duchess also owns a couple of clutch bags from the brand too.