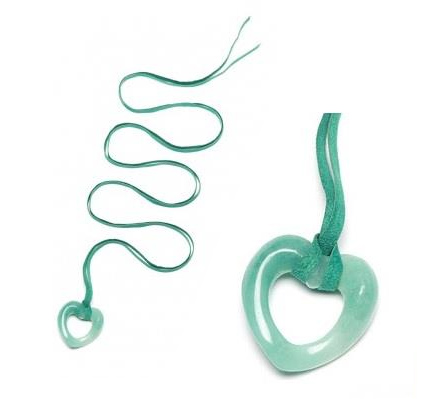 Back in 2005, Kate attended the Gatcombe Park Festival of British Evening horse trials near Tetbury in England.  During the day she wore a green-blue sweater, brown suede jacket, a feather trim hat and brown leather boots.  I have to admit, I think Kate looks at her best in this photograph – the colours suit her beautifully.
During the horse trials event, Kate wore a heart pendant necklace that was tied on a 'suedette' cord.  It was really popular with Kate fans and continues to be a popular item today.  This necklace was from Lola Rose London
, it was known as the 'medium open heart' necklace.  It sold for £45 several years ago.
About the Lola Rose Open Heart Necklace:
This was how Lola Rose described their open heart necklace:
As seen on Kate Middleton, the classic Lola Rose New Medium Open Heart Pendant is a perfect gift for yourself or a loved one. You can feel special in any outfit with this pendant, as the cord can be tied at any length you choose to suit all necklines.
The green colour, as seen on Kate, quickly sold out.  Lola Rose restocked the necklace in a number of colours, including navy blue and pink colour  (see this archived page here on Amazon)
.  A quick Google image search shows the necklace was also available in purple, red, brown, orange and black from other various retailers:
The brand no longer sells the open heart pendant, but they often release similar heart pendants from time-to-time.  Currently, the brand stocks a heart pendant strung from a single strand of glossy round beads (see below) named "Jezebel."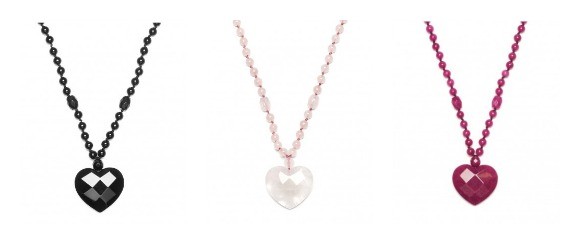 >> Shop Lola Rose Jezebel
 <<
Lola Rose x Monsoon Collaboration
Lola Rose has designed a jewellery line for british retailer Monsoon.  The current season collection includes a number of necklaces and bracelets, all featuring semi precious stones.
From the Monsoon website:
I am delighted to be launching Lola Rose in Monsoon this season. I have always admired the brands heritage and philosophy, as well as the intricacy of the designs and their commitment pattern and colour. These passions are very close to my heart and are reflected in the Lola Rose collections.
Here's a sample of what's on offer: