Today Prince William and Catherine  the Duchess of Cambridge travelled over to Birmingham in order to meet local residents, members of emergency services and community group representatives affected by the Birmingham riots.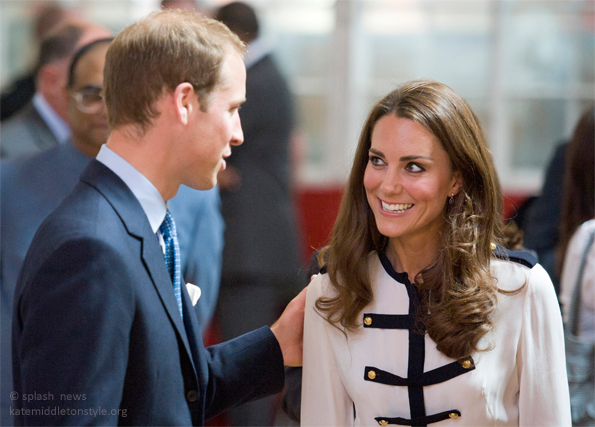 During their visit, the Duke and Duchess spent time with the parents of three young men killed by a car during the riots on August 10th.  The three men had been trying to protect their homes and shops fro looters when they were struck by a car.
This is the third of recent trips made by the Royal Family to the troublesome, riot-struck areas.  Prince Harry took a visit up to Manchester yesterday and the Duke and Duchess of Cornwall visited Croydon the day before.
Obviously this visit was very sad in contrast to a lot of Kate and William's work.  However this is a style blog, so I will still be discussing Kate's outfit.
Kate's outfit: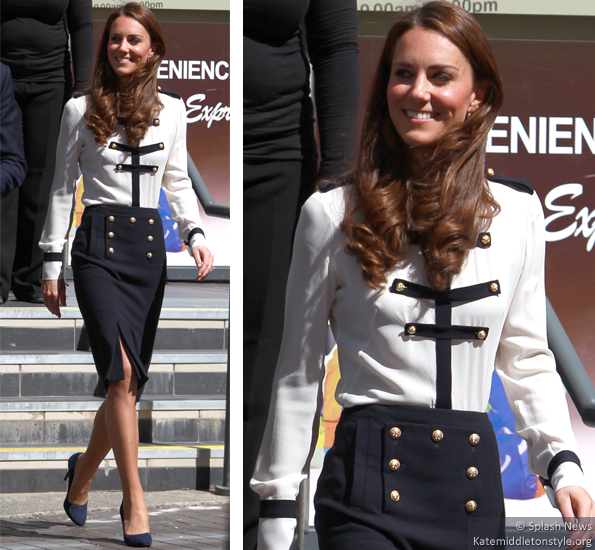 Kate chose a military-style skirt and blouse by Alexander McQueen for this occasion.  The outfit fits in with her newly developed signature blue and white colour palette.
Kate is wearing this exact ensamble from Alexander McQueen's 2011 pre-Autumn lookbook: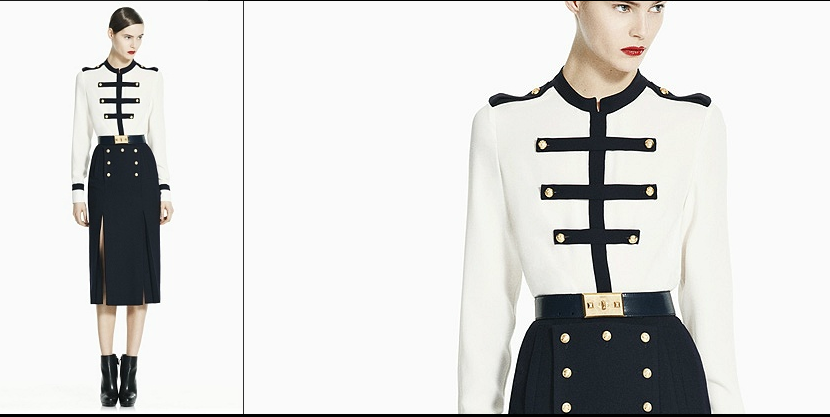 Kate's blouse and skirt:
The silk blouse features a ruffled hem that Kate has worn tucked in to her skirt (as Alexander McQueen styled the outfit in the 'lookbook' picture above.  Selfridges describe the blouse as having a 'flared peplum hemline, epaulette shoulders and gold crest–embossed buttons.'
Kate's navy blue wool-crepe skirt features gold anchor-embossed button embellishments on a front flap.  There are two side slant pockets and two front slits, which we believe Kate may have had altered.
Where to buy:
The silk blouse is currently for sale at £795 in Selfridges and available in sizes 6, 8 and 10.  Click here to get yours while they're still in stock.
You can also buy the blouse from Net-A-Porter for the same price.  Click here.
The skirt is retailing at £580 in Net-a-Porter.com.  All sizes left in stock.  Click here to buy now.
Kate Middleton Birmingam
Kate wears McQueen blouse and skirt on Birmingham trip.
Kate's hair: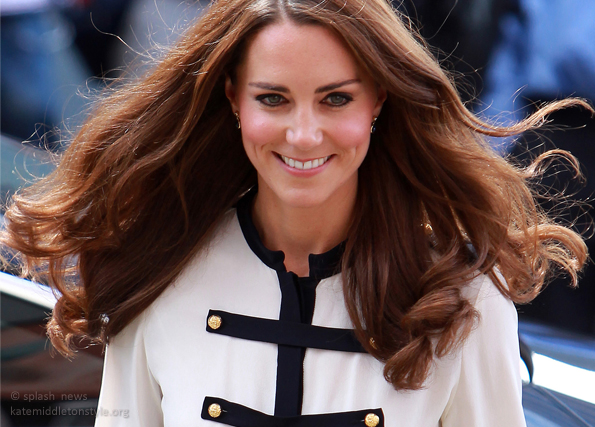 Kate wore her dark, long, glossy hair loose.  It had a lot of volume and a slight curl, her signature style.  Maybe think that Kate's hair has been highlighted because it appears lighter in colour but I believe it was just a sunny day in Birmingham.  As a fellow brunette I know that can make all the difference in a photo.  Additionally, it is possible that Kate's been enjoying a bit of sun – my hair also tends to get lighter in the summer months.
Kate's shoes and earrings: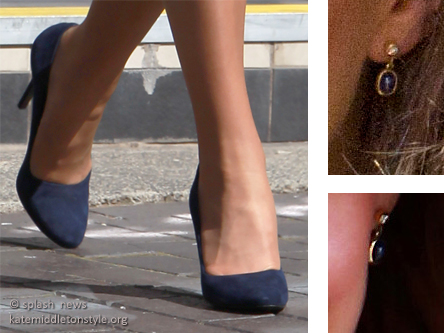 It appears that Kate has recycled her navy Prada pumps for this occasion, Kate wore these recently on her Canada trip. (Hat tip to @MrsRegalEyes for reminding me!)
Finally, Anne (from My Small Obsessions, a page about Kate's jewellery) noted that Kate's earrings are the same from her engagement announcement.
Finally….
What do you think about Kate's outfit choice for this occasion?  Some are criticising the cost of both pieces (those who believe the riots were due to poverty).  Others think the buttons-on-buttons look was a bad choice (and she should have paired one of the items with a plainer piece.)  Are you bored of Kate's signature colours, or do you think they were appropriate for the occasion?  Click here to leave us a comment and let us know!