Along with other prominent figures of the Royal Family, Kate attended the Remembrance Sunday parade at the Cenotaph, in Whitehall, London to honour and remember those who have died at war for our country.
The Queen led the ceremony by laying a wreath at the Cenotaph, then other members of the Royal Family, politicians, military chiefs and servicemen and women lay tributes too. As Big Bed chimed eleven, the thousands of spectators at the memorial joined in with a two minute silence to pay their respects for the fallen.
Wearing his RAF uniform, Prince William laid a wreath and the Cenotaph, as Kate looked on from the balcony of the Foreign Office alongside Sophie The Countess of Wessex and Princess Anne's husband Vice Admiral Sir Timothy Lawrence.  Here is a picture of Sophie and Kate singing one of the hymns during the service (I dedicate this picture for my friend Anna from My Small Obsessions who is a big fan of both Sophie and Kate!)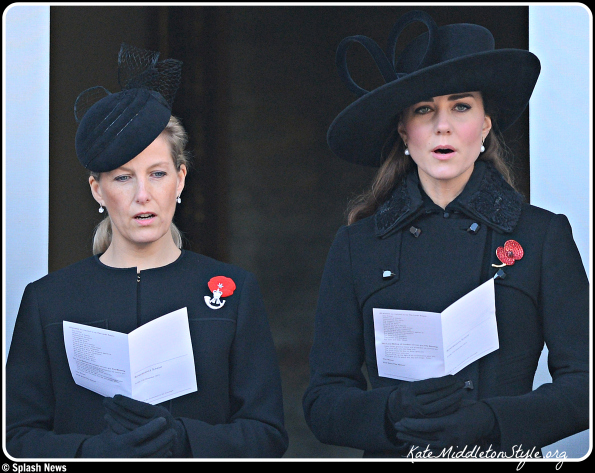 Kate's Outfit:
Kate wore her black Diane Von Furstenberg wool double breasted coat, which you might recognise from last year's ceremony.  Kate's hat was also a 'repeat' – you might recall this particular piece from Prince William's Passing Out Ceremony at Sandhurst, back in 2006?  Back then, Kate paired it with a red Armani coat and black boots.
Kate also wore her pair of Annoushka pearl earrings and a 'blingy' poppy (as I like to call them) from The Royal British Legion charity.  (It's actually called the "Buckley Brooch" and it costs £24.99, you can buy it from their website – and yes, they ship internationally, which I know will please a lot of our overseas readers!)
Just popping out from under her cuff, you may spy a pair of Black's Cocktail Bow gloves. Cornelia James pure wool glove with side bow.  We originally were led to believe the gloves were by Black, but Cornelia James say they make the gloves; the company are Her Majesty The Queen's OFFICIAL glove makers, so that does make sense.
Here's a look at them, pretty hey?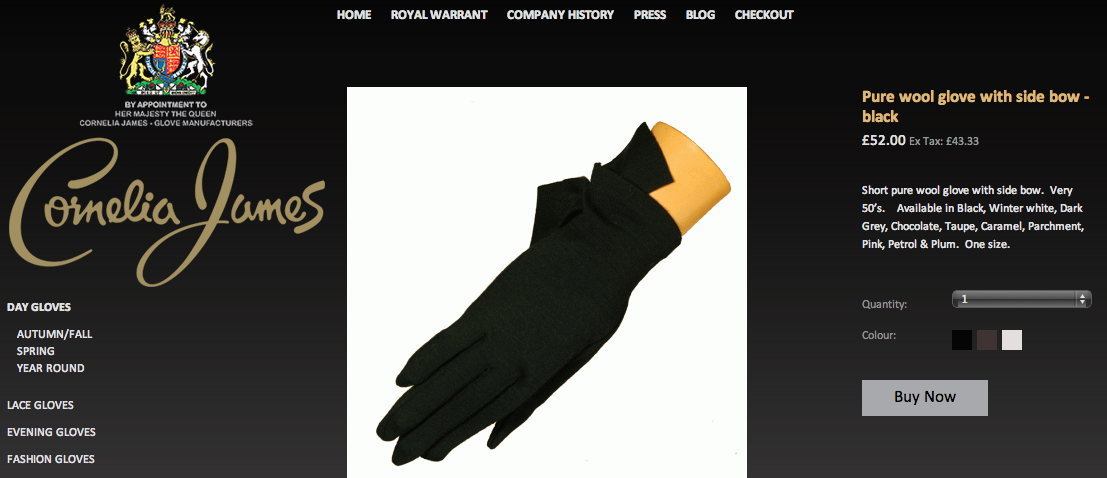 Here's another couple of looks at Kate, who looks somber and solemn, in keeping with the occasion: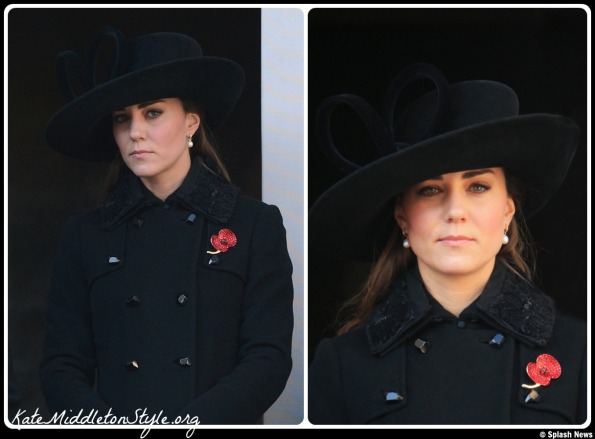 Extra 'Kate' tidbits:
— Kate was photographed shopping at Harvey Nichols yesterday.  Kate wore her Tod's D-styled bag in grey and her mystery black coat (last seen during the night out at LouLous in October).  It was thought that Kate wore a pair of Kurt Geiger Estee shoes, until somebody noticed the sole is the wrong colour.  Otherwise, they're pretty much a perfect match.
— We have a new date for our diaries.  William and Kate will be attending the British Military Tournament on December 9th.  (See Kate's whole schedule for Nov & Dec here)
— Kate made a surprise appearance (along with Pippa and Lupo) at the Burlington Arcade Christmas Bazaar, a charity event in benefit of the Ormiston Children and Families Trust. Here we show a pic of Kate and Lupo, courtesy of @CourvoisierUK: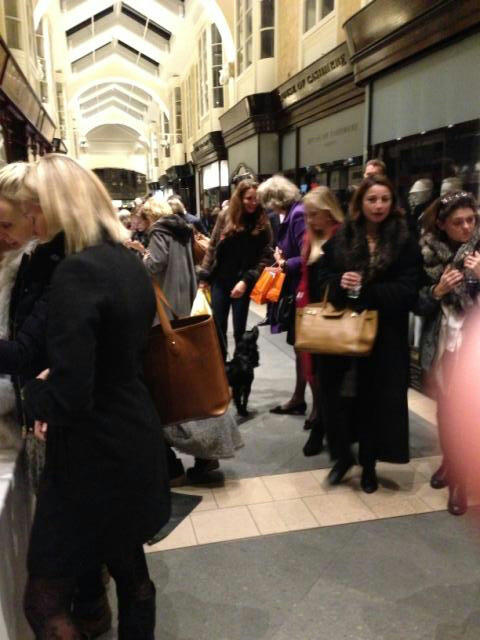 Kate wore her L.K. Bennett Darwin jacket and her Zipkin boots from Stuart Weitzman.  (If you want to see what Pippa wore, click here.)