To mark Armed Forces Day in Great Britain, Kate Middleton and Prince William attended a ceremony at at Windsor's Victoria Barracks and presented medals to members of the Irish Guards. The event was Kate's first military role as a member of the Royal Family – and we thinks she dressed the part!  Her ensamble was demure yet serious: very apt considering Kate met with families of the Irish Guards who had been killed in Afghanistan.
Kate's Coat:
Kate chose a dark navy blue military style coat dress, which was designed Alexander McQueen.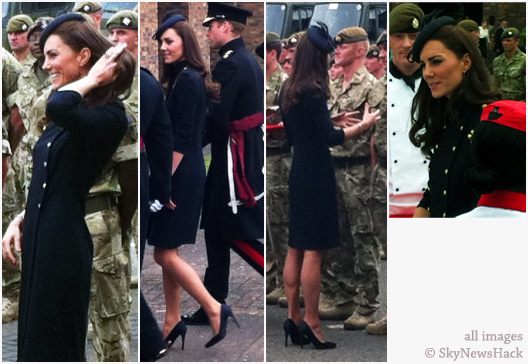 McQueen confirm Kate wore a PreAW11 "dress", but have not explicitly written that the coat is their creation too.  I personally think they mean "dress coat".  When you look at some of the coats in McQueen's pre-AW2011 collection.  Here are a sample of dresses and coats from that collection you can see the similarities:
Kate's coat is doubled breasted, features a high collar, epaulets and is adorned with gold buttons just like the dress on the left (and to some extent, the coat in the middle.  Did McQueen adapt the dress adding a skirt underneath (to help Kate protect her modesty), sleeves to the dress and removing the belt?  It certainly appears that way.
We've asked McQueen if they designed the coat – so we'll update you as soon as we know!
Kate's Hat:
Kate wore a hat (which almost looks like a beret, in keeping with the military theme) in navy blue.  The hat has a bow embellishment on top.  It has been confirmed that Kate's hat is by Rachel Trevor-Morgan Millinery.  Here's the confirmation email: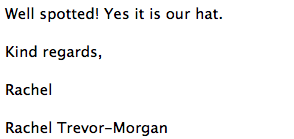 Kate's Shoes and Handbag:
I believe Kate is wearing an old pair of blue Prada shoes with this outfit (she loves recycling!).  Kate has been spotted in the shoes before, most recently at the wedding of Sam Waley Cohen and Bella Ballin.
Additionally, it appears that Kate is carrying the Anya Hindmarch Marano clutch bag, which is made from shagreen (stingray) in the colour blue.  This needs verifying, but it certainly looks similar! (Thanks Leisa for IDing this bag!)
Kate's Earrings and Bracelet:
Kate has finished her outfit off with her Kiki McDonough citrine drop earrings and a customised silver/gold bracelet, that features a "C" and crown emblem engraved on a disk.  The bracelet looks like the following item from Links of London:
(Thanks to Betsy for the tip!)
However, it is clear from a closeup that the bracelet is not the same.  The links bracelet IS a great option if you'd like something similar.
Kate's Shamrock Brooch:
The gold and emerald shamrock brooch worn by Kate that was once worn by the late Queen Mother.  It was handed to Kate specially for today by the Princess Royal, the previous colonel to the regiment.  It is my understanding that the brooch belongs to the regiment and has been loaned to Kate. (Thanks to @TheRoyalEditor for the information.)
Get the look:
A number of militaty jackets by Alexander McQueen:
Credits:
Massive thanks to all our Facebookers for commenting & helping: Leisa, Betsy and Anna were very helpful today. Come and join us.
Photos of Kate from @SkyNewsHack.