Kate fans were treated to a lovely gift on Christmas Day, when the Duchess went out on an early morning walk with Princess Beatrice in the Sandringham grounds.  This, of course, meant we got an extra glimpse of Kate.  This was Kate's first traditional Christmas with the royals.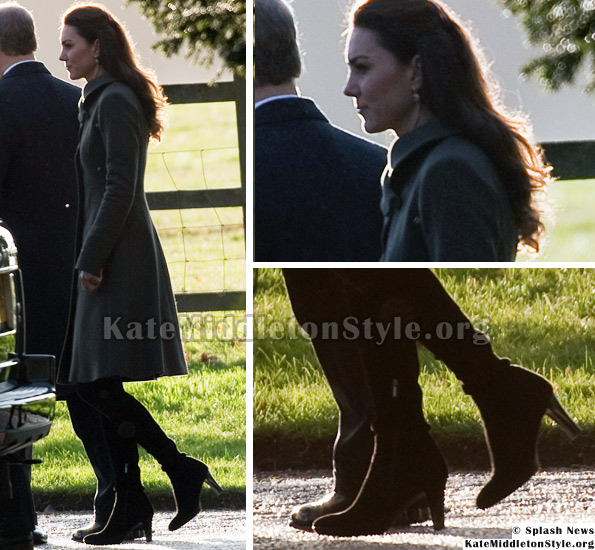 We can see Kate is wearing a grey coat (currently not IDd).  She's wearing the Aquatalia Rumba boot too.
Later in the day, Kate attended a service with the royals at St. Mary's church.  Kate was photographed on the traditional walk, which involves members of the royal family meeting well wishers and exchanging Christmas greetings,  wearing a wine-coloured dress and matching hat.  The designer was cited only as an "independent British designer".
Here I show Kate's outfit as she's greeting an excited child who is presenting her with a Christmas card; you can see how the public love to come and visit the royals on the festive day!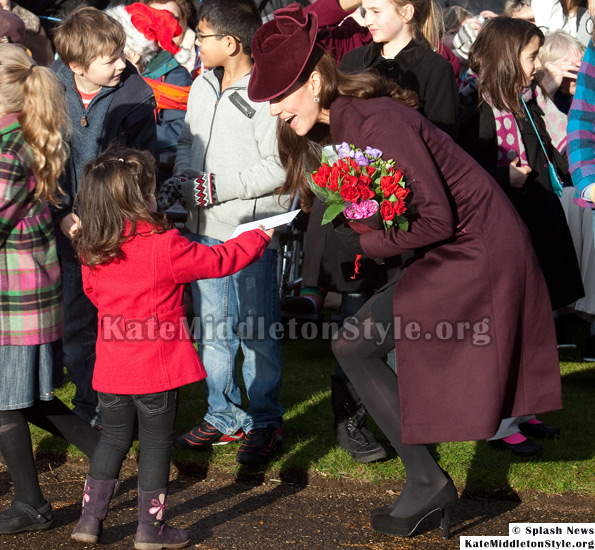 The super sleuths at What Kate Wore managed to ID Kate's shoes as Mascaró platform pumps.  The company also own a sister brand called Pretty Ballerinas, which you may remember is the label behind Kate's black clutch bag with the bow on the front, worn to The Sun Military Awards.  It looks like the shoes will be re-issued too, so that's great news for fashion followers.
WhatKateWore.com also informs her readers that Kate's hat was by designer Jane Corbett.
You may notice that Kate is wearing new earrings, which many are speculating were a gift from Prince William.  You can find out more about the earrings by clicking here.