As day two of the Royal Tour 2012 gets underway, we are going to take a quick look at Kate and William's engagements from this morning and dissect the Duchess' sartorial choices!
First, at around 9.45am (local time) the royal couple visited Singapore's "horticultural sanctuary in the heart of the city", the Gardens by the Bay project. This is a huge park spanning over 250 acres of reclaimed land in central Singapore. The Singapore government financed this project with the aim to transform Singapore into a "City in a Garden." The hope is to enhance quality of life by improving the flora and fauna in the city.  Here we can see a couple of images of Kate near the exotic plants and trees in the background: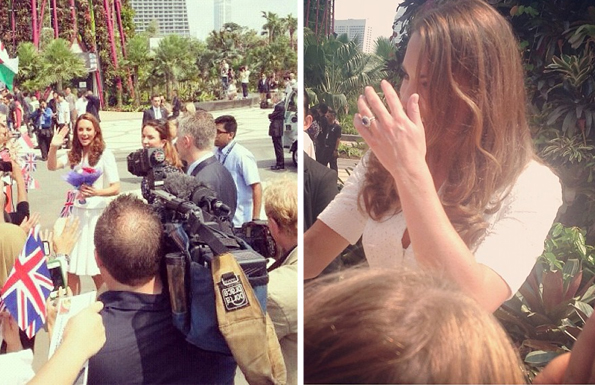 Images courtesy of  theaitenev and czapreme, Instagram
While meeting and greeting Singaporeans on the walkabout the couple were faced with many tough questions from youngsters.  One little boy asked William if he'd like a big family.  William revealed hat he would like two children. Meanwhile, Kate struggled to think of which power she might like if she were a superhero.  After William said "invisibility", Kate chose that too, theorising that if she didn't, William might sneak up on her.
Later, William and Kate toured the Rolls Royce plant in Seletar. The plant was opened earlier this year after an investment of over S$700 million by British firm Rolls Royce. When fully operational, the plant will create 500 new jobs in the region.
Here's a look at William and Kate in the factory: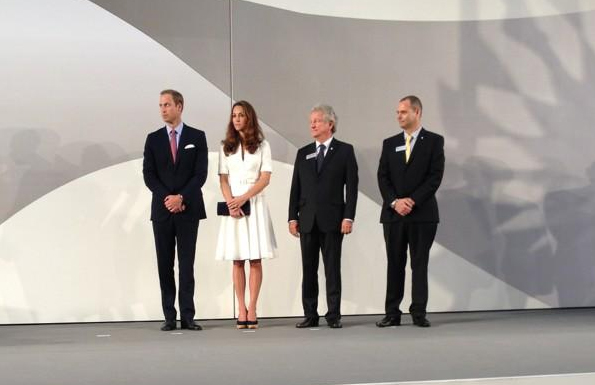 Image courtesy of @RoseSkyNews, Twitter
Via @WhatKateWore
While in the Rolls Royce factory, both Will and Kate tested the multi-million pound engines for a test spin. Apparently, William joked with Kate and said "try not to break any engines."
At the plant William gave a speech and Kate was given the task of fitting fan blades to a Trent 900 engine. According to The London Evening Standard, Kate looked pleased with her efforts, pumping the air with her fist when she finished and everything worked correctly.
You can see Kate wearing a pair of goggles on this video from ITN. Click the image to be taken through to the full video: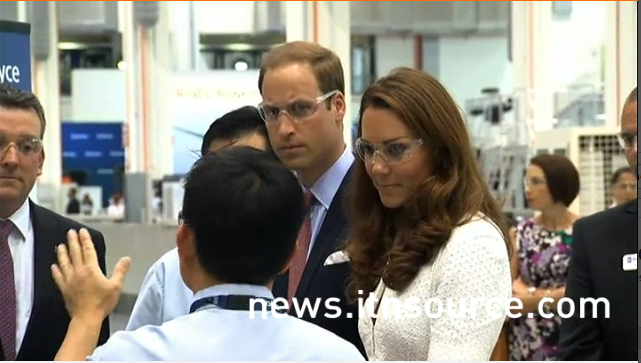 Kate's outfit:
In the hot, humid and sticky heat of Singapore, Kate sensibly opted for a cool, airy skirt suit from British designer Alexander McQueen:
Image courtesy of shirlyhamra, Instagram
The dress featured broderie anglaise needlework, which to me looks as if it'd keep Kate very cool. As you can see, the broderie anglaise consists of tiny little holes: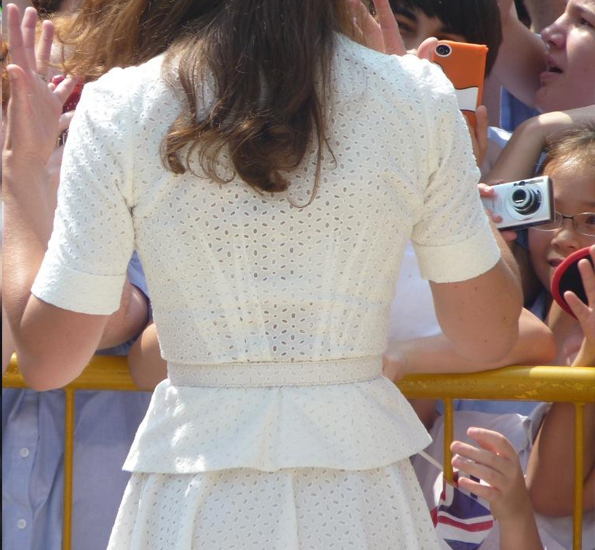 Image courtesy: @RE_Daily Mail, Twitter
With the outfit, Kate wore her navy blue "Corkswoon" wedges (Stuart Weizman, available at Russell and Bromley).  Shop Corkswoon in different colours:
She carried a clutch bag, also from Russell and Bromley, known as the "Muse."   Kate wore her diamond and sapphire earrings, which she has worn on a number of occasions previously.  As you can see here, it appears they were part of Princess Diana's collection, modified and given as a gift to Kate.
EDIT:
I just wanted to share some fabulous photos with you from the Rolls-Royce factory in Singapore.  Click here to see the full Flickr gallery from UK in Singapore.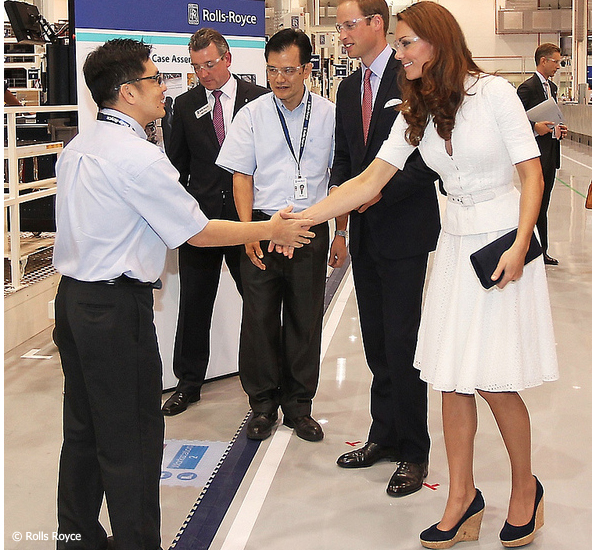 William and Kate meet staff at the Seletar Campus, note their goggles!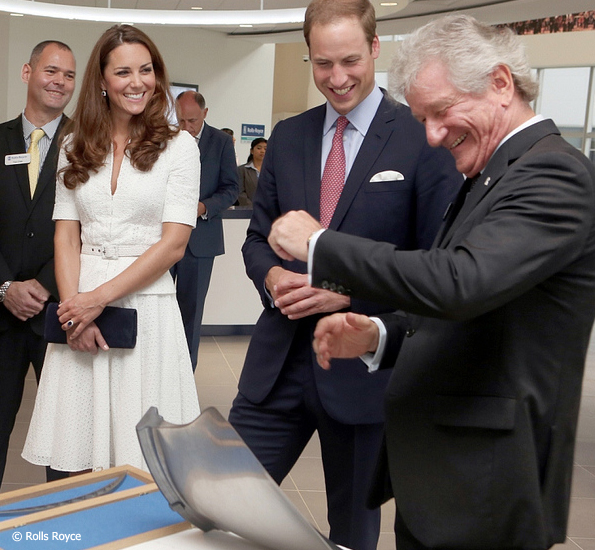 Kate and William meet important members of Rolls-Royce, including the President – Civil Aerospace and The Regional Director of Southeast Aisa.