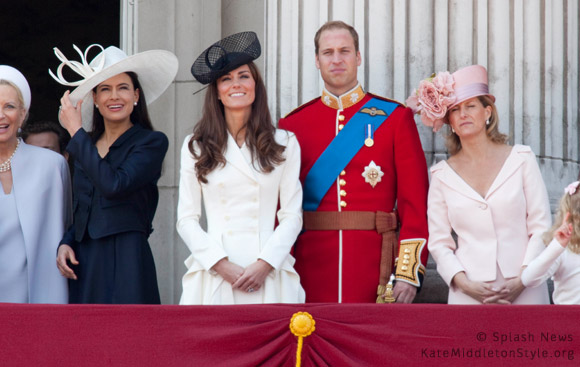 In 2011, just months after her marriage to Prince William, the newlywed Kate Middleton attended her very first Trooping the Colour ceremony.
After riding in the ceremony's procession, Kate joined the Royal Family on the balcony to watch a flyover display by the Royal Air Force:
Kate's white coat:
For the occasion, Kate impressed onlookers by wearing a very fashion forward white coat by Alexander McQueen.
The "Cotton and Wool Blend Pique Coat" featured a pleated and tired skirt, collar, padded shoulders, a double-breasted front and lapels.
It was available to buy on Net-A-Porter back in 2011, priced at $3,845 / £2,290, here's a look at an image of the coat:
Catherine paired her white statement coat with simple black accessories.  Her hat is by Sylvia Fletcher for Lock & Co.
I believe Kate wore her Kiki McDonough Grace earrings with the outfit.
Shop Similar:
Kate has a horse allergy?
When photographs similar to this surfaced online after 2011's Trooping ceremony, fans immediately thought William must have said something funny on the balcony.  Others reasoned that Kate is sneezing, due to an allergy.   According to the Daily Mail, Kate let it slip to Australian author Kathy Lette at a society polo match back in 2008 that she's allergic to horses.
About Trooping the Colour:
Since 1748, Trooping the Colour has marked the monarch's official birthday.  It's a ceremony performed by regiments of British and Commonwealth armies, healed in St. James's Park London and coincides with the publication of the Birthday Honours list.
The ceremony is the definition of pomp and pageantry: always colourful, usually involving a royal procession complete with horses and carriages, plenty of music from and a flypast from the Royal Air Force.
Here, a lovely photograph of William pointing to the flyover display and Catherine listening –
Highlights from Trooping the Colour 2011
If you'd like to relive the 2011 Trooping the Colour ceremony, watch the video below: