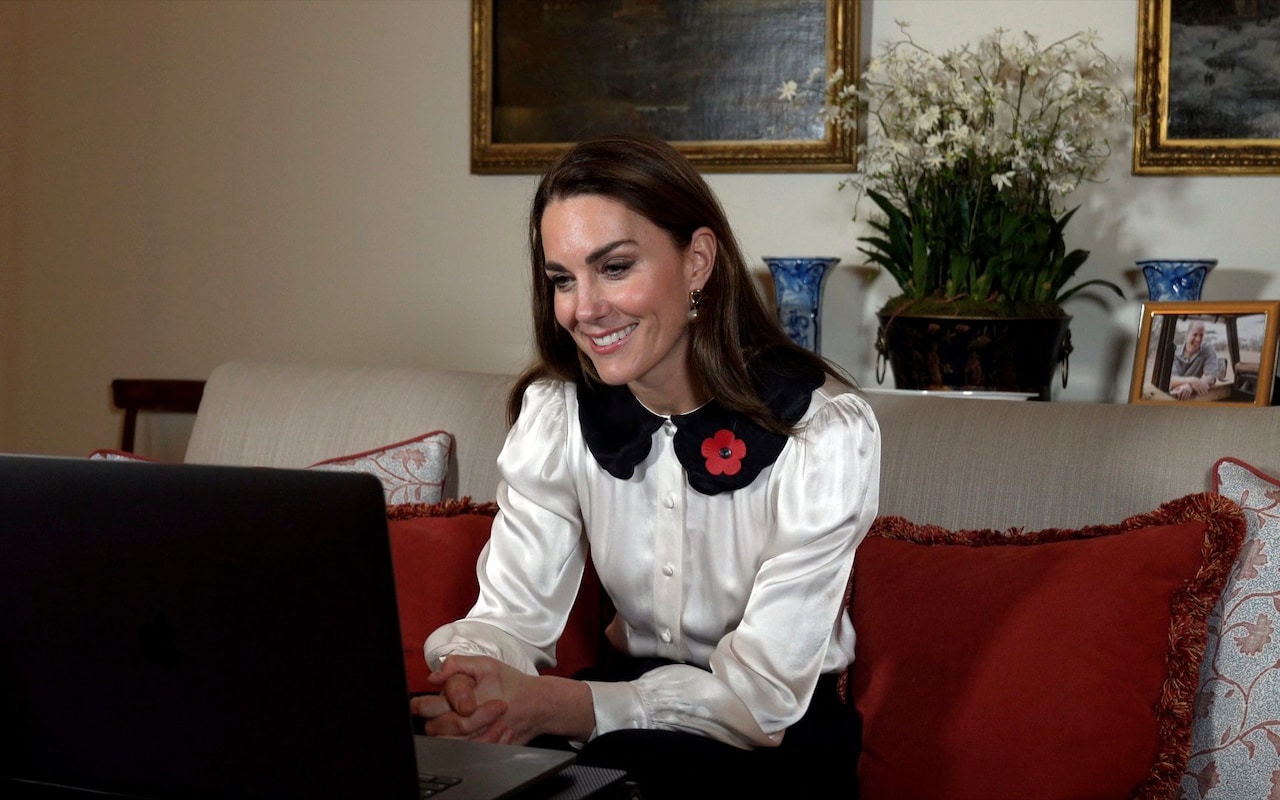 Tuesday, 10th of November 2020—Kensington Palace released video footage of Kate speaking with Armed Force families who've lost loved ones ahead of Remembrance Day.
Remembrance Day, also known as Armistice Day, is a memorial day that's observed in Commonwealth countries to honour those who were killed during war and conflict. It originated after the First World War and commemorates the signing of the armistice between the Allies and Germany at 11am on the 11/11/1918.
During the virtual engagement, Kate spoke with Armed Force families and learned how important acts of Remembrance are to them. She also heard how bereaved families are supported by one another, the wider Armed Forces community and the Royal British Legion.
It's been a real honour to speak to all of you, and I think I speak for the whole nation when I say just how proud you should be of your loved ones and for the sacrifice and the bravery that they've shown. I'll certainly be thinking of you this difficult week and will be for many years to come.

The Duchess of Cambridge
The Royal British Legion is a charity that provides lifelong financial, emotional and social support to veterans of the British Armed Forces and their families. The organisation is best known for its yearly Poppy Appeal and Remembrance services, including the annual Festival of Remembrance, which Kate has attended five times to date:
Kate's outfit:
As engagements have returned online due to the coronavirus pandemic, we can see very little of Kate's outfit, sadly. We can see that she's wearing an ivory blouse with a contrasting black Peter Pan-style collar. It's the Boo Blouse by Ghost London.
The vintage-inspired viscose satin blouse features ruched shoulders and long, cuffed sleeves. The deep darts on the front and back of the shirt provide a feminine tailored shape.
The black Peter-Pan collar is scalloped with embroidery on the edge. Kate must have known that statement collars are one of 2020's biggest trends.
John Lewis stocked the piece blouse for £79. If you'd like to buy the piece, unfortunately, it's now sold out. (Why not try eBay?)
Or, try Ghost London's Kala blouse, Daisy top or Isabella blouse if you're inspired by Kate and want a blouse with a statement collar too.
Kate's earrings remain unidentified at present. She wore them to the Wildlife Photographer of the Year Awards back in September. Some people believe they're the pair shown below from Accessorize—however, others aren't so sure.