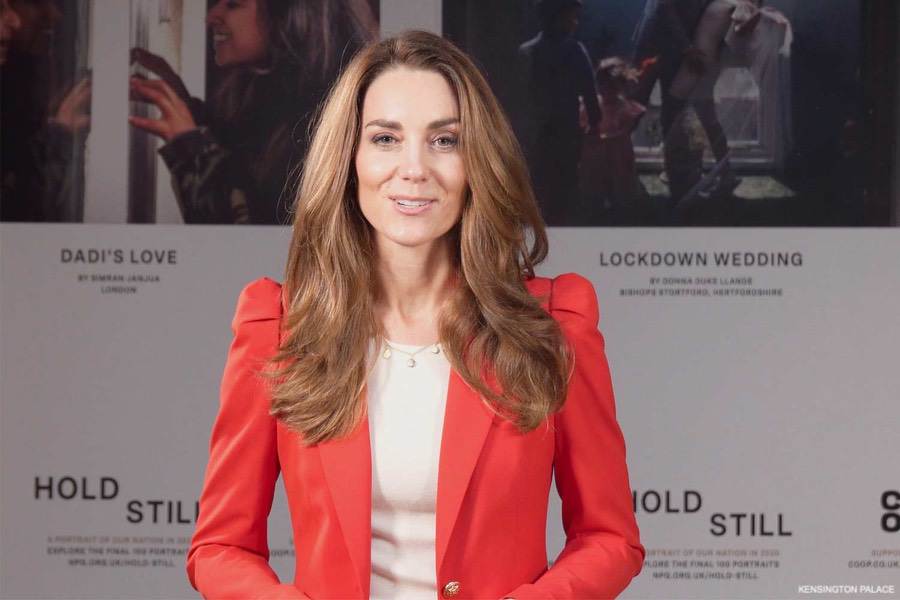 Sunday, 15th November 2020—Through her office at Kensington Palace, Kate released a video message to mark the end of the Hold Still community exhibition, thanking everybody who contributed photographs
Watch the video below:
I just wanted to say a huge thank you to everyone who submitted an image to Hold Still. I launched the project with the National Portrait Gallery back in May because I wanted to find a way to allow everyone to share their stories and experiences of lockdown.

We have been thrilled by the response to the project and I couldn't be more grateful to each and every one of the 31,000 people who submitted an image. It was so hard to select the final 100 photographs, but we hope we have created a collective portrait of our nation, reflecting on what others have experienced as well as our own journeys through this difficult time.

It has been fantastic to see these portraits on billboards and outdoor poster sites across the country as part of our community exhibition, and I'm hugely grateful to all our partners for helping us take the images back to the people and communities who took them.

For me, the most powerful part of the project is that it has shown just how much people and communities have come together and how important we all are to each other. Thank you so much for being part of Hold Still and for sharing your stories with the nation.

Duchess of Cambridge
Kate launched the Hold Still project with the National Portrait Gallery earlier this year. She asked people from around the UK to submit photographs that capture the spirit and feelings of the nation during lockdown.
In an interview given to the Sunday Times in the summer, Kate explained why she launched the project:
The coronavirus pandemic has affected all of us in some way, and I launched Hold Still with the National Portrait Gallery to give everyone an opportunity to share their own stories, so that together we could create a collective portrait of our nation that would record our experiences during lockdown.

Duchess of Cambridge
The project received over 30,000 submissions. A judging panel, including Kate, whittled down the images to just 100 finalists. Their images went into a digital exhibition online, which you can still view here.
The National Portrait Gallery took Hold Still to the streets in October. The community exhibition comprised of 400 outdoor posters displayed in 100+ locations across the UK. They remained on display for four weeks.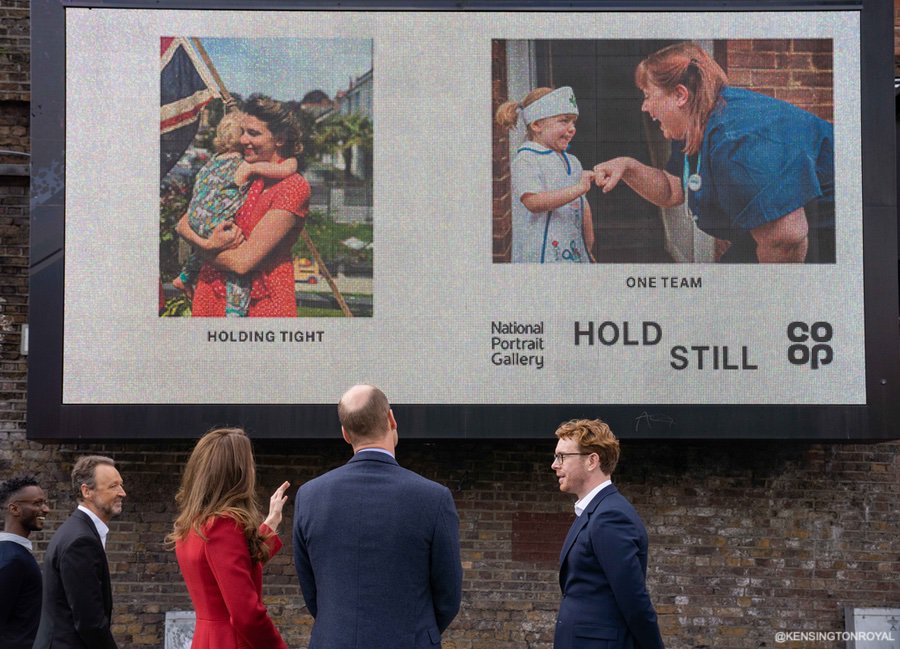 All 100 photographs went into an exhibition at the National Memorial Arboretum too. They remain on display until the 6th of December.
Last month, William and Kate visited one of the locations, Waterloo Station in London, to meet with some finalists and subjects of the photographs.
Kate recorded the new video to mark the closing of the community exhibition. She wanted to thank the entrants for sharing their pictures and their stories.
Kate appears in two other clips of footage in the thank you video. First, she's wearing a green dress from Zara and speaking on Zoom with the other Hold Still judges (below left, find out more here). The second is footage of Kate viewing a billboard in London wearing a red Alexander McQueen coat (below right, read that post here).
People magazine also reports that Kate spoke with nurse Johannah Churchill and one of her colleagues earlier in the week. They shared this image still from the video call: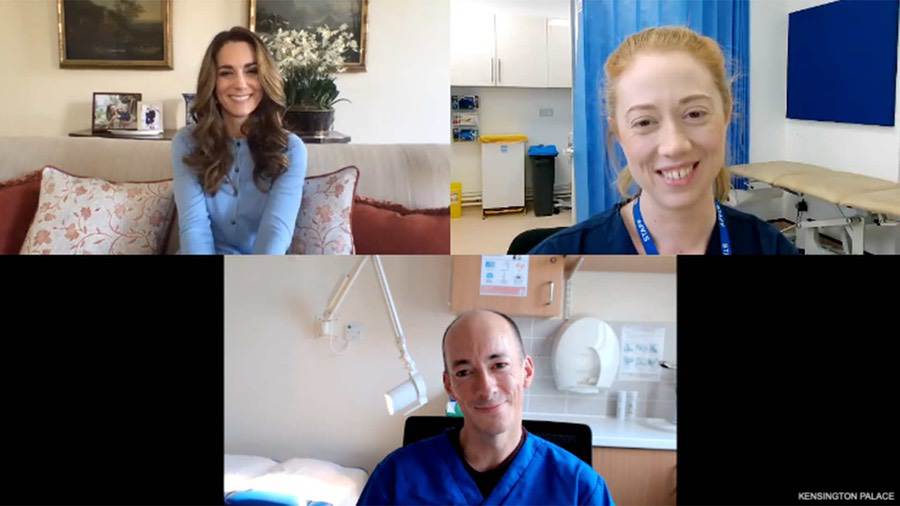 Johannah snapped one of Hold Still's most iconic images titled Melanie. The image depicts Johanna's colleague Melanie wearing PPE while setting up a Covid Clinic back in March: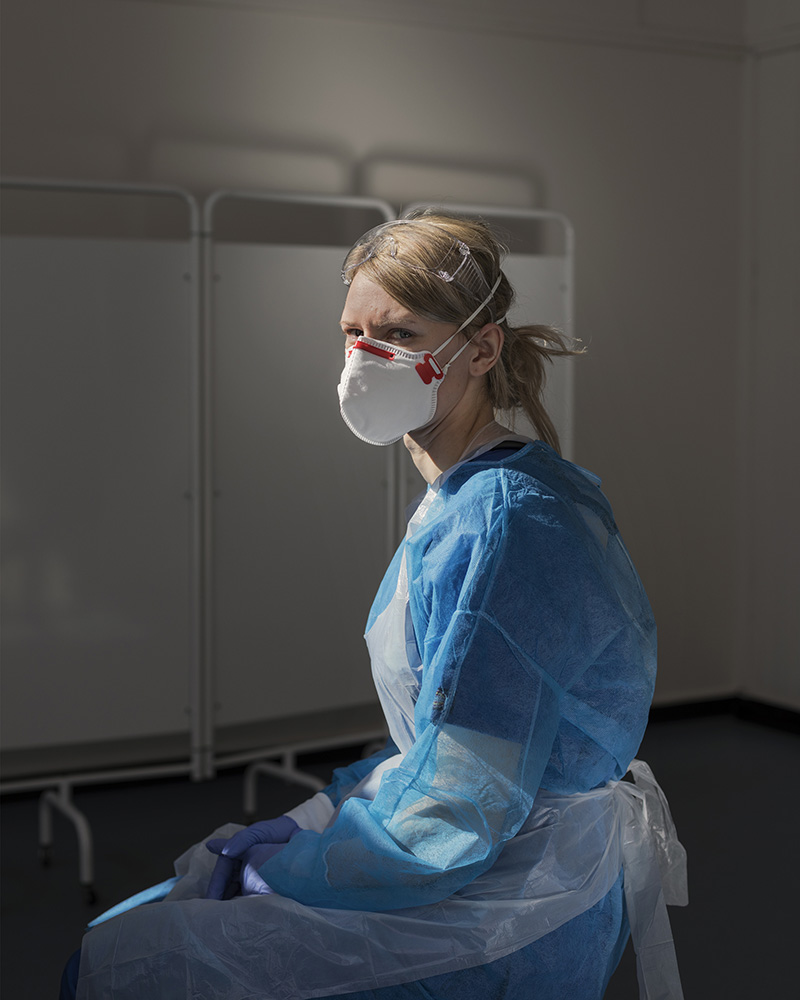 I took this photograph of my colleague Melanie wearing PPE in clinic. We are both nurses working in south west London. Melanie had been readying essential infection control procedures for the opening of the Covid Clinic that week.

Johannah Churchill
Below, we show the powerful image painted as a mural in Manchester's Northern Quarter, commissioned by the National Portrait Gallery for the community exhibition: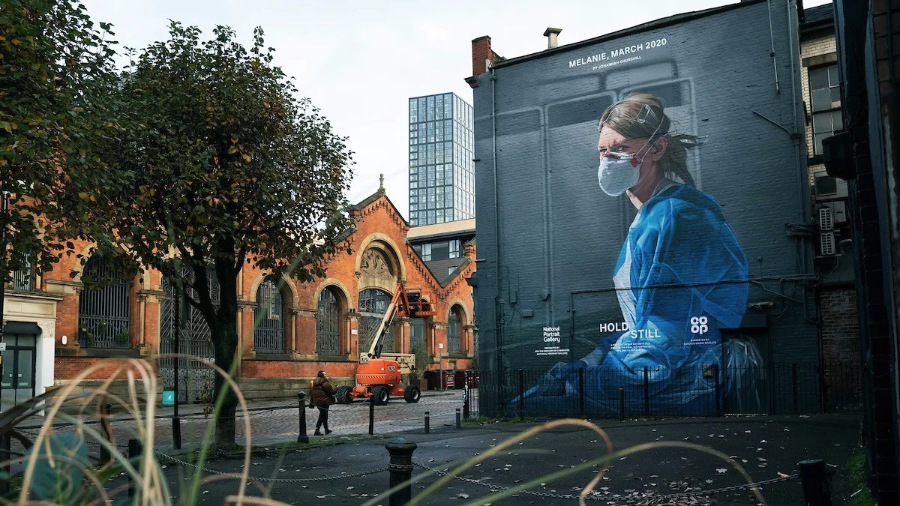 More about the conversation:
During her conversation with Johannah Churchill, Kate talked about the important role the photograph has played in helping to represent the experiences of frontline workers across the nation as they continue to tackle the COVID-19 outbreak.

For her part, Churchill also told Kate how the image has led her to receive messages from medical staff from across the U.K., and around the world, and "has allowed them to share their own experiences of working during these extraordinary times," Kensington Palace says.

People
Kate's outfits:
In the 'thank you' video, Kate's wearing a red blazer from high street favourite Zara.
You might recognise it, she first wore it to the London Olympics back in 2012.
The red blazer features puffy gathered shoulders, button detailing on the cuff, single-button closure and a notched lapel. As you'd expect, the blazer sold out long ago. You can find them on eBay though.
Kate wore a white t-shirt under the blazer, but it remains unidentified.
Kate's necklace is a 'new-to-us' piece (she might have owned it for a while, but it's the first time I've seen her wear it.) On Instagram, Alex Monroe confirmed it's their design. It's the Paleontology Nugget Necklace.
The gold-plated necklace features charm 'nuggets' etched with botanicals, animals and the brand's iconic bumblebee motif. It costs £285. The necklace is from Alex Monroe's 'Natural History' collection.
Natural History captures the breath-taking wonder of a first visit to a grand Museum. Exploring these majestic buildings, we come across gently unearthed fossils, gaze at worlds preserved in diorama, and tiptoe past commanding dinosaur guardians … Our new collection sees Alex and the design team take a journey of discovery into a bygone world, with a present reminder of the vulnerability of life on earth. Every treasure is imbued with a sense of history and curiosity, offering both playful and sophisticated silhouettes.

Alex Monroe
For the chat with Johanna, Kate wore a new (to us) cardigan by Boden. It's the company's Abercorn Scalloped Cardigan in Frosted Blue.
The merino wool and cotton mix cardigan features a crew neckline with a scalloped collar and gathered full-length sleeves. Boden call it a "slip-me-on-and-go classic".
At the time of hitting 'publish', the blue cardigan remains in stock at bodenusa.com ($110), boden.co.uk (£75) and boden.eu (98€).
It also comes in an autumnal conker brown shade.