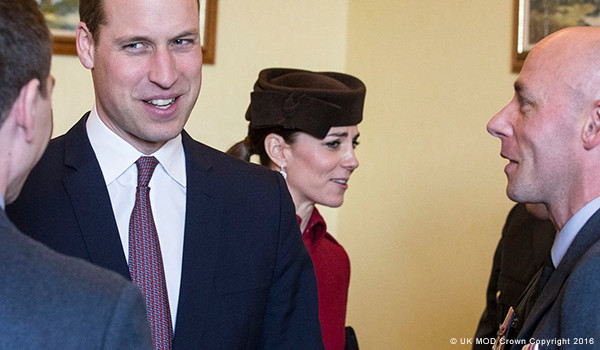 On 18th February 2016, the Duke and Duchess of Cambridge visited RAF Valley in Anglesey.
The couple attended a "farewell parade" to formally commemorate the disbandment of the RAF Search and Rescue Force, and mark 75 years of continuous operations.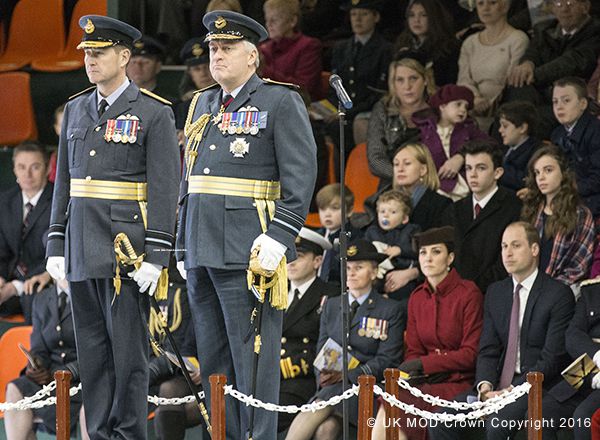 You may recall that Prince William worked at RAF Valley as a Search and Rescue (SAR) pilot in Anglesey for three years, until 2013. During his service, he completed 156 missions that assisted 149 people.
Following the parade, the royal couple met with current and former Search and Rescue personnel.  This included William's former colleagues, who revealed that during his time with SAR, they'd give him Royal Wedding tea towels and mugs with his and Kate's faces on for a joke.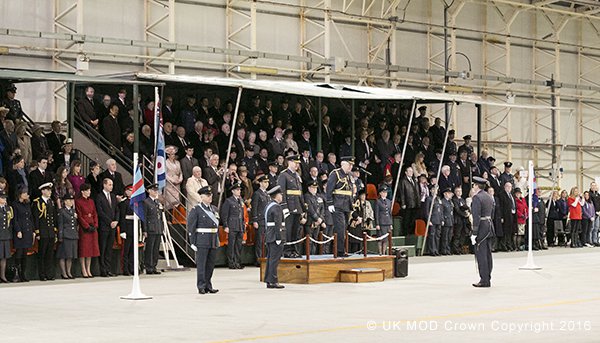 According to the Sun's Royal Correspondent Emily Andrews, William and Kate also reminisced about the "start of their life together" at the RAF base.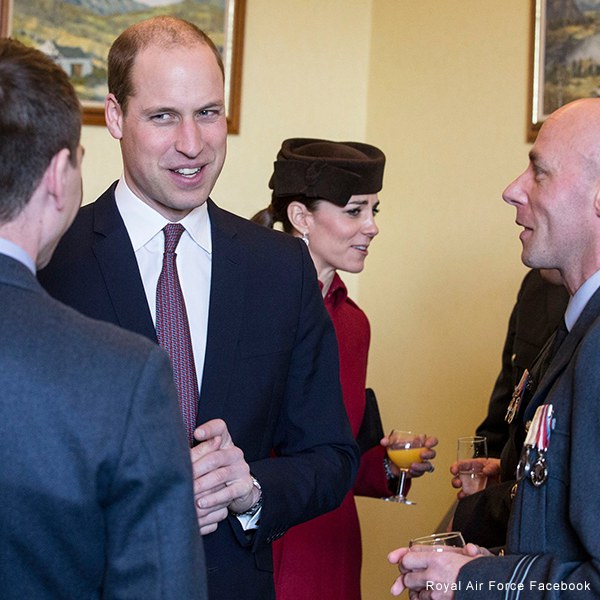 Kate's outfit:
Many regular readers will spot that Kate is re-wearing her L.K. Bennett Ami coat, first debuted (publicly) for a trip to Denmark with Unicef in 2011 (bottom left). Kate later wore the coat for a rugby match in 2012 (second from left), then again for a Royal British Legion event later in the year (second from right).  The final picture is Kate wearing the coat at the RAF disbandment ceremony.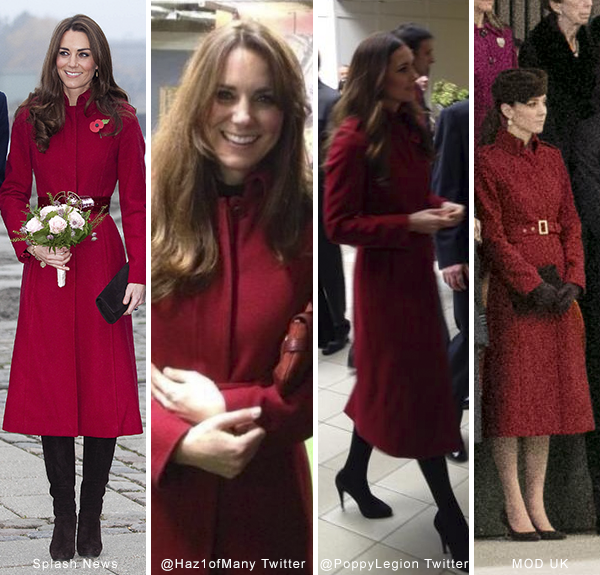 The long red coat was described as "structured, military-style" by L.K. bennett.  It was crafted from a wool nylon mix and came in three different colours, including red.  The coat sold out long ago, but can often be found on eBay.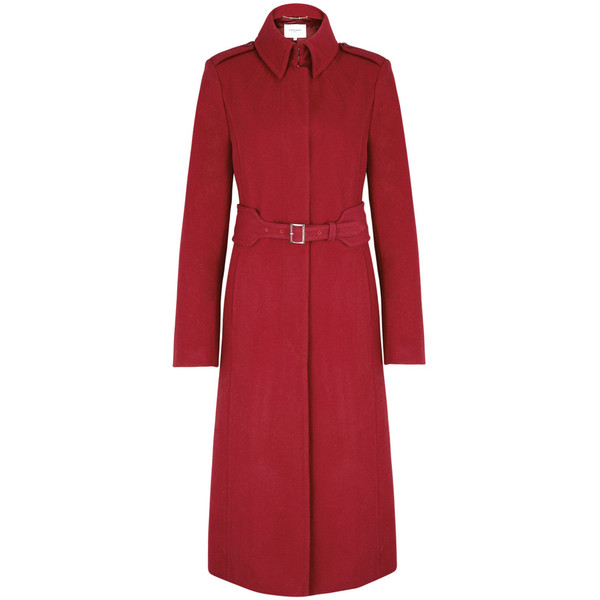 Kate opted for brown accessories with her outfit. She wore Lock & Co's Betty Boop hat: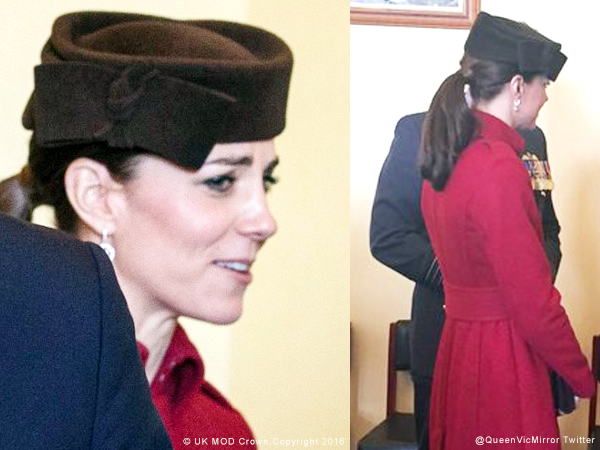 Kate regularly wears the hat, often to St. Patrick's Day parades.  It is no longer available for sale at Lock & Co, though we have a screenshot from the website dating back to 2011/2012.  The hat was available in nine different colours and costed £245 (roughly $170 USD).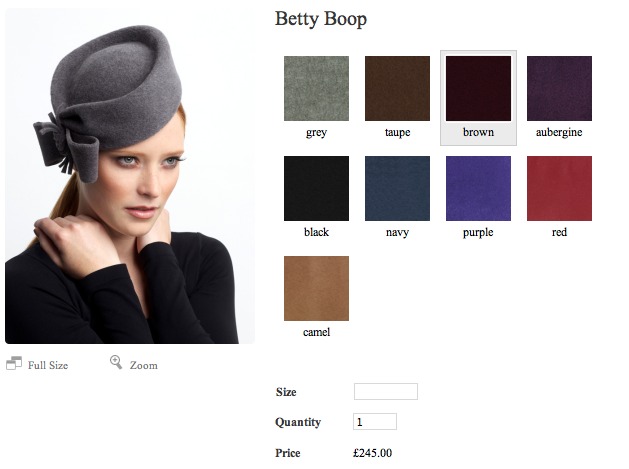 Psst… If you're looking for a similar hat for an upcoming wedding or event, check out Etsy.
It appears that Kate carried her Emmy Shoes "Natasha" clutch bag in brown suede.  Below, we show it in a lighter colour: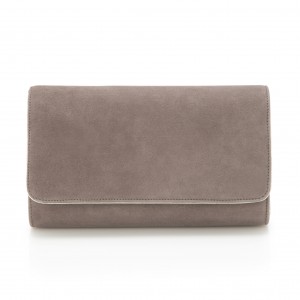 Kate carried brown suede gloves too, though it's pretty difficult to provide any information about them from the limited photos from the event. It's quite possible that she is wearing Cornelia James's Imogen gloves.  The company holds a Royal Warrant and have confirmed the Duchess owns the gloves in both black and brown.  However, we have not seen the gloves in detail, so they could be another pair entirely.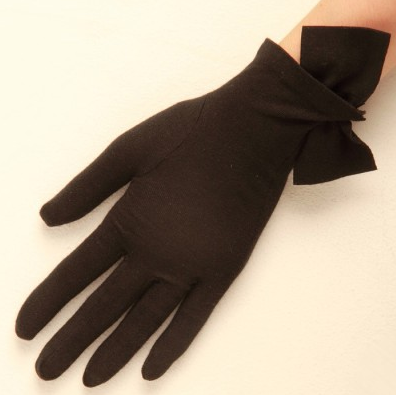 It's also worth noting that Cornelia James have recently started stocking their gloves at House of Fraser too.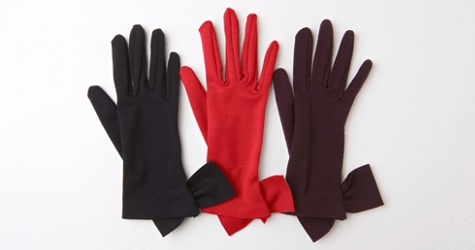 Similarly, It was difficult to identify which pair of shoes Kate wore for the event. It's likely they're also brown suede.
We do, however, know that Kate wore her £1,250 Empress drop earrings from Mappin & Webb.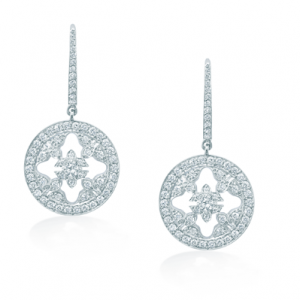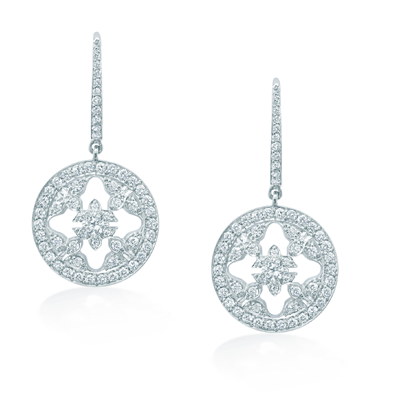 She also wore her Cartier Ballon Bleu wristwatch. Kate wears the 33mm size.  This watch retails for $3,975 (approximately £2,770 GBP) at JomaShop.com, where it's currently on sale.