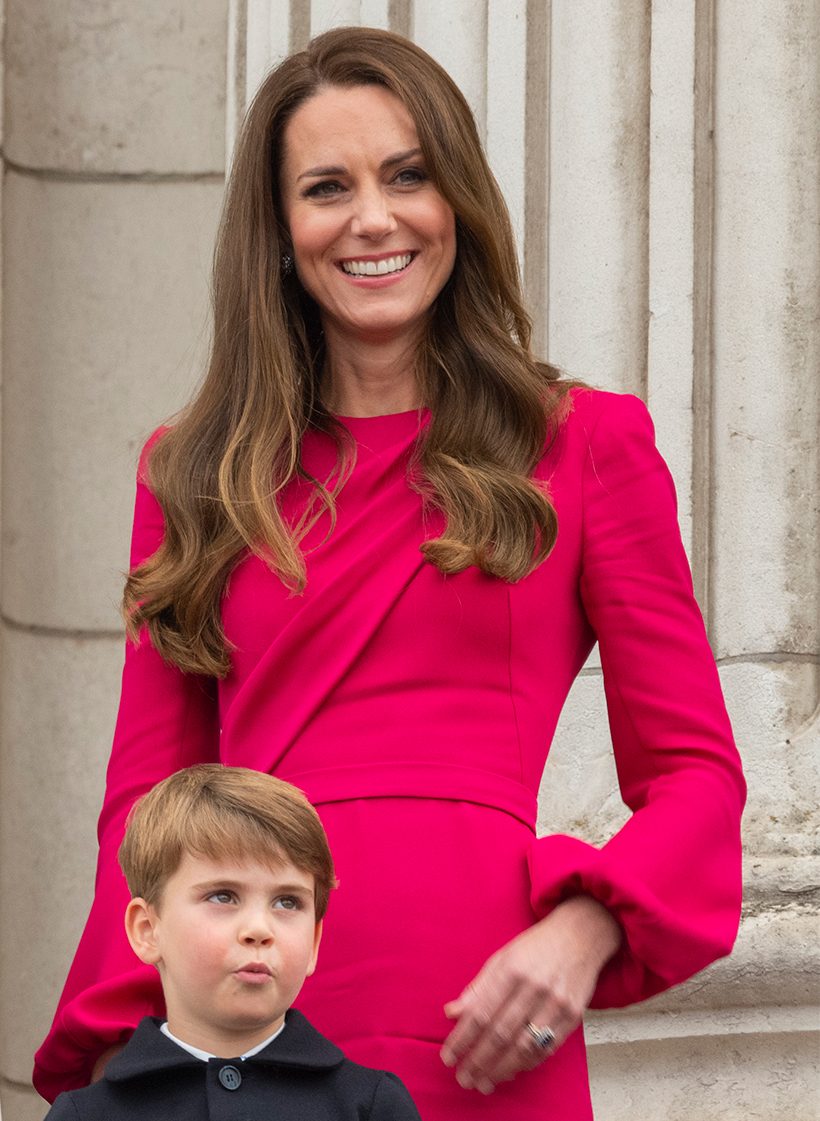 June 5th 2022—William, Kate and their three children attended the Platinum Pageant in London. The Duchess wore a 'Raspberry Red' dress by Stella McCartney (more on that further down the page!)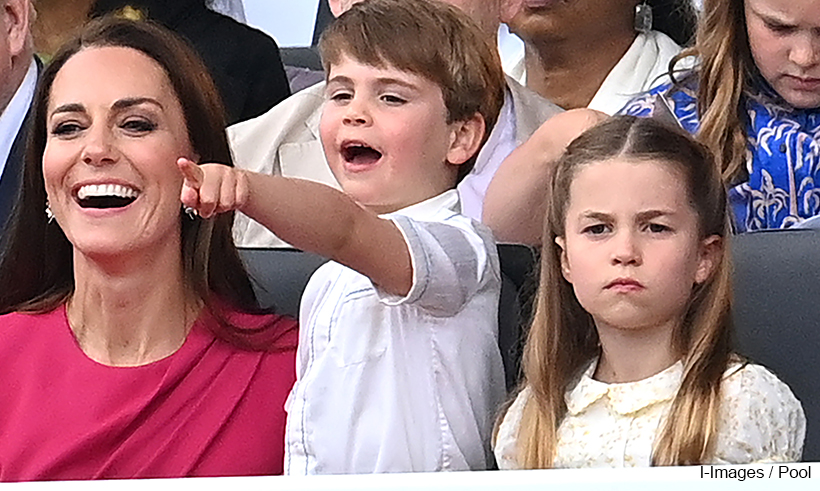 The pageant took place on the fourth and final day of The Queen's Platinum Jubilee Weekend, a national celebration of the monarch's 70-year reign.
The pageant opened with a section titled 'For Queen and Country.' This saw military personnel from the United Kingdom and Commonwealth treat crowds of thousands to a display of military timing and precision.
Whilst thanking The Queen for her seventy years of service to her country and recognising her role of Commander-in-Chief of the British Armed Forces, the Pageant will honour the service of the people, including the role of the military who play a fundamental part of the fabric of society

PlatinumPageant.com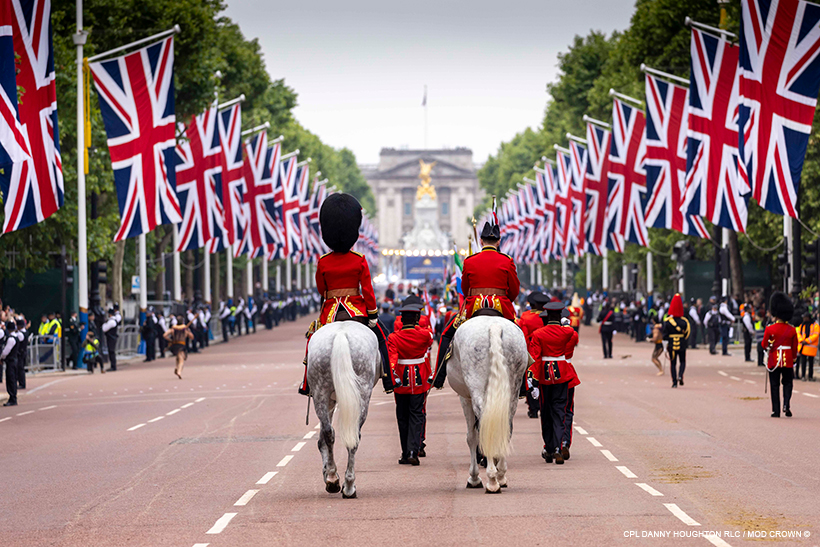 The Queen's iconic golden coach was a highlight of the first section. The 200-year-old royal artefact hasn't been seen on the streets of London for more than 20 years.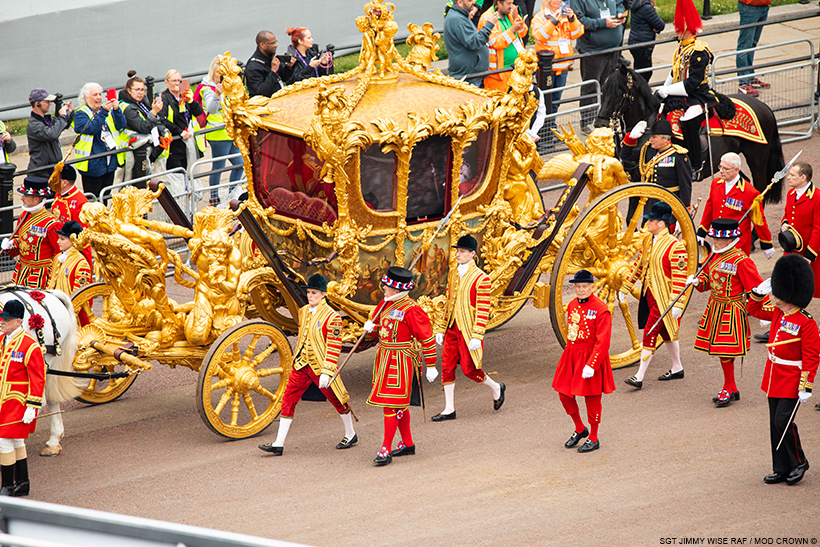 70 years ago, the golden carriage transported Queen Elizabeth from Buckingham Palace to Westminster Abbey on the day of her coronation.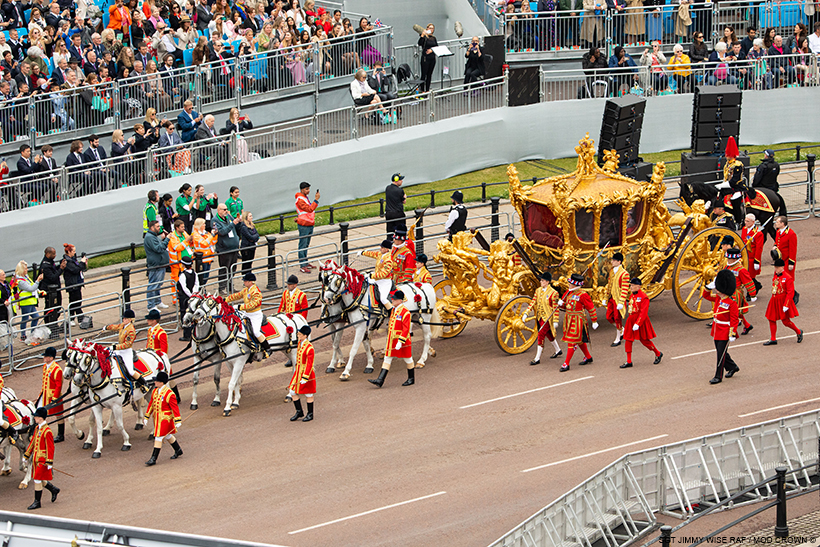 During the pageant, original film footage of the Queen on coronation day projected onto the carriage, showing a 25-year-old Queen Elizabeth waving to onlooking crowds. See it below:
Act two of the pageant, titled ;The Time of Our Lives;, was a vibrant display of British life since 1952 moving through a transformation of popular culture over the last 70 years.
'National Treasures' who've helped shape British culture over the last 70 years rode on buses down The Mall, waving to the crowds. Sir Cliff Richard, Kate Moss, Heston Blumenthal, Holly Willoughby, Alan Titchmarsh, Kadeena Fox, and Torvill and Dean were just some of the famous faces spotted during the procession.
The third act, titled 'Let's Celebrate', harnessed creativity, ingenuity, humour and community spirit with a mishmash of street theatre, music-on-the-move, urban dance and a selection of Carnival, May Day, Fiesta and Mardi Gras displays to celebrate the Queen's extraordinary life experience.
This section also featured a twenty-foot high puppet of Godiva, Corgi dogs and a tribute to Her Majesty's love of horses.
The fourth and final act was titled 'Happy and Glorious'. Word best-selling singer, Ed Sheeran, sang the national anthem as the pageant drew to a close.
Some highlights from the pageant cut with video of the Royals:
More highlights:
After the parade, the Queen appeared on the palace balcony in a vibrant green outfit. She smiled and waved at the crowds before heading back inside.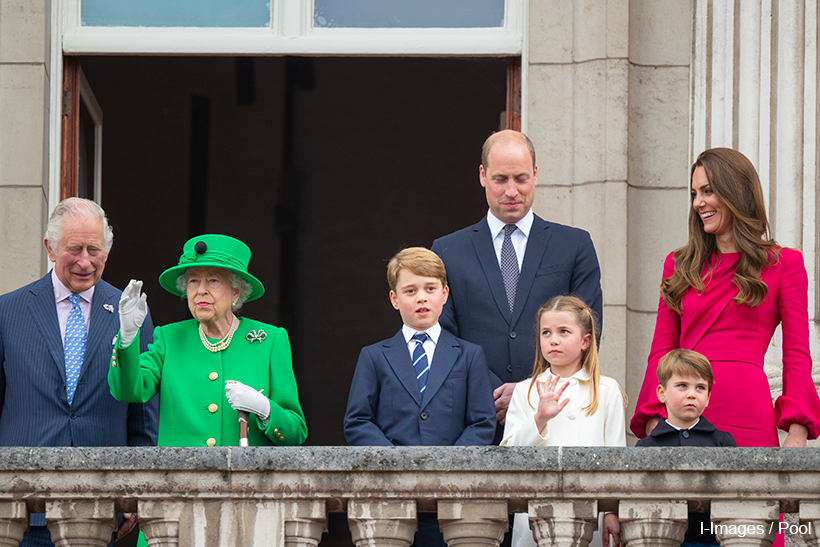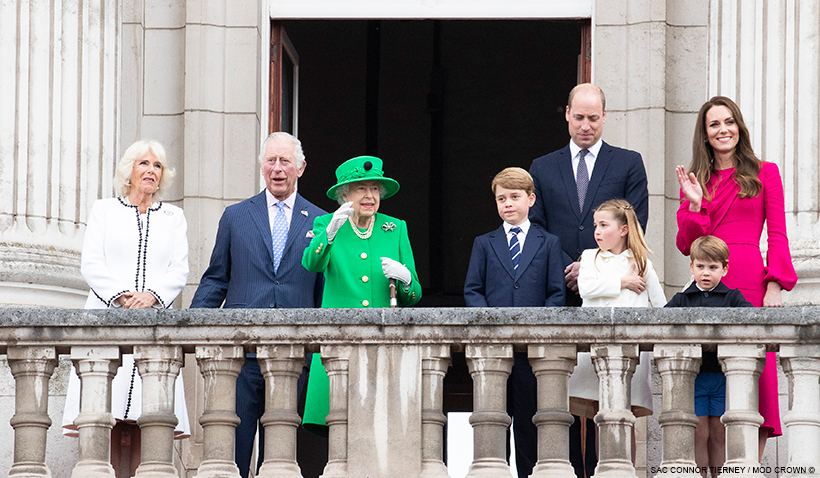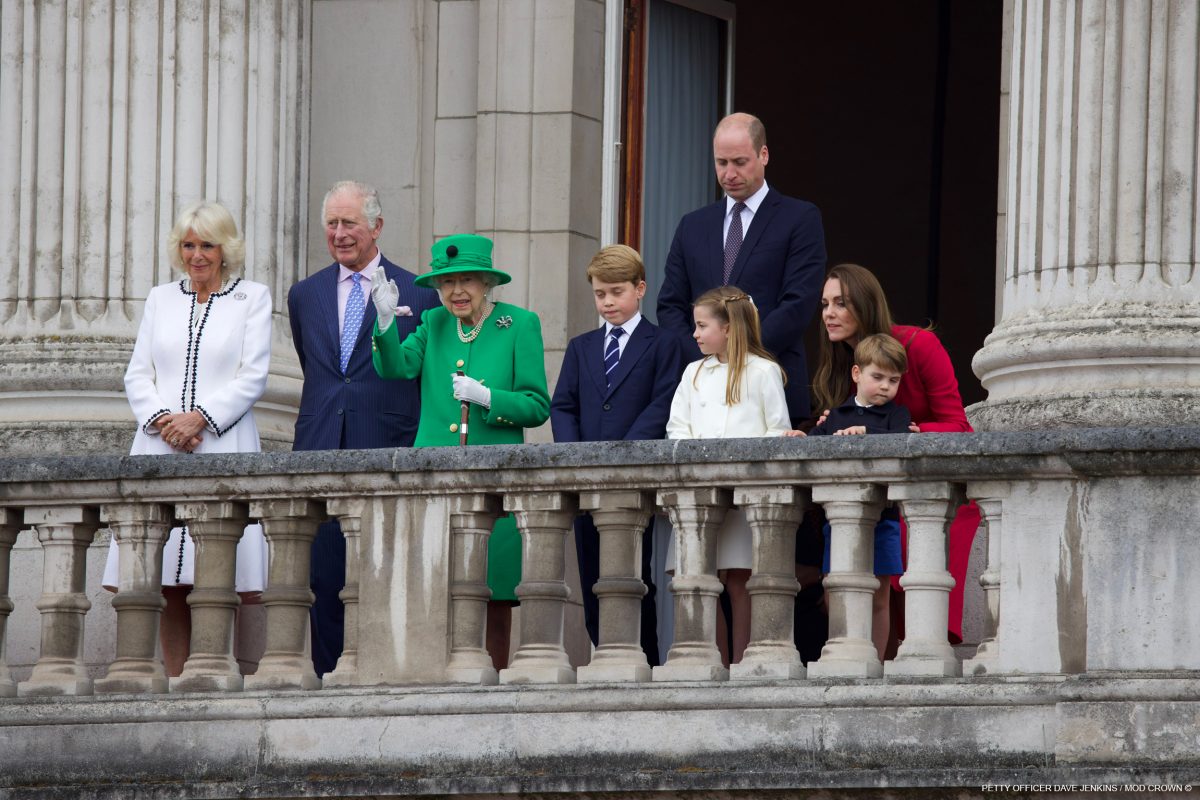 The Cambridges joined the Queen. I'm not sure why William looks like he's stifling a laugh in all these photos, I suspect it might be something to do with little Louis: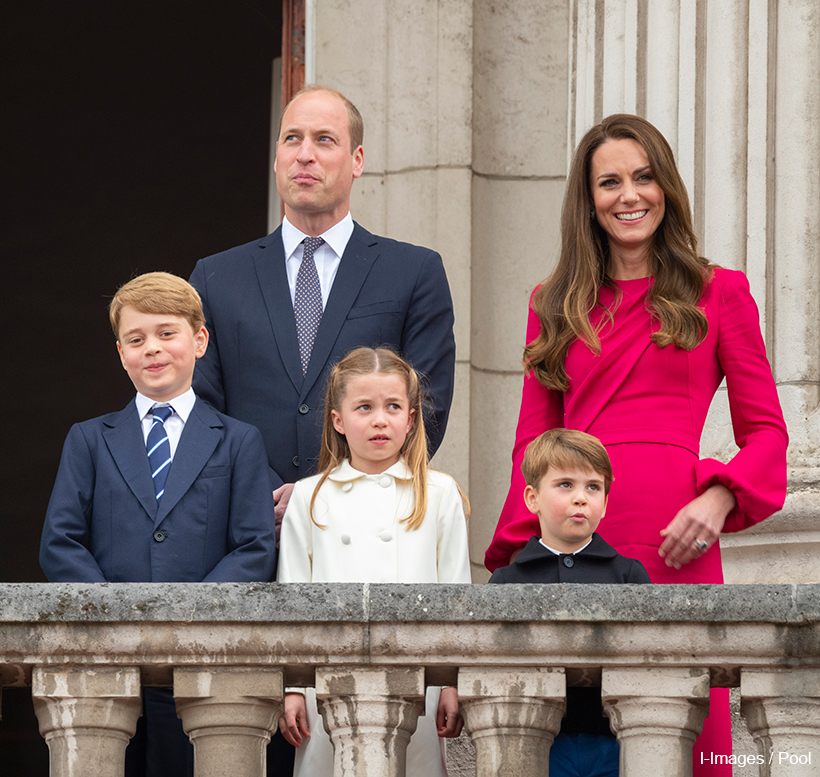 The Prince had been a character all afternoon: pulling faces, continually moving around and generally being a scamp. I think a two-hour pageant might have been a bit too much for the four-year-old.
After the pageant, William and Kate referenced Louis in a tweet. They wrote, "we all had an incredible time…, especially Louis 👀 ". I particularly love the use of the side-eyes emoji there!
I have a 2.5-year-old toddler who would not sit still through a wedding ceremony a few months ago, so I empathise with Kate!
On to our portion of the post discussing her outfit now:
Kate's outfit at the pageant:
The Duchess wore a 'raspberry red' dress by Stella McCartney, as confirmed by the Telegraph and UFO NO MORE.
(Also, thank you to Emma for sharing this TikTok video, which meant I could grab a full-length shot of Kate's outfit above, as the media at the event did not manage to capture this.)
The garment features a mid-length skirt, waistband, some draping around the shoulder/bodice and long puff/bishop sleeves. A closer look: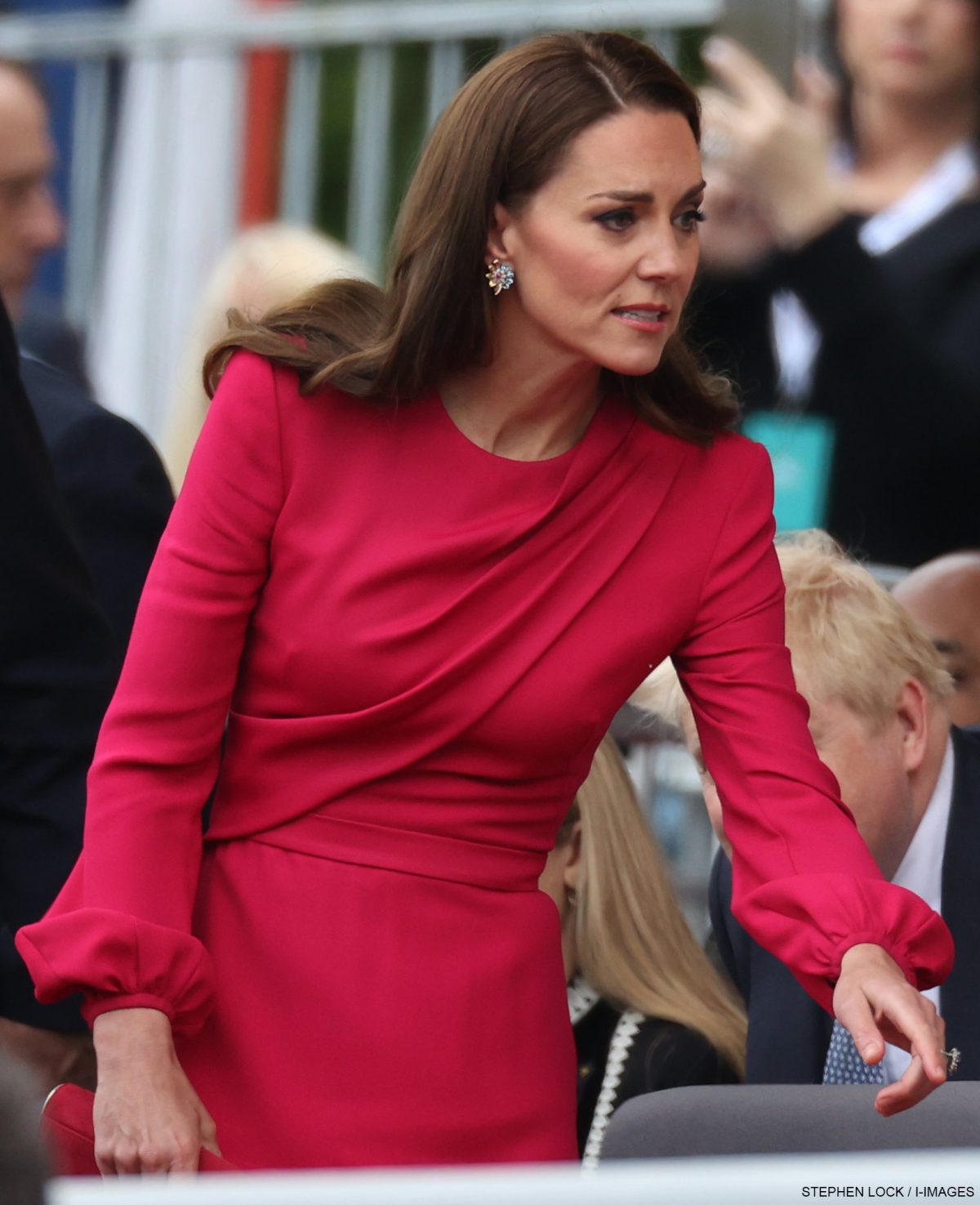 It appears that the dress is bespoke—designed and created just for Kate, for the pageant. I wonder if the company get a lot of enquiries, they might release a ready-to-wear version next season?
Stella McCartney is a British fashion designer who pioneered the way for vegan and sustainable fashion, she committed to both decades before other fashion companies. We've seen Kate gravitate towards slow, sustainable and conscious brands over the last year or so.
COPY KATE
Attending a wedding next month? Off to the races? Swanky drinks reception for work? Make like Kate in a deep raspberry pink dress: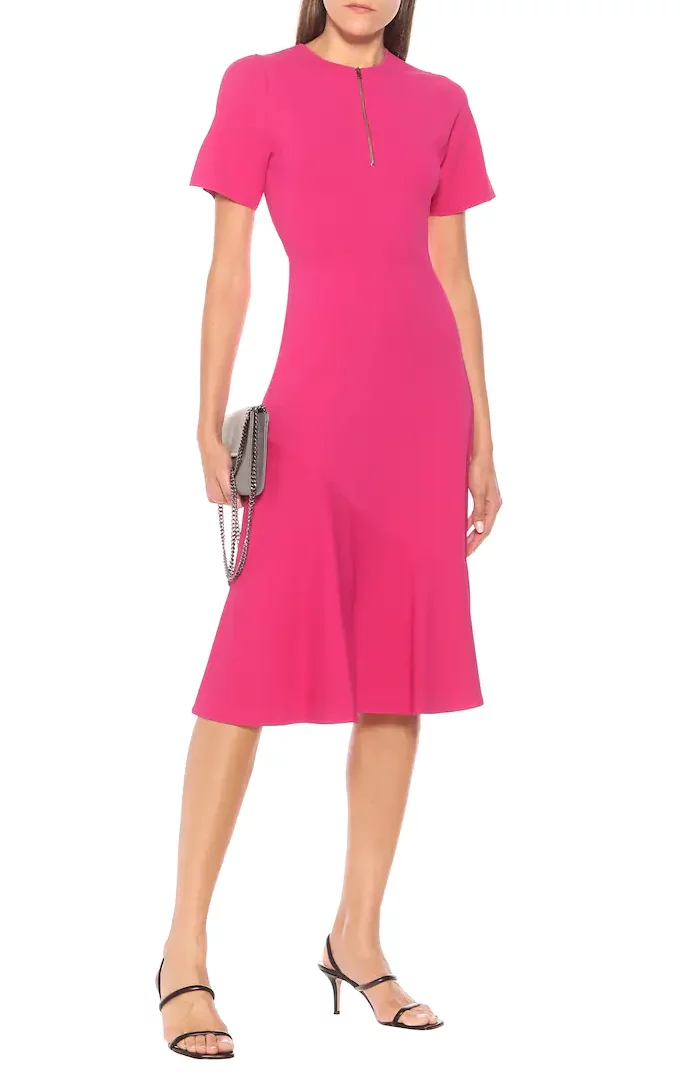 STELLA MCCARTNEY
Same designer
Click to buy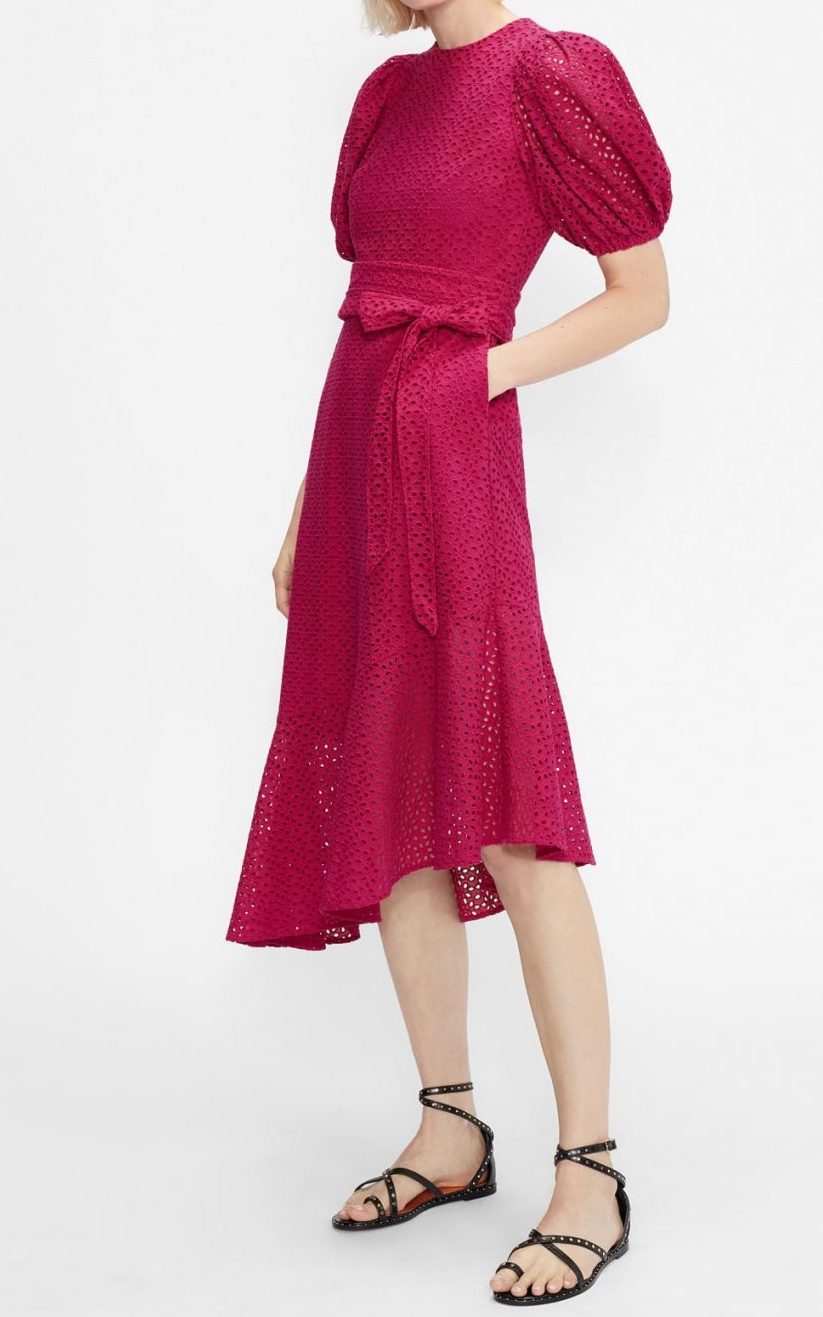 TED BAKER
Gorgeous colour
Click to buy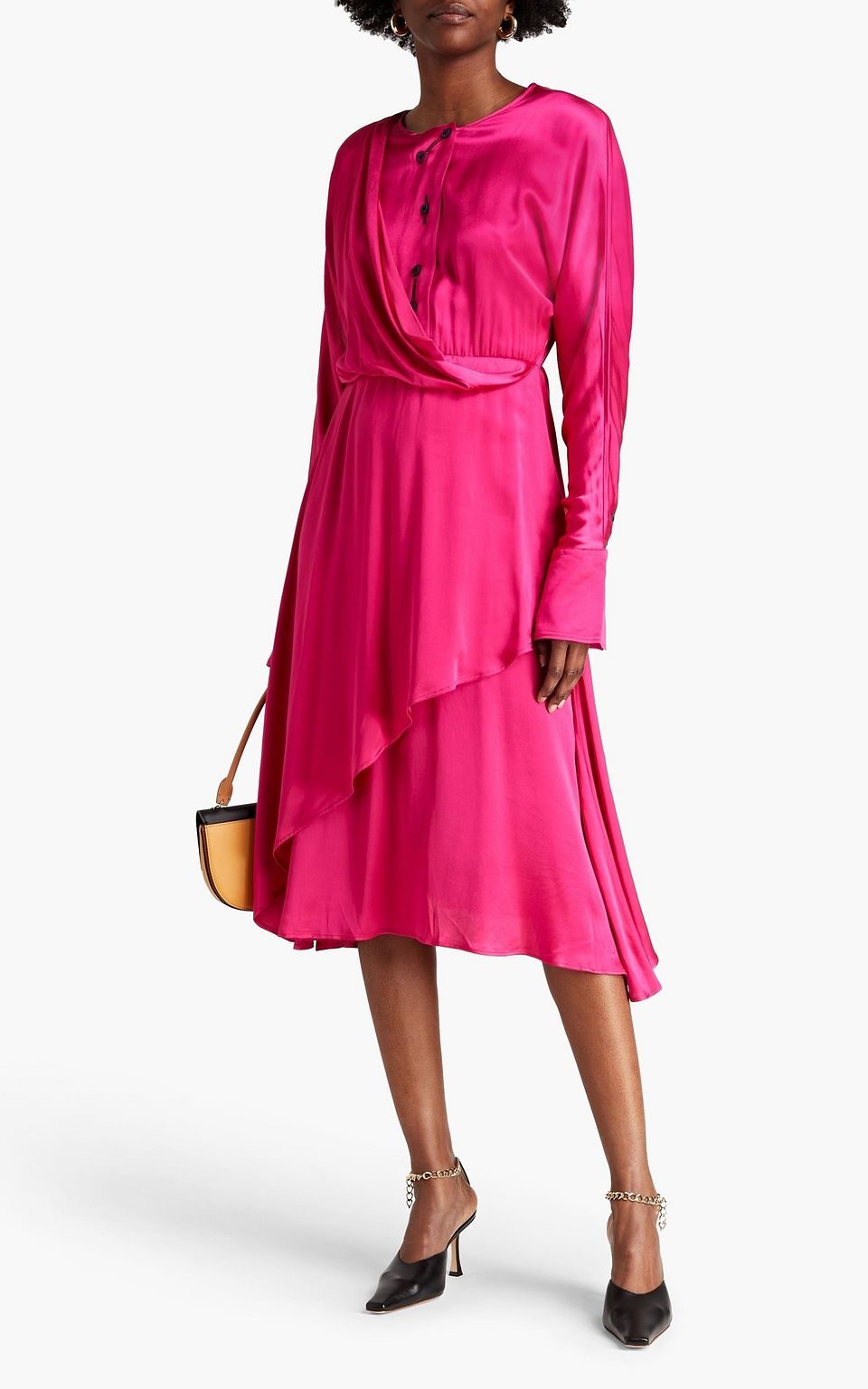 PALMER//HARDING
Similar shoulder drape
Click to buy
McCartney was one of 1000 individuals on the Queen's Jubilee Birthday Honours list and awarded a CBE for her services to fashion and sustainability just days before the Jubilee.
Kate's worn Stella McCartney before. Below, see the Duchess in a pink frock by the designer for Archie's (Meghan and Harry's son) christening in 2019: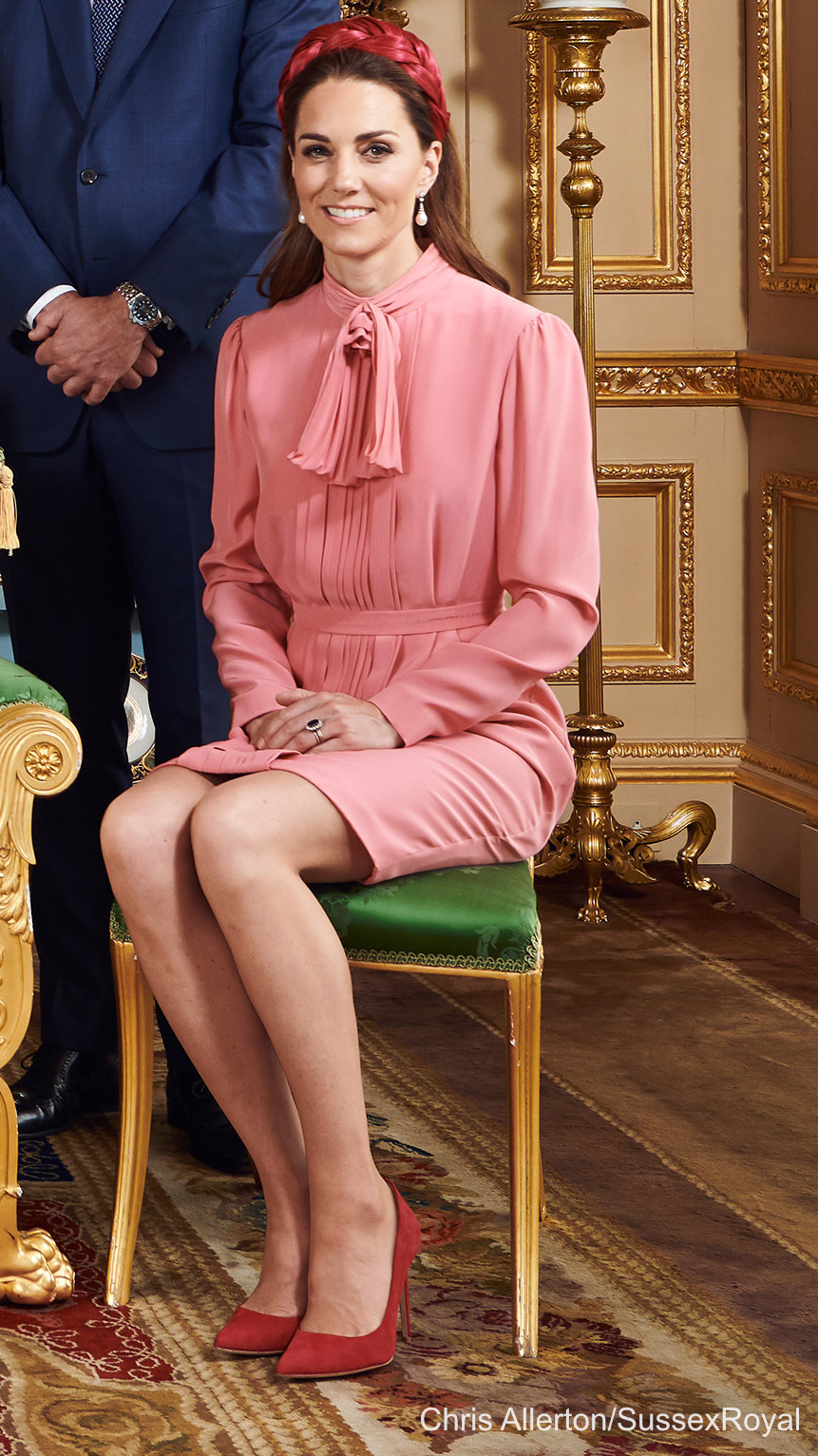 Kate owns the same dress in a shiny coral colour too. She wore it for a private dinner to celebrate Prince Philip's 90th birthday in 2011:
Also, the Duchess owns a blue dress from Stella McCartney that she's worn on repeat since joining the royal family (to a total of six public engagements—this sounds like a low number, but it's not when considered relatively to all of her other dresses. We've only ever seen most of those once or twice. I can't remember seeing the Duchess wear any other dress more than 2-3 times. It must be favourite.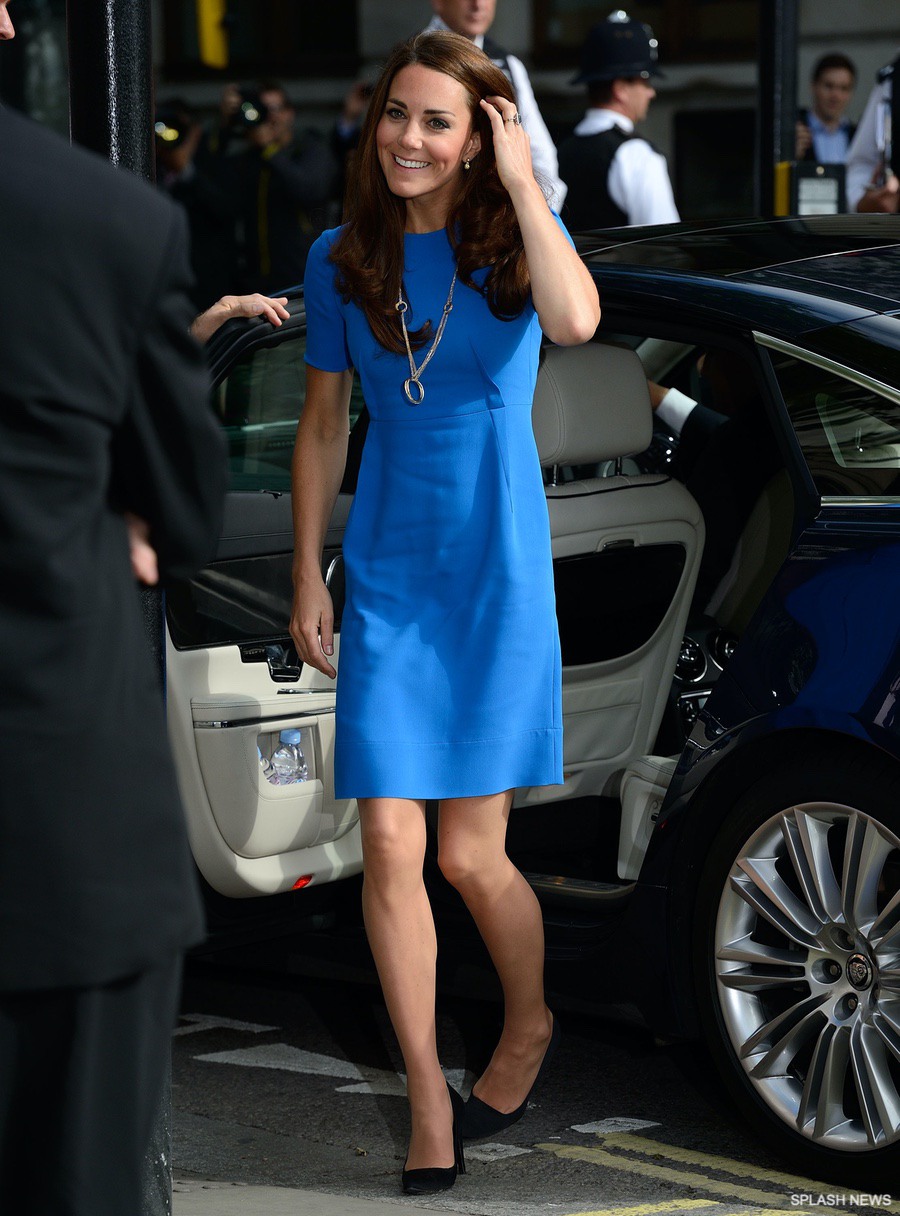 As an aside, last week I learned of a similar dress at MANGO that only costs £29.99 / $49.99. It's a fab 'RepliKate'. See it below: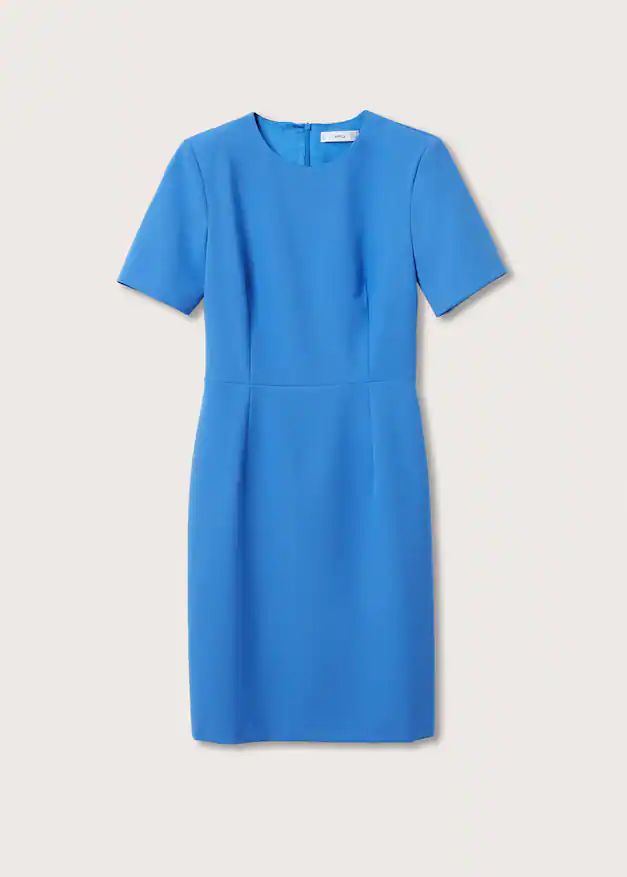 MANGO TAILORED SHORT DRESS IN BLUE
GREAT DUPE! Fancy channelling your inner Duchess in the office? Make like Kate by pairing this fab blue shift dress with navy heels and a coordinating blazer.
Note: Mango offer worldwide delivery, I just link to the two countries most popular with my readers
Let's move on to Kate's accessories now.
The Duchess wore a pair of colourful gold and gemstone earrings.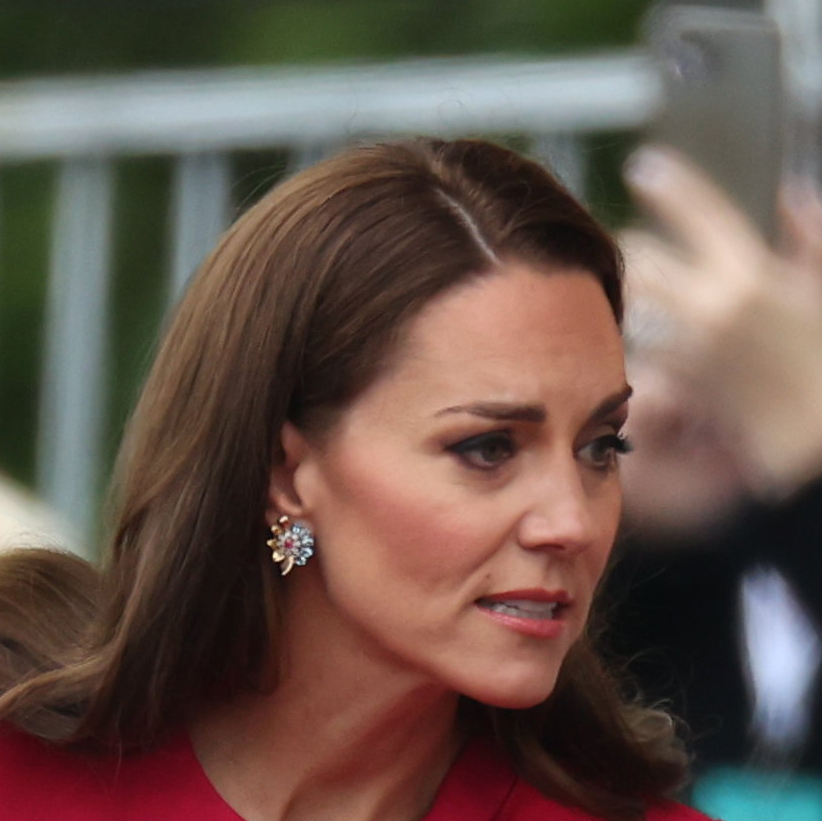 They feature a red or pink stone at the centre surrounded by diamond petals. There are blue stones set to the side. It's all sat on a gold bow or scroll.
A Mail Online article says the earrings are part of the Queen's private collection. They were given to the Queen by her parents for her 19th birthday in 1945.
Kate's worn them on a couple of occasions previously.
Her Majesty wore the matching brooch at the Chelsea Flower Show last month.
I tried to find similar vintage Cartier earrings online, but I had no joy unfortunately. The following three pairs of earrings were the closest I could get—each are floral themed and reminded me of the flower at the centre of Kate's earrings.
From left-to-right: Cartier Red and Blue en Tremblant floral bouquet. The diamond and gemstone flowers remind me of the ones in the centre of Kate's earrings, though not exactly the same. The second image is from an article about Cartier's 'Tutti Frutti' jewellery. The third is a pair of Cartier earrings sold at Xupes.com.
GET THE LOOK:
Need a colourful statement earring for your next big occasion?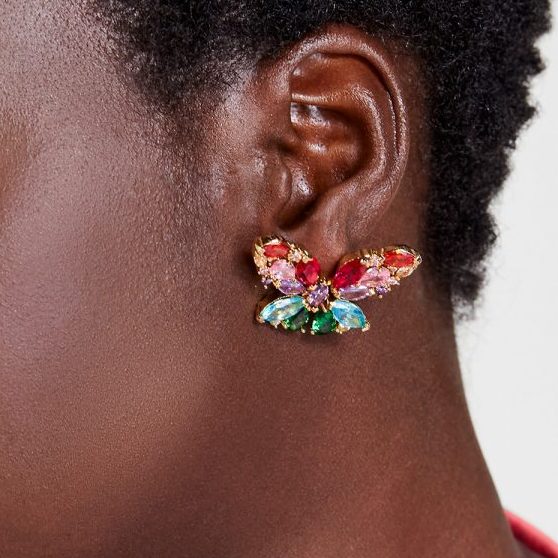 KATE SPADE
Colourful & unique
Click to buy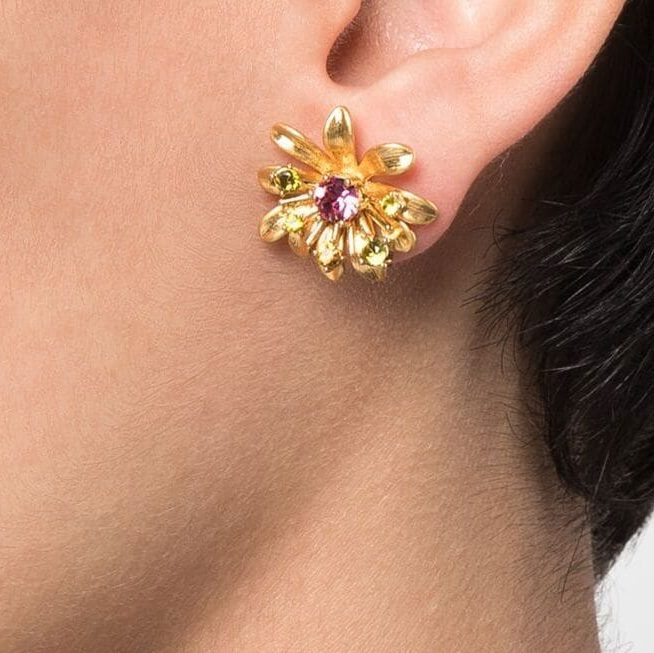 KATE SPADE
Floral & versatile
Click to buy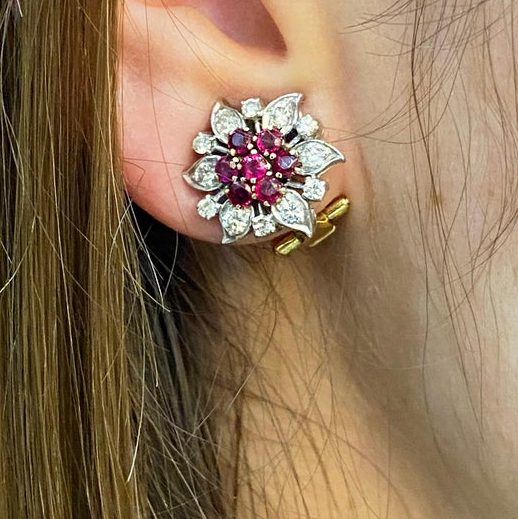 VINTAGE
An heirloom!
Click to buy
We spotted the Duchess with a new clutch bag. It's most likely the Natasha clutch with gold piping. Shown here in lipstick red—I don't know if Kate carries this colour or a bespoke version dyed in a shade of fuschia to match her dress.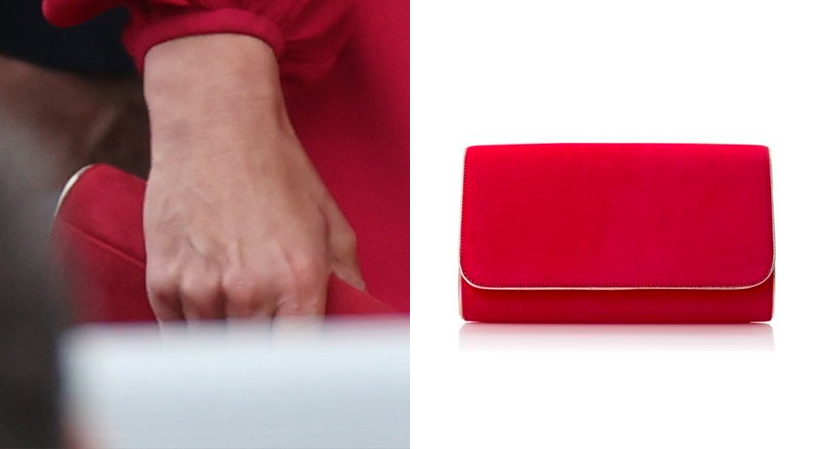 (Note: there's a better photo that shows the shape of the bag matches the edge of the Natasha clutch but I was unable to licence it for this blog.)
It's a safe bet, Kate owns about a dozen of these bags—in fact, she owns this in red without the gold piping too: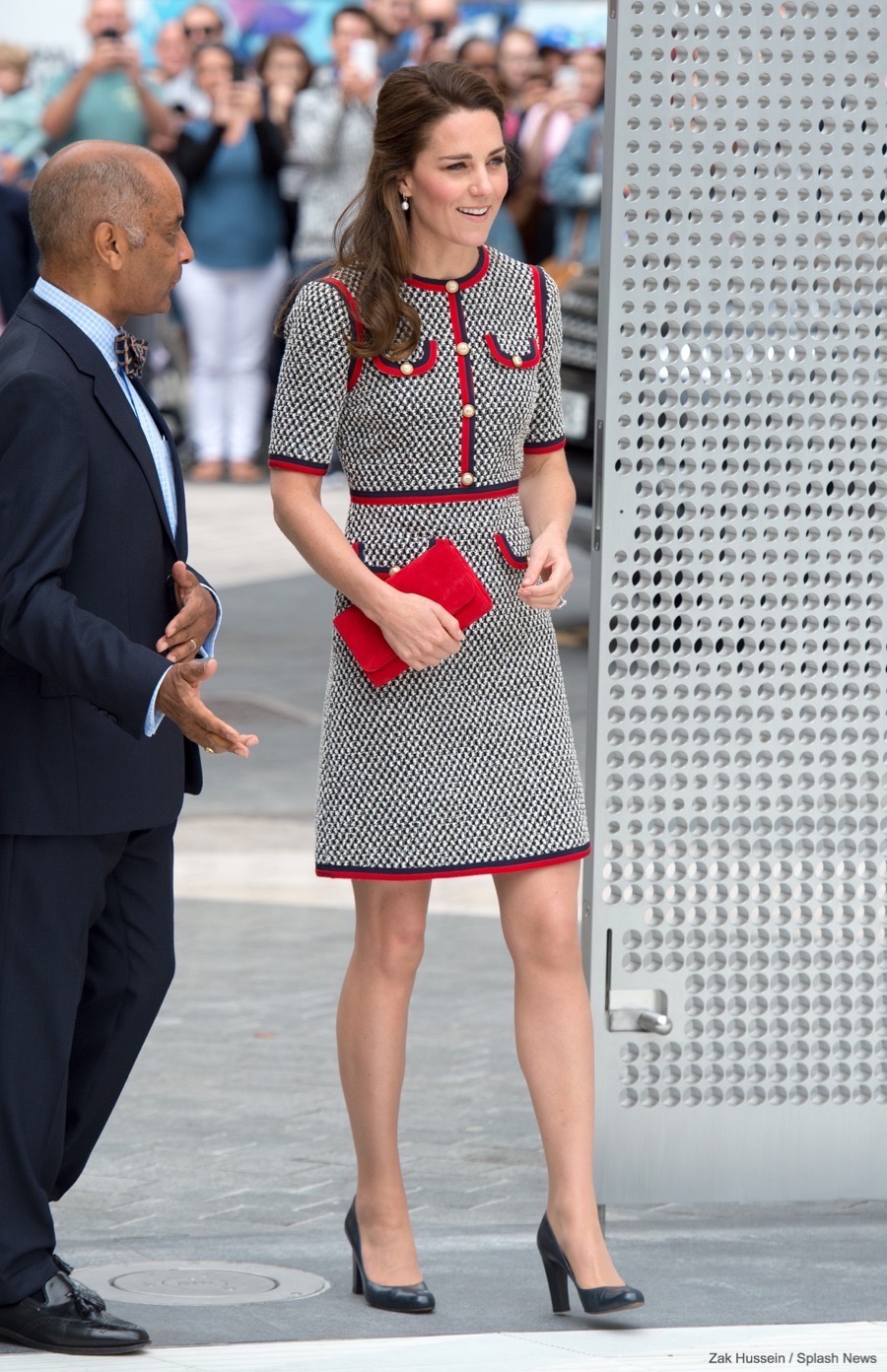 I'd hazard a guess that she's wearing Emmy London shoes too, the Rebecca style, in a matching colour. Again, the Duchess owns about dozen pairs in varying hues—they're one of her go-to styles.
(Note: in an earlier post, I said Kate was in this uncannily similar dress by Alexander McQueen. This turned out to be incorrect. Apologies. )