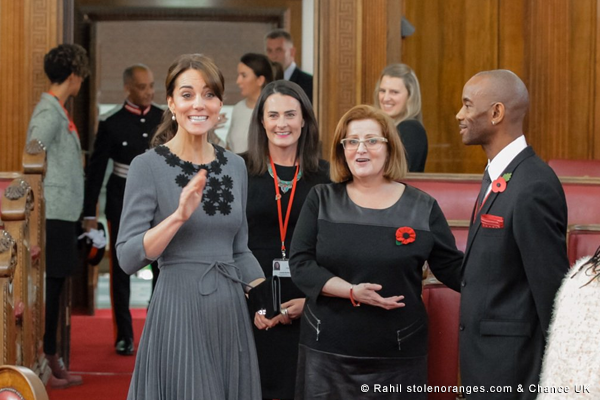 This afternoon (Tuesday 27th October 2015) the Duchess of Cambridge visited Islington Town Hall to meet with Chance UK, an early intervention programme that works with at-risk youth.   The charity aims to change the challenging behaviour of primary school-aged children through intensive mentoring and family support.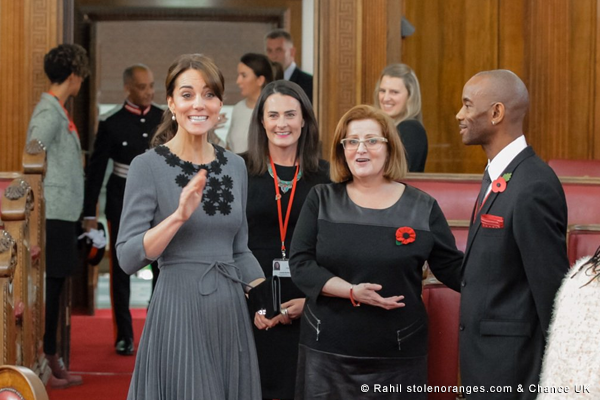 Over 200 children across six London boroughs benefit from Chance UK's early intervention each year.   More information about the charity from their website –
Mentors and staff use a solution-focused approach to grow a child's strengths, build their self-esteem, and find positive alternatives to their challenging behaviour that could otherwise result in anti-social or criminal offending in later life.
During today's event, Kate had the opportunity to learn more about the charity and it's work.  She met with children enrolled in the scheme, staff and supporters at a reception celebrating the work of the charity.

Kensington Palace aides said today's visit reflected Kate's particular interest in early intervention programmes involving children to prevent the development of more serious problems in the future.  
Below, Kate meets with Kessington who completed ChanceUK in 2005.  (Via The Mirror's Victoria Murphy @QueenVicMirror on Twitter.)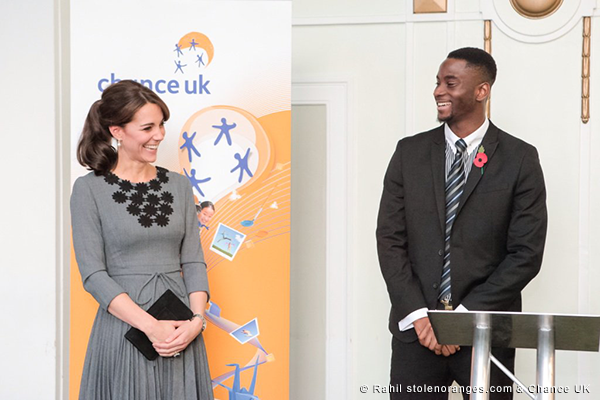 Here's a short video of Kate's arrival today:
VIDEO: The Duchess of Cambridge is greeted by @RichardWatts01 and @greeningrichard at Islington Town Hall @ChanceUK pic.twitter.com/bwPZxfBoXm

— Islington Council (@IslingtonBC) October 27, 2015
Kate's outfit:
If you've been reading our blog or following the Duchess since 2012, this dress will feel familiar because Kate's worn it before.  It's by Irish designer Orla Kiely.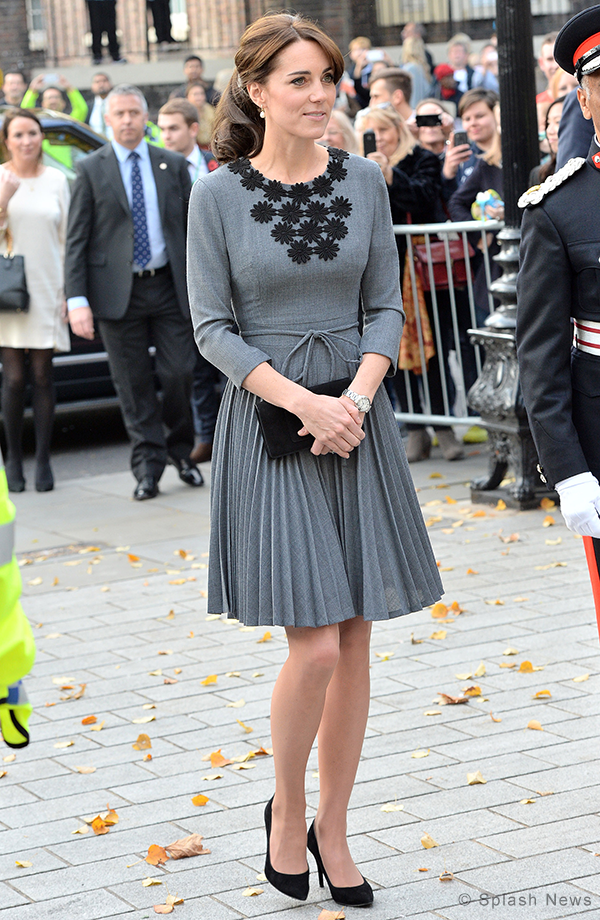 The Duchess wore it previously during a visit to the Dulwich Picture Gallery with Prince Charles and the Duchess of Cornwall in February 2012, pictured below:

The grey dress features black daisy appliqué detailing to the neckline. It has bracelet length sleeves and a knee-length pleated skirt.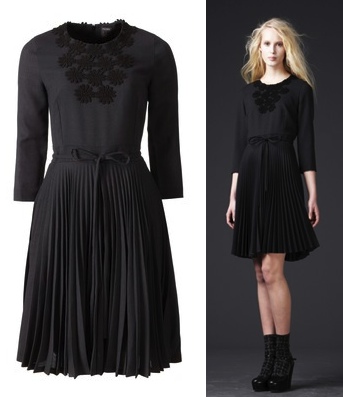 As you'd expect, the dress is no longer available for purchase.
This time, Kate paired the shoes with her Stuart Weitzman power pumps in black suede.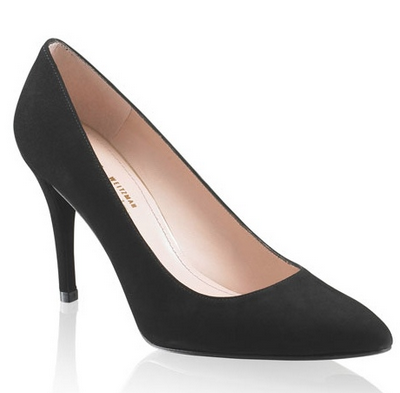 Kate's trusty Mulberry Bayswater clutch made another appearance; the Duchess has carried it to most of her events recently.  Below we show the bag in black leather.  Kate carries it in black suede.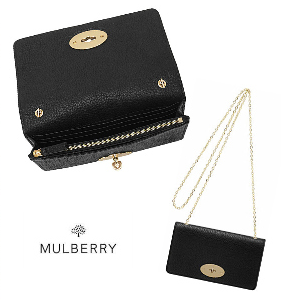 You may notice she's wearing her 33mm Cartier Ballon Bleu wristwatch again too.  This retails for an eyewatering £4,200 (approximately $6,400 USD).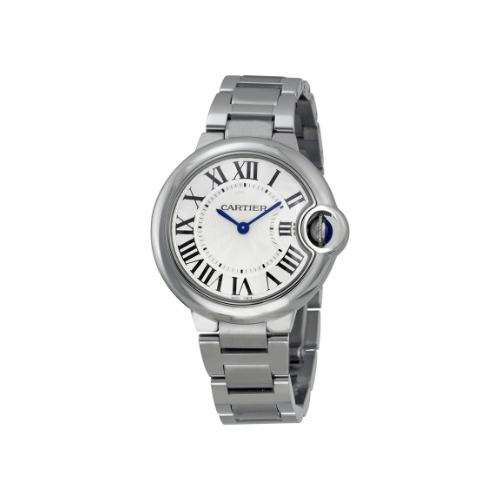 Finally, Kate wore her favourite Annoushka Baroque Pearl Drop earrings.  They sit on Kiki McDonough hooks.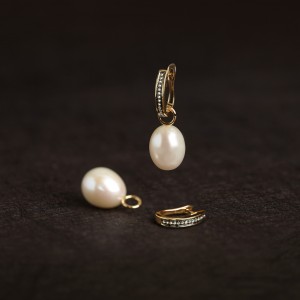 ++++ A WORD FROM OUR SPONSOR ++++
I've got a great offer for you guys from Milli Millu, our current sponsor here at KateMiddletonStyle.org.
As you probably know, Milli Millu sell chic, luxury handbags.  Kate's sister Pippa who owns THREE bags by the brand: the Vienna, the Chicago and the Milan.
To celebrate their fifth birthday this month, Milli Milli have offered our readers an exclusive discount of 15% across all collections using the code KATE15 – the discount code is applicable at check-out, in-store and over the phone.  It is valid until 31st October 2015.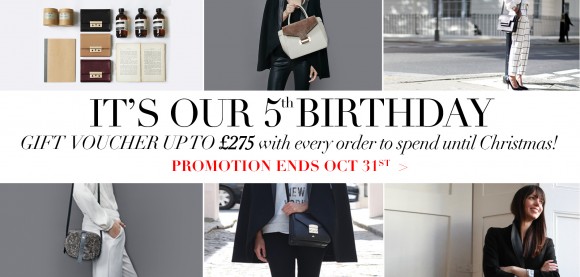 Not only will you get 15% OFF, you'll be sent a FREE gift card worth up to £275 to use until the 20th December!
No, really!  It's true.  Plus, enjoy FREE shipping & Returns on all orders in the UK and on orders above £200 Worldwide.
Feel good about your purchase too! Through their A Bag, A Life initiative, Milli Millu funds lifesaving vaccines and treatments aimed to save the life of a child in need.