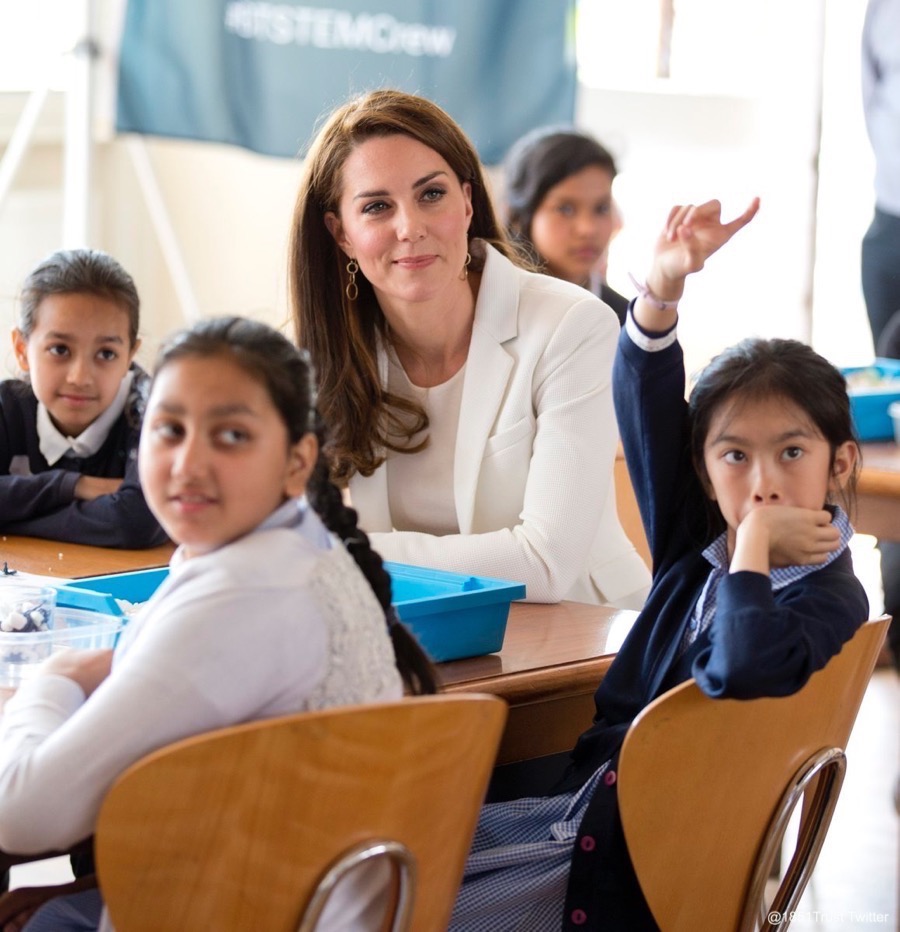 On 16th June 2017, the Duchess of Cambridge (Kate Middleton) attended the 1851 Trust's final Land Rover BAR roadshow at the Docklands Sailing and Watersports Centre in London.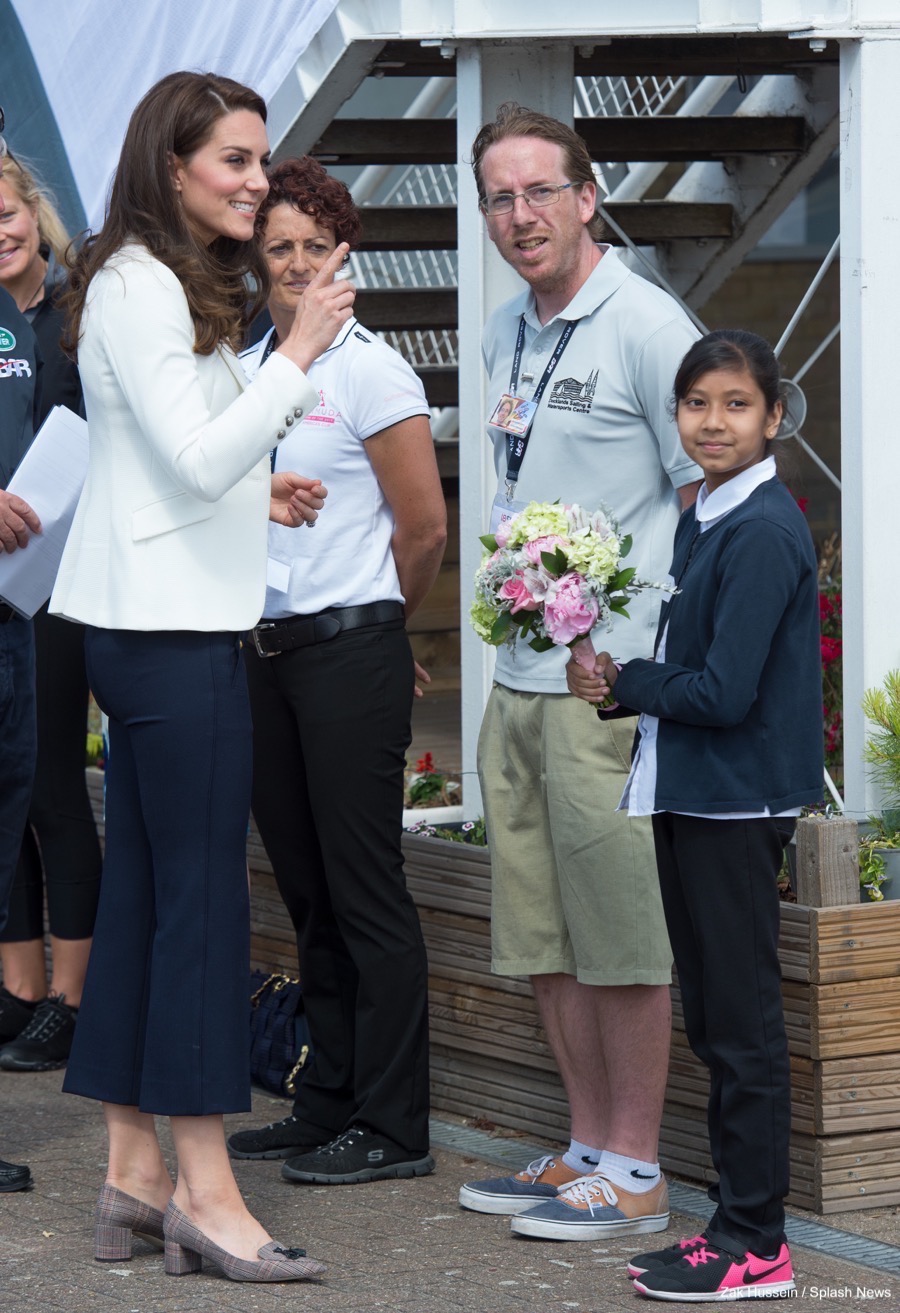 As you may recall, Kate is Patron of the 1851 Trust charity, which is the Official Charity of Land Rover BAR, the British yacht racing team formed by Olympic gold medalist Sir Ben Ainslie.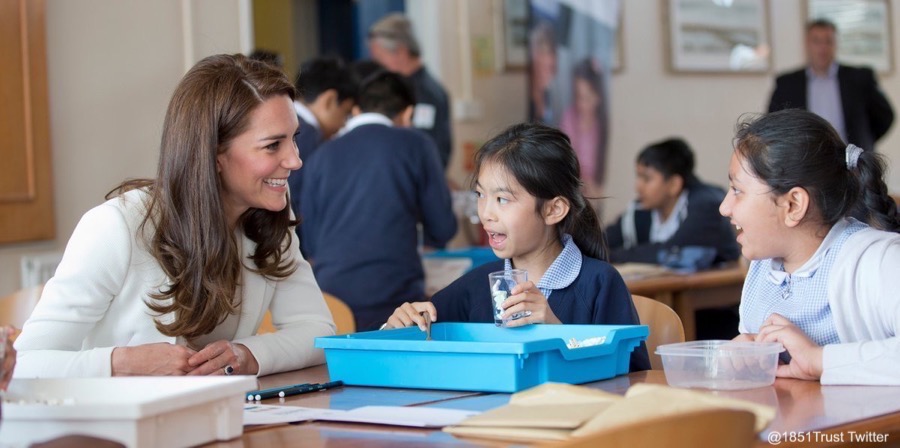 The 1851 Trust has hosted a number of roadshows designed to inspire primary and secondary school children into STEM subjects (science, technology, engineering and maths).
More about the roadshow:
The roadshow offers pupils an exciting opportunity to learn more about Land Rover BAR, the STEM challenges they face as they prepare to compete in the America's Cup, as well as the chance to get on the water themselves.

The sessions have each been carefully designed to enrich the school curriculum, using real-life examples from within the Land Rover BAR America's Cup team to engage and inspire young people.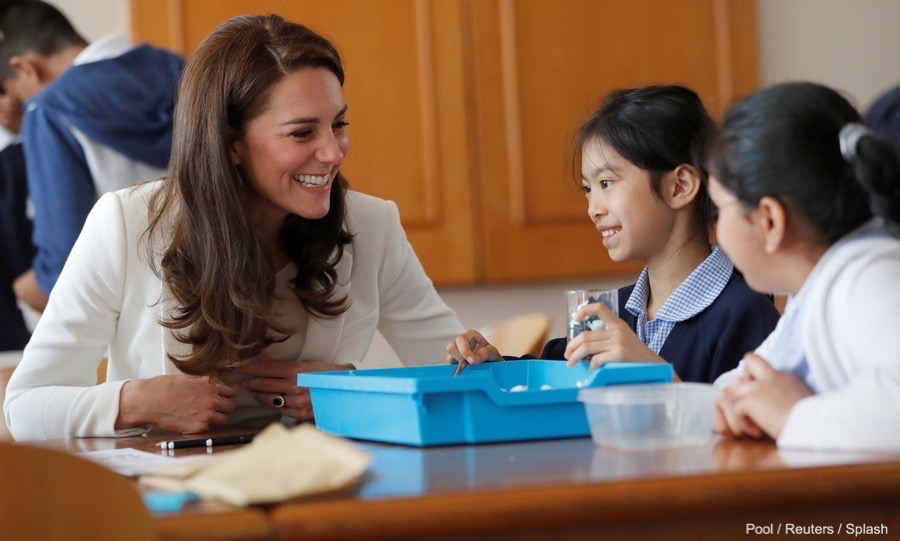 Kate took part in a group workshop on Ocean Health and learned about the impact of single-use plastics and the implications of plastic pollution on marine life.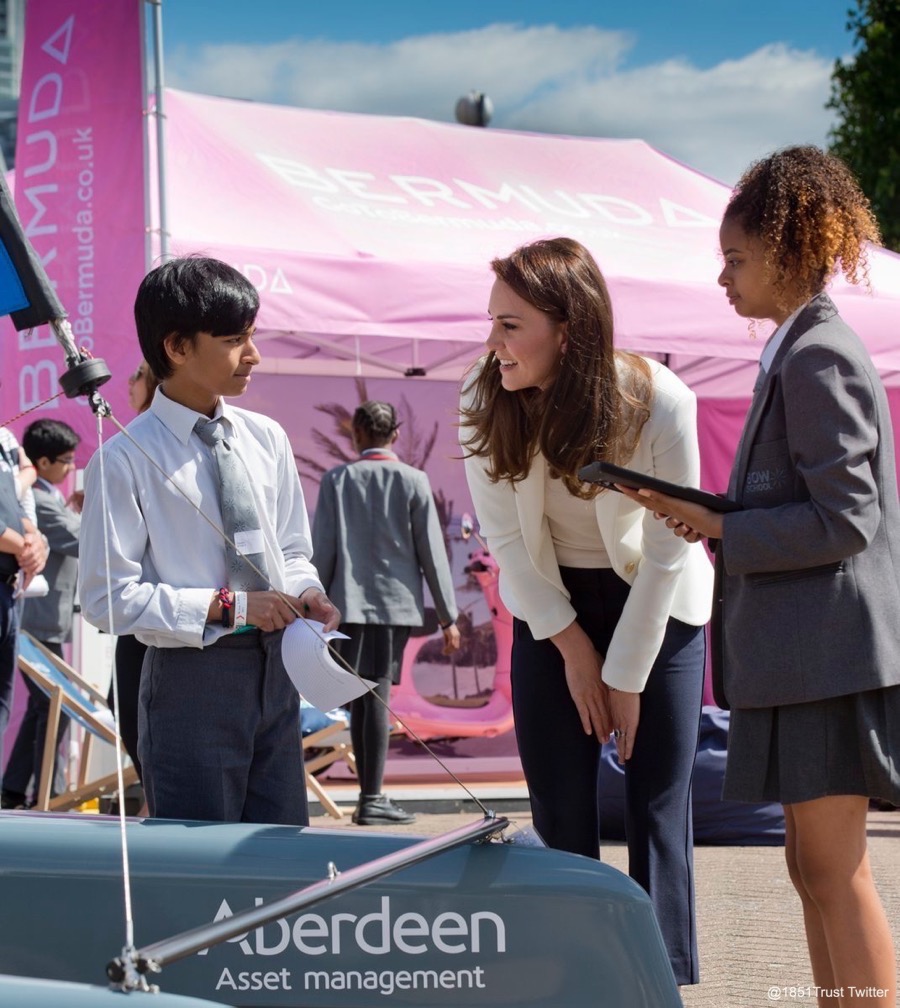 She also joined a group taking part in a treasure hunt before speaking directly to Sir Ben Ainslie via a video link to Bermuda.

She offered her commiserations on the team's America's Cup effort and mentioned that she and William had been "glued to the telly" watching the races with "really keen interest".
You can watch the video of their chat below:
Kate's outfit:
Let's take a closer look at the Duchess's nautical themed outfit!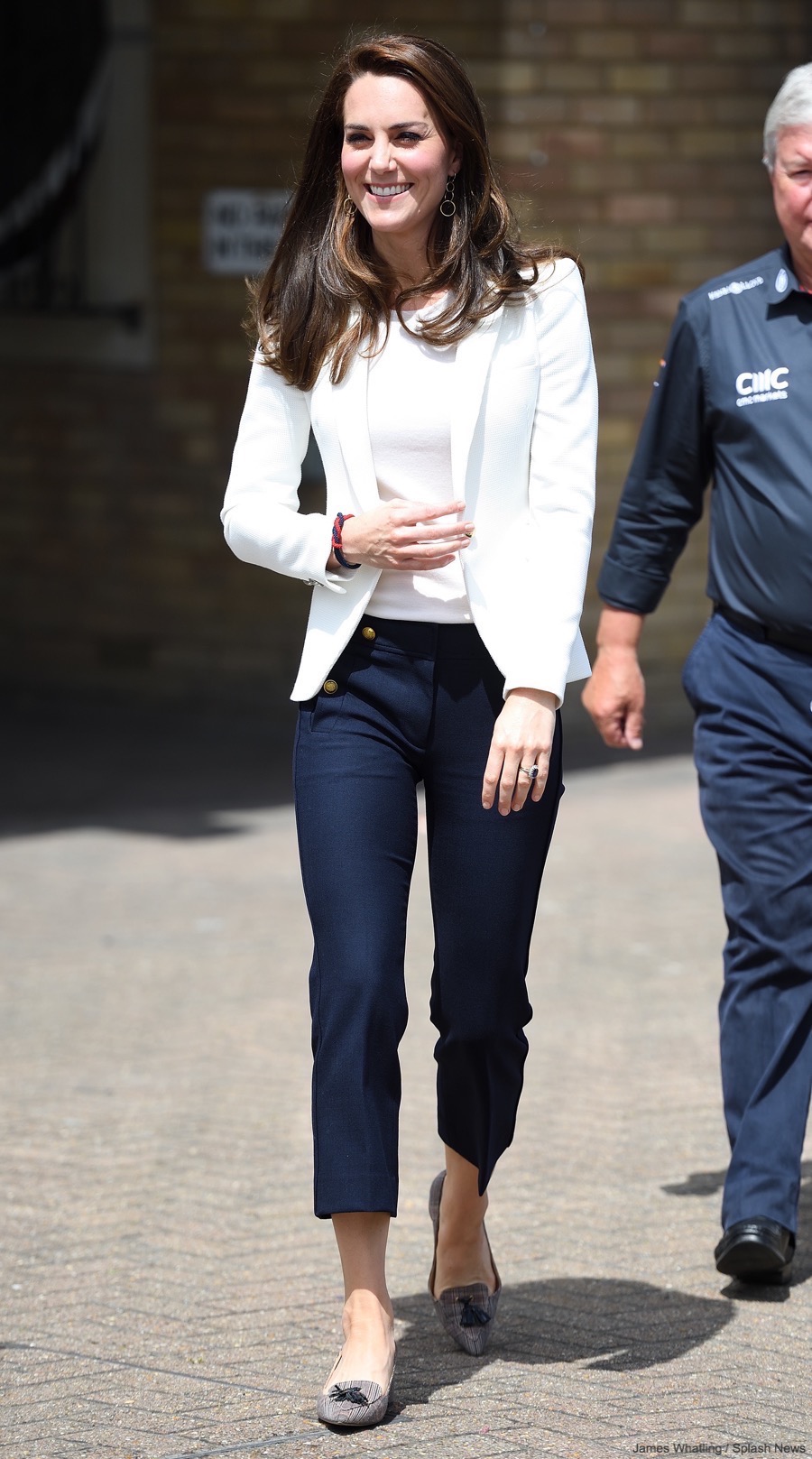 You might recognise Kate's white blazer. It's the Zara blazer she first wore during the Canada Tour in 2016. Zara appears to have stocked the blazer across a few different seasons, each with slightly different detailing (e.g. different buttons on the sleeves, different types of lining, etc). It's no longer available for purchase. (Though, at the time of hitting publish, there are a few available on eBay).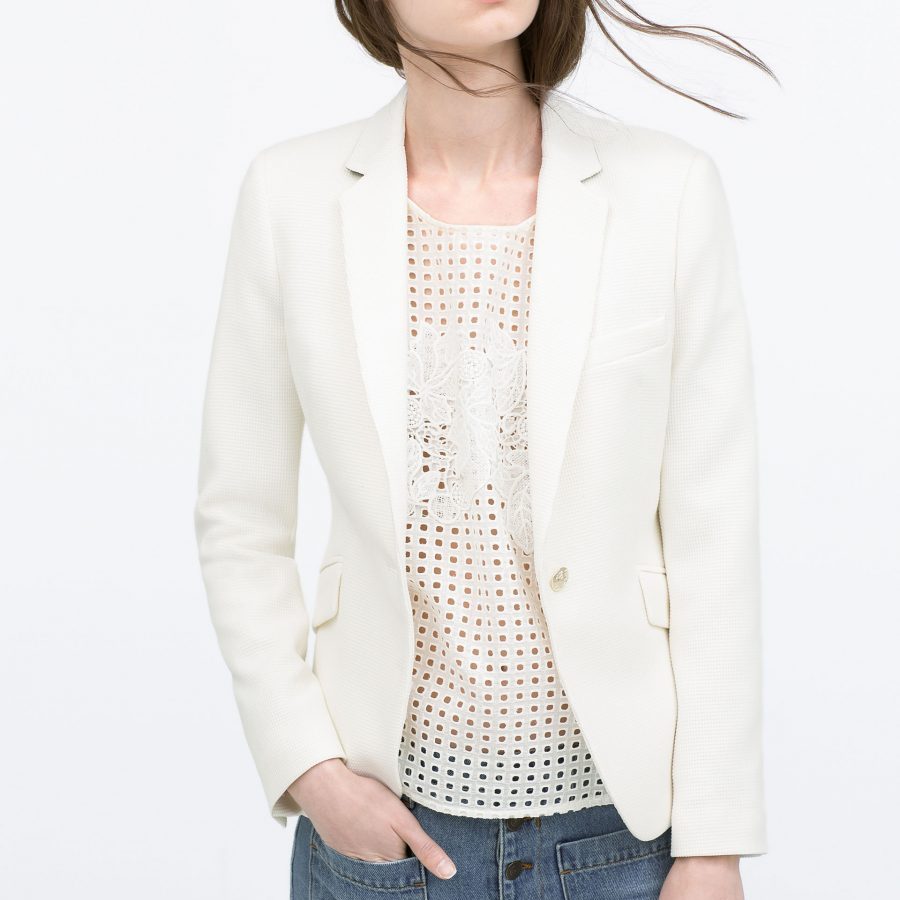 Kate debuted a new pair of blue cropped trousers for the event: J.Crew's Sailor Pants with a cropped kicked leg and gold-coloured nautical style buttons. The Sailor Pants are made from a stretch-wool blend fabric, which helps them keep their shape.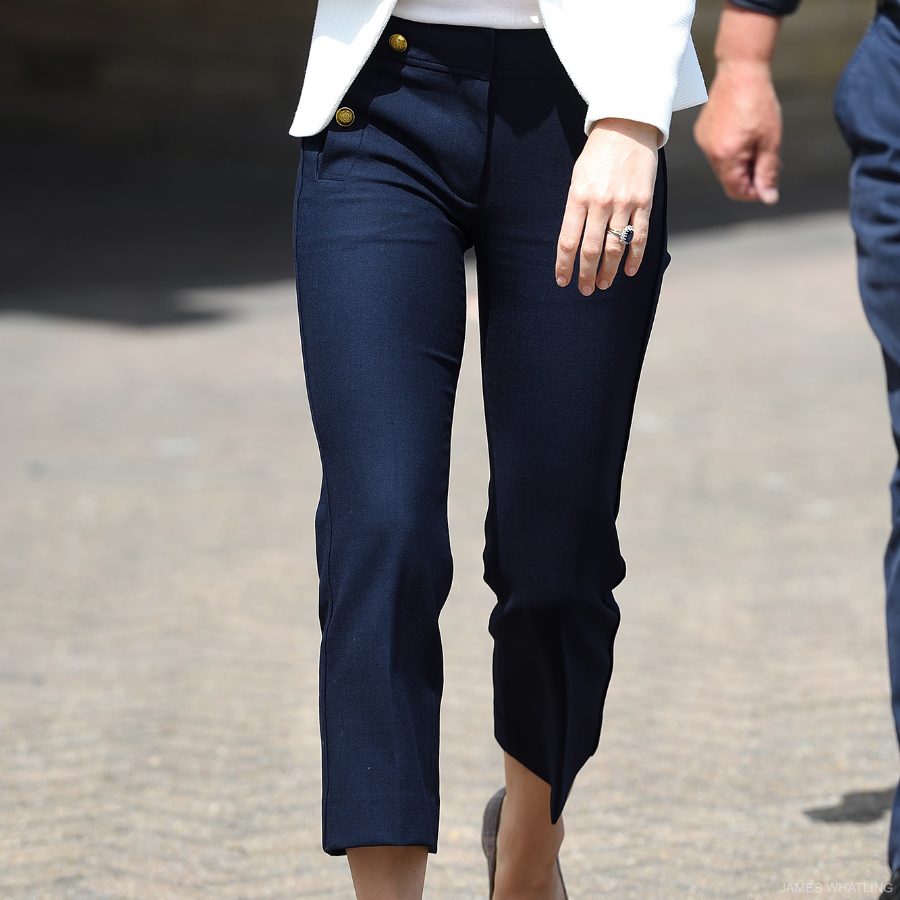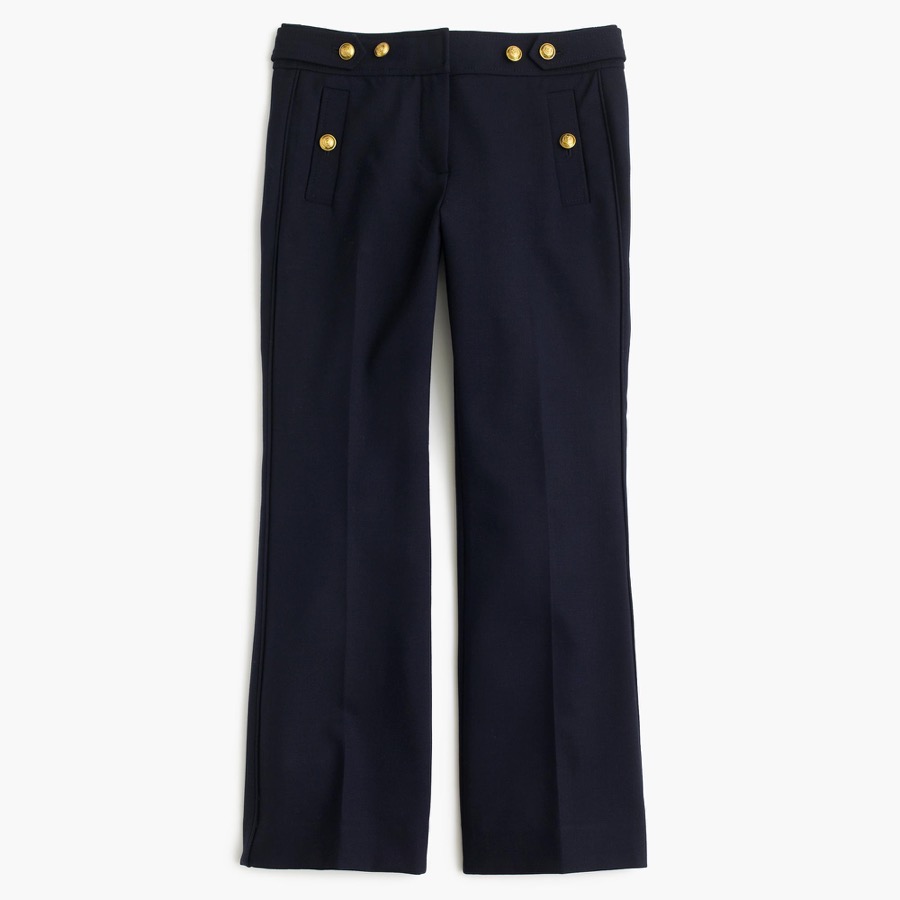 J.Crew no longer sells the cropped pants; they were out of stock prior to Kate wearing them. However, at the time of writing, there are a few pairs available to buy on eBay.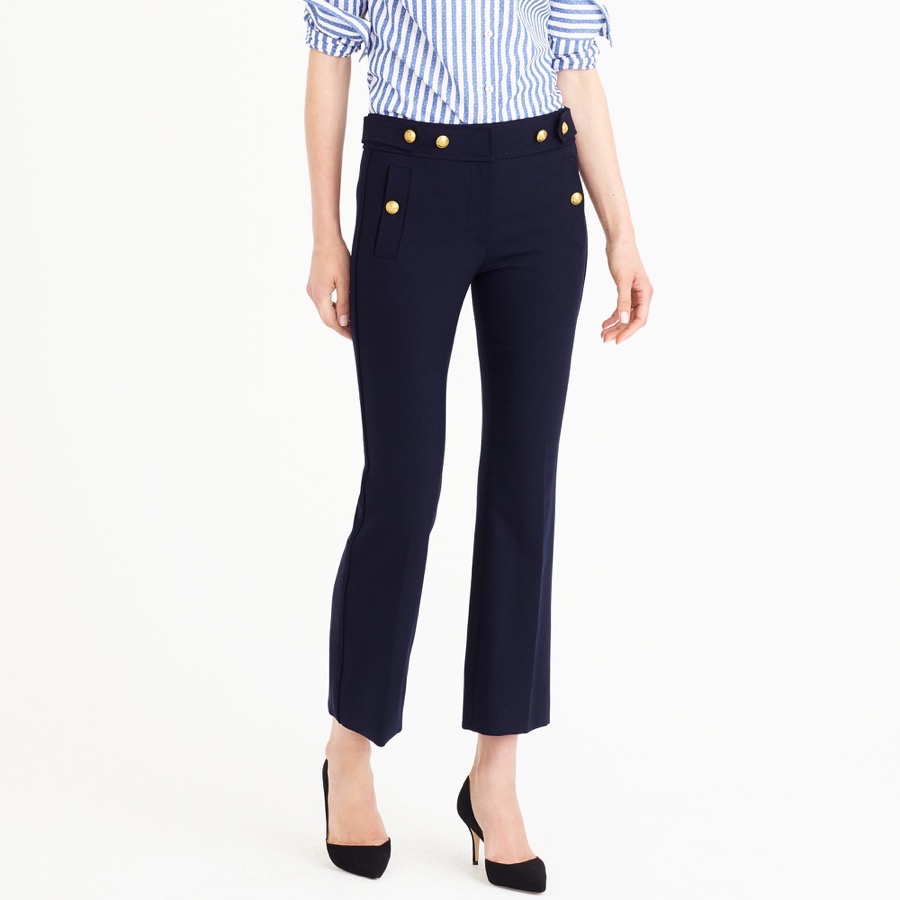 If you're looking to emulate Kate's style, you may be pleased to read that J.Crew do have several pairs of cropped trousers in stock:

You might also recognise Kate's shoes from the 2016 Canada Tour too. (You might also remember that she wore them with the same white blazer from Zara).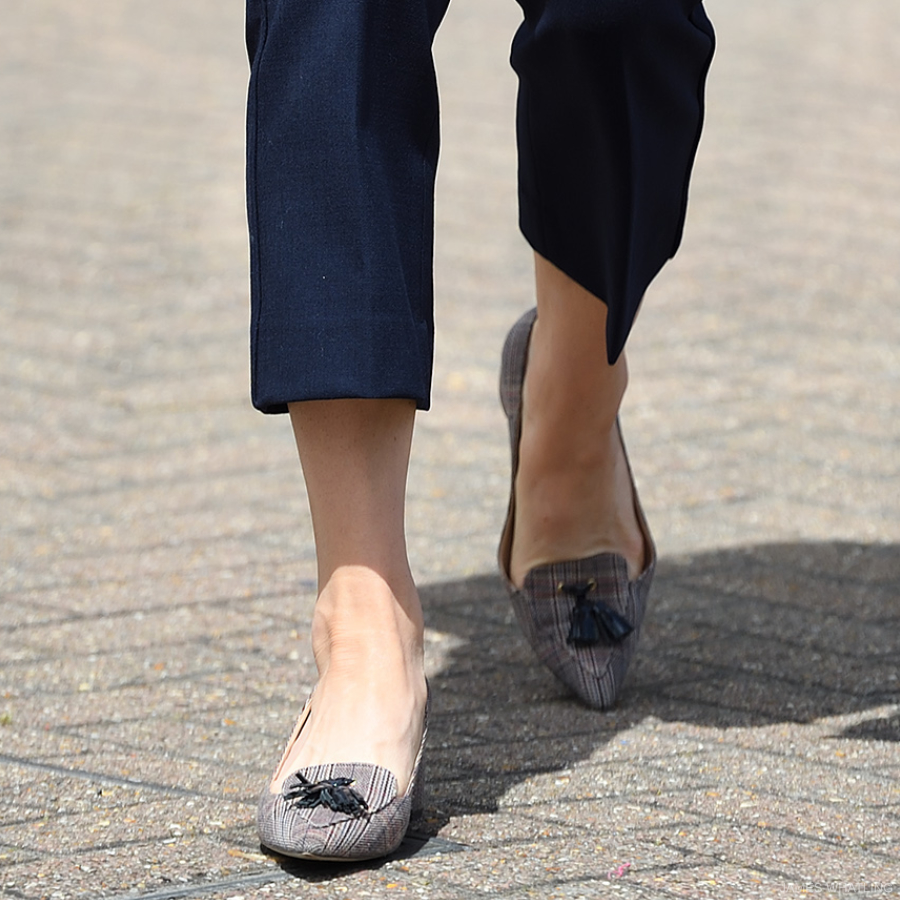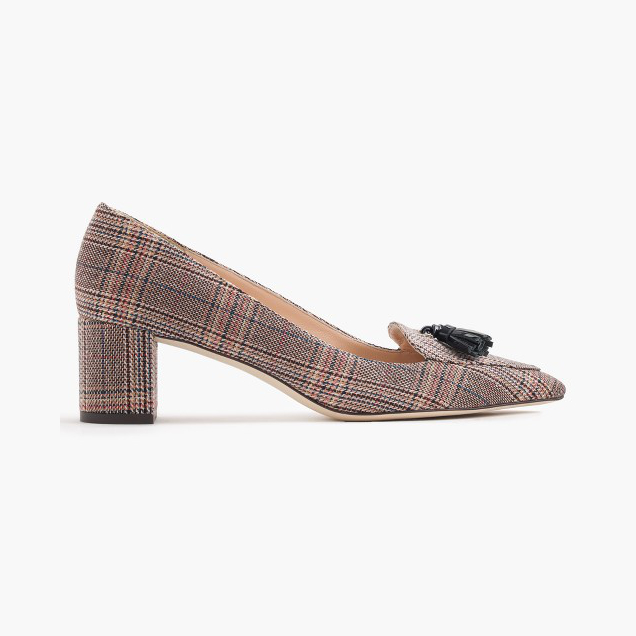 Kate's earrings ought to feel familiar too. She's worn them a number of times in the past. They're the Mirabelle Lolita style. The design features three gold coloured interlocking hoops. They're crafted from brass and plated with 22ct gold.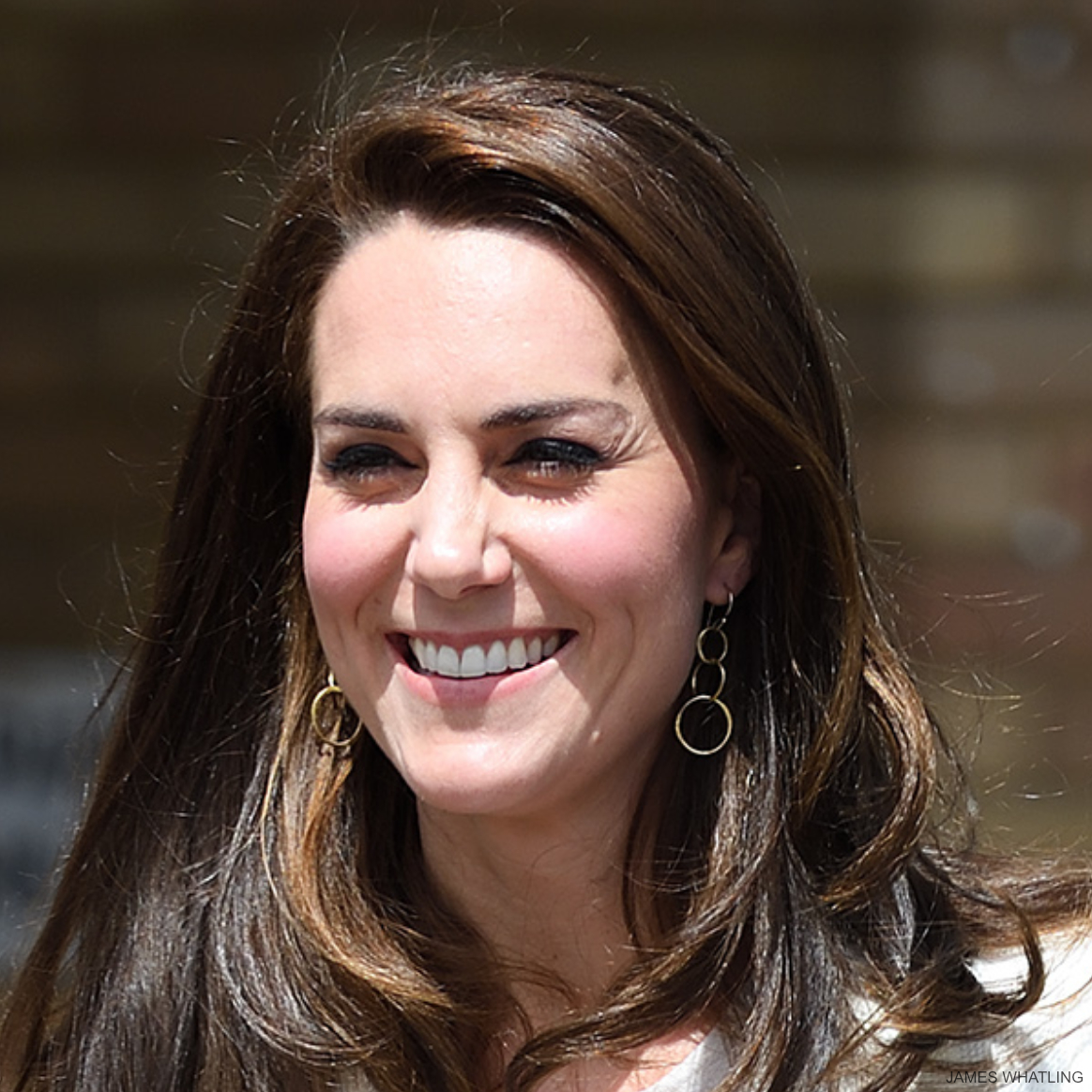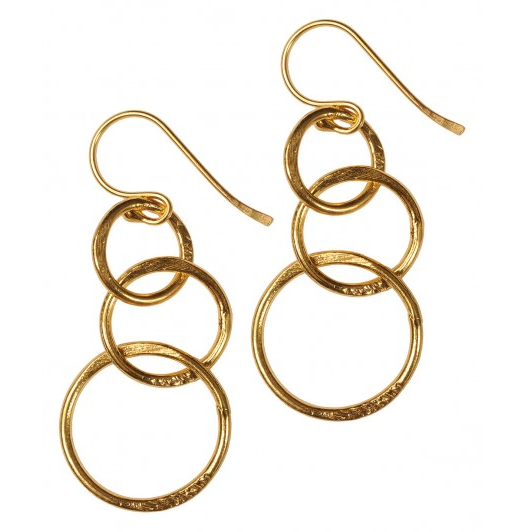 If you'd like the purchase the earrings, you'll be pleased to learn that they're still available at mirabellejewellery.co.uk. They cost £35 GBP (around $45 USD).
You may have noticed Kate's wearing a colourful red and blue bracelet in some photos? This is the 1851 Trust's "Band of Britain", a limited edition wristband to show support for Sir Ben Ainslie and Britain's America's Cup Challenge.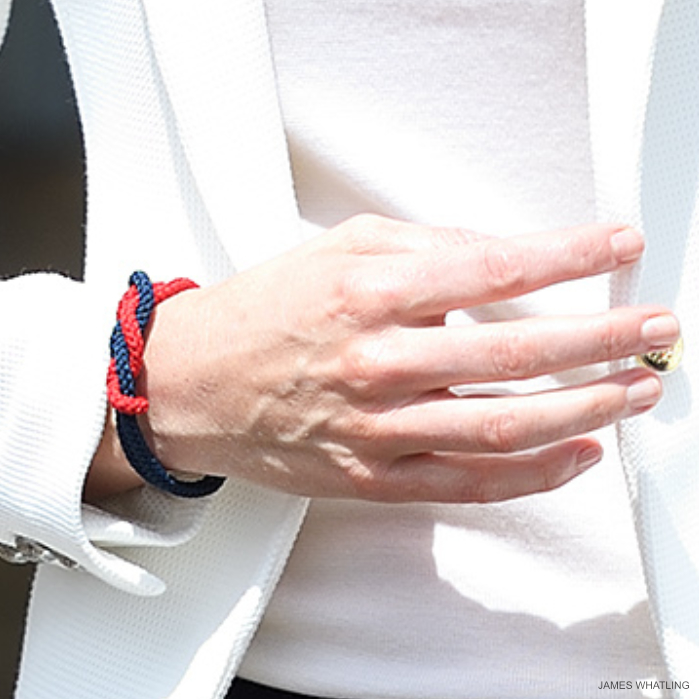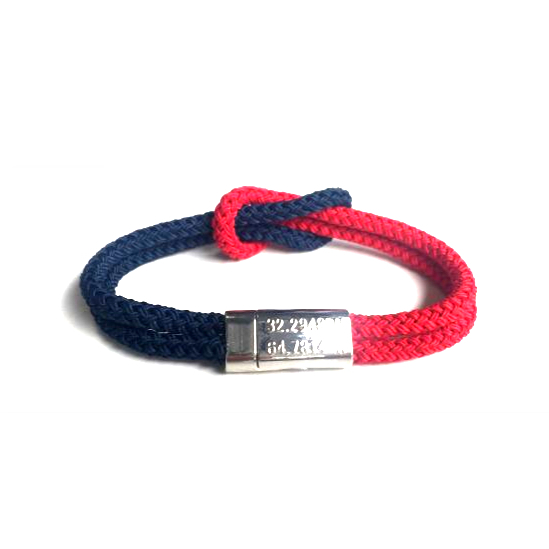 The bracelet is made from recycled ocean plastics. It features the coordinates of the racing in Bermuda embossed upon the clasp. Profits from the sale of the bracelet support the 1851 Trust charity. The bracelet can only be purchased within the United Kingdom. It costs £15. Click here to buy.
Official Land Rover BAR / 1851 Trust shirt by ME&EM:
If you're familiar with Kate's style, you'll know she owns three Breton striped t-shirts by British company ME+EM.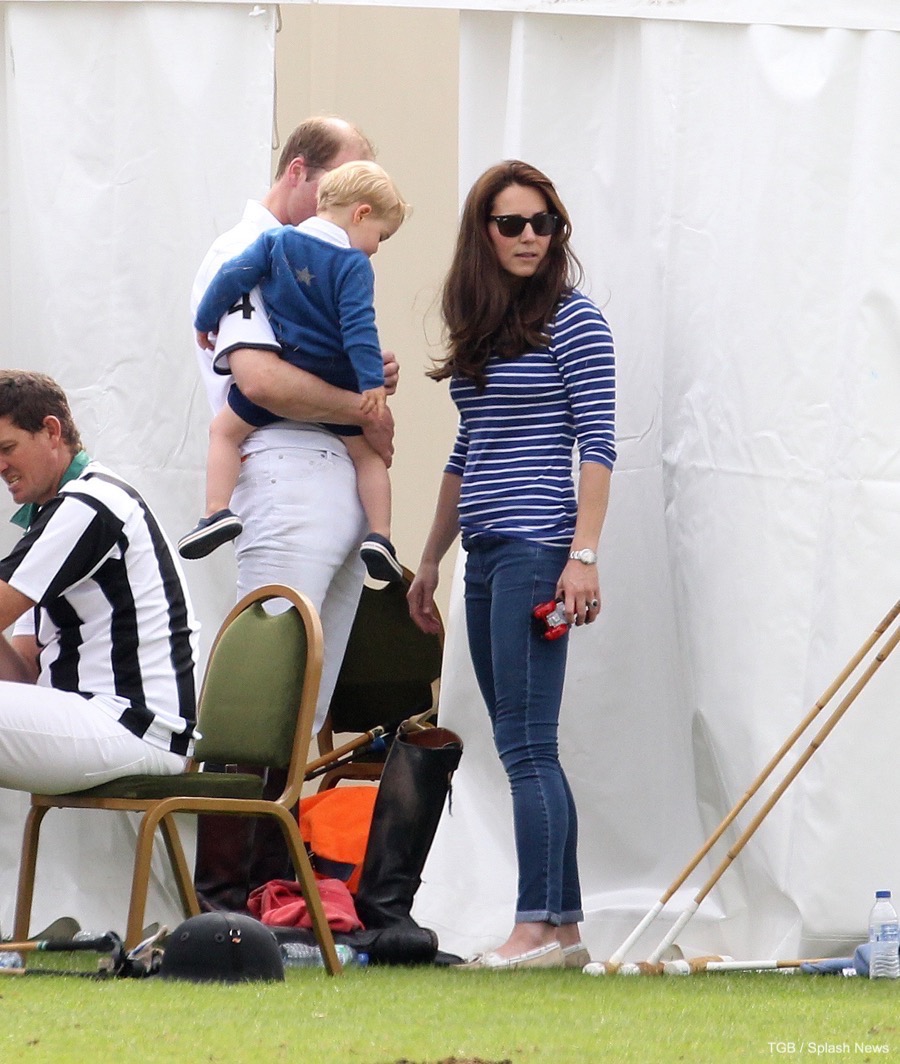 This year, ME+EM designed a bespoke collection of clothing for Land Rover BAR's female support team.  One of the designs is a red and blue breton striped top. Below, you can see three ladies wearing the top during the 1851 Trust Roadshow: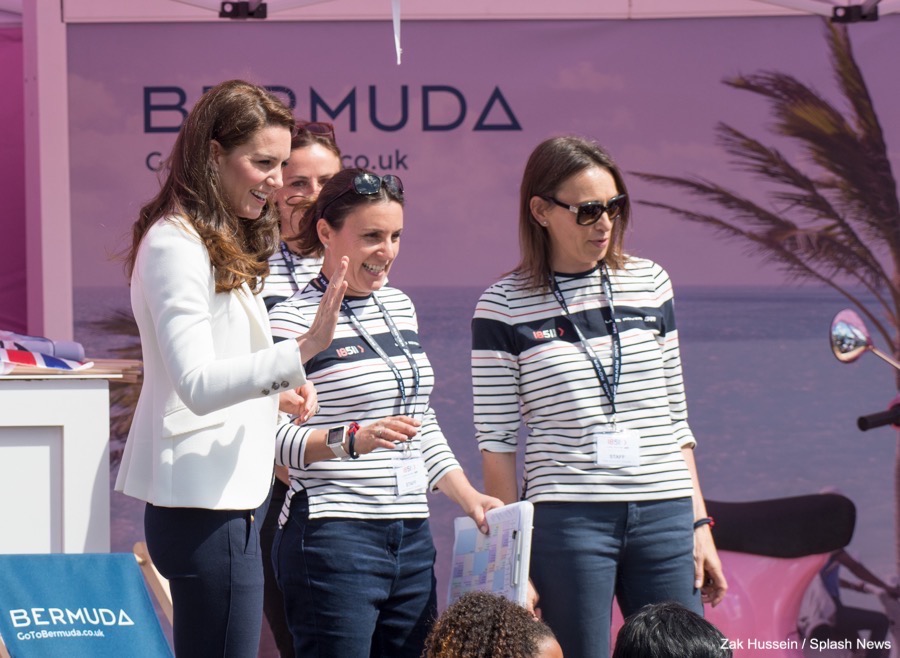 ME+EM have released the top for sale to the public and they'll be donating a percentage of proceeds to the 1851 Trust.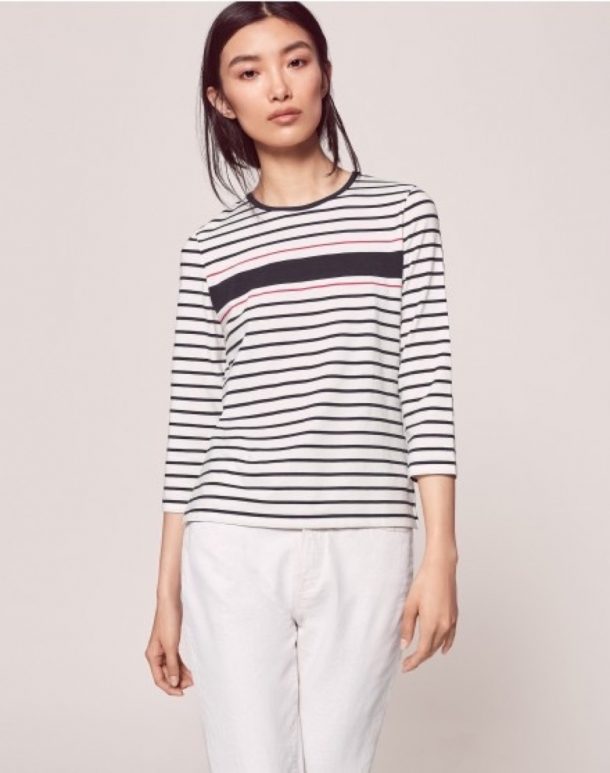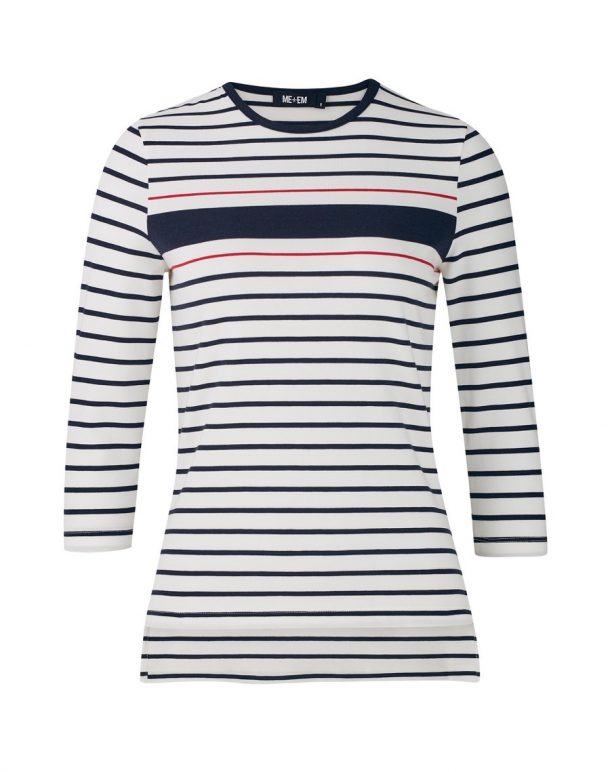 The blue and white Breton striped top retails at ME+EM for £55 GBP (around $70 USD). The company ship worldwide. Click here to shop.