This evening, Kate and William attended the Queen's Diplomatic Reception at Buckingham Palace.  They joined other senior royals, including Prince Philip, Prince Charles and the Duchess of Cornwall.
During the reception, the Queen meets with every head of mission accredited to the Court of St James's in London.
The annual event calls for formal attire, with female royals wearing glittering tiaras and impressive jewels, often loaned from the Queen's vault.
You may recall that the Duchess attended the reception for the first time in 2013.  She donned the Lotus Flower tiara (also known as the Papyrus tiara). Kate wore this tiara again recently, during the State Banquet held for the visiting Chinese President.
This year, Kate debuted the Cambridge Lovers Knot tiara.  This piece was famously worn by Diana, Princess of Wales for many years.
A little bit about the tiara, from Wikipedia:
"The tiara was made using diamonds and pearls already in the Queen's possession. Extremely French in its neo-classical design, the tiara consists of 19 openwork diamond frames each with a large oriental pearl drop. Each arch is below a lovers knot bow each centred with a large brilliant. The design is based on the tiara owned by Mary's grandmother, Princess Augusta of Hesse-Cassel, who married Prince Adolphus, Duke of Cambridge (the seventh son of George III)"
Royal followers may be aware that Queen Elizabeth gave Diana the Cambridge Lover's Knot as a wedding gift in 1981.  When Charles and Diana divorced, the tiara made its way back to the Queen.
Now, on to Kate's chandelier earrings.  You may recognise these – they're another loan from the Queen.  The Duchess wore them to a BAFTA dinner in 2011, the Diplomatic Reception in 2013 and again recently, to the State Banquet.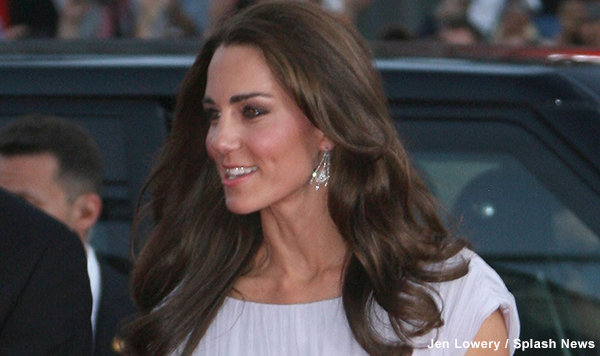 Sadly, we do not have any photographs of Kate's dress (and it's unlikely we'll get any from inside the reception) but we can tell it is a repeat.  The Duchess is wearing the same Alexander McQueen dress from the 2011 Diplomatic Reception.  As you can see from the photo below, the dress is made using powder blue lace.