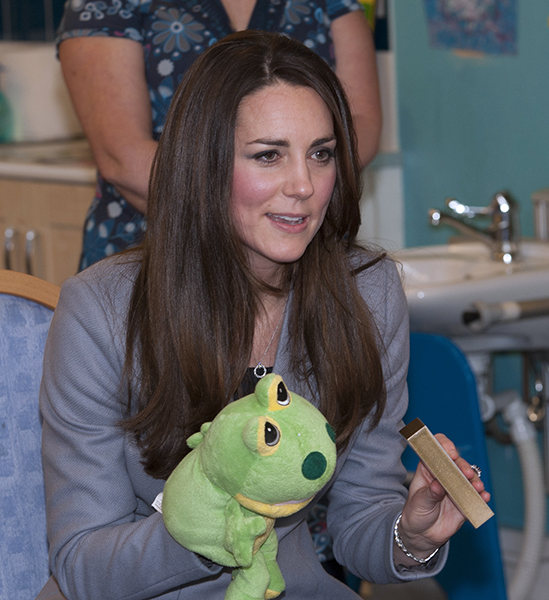 On December 6th 2013, The Duchess of Cambridge visited  Shooting Star House, a children's hospice located in Hampton, Middlesex.
During her visit, Kate met children with life-limiting conditions and their families, plus staff and volunteers on duty. She chatted to several girls and boys with series illnesses and hugged one of the three young girls that presented her with a posy of flowers.
During a music therapy session, Kate got involved, singing songs and she even entertained the children with a frog sock puppet:
According to the charity Shooting Star Chase, The Duchess also comforted grieving parents in one of the charity's private side rooms.  The parents lost their one-year-old daughter just a few days prior to the visit, and they lost their five-year-old son to the same condition six weeks earlier.
Also during her visit, Duchess Kate enjoyed a special afternoon tea with the children at the hospice.
Kate's outfit:
For the visit Kate wore several new (to us) pieces from some of her favourite brands, including a jacket by Reiss and a pair of wedge boots by Aquatalia (currently only for sale at Russell and Bromley).
The grey Reiss jacket is known as the Delaney.  Is described as a "collarless wool-rich coat in a sleek, modern cut."  It is cut in a fit and flare style, and it features seam detailing.  The jacket fastens with a single concealed button and comes in a dark blue colour too.
The jacket is currently reduced on the Reiss.com website from $520 to $364.  On the UK version of the Reiss website, the jacket is reduced from £275 to £220.
The jacket is also still for sale at John Lewis in blue for £145.
Kate's trousers were new, though no ID has been confirmed at present.  The navy blue trousers have a fabric/corduroy look to them.  Susan from What Kate Wore thinks they're J. Brand's Skinny Corduroy Trousers.
The Aquatalia boots are the New Dry "Fur Trim Wedge Boot" from Russell and Bromley.   The brand describes the wedge boots as a "luxury ankle boot" and they say it is "essential for chic, cold weather dressing".   The boots are finished with a buckle trim and faux fur lining.  The boots retail at £225. (That's approximately $375).
Kate wore her Mappin And Webb Fortune white gold drop necklace.  The necklace features "0.67 carats of round brilliant-set diamonds set in three 18 carat white gold infinity loops" apparently, it represents a celebration of luck and good fortune.  The necklace retails at £3,950 (that's around $6,600).
Finally, Kate wore her Kiki McDonough Classic Green Amethyst and Diamond Cushion Drop Earrings.  Click here for more information about those.