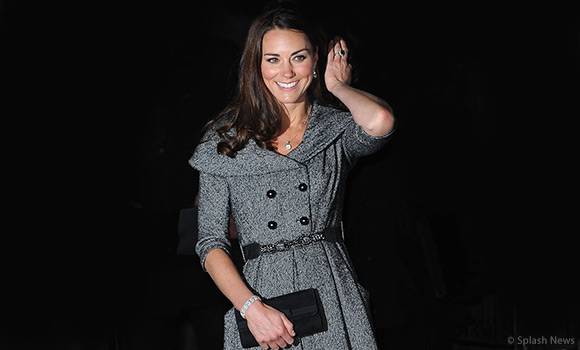 In February 2012, The Duchess of Cambridge conducted her first solo public engagement.  She visited the National Portrait Gallery for a preview of the new Lucian Freud Portraits exhibition.
The Duchess announced her Patronage of the Gallery in January 2012.  It's a good fit for the Duchess, as she has shown a keen interest in portraiture and photography.  Duchess Kate used to take the catalogue photos for her family's business 'Party Pieces'.
Above: Catherine chats with Lucian Freud Portraits exhibition curator Sarah Howgate and National Portrait Gallery Director Sandy Nairne in front of a painting by the late artist Lucian Freud.
Kate's outfit:
Kate wore a 1950's style full-skirted grey coat dress, with a large exaggerated collar by high street brand Jesiré.
The brand ceased trading in 2011, almost a year before Kate wore the coat dress.  Grazia started doing a little digging to find out where Kate might of bought the piece:
"In March 2011, the likes of John Lewis and House of Fraser were holding a closing down clearance sale for Jesiré. We also know that the Middletons are regular visitors at Jeanne Petit in Hungerford, Berkshire, where they've been seen buying one-off pieces. They also shop at The Stock Exchange in Sunninghill, Berkshire, which sells second-hand clothing and is described on the website as 'the premier venue for the fashion conscious bargain hunter'."
Shortly after Kate visited the National Portrait Gallery, Grazia ran an article on the coat dress.  They found Colour, Style & Image Consultant Ann Skidmore who purchased the piece in September 2010 from a Jesire boutique in Birmingham before it closed down.  According to Ann, the coat dress originally cost £120, but paid only £60 for it in the sale.  Here's a picture of Ann in the Jesire coat dress:
Grazia also posted this image of the coat dress from an eBay auction:
Kate wore her black Jimmy Choo Cosmic shoes with her grey coat dress.  The heels are a staple in Kate's closet.
Shop Jimmy Choo Cosmic:

Here we show them wearing them on a red carpet at another event:
Kate accessorised the dress with her Asprey London "167 Button Pendant."
Duchess Kate wore her mystery diamond bracelet and earring set.  She previously wore this set during her tour of Canada and America.   It's thought this set was gifted to Kate as a wedding present.
Finally, Kate's clutch bag (with the small bow) and pewter belt still remain a mystery – we're not sure where the pieces are from.