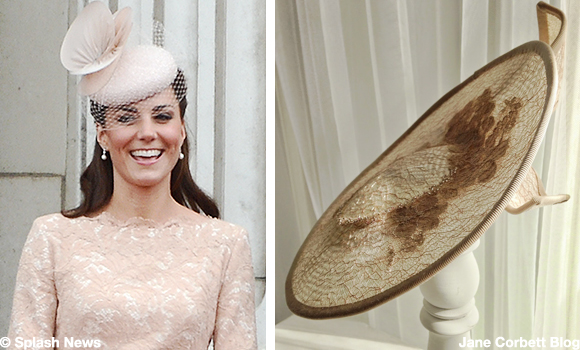 On 11th June 2014, Duchess Kate attended a Garden Party at Buckingham Palace. This was a last minute schedule change for Kate, who was originally meant to attend Thursday's Garden Party, held to mark the 150th anniversary of the British Red Cross. Today's Garden Party also fell on Prince Phillip's 93rd birthday.
Kate's outfit:
Kate wore a custom piece designed by Alexander McQueen. She first wore the dress in June 2014 for the National Service of Thanksgiving held at St. Paul's Cathedral in honour of the Queen's Diamond Jubilee. Here's a reminder of Kate wearing the dress back in 2012:
As you can see, Kate changed things up a little by removing the belt. She is also wearing a new hat by Jane Corbett.
From Jane Corbett's blog:
"So delighted to see HRH The Duchess of Cambridge wearing one of my hats at today's Garden Party at Buckingham Palace. The new hat was specifically designed to be worn with the beautiful Alexander McQueen lace dress that HRH has worn previously. How perfect to have summer sunshine for a Garden Party!"
Kate carried her Russell & Bromley Park Avenue clutch bag. You may remember Kate carried this bag several times in 2012 during the tour of Asia and the South Pacific.
She also sported a new pair of heels, which as yet remain unidentified.
Finally, Kate wore her Annoushka pearl earrings on Kiki McDonough hooks.