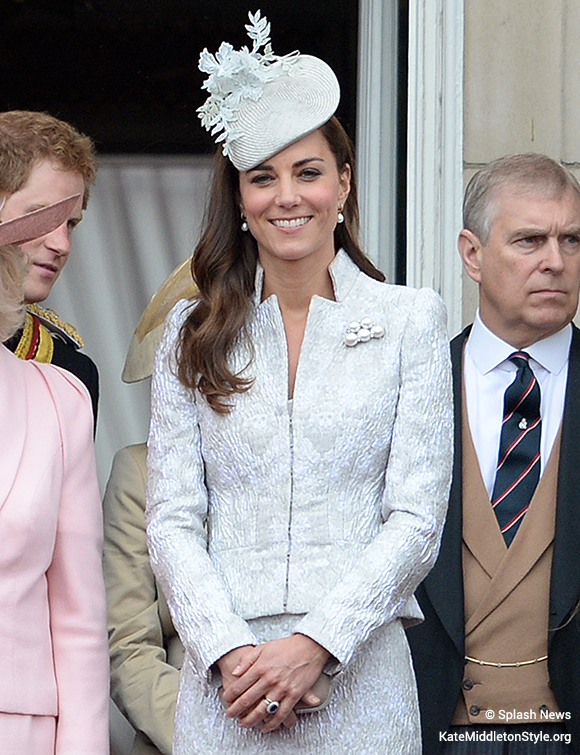 Kate attended her fourth Trooping the Colour ceremony this year.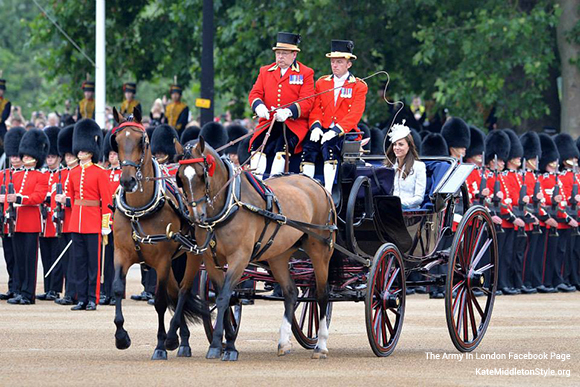 The annual event is also known as the Queen's Birthday Parade. It is held in June each year to officially commemorate the Queen's birthday, which is actually two months earlier on April 21st. However, it has long been traditional to celebrate the Sovereign's birthday publicly in the summer. This is because good weather is more likely. This year's ceremony was slightly overcast, but the weather held up: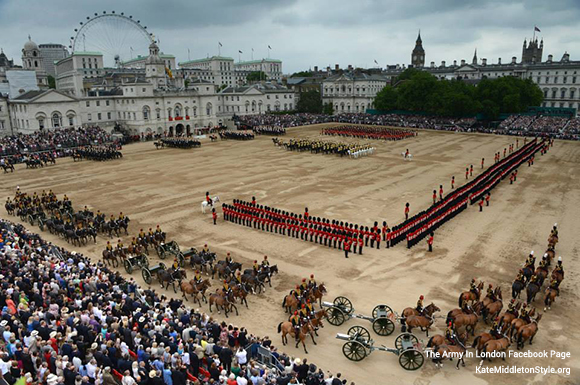 The HQ London District page on Facebook has a note about the events:
More than a thousand soldiers from the Household Division were on parade to mark the Queen's Official Birthday on 14th June 2014 on Horse Guards Parade, at the ceremony known as Trooping the Colour. The Royal Colonels (The Prince of Wales, The Duke of Cambridge, and The Princess Royal) also rode on the parade.
You can read more about the troops accompanying The Queen on their Facebook page here.
The celebration is what I like to say is the "dictionary definition of pomp and pageantry." The Queen leads a procession to Buckingham Palace, where the family watch a "flyover" conducted by members of the Royal Air Force.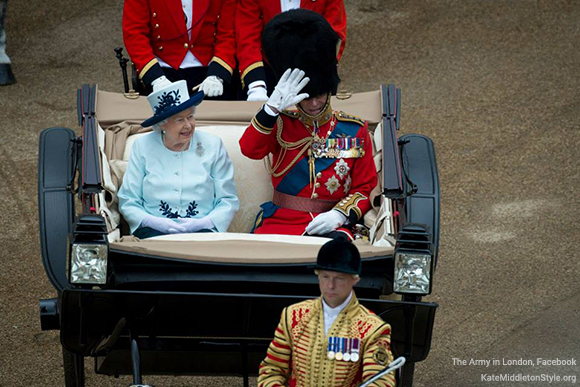 For the forth year running, Kate rode in a carriage with Prince Harry and The Duchess of Cornwall.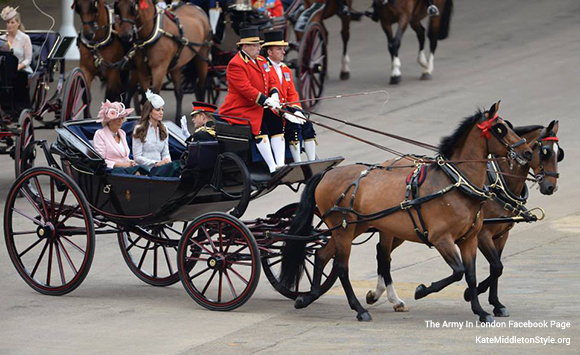 Each year, crowds gather in The Mall as The Queen and family head on up to the Buckingham Palace balcony in anticipation of the flyover.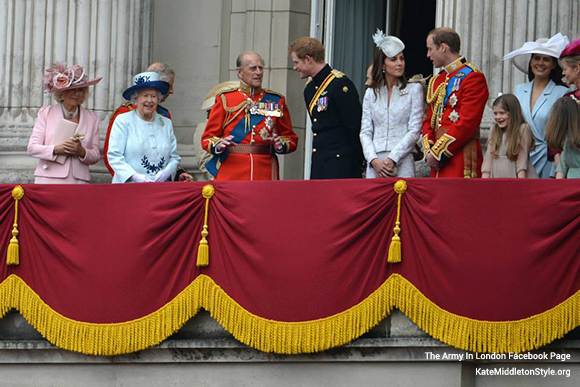 And another balcony shot of the Royal Family: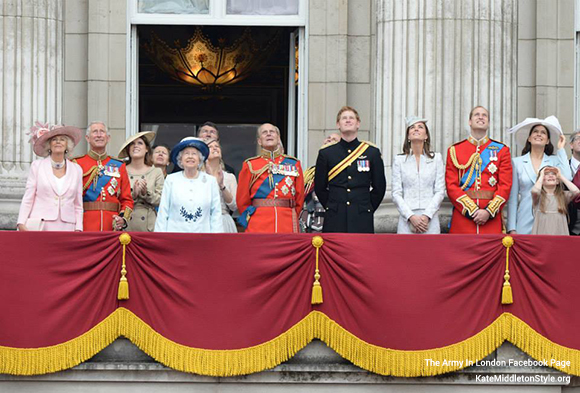 Kate's outfit:
Kate wore a new light blue/grey skirt suit for today's events. The Palace did not release details about Kate's outfit, but upon first seeing the piece most of us were certain it was by Alexander McQueen.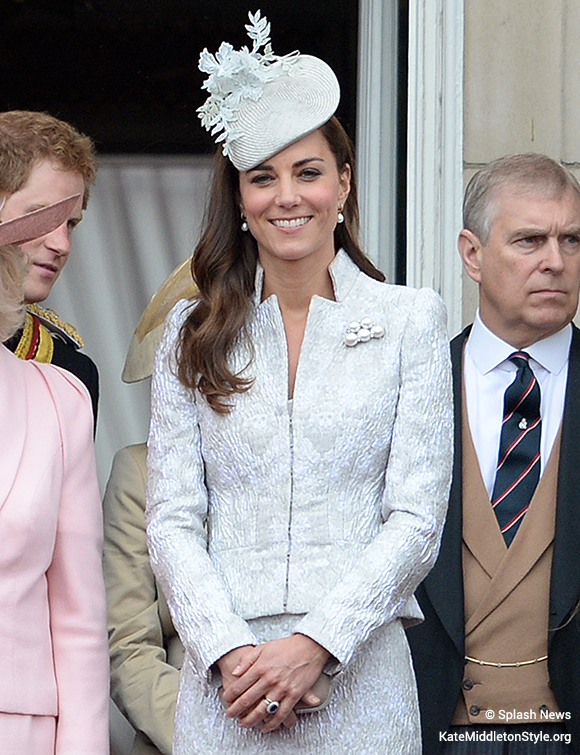 After a lot of sleuthing on Google, I found a very similar suit jacket by the designer, available from Browns. The piece was from a previous season, and it is not exactly the same as Kate's jacket, but I think the similarities are clear: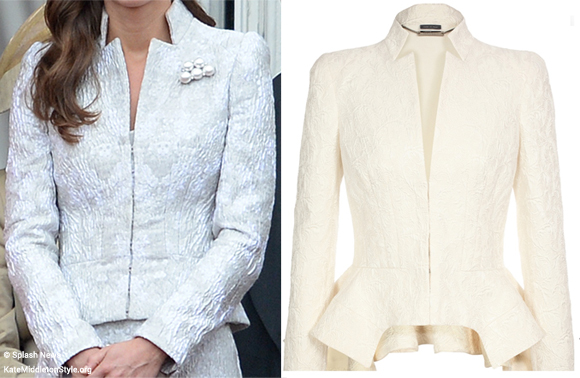 Both pieces feature a peplum, are created from jacquard material and have very similar notched collars. Kate's jacket (which was likely a bespoke piece) featured more pronounced shoulders, higher fastenings on the front and the fun pleated back has been removed.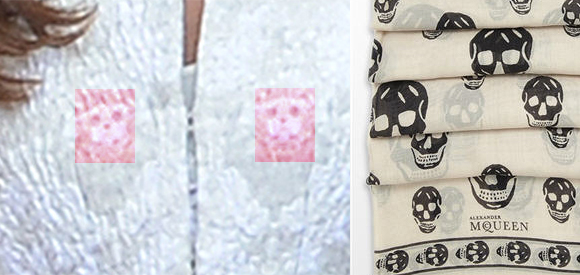 The blue and grey jacquard material also appears to have two small McQueen skulls on the front (the design house is notorious for using skulls on their clothing and accessories.) Mega props to my Facebook friend Kristin for spotting those!
Kate's hat is new, it's by Jane Taylor Millinery:
Finally, Kate paired her skirt suit with her Alexander McQueen box clutch, her Annoushka Baroque pearl drop earrings with Kiki McDonough hooks and a new brooch we've not seen before.  The brooch features several oversized pearls.