Kate Middleton owns the Self-Portrait Pleated Crochet Maxi Dress in white.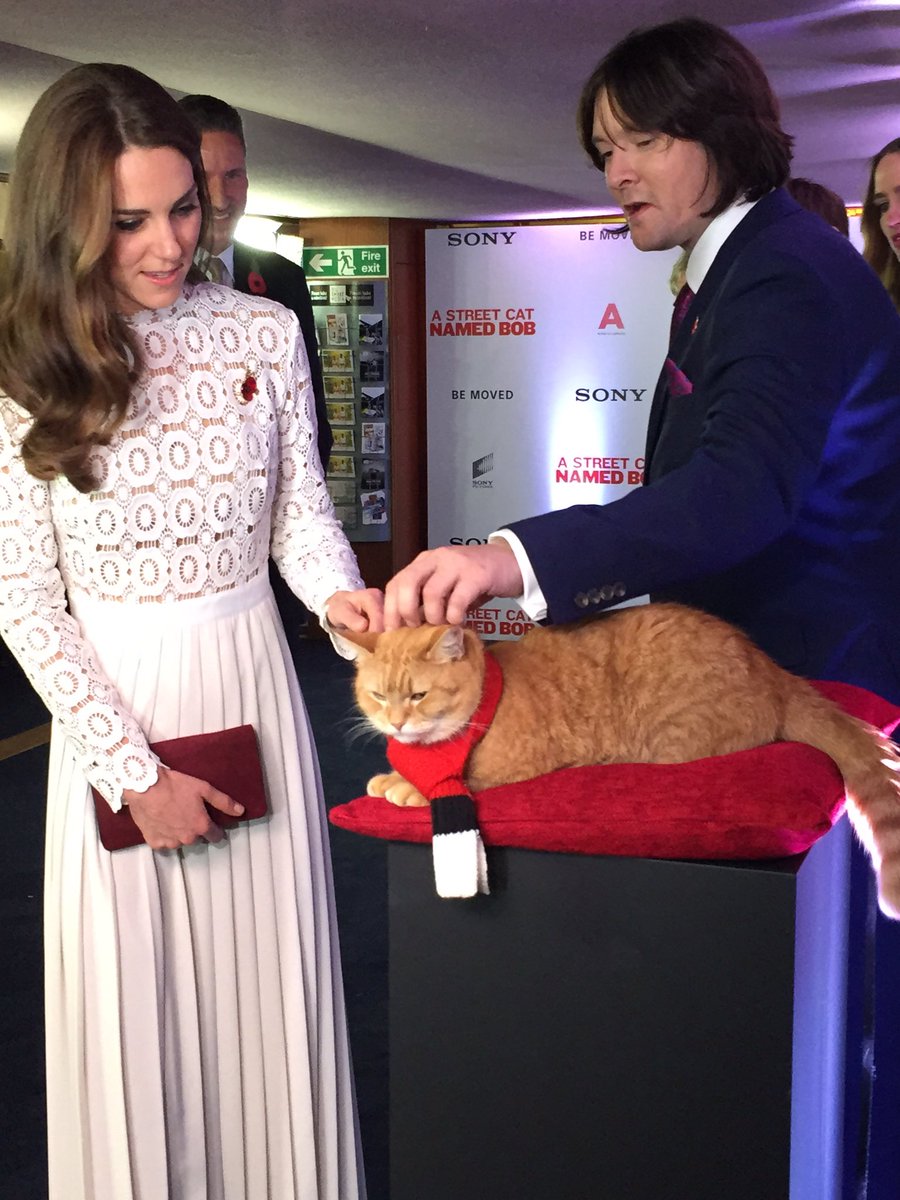 The Princess debuted the white maxi dress to the screening for A Streetcat Named Bob at a film festival in November 2016. We hadn't seen the Princess wear an item from Self-Portrait before this event.
About the Self Portrait dress:
The striking white maxi dress features a bodice adorned with an intricate circle lace pattern, which extends to the full sleeves, giving it a dash of vintage charm. A high neckline adds a touch of sophistication. The dress cascades into a flowing skirt, featuring a sultry thigh-high slit, perfect for showcasing a statement shoe.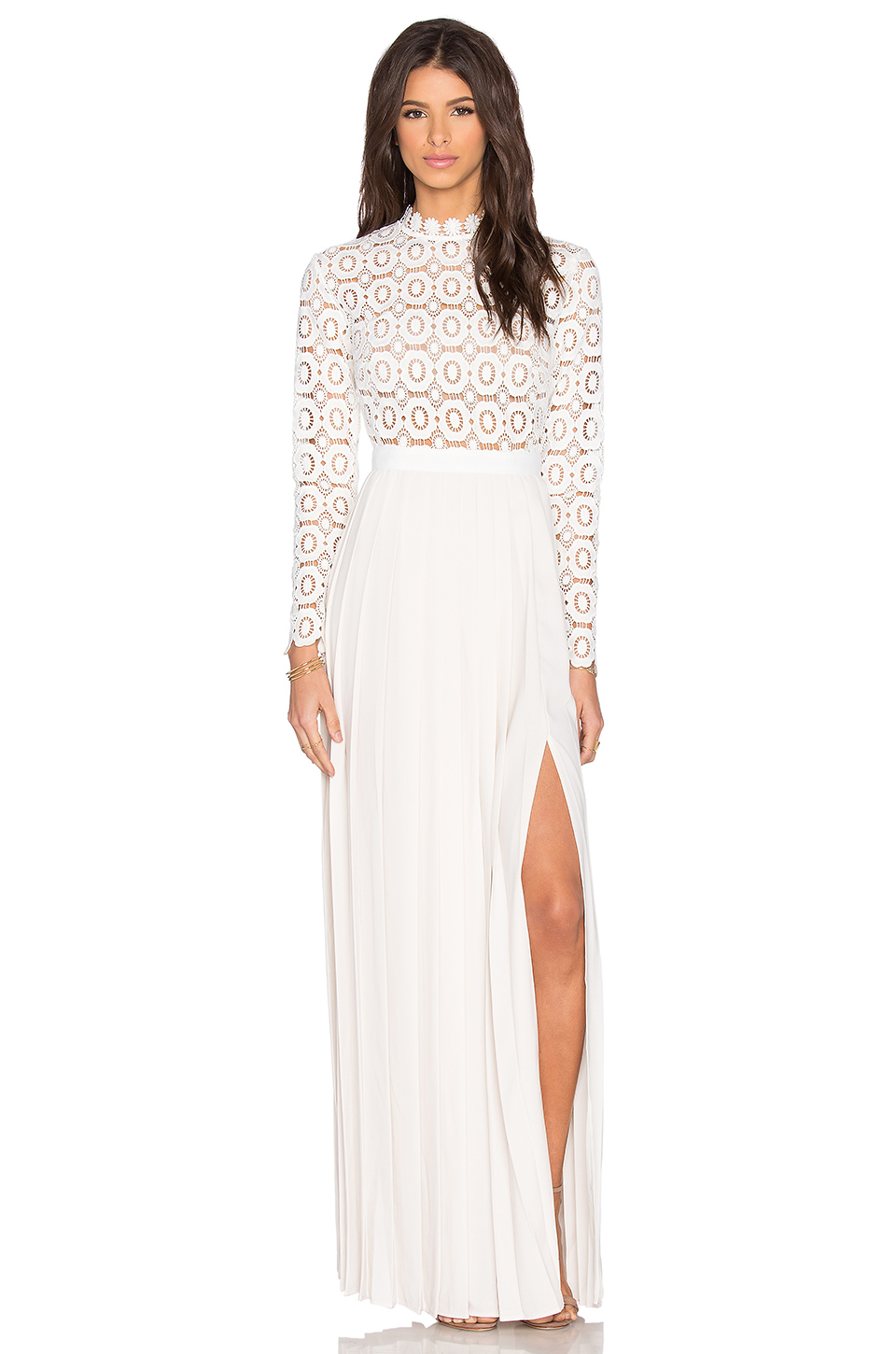 The skirt is made from silk crepe with shutter pleats.
This Lace Military Dress is cut for a close fit until the waist, the skirt then flares into a full length pleated skirt. The dress combines Floral Lace for the bodice and sleeves with a nude bandeau lining to highlight the lace. Medium weight crepe is used for the skirt and features a thigh high split left hand side as worn. The dress fastens with a neatly inserted exposed zip fastening.

Self-Portrait
Where to buy Kate's Self Portrait dress:
The Pleated Crochet Maxi Dress is from Self-Portrait's Resort 2016 collection.   However, you'll be pleased to know the brand still sell this popular frock on their website today (updated October 2023).
Kate Middleton and Self Portrait:
To date, we've seen Kate wear nine items from Self-Portrait, including eight dresses and a cardigan. The Princess has started wearing the brand more frequently over the last few years.
Most recently, we spotted her in Self-Portrait at the Wimbledon 2023's women's singles final. She was seen in a pastel midi dress by Self-Portrait.
For a pre-coronation event in May 2023, the Princess of Wales chose a stunning royal blue dress with a criss-cross neckline from Self-Portrait, pairing it elegantly with the Queen Mother's sapphire and diamond earrings​.
In April 2022, Kate wore a cream-beige blazer dress for a joint engagement with Princess Anne (pictured below).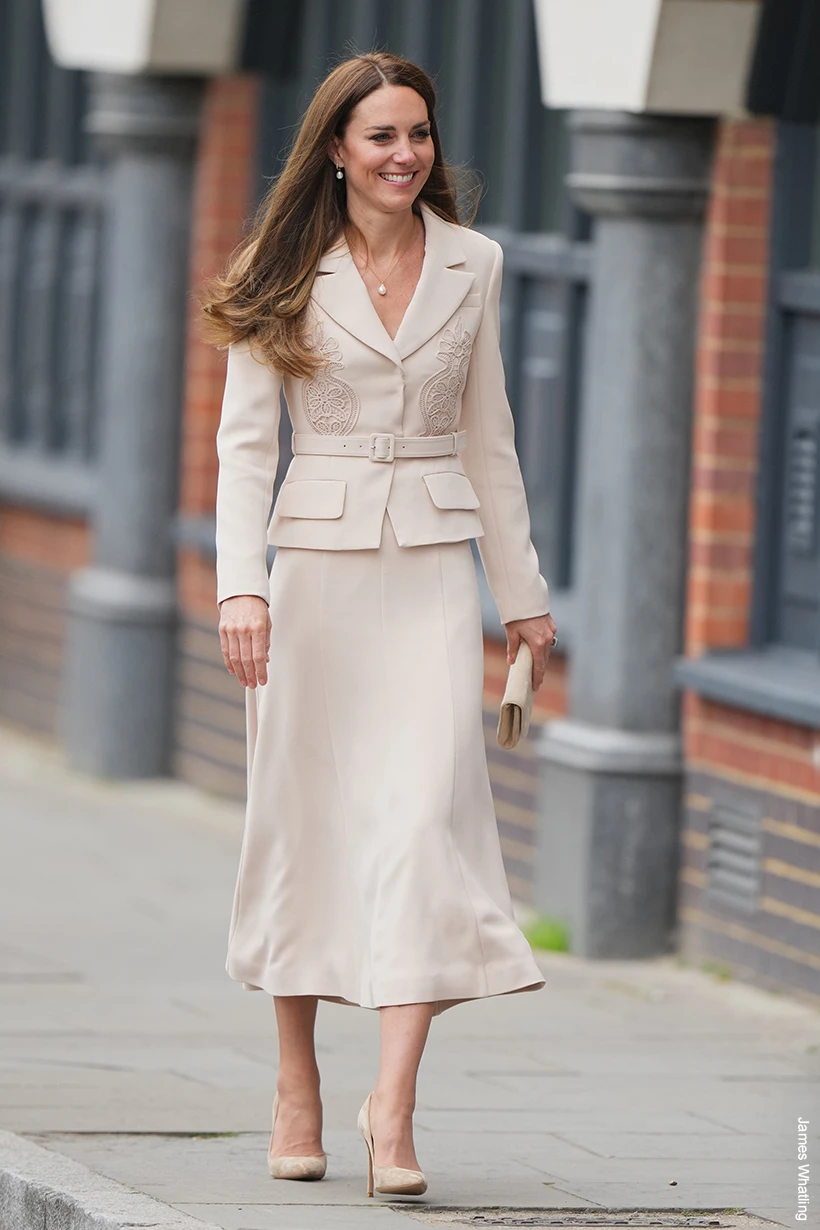 During a visit to The Bahamas in 2022, Kate wore a Self-Portrait midi dress in spearmint green, which fashion enthusiasts found charming.
In September 2021, she debuted a Cream Tailored Bouclé and Chiffon Midi Dress by Self-Portrait at a reception for her Hold Still project, and then re-wore it for the Platinum Party at the Palace in June 2022​​.
And plenty more besides…!
About Self-Portrait:
Self-Portrait is a contemporary fashion label founded by designer Han Chong in 2013. The brand quickly gained recognition and a loyal following for its intricately detailed, feminine, and accessible designs. Chong's vision was to create a brand that blends high-quality craftsmanship with an accessible price point.
The aesthetic of Self-Portrait is known for its signature lace designs, unique fabric techniques, and an emphasis on creating a modern feminine silhouette. Its collections often feature experimentations with textures and layers, delivering a modern yet timeless appeal.
Over the years, Self-Portrait has become a go-to label for fashion-savvy individuals seeking elegant, statement-making pieces that don't break the bank, making it a favourite among celebrities and fashion enthusiasts alike.
There's a great profile on Self-Portrait in Vogue magazine from 2013, which you can read here.