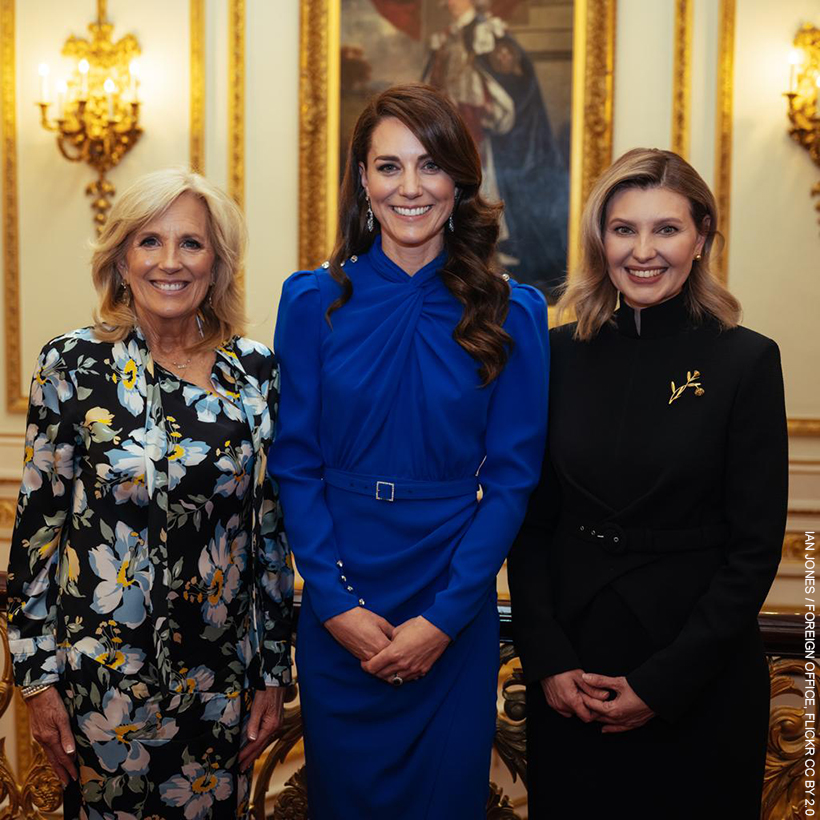 Kate Middleton chose a striking cobalt blue dress for Friday's evening reception at Buckingham Palace. The garment, by Self Portrait, featured a unique neckline and sparkling buttons (full outfit details down the page ⬇️)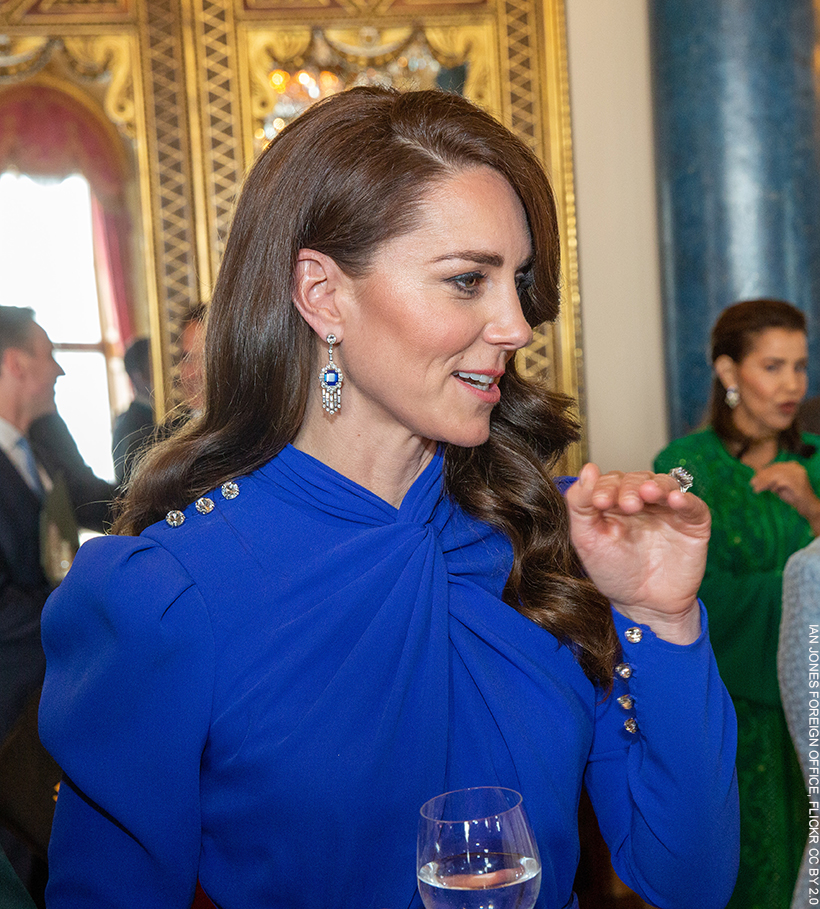 The evening reception served as a precursor to the highly anticipated coronation at Westminster Abbey on Saturday, where King Charles was officially crowned as the monarch of the United Kingdom.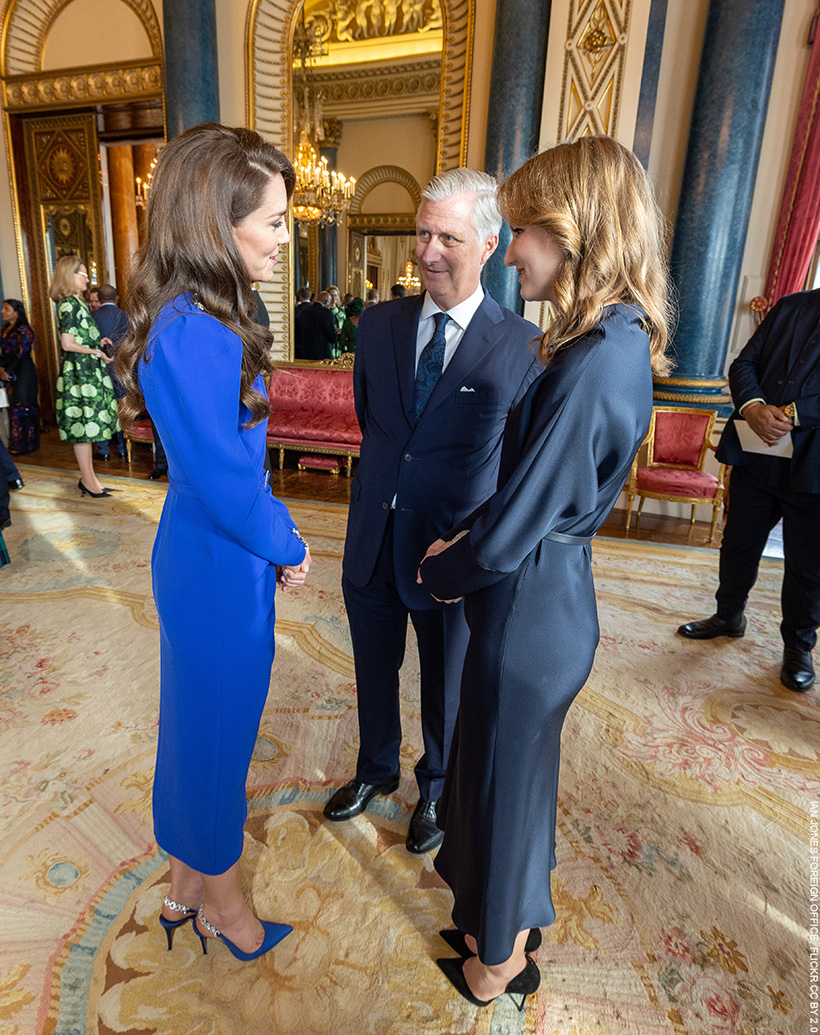 The reception was a star-studded event that brought together foreign royals, presidents, prime ministers, and other VIPs from around the world.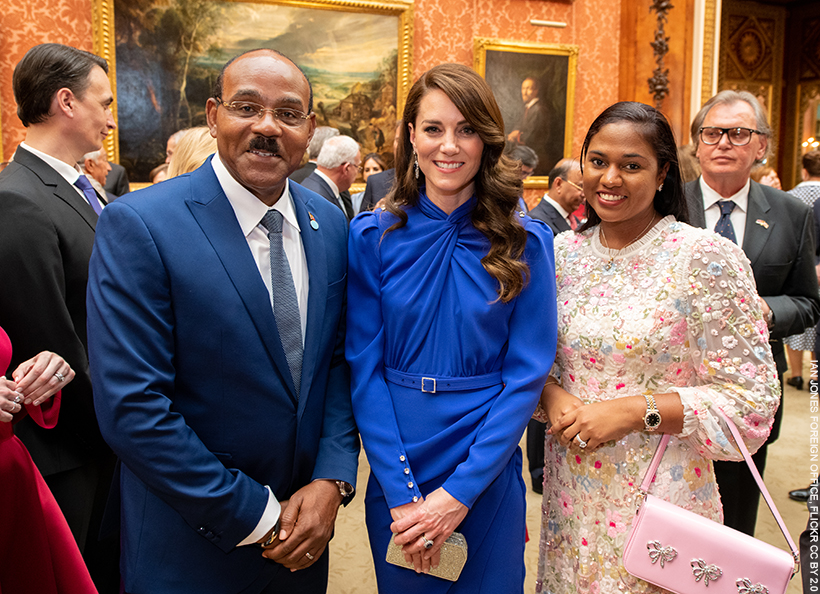 The event highlighted the amicable relations between nations and served as a dazzling display of fashion—providing ample sartorial delights for royal style enthusiasts across the globe.
About Kate's reception outfit:
The Princess of Wales wore a vibrant blue dress with long sleeves, pronounced shoulders, an elegantly draped skirt and a high neckline that features a unique knotted design and ruching. 
For added glitz, the dress has embellished buttons on the shoulder, cuffs and hips.
It looks like Kate had her dress tailored for modesty reasons—as is often the case.  I think she's had the keyhole detail on the bodice sewn up. I expect she's removed or reduced the split on the skirt too.
At the time of writing, you can purchase the blue statement dress from MyTheresa, FarFetch, Net-A-Porter, Harvey Nichols and Harrods, but only limited sizes remain available.
Kate's demonstrated a fondness for Self-Portrait in recent years. She frequently wears the brand's creations. Last year alone, we saw the Princess wear five items from the brand—four dresses and one cardigan.
The Princess paired her blue Self-Portrait frock with a pair of Aquazurra slingbacks in a complementary blue hue. The shoes are the brand's 'Love Link' pumps. They feature a 105mm stiletto heel, a pointed toe and a crystal-embellished chain around the heel strap.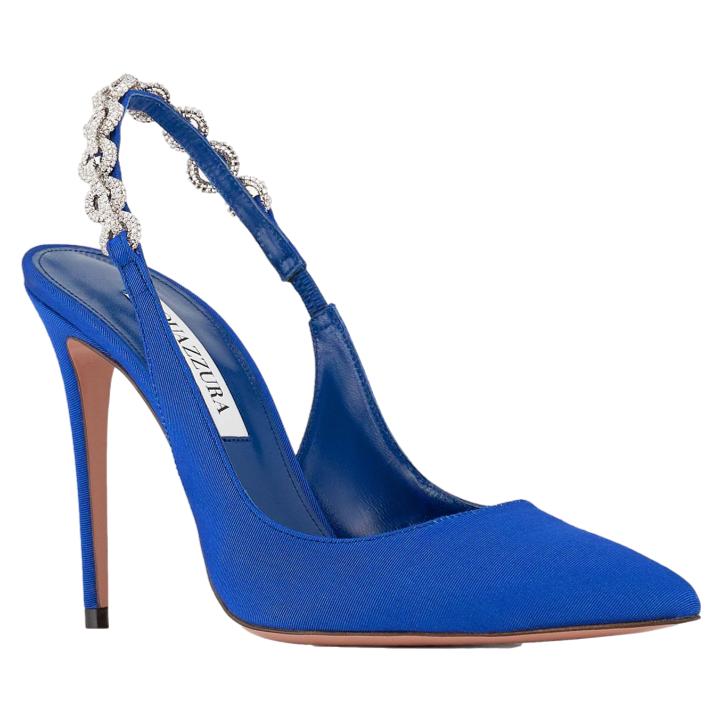 Unfortunately, this bold blue shade is no longer available for purchase. You can find the same shoe in black, red, pink and white online though.
Kate's gravitated towards Aquazzura heels in recent years—the company is quickly becoming one of her go-to shoe brands. I suspect Kate opts for Aquazzura when she wants to up elevate her footwear game and add a little extra glamour to her outfits. Each pair in her collection features a unique, eye-catching detail, such as sparkling crystal embellishments, delicate bow detailing, or intricate cutouts.
Let's look at Kate's sparkling fringe earrings now. The Princess wore a pair of sapphire and diamond fringe earrings, straight from the royal vault.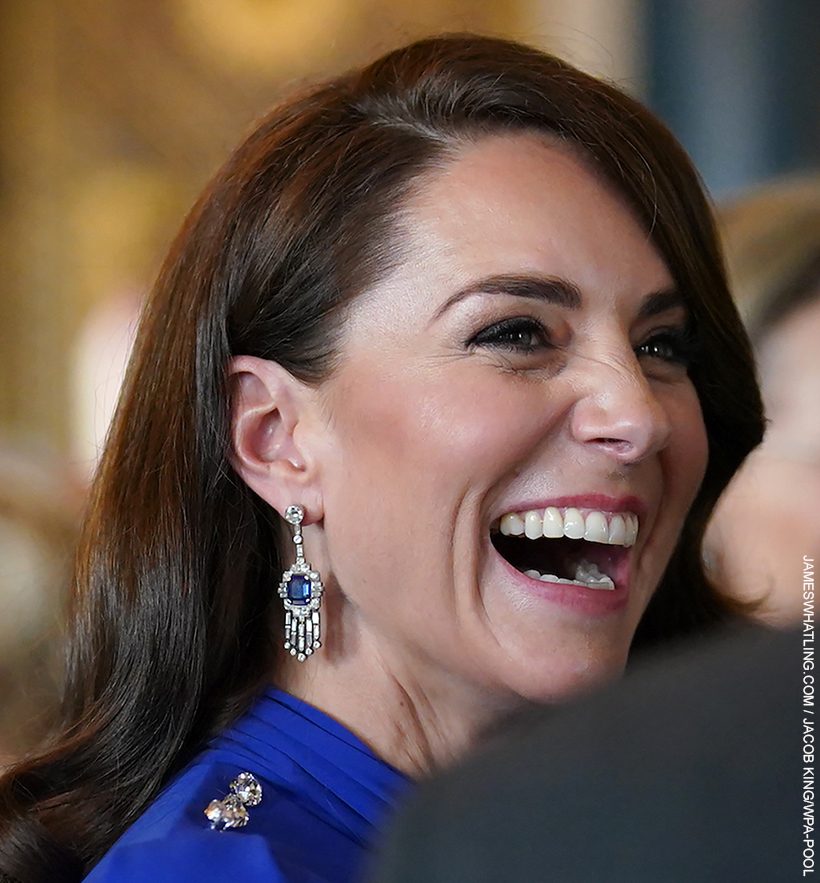 The Queen Mother famously wore the earrings.
I will let The Court Jeweller tell you all about the heirloom jewels: 
The earrings feature a diamond stud with a dangle made of a large sapphire surrounded by diamonds; a delicate, almost geometric diamond and sapphire fringe is suspended from that sapphire and diamond cluster […] I don't think we know much about the earrings' provenance beyond their association with the Queen Mother, but to me, they look like 20th century pieces.

The Court Jeweller
The Princess of Wales finished her outfit with a sparkling box clutch from Jenny Packham. It's known as the "Casa Crystal Clutch".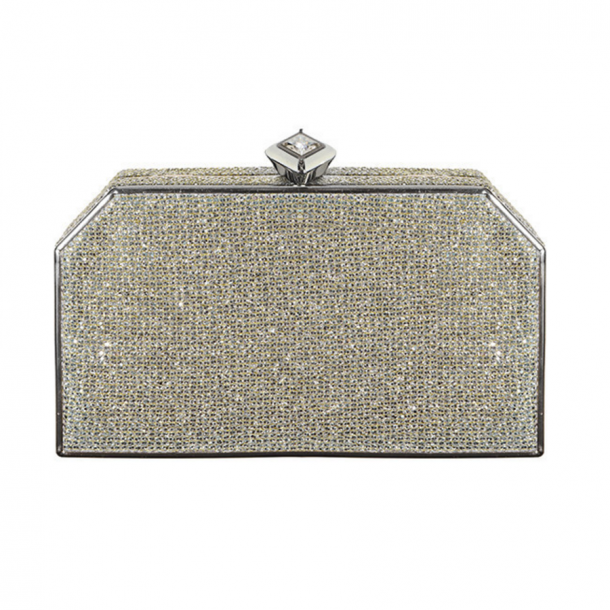 The item features a silver metal geometric frame that's finished with a gold/silver sparkled textured fabric and a crystal-encrusted clasp.  Kate's carried the bag several times before and she also owns it in red.
Sadly, it is no longer available to purchase. 
Of course, Kate is very loyal to Jenny Packham, the British designer known for her glamorous gowns and elegant bridal collections. The Princess often selects Packham's creations for high-profile public engagements.
And finally, Kate's hair was styled in her signature loose waves, but swept into a side part, which added a touch of glamour to the overall look.