Kate Middleton owns a cerise pink double breasted coat from the iconic British designer, Mulberry.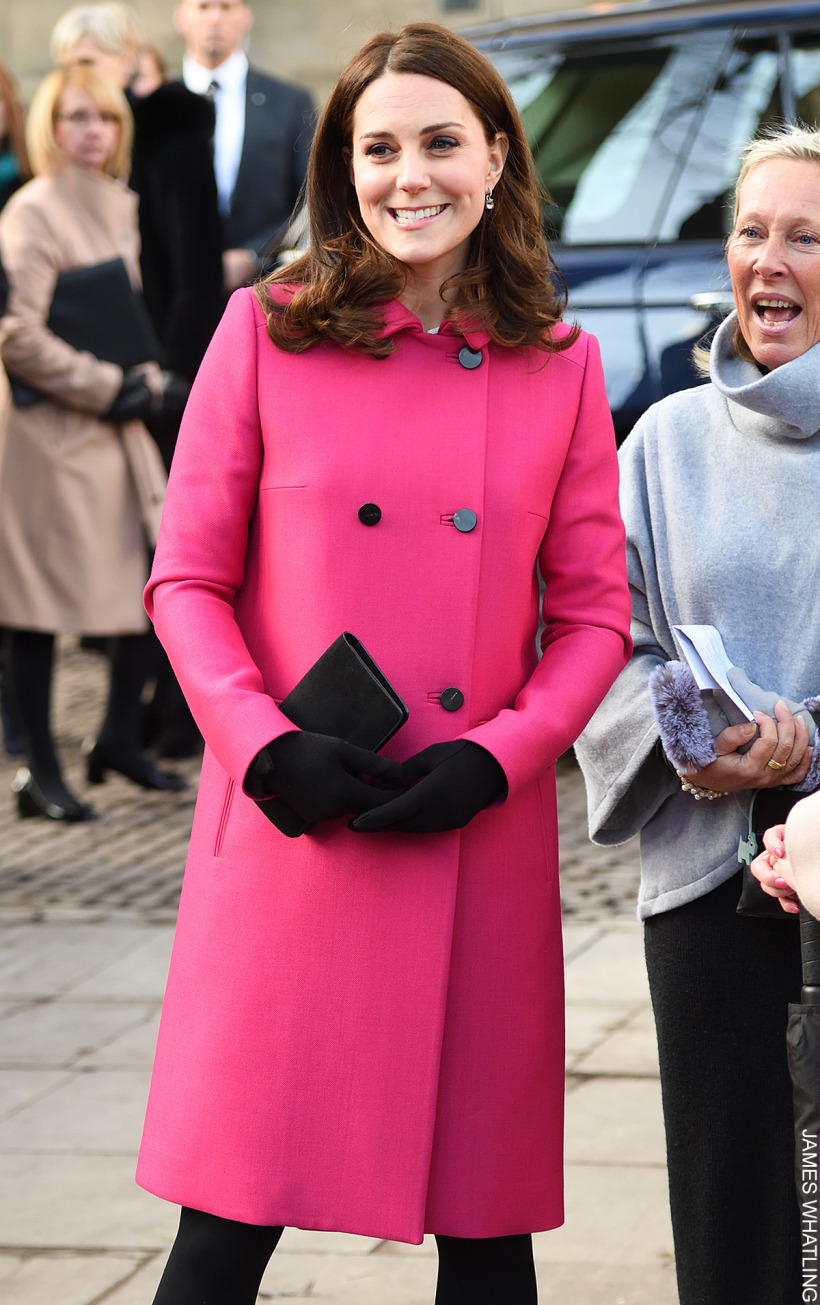 The Princess has worn the cerise pink Mulberry coat four times to date. She debuted the garment in 2014, during a visit to New York while pregnant with Princess Charlotte. She wore it again just three months later for a series of engagements in London.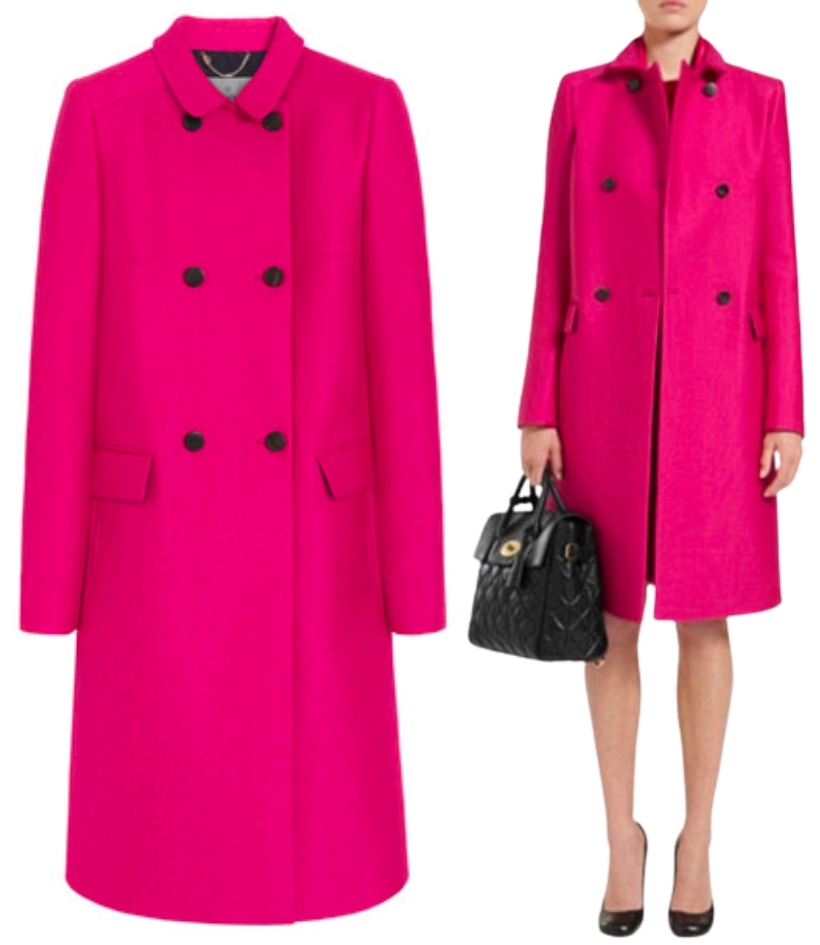 The coat reappeared during Kate's third pregnancy with Prince Louis in 2018. She wore the coat twice in January, first during a visit to Coventry. Then, a few weeks later while disembarking a plane in Stockholm, ahead of the royal visit.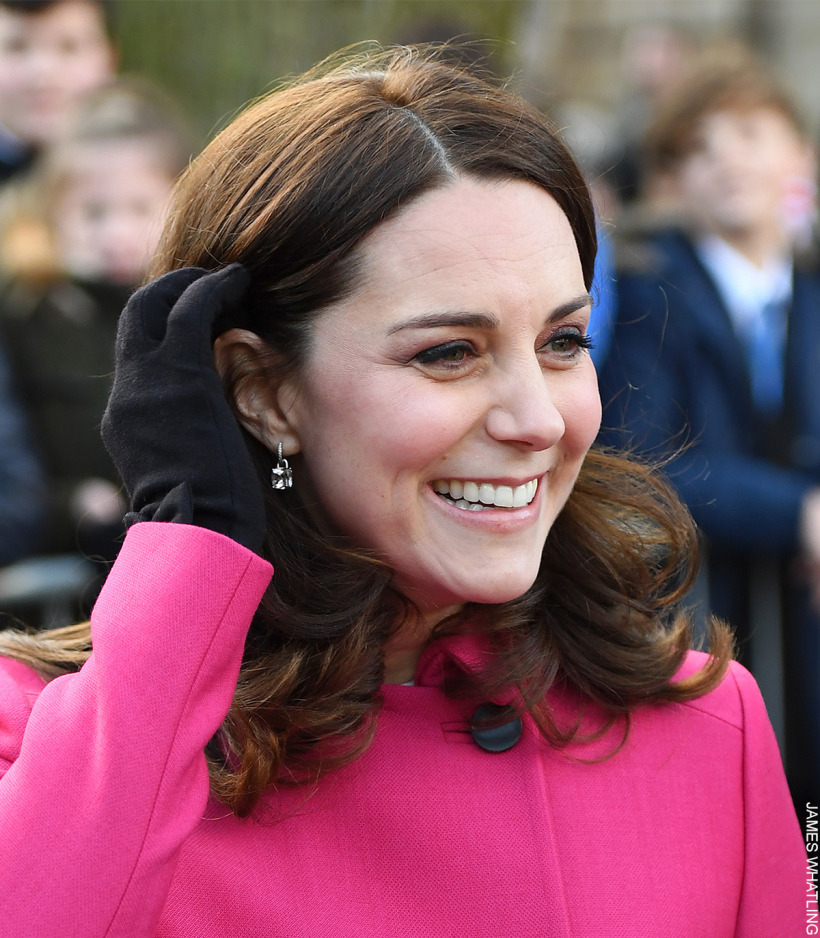 Of course, Kate wore this vibrant pink coat while expecting, but this does not rule out a future appearance! Kate's already had two of her bespoke maternity coats altered and she's worn them post pregnancy. Will she do the same with this bold number? I certainly do hope so!
About the pink Mulberry coat:
This fabulous coat blends traditional British tailoring with a pop of modern colour. The coat's vivid hue is balanced by its classic double-breasted design, symmetrical front pocket detailing and horn buttons, which result in an elegant silhouette.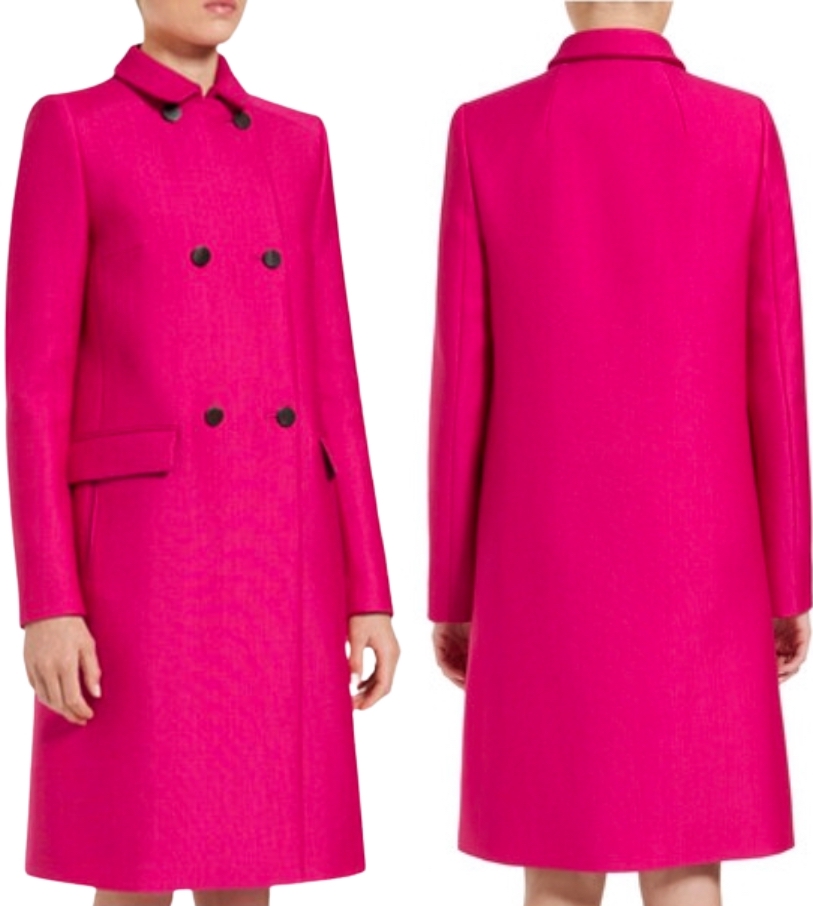 The structured collar adds a touch of elegance, while its longer length ensures both warmth and a sophisticated silhouette. Perfect for city strolls or countryside jaunts, it's a piece that effortlessly elevates any ensemble.
The knee-length coat is finished with a contrast colour Mulberry-branded lining.
The dress sold for £1,500 (before going on sale for £750) at Mulberry.com. It's now sold out.
Shop current season Mulberry coats.
Get the look – updated October 2023:
Coveting this vibrant pink coat? It's a shame that it's out of stock. Luckily, the fashion realm is abundant with alternatives that capture a lively hue. Here are some equally charming alternatives:
The Fold London:
The Fold's cerise pink Belstone Coat is, undeniably, a head-turner.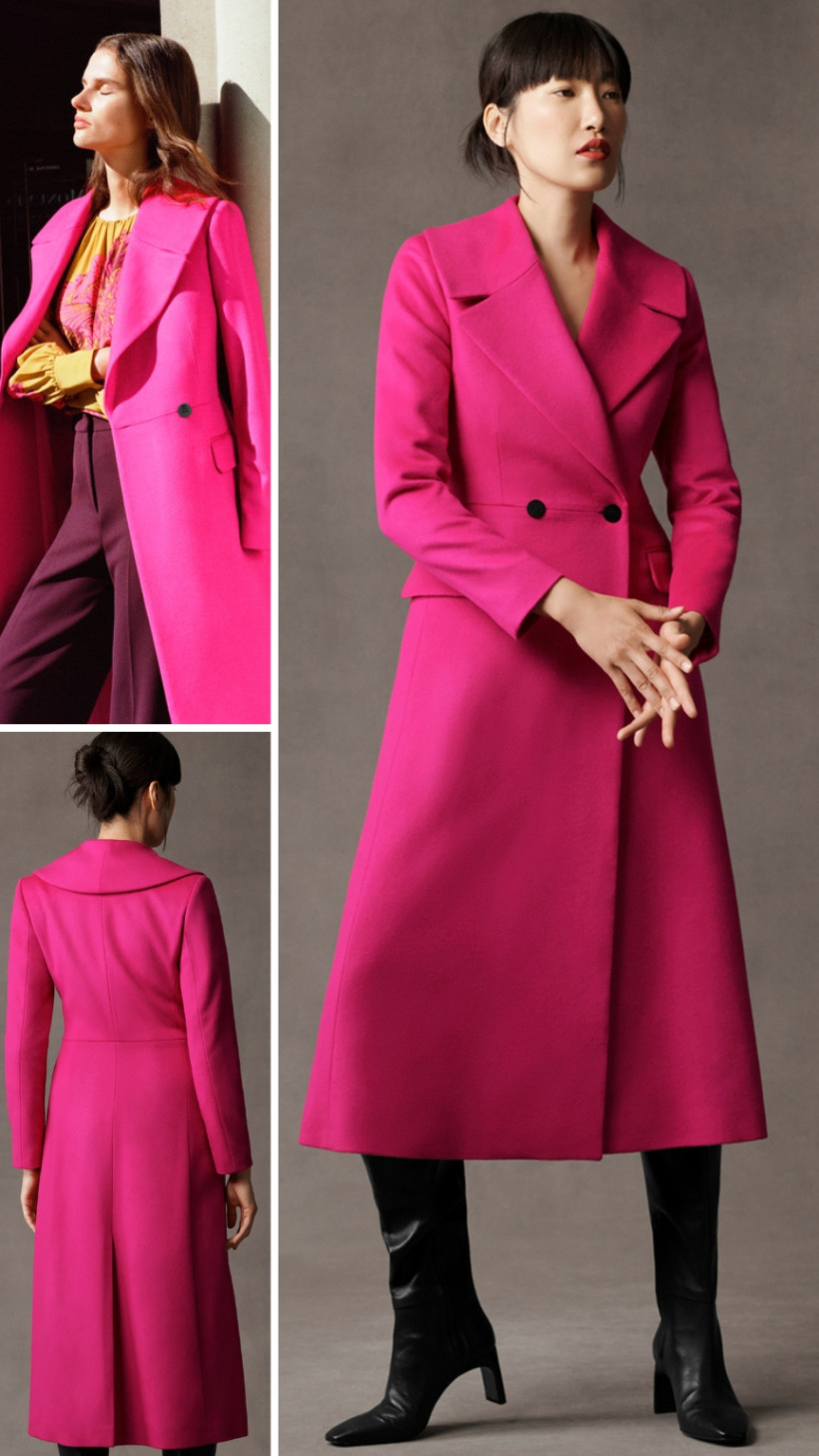 It is crafted from wool cashmere. This timeless coat, in its vibrant hue, will transition you from pivotal boardroom meetings to the most illustrious of soirées.
Boden
This bright coat from Boden marries the line between sophisticated and playful.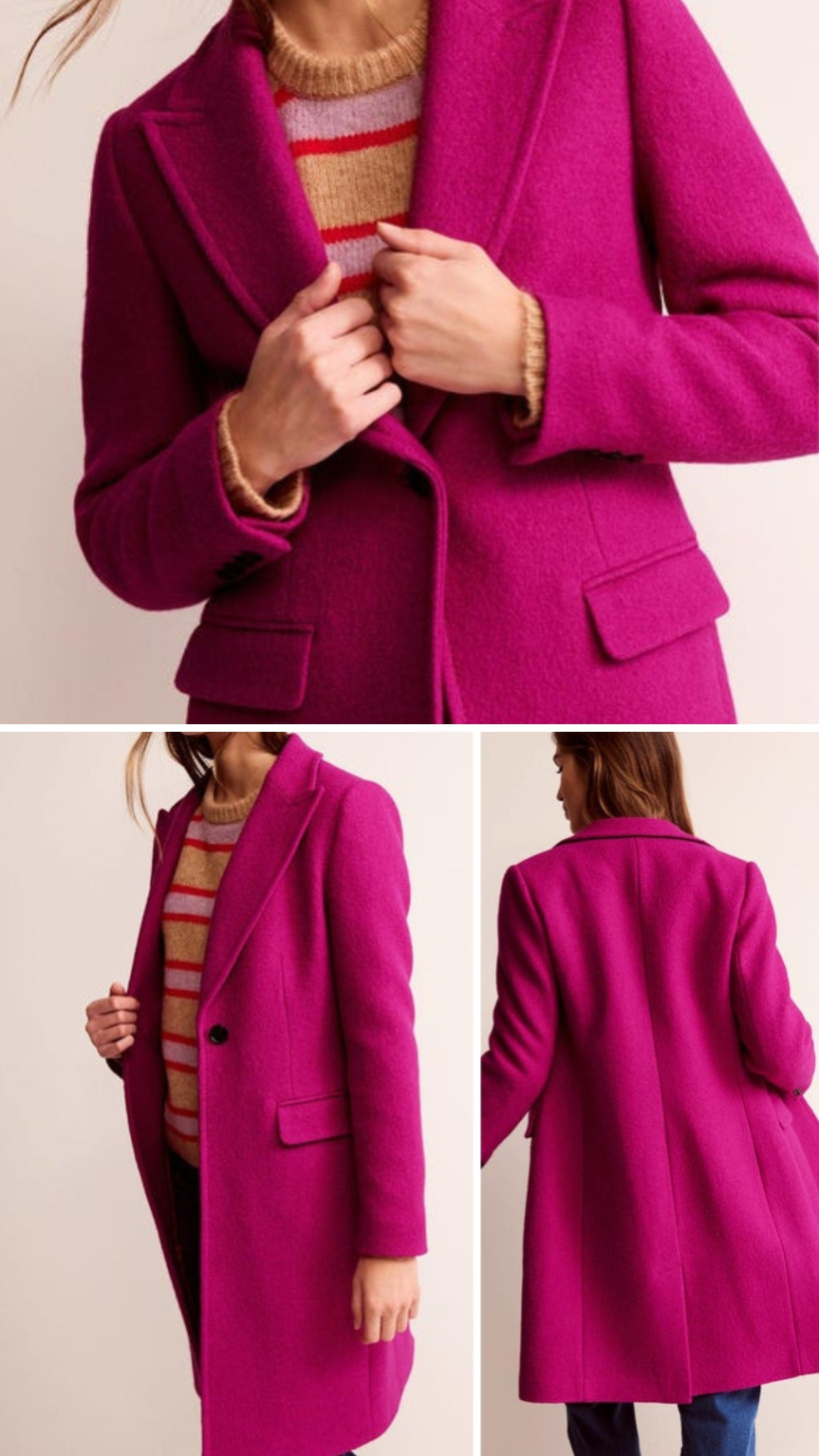 The coat's structured silhouette, paired with the soft texture, crafts an ensemble that's both polished and relaxed – the kind of piece that would find its place in a cosmopolitan setting yet has the versatility for a casual day out.
Kate Middleton and Mulberry:
Kate Middleton's fondness for Mulberry is well-documented through her wardrobe choices over the years. The brand's classic British aesthetics with a modern twist resonate well with the Princess's style.
We've spotted Kate with twelve different Mulberry bags since joining the Royal Family in 2011. Her affinity for the brand dates even further back, evident from pieces she sported pre-wedding.
About Mulberry:
Mulberry, established in 1971 in Somerset, embodies the essence of British luxury with a modern touch. Known for its exemplary leather craftsmanship and timeless designs, the brand holds a revered spot in the fashion industry. With a fine balance of tradition and contemporary aesthetics, Mulberry continues to be a go-to choice for those seeking a blend of the classic and the modern.