Kate Middleton wears the Monica Vinader Nura Pearl Necklace.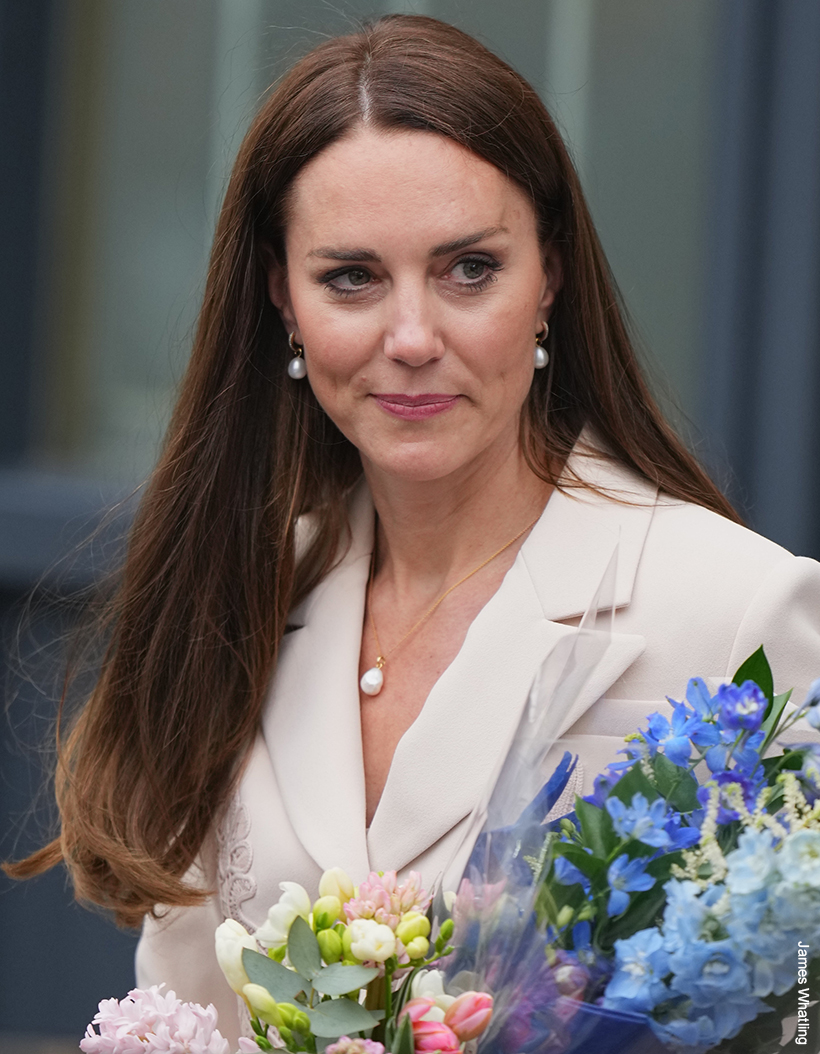 The Duchess has worn the pearl necklace on three public occasions to date. She debuted it during a visit to Copenhagen, Denmark in February 2022. She wore it to two engagements in the country (below):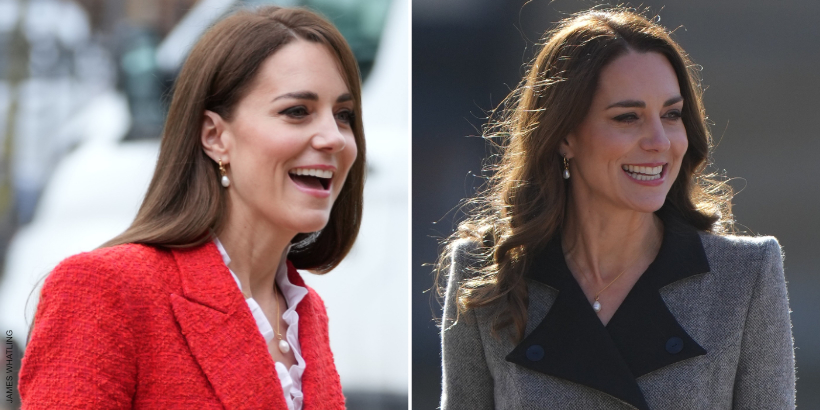 Two months later, Kate wore the necklace for a third time, to open the RCOG London Headquarters with Princess Anne: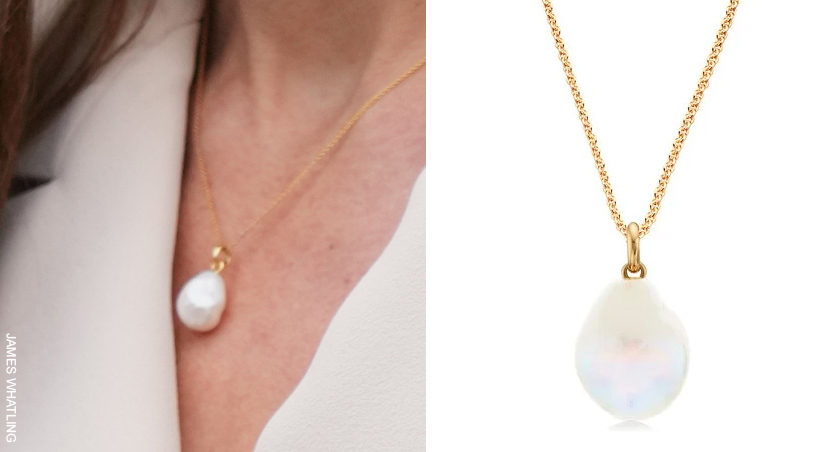 Here's a composite image showing Kate wearing the pearl necklace alongside a stock image from Monica Vinader's website: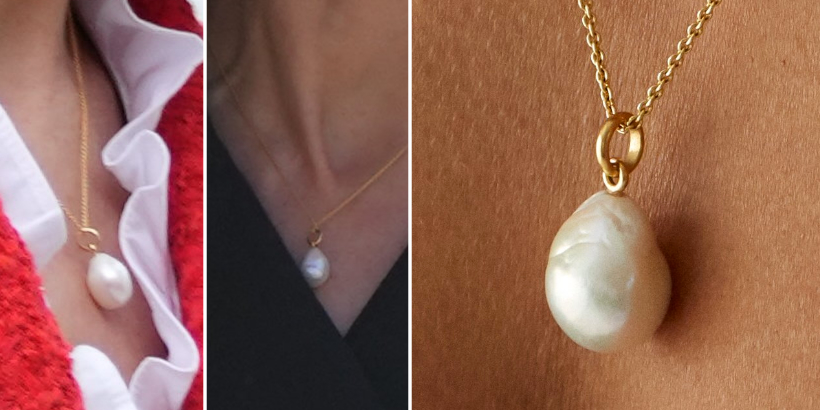 About the Nura pearl necklace:
The necklace features a lustrous pearl suspended from an adjustable fine chain made from gold vermeil.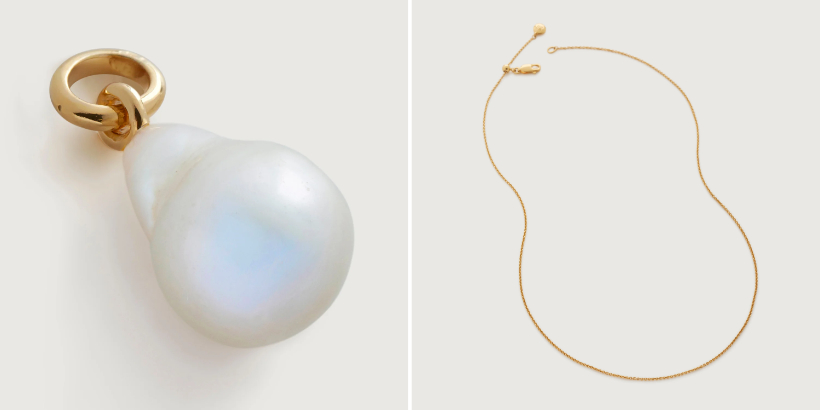 For those who aren't in the know, gold vermeil is Sterling Silver layered with 18ct gold. This provides a blend of high-quality precious metals without the hefty price tag. It's really popular with jewellery designers and fashionistas alike at the moment.
The necklace's cultured freshwater pearl means every piece is unique. Each necklace will differ ever-so-slightly in silhouette and size. The pearl has a natural lustrous rainbow sheen.
The chain has been handcrafted and manufactured from 100% recycled silver and gold.
Monica Vinader are committed to responsible manufacturing, and as members of the Responsible Jewellery Council, they commit to adhering to and promoting fair and equal human and labour rights.
Monica Vinader say "name a more iconic duo. Best-selling Nura pearl meets our fine adjustable chain for classic meets effortlessly cool looks you'll love to layer up."
Monica Vinader offer a five-year warranty on all their jewellery. (I only just learned this, I think it's really handy!)
Want Kate Middleton's pearl necklace? Here's where to buy it:
The beautiful necklace can be purchased from the company's website, monicavinader.com. You can either buy the pearl pendant charm on its own or with the gold chain, as worn by Kate.
UK: Baroque Pearl Pendant Charm £70, Necklace £50. Total: £120. Buy here.
US: Baroque Pearl Pendant Charm $95, Necklace $70. Total: $165. Buy here.
Monica Vinader offer worldwide delivery and a variety of currencies. I just share those two currencies because they're the most popular with my readers.
Monica Vinader offer free delivery (checked in the UK and USA – you'll have to double-check if you're outside of those two countries.)
They also offer a 100-day return window should you change your mind.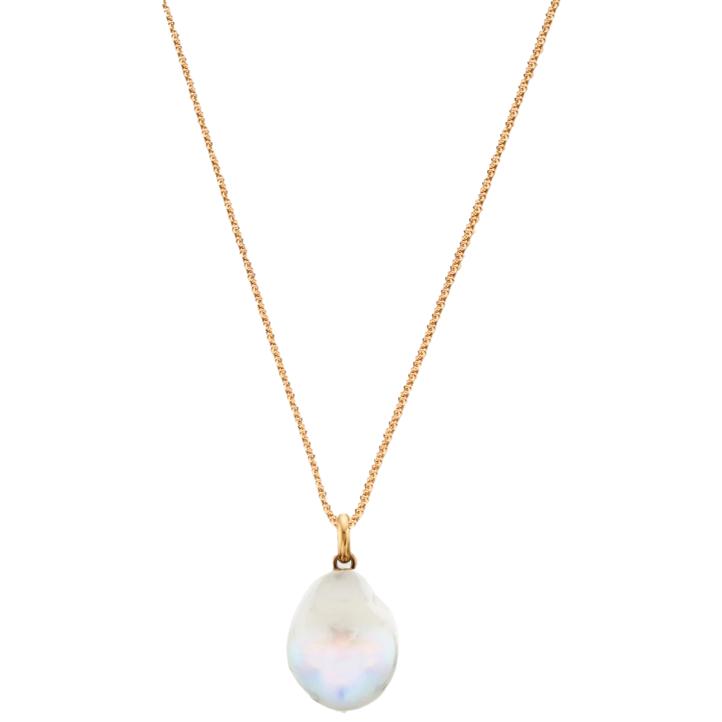 Monica Vinader Nura Pearl Necklace, £120 / $165
Exact match! Kate clearly knows her trends. Pearl jewellery is hot right now and global forecasts show it's set to boom among the fashion-conscious over the next few years. The Nura necklace is perfect for formal occasions (like meeting the Queen of Denmark) but equally, it'd look just as good worn with a t-shirt and blazer too.
Does Kate wear any other Monica Vinader jewellery?
Yes, Kate owns a second piece of Monica Vinader jewellery. She frequently wears the brand's Siren earrings. She tends to pair the green onyx earrings with outfits of the same colour.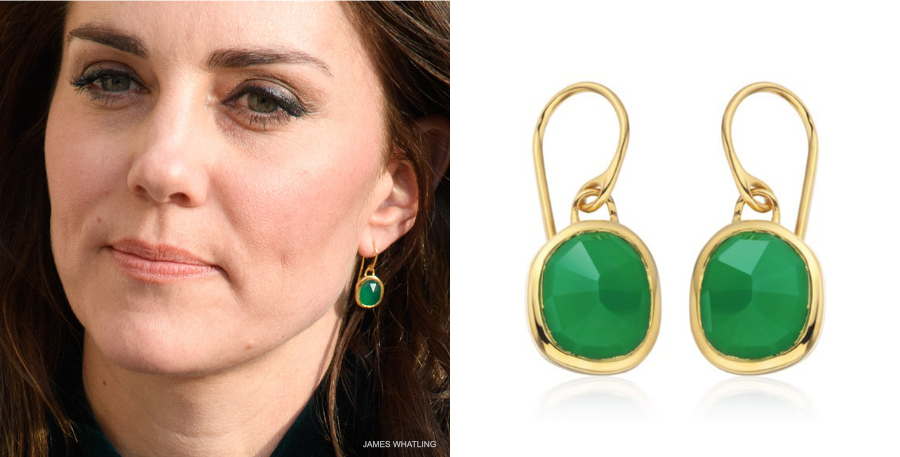 She's also worn the Riva Diamond Bib Necklace and matching earrings from the company on one occasion. It's thought—but not confirmed—that the company loaned the pieces to Kate.
About Monica Vinader jewellery:
Born in Spain, Monica Vinader has lived in the UK for over 30 years. Her studio is located in a converted barn on the Holkham Hall Estate in the Norfolk countryside. Her designs are inspired by her love of nature and travel. In 2002, the designer created bespoke pieces for clients in South America. In 2006, she began trading as Monica Vinader Ltd and went on to win the Retail Jewellers' 'Jewellery Brand of the Year' award in 2009.
Kate Middleton loves pearl jewellery:
Kate's quite fond of pearls, she has many items containing the naturally formed stone in her jewellery collection. I've shared four photos of Kate wearing pearls below:
Pictured, Kate wearing the: