In 2007, Kate attended the Cheltenham Festival wearing an outfit that is still appreciated and often asked after today – she looked amazing. According to The Telegraph's fashion pages, Kate's outfit that day was a "slick mix of tradition and nonchalant throwaway-chic".
For those wondering about the ensemble, Kate wore the Katherine Hooker Alexander jacket. She paired the duck egg blue piece with a brown skirt and boots.
Here's a reminder of the Alexander jacket: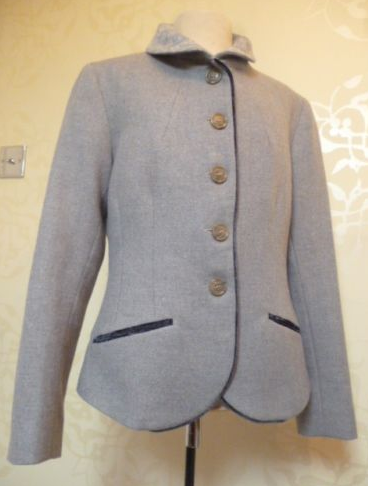 Kate wore her blue jacket with a coordinating brown and blue paisley scarf (also from Katherine Hooker according to The Telegraph), a brown asymmetric skirt, a pair of suede boots and a Philip Treacy beret.
About the Katherine Hooker Alexander Jacket:
The Alexander jacket is trimmed with a co-ordinating silk paisley lining and features a rounded shawl collar. It is finished with five buttons.
As for the fit, Katherine Hooker describe the coat as "narrow at the waist" but "kicks out slightly over the hips."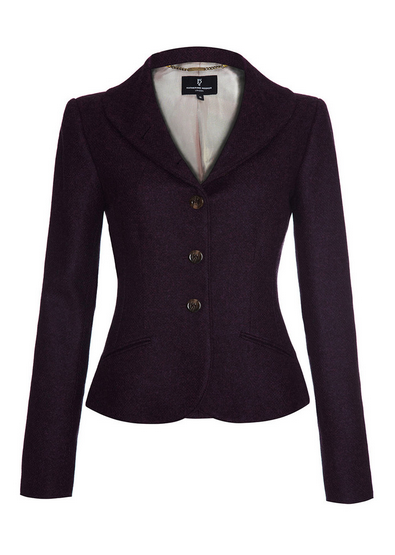 The designer still produces the Alexander jacket as part of her ready-to-wear collection. A member of Katherine Hooker's PR team told me:
"So many people love how [the jacket] looked on her, so we have it in three new fabrics this season!"
For the autumn/winter 2015 season, you can purchase the jacket in green and purple check (see below), crimson red and blue. Click here to shop.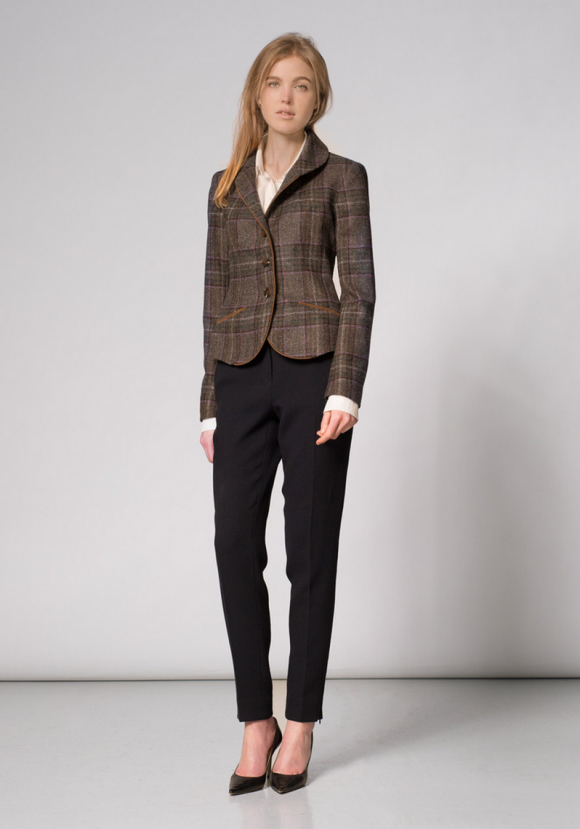 The pale blue colour is very similar to the one worn by Kate – I'm guessing it's going to be very popular with fans.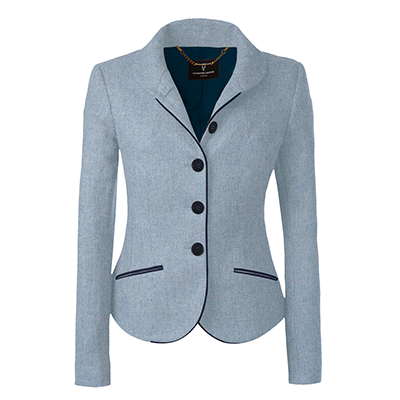 About Kate and Katherine Hooker:
Katherine Hooker is one of Kate's go-to designers for formal occasions. The Duchess has worn a number of coats, dresses and jackets from the label.
The Duchess wore Katherine Hooker's Ascot dress in red to an engagement with EACH hospices last year.
Back in 2011, Kate wore Katherine Hooker's "Buxton" coat dress to the Order of the Garter ceremony.