On the 21st of November 2019, William and Kate met with the nominees and finalists of the 2019 Tusk Conservation Awards. Photographs show Kate wearing a dress by Beulah London. Specifically, the luxury label's Yahvi Midi Dress in Olive Green.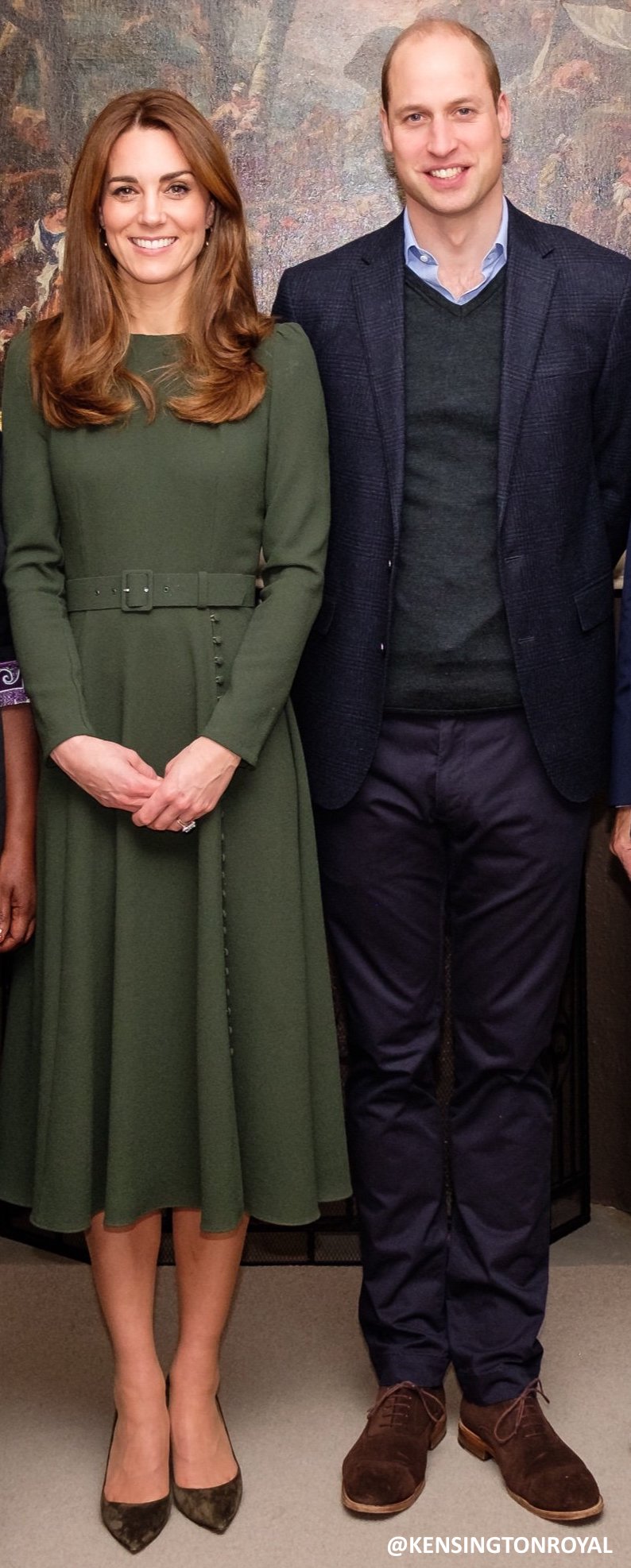 About the Beulah London Yahvi dress:
Beulah's ready-to-wear version of the olive green dress has long sleeves with fluted cuffs and a softly pleated midi-length skirt finished with covered buttons. The dress has a round neckline and slightly ruched shoulders.
Kate wears a custom version of the dress that does not feature the fluted cuffs.
Here's how Beulah London describe the dress on their website:
A Beulah London classic, the Yahvi Olive Green Midi Dress is a must-have wardrobe staple. This dress is lightweight and perfect for events, weddings, parties and more. 51% Viscose, 48% Acetate, 1% Elastane.
Beulah sells the Yahvi dress in three colours on their website: olive green, blush pink and navy blue.
The ready-to-wear dress retails for £550 and 10% of all profits go towards ending to modern-day slavery.
About Beulah London
Beulah London is a British fashion brand owned and operated by one of Kate's friends, Lady Natasha Rufus Isaacs and co-founder Lavinia Brennan. Lady Natasha has known Prince William since she was a little girl as their fathers are close friends.
Beulah London sells ethically-produced luxury clothing. The company has a strong social conscience:
Our journey began in India in 2009, when we embarked on a volunteer mission and witnessed the devastating reality of modern day slavery and the cycle of re-exploitation if women, trapped in vulnerable situations, couldn't access positive opportunities.

Compelled to create positive change and economic independence of these women, we founded Beulah. An ethical luxury womenswear brand with a social mandate: to empower women through the development of skilled craft techniques and sustainable employment in order to break the cycle of poverty. Since launching, our timeless and elegant British designs have gained international acclaim, endorsement from some of the world's most influential women who share our passion, values and cause.
Kate Middleton wearing Beulah London
The Duchess owns lots of clothing and accessories from Beulah London. Below, a few examples:
Pictured: