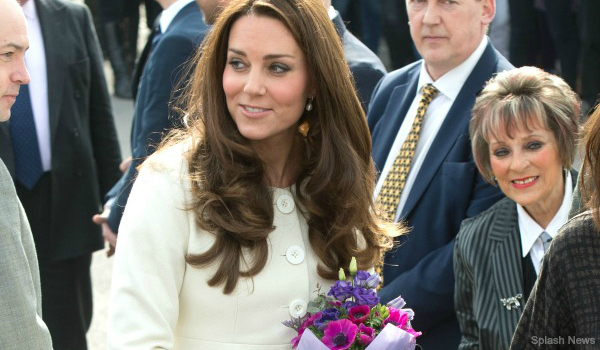 This morning, The Duchess of Cambridge met with the cast and crew of popular British drama Downton Abbey at the famous Ealing Studios in west London.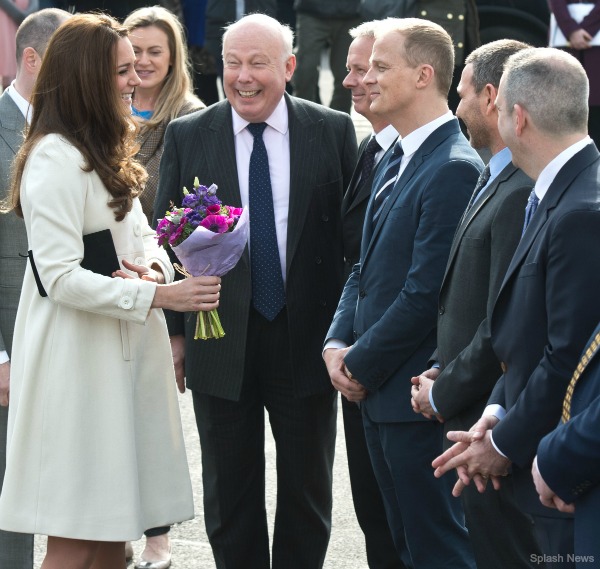 Kate arrived at the studios, greeted by four-year-old Zac Barker who plays Lady Mary's son George in the show. Zac coyly handed Kate a posy of flowers.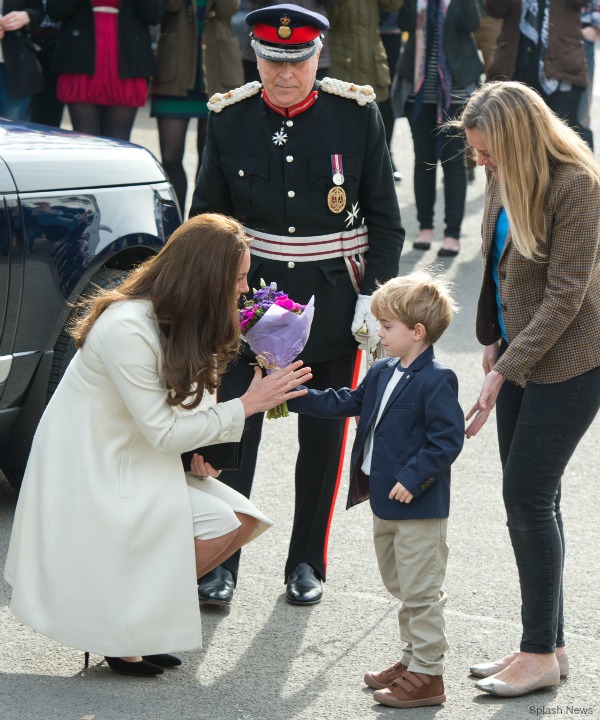 After chatting with TV executives and Downton Abbey creator Lord Julian Fellowes, Kate toured the make-up and costume trailers on set with executive producer Liz Trubridge. In the make-up department Kate met with Phyllis Logan, who plays housekeeper Mrs Hughes. Robert James Collier, who plays butler Thomas, was on form joking, "you've come just at the right time, Phyllis is about to have her Botox put in."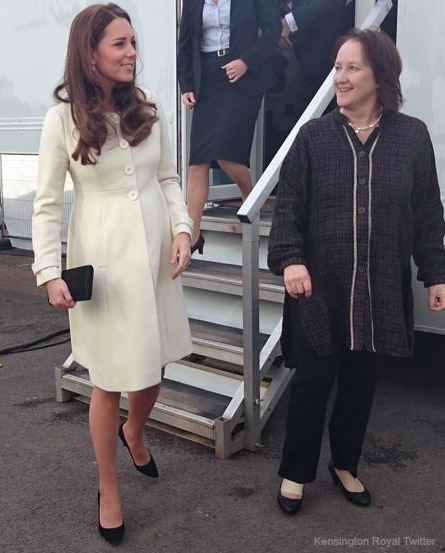 The Duchess toured several behind-the-scenes areas, chatting with the seamstresses (below), set designers and workers who make the show's scenery and props.

Kate toured many of the show's sets during her visit too. Actress Lesley Nichol, who plays cook Mrs Patmore, said she showed Kate many of the secrets in the kitchen, "such as how only one of the cupboard doors open – the rest of them are glued shut. I do know who made that decision or why, but they did."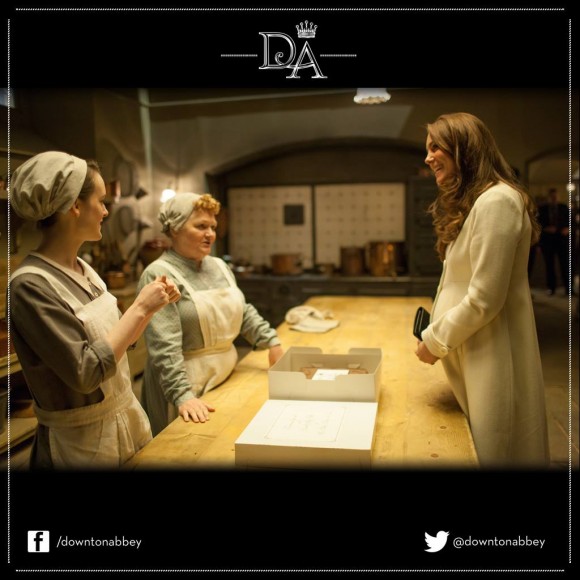 The staff presented the Duchess with a chocolate cake before she left the set. It was a chocolate cake with the Downton Abbey logo on top. A card read "Thanks from Mrs Patmore, Daisy and the rest of the crew."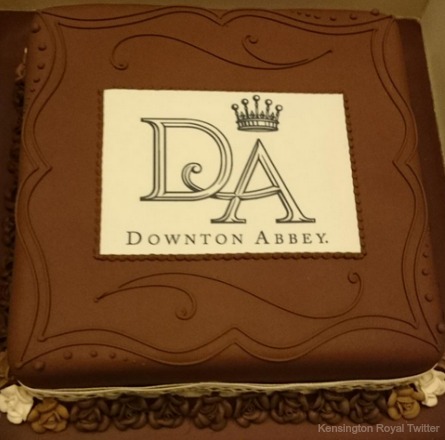 Ms. Nichol admitted "I had to tell her that I didn't make it, though. Believe it or not, I can't actually cook a thing."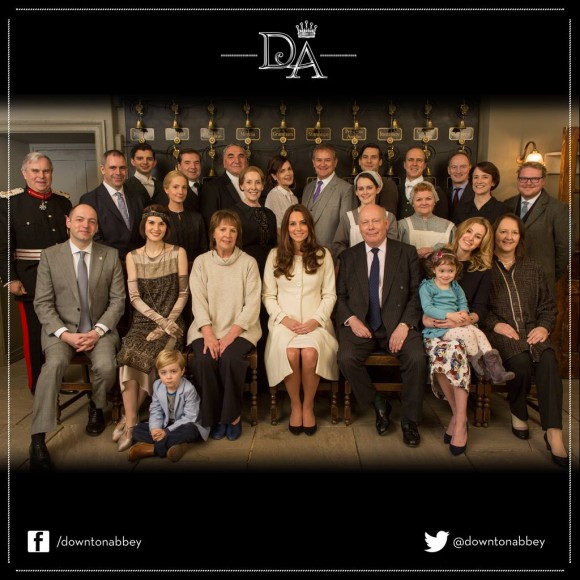 Kate met with several of the actors and actresses in the show during her visit to the set. Here's Kate with Michelle Dockery who plays Lady Mary Crawley and Zac's twin brother Oliver who also plays Michelle's on-screen son George.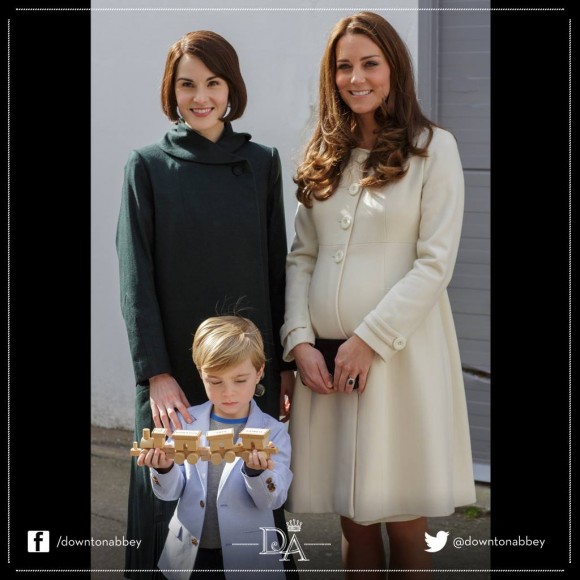 Oliver presented Kate with a small wooden train as a gift for Prince George: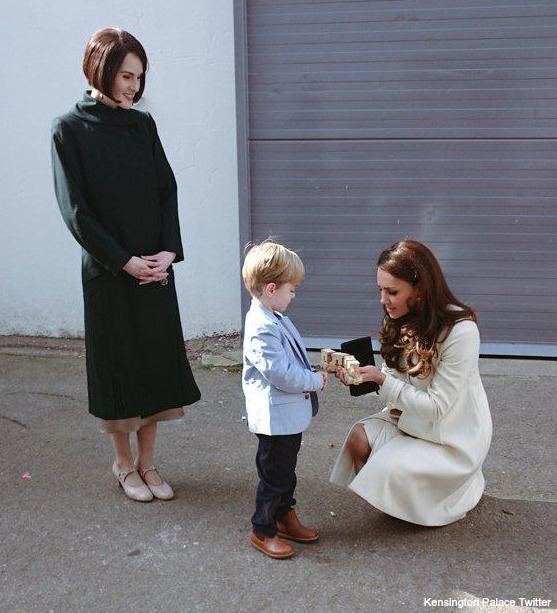 As you may already be aware, Kate is a fan of Downton Abbey. The following is a quote The Express:
Declaring her one of the team in a speech near the end of the royal visit, [Screenwriter Lord Julian Fellowes] said: "Your Royal Highness has played a significant part in the Downton story already."

He explained that one of the hardest things about selling a new show or movie was getting word out about it. "And it so happens that just as we were trying to shift Downton in America, you actually made a visit and someone said, had you ever heard of a show called Downton Abbey? And you said you'd heard of it, you'd watched it, you'd enjoyed it.

"This went into the media like an exocet missile and soon all of America and most of the world knew it and as a result our challenge faded away.

"It gives me great pleasure since you are a functioning member of the Downton team to present you with a signed copy of the first script."
It was also revealed today that this isn't Kate first' visit to the set. Apparently, the Middleton family were given a private tour last year.
#royal My understanding is this is not #Kate's first visit to the #Downton set – the Middleton family was given a private tour last year

— Paul Harrison (@HarrisonComms) March 12, 2015
VIDEO – see Kate tour the set of Downton Abbey:
Kate's outfit:
Kate wore a new cream coat today by JoJo Maman Bebe. It's the maternity brand's "Princess Line Coat", which costs £69 ($103).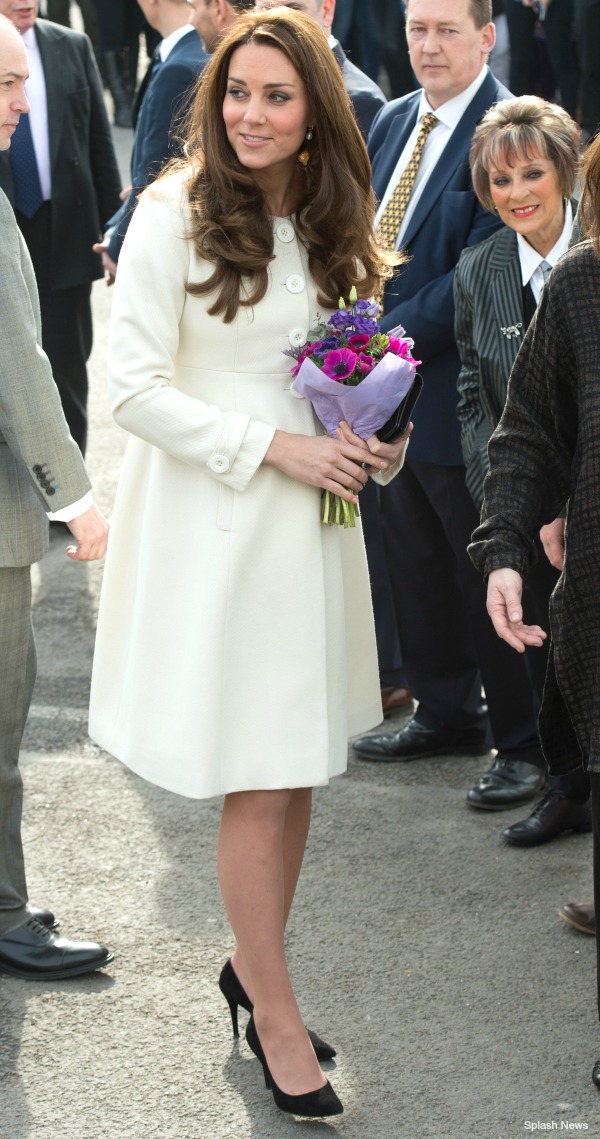 The wool-mix coat is described by JoJo Maman Bebe as a "great investment piece" that allows you to "elegantly wrap up in cold weather."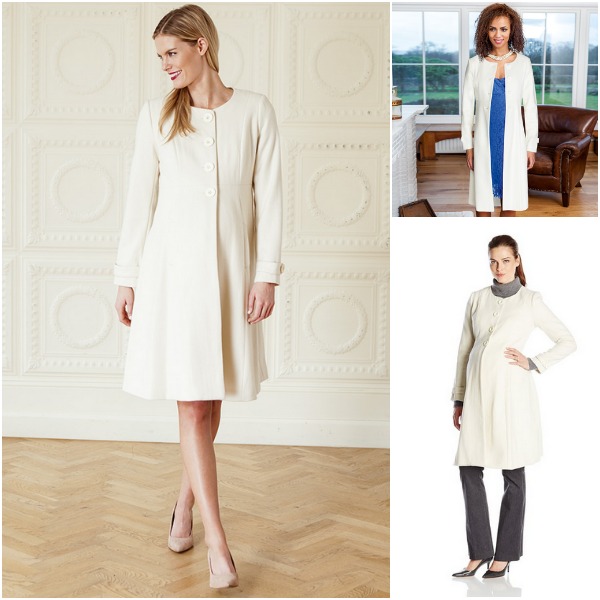 Despite being a maternity piece, the #KateEffect was in full force today – the coat quickly sold out in sizes UK8-14 on the JoJo Maman Bebe website. Only sizes UK16-18 remain, at the time of writing.
The coat also retailed for $160 (with Prime shipping and free returns) on Amazon.com. Again, many sizes quickly sold out. The coat remains in sizes 12 and 14 (US sizes this time, I believe, but don't quote me on that!)
Amazon describe the machine-washable coat as "cleverly designed for wear before, during and after pregnancy, with removable zip panel for early and post pregnancy."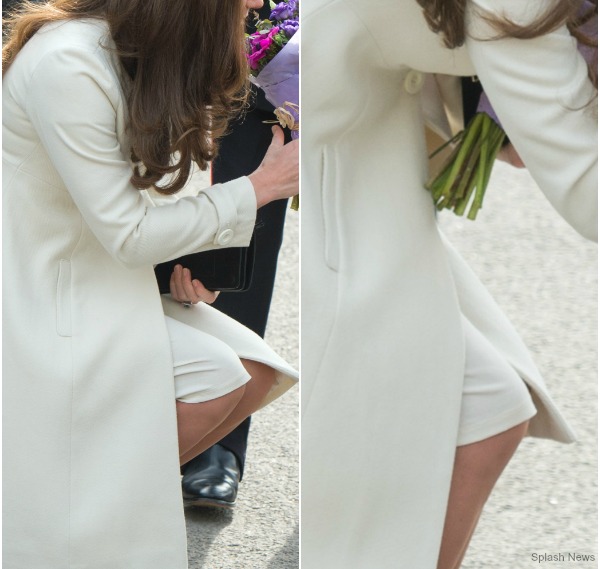 Under, Kate wore a white dress – we currently do not have an ID for this piece, as not enough of it was seen during the event.
Kate's accessories will feel very familiar today – she wore the exact same shoes, clutch bag and earrings to yesterday's visit to Margate.
Kate wore her black suede Stuart Weitzman Power pumps.  These are currently available in the USA for purchase and cost $355.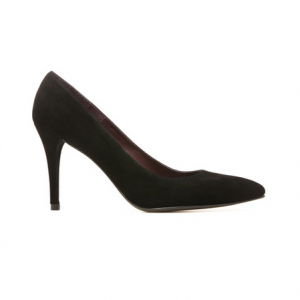 The shoe is available in a range of the other colours, some of which on sale.  Prices start from $188 USD.

Kate carried her black Mulberry Bayswater clutch bag in a coordinating black suede fabric.  (Shown below in black leather – not suede).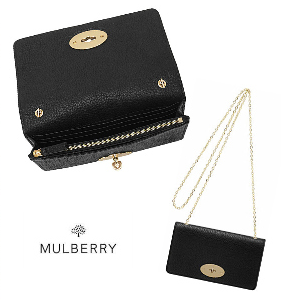 Kate wore her Annoushka pearl drop earrings too, hung from Kiki McDonough hoops.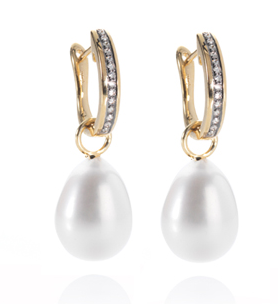 +++
We'll be back tomorrow with another blog post.  The Duchess will join members of the Royal Family at St. Paul's Cathedral for a service of commemoration to mark the end of combat operations in Afghanistan.  Read more about that by clicking here.
Don't forget: I'm giving away a pair of Mirabelle Lolita earrings to one lucky winner. Enter here!
A new event was added to Kate's diary today! She will be visiting Brookhil Children's Centre in London next Wednesday. A few details here.
+++