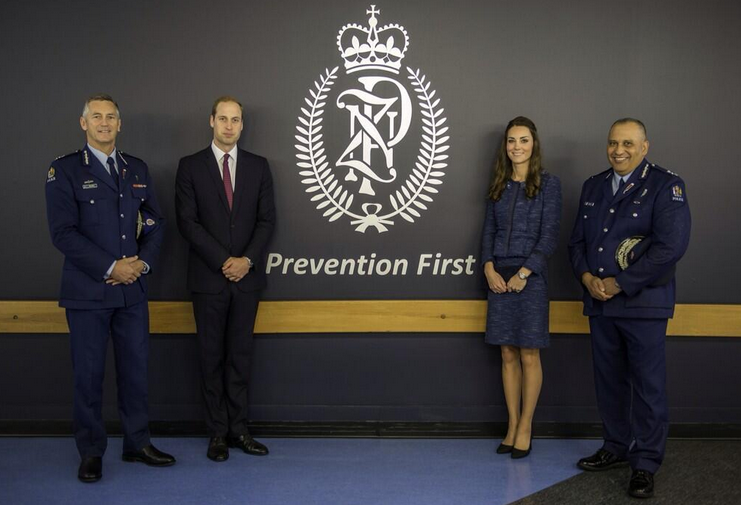 Day ten of the 2014 Royal Tour saw the Cambridges bid farewell to New Zealand and head on to Sydney, Australia. (Please note: day nine was a rest day for the royal trio, no public engagements were undertaken.)
Before the trio departed, William and Kate spent an hour touring facilities at the Royal New Zealand Police College.  Here they met puppies being trained as police dogs, during which Kate was grinning "ear to ear" according to The Daily Mail's Rebecca English.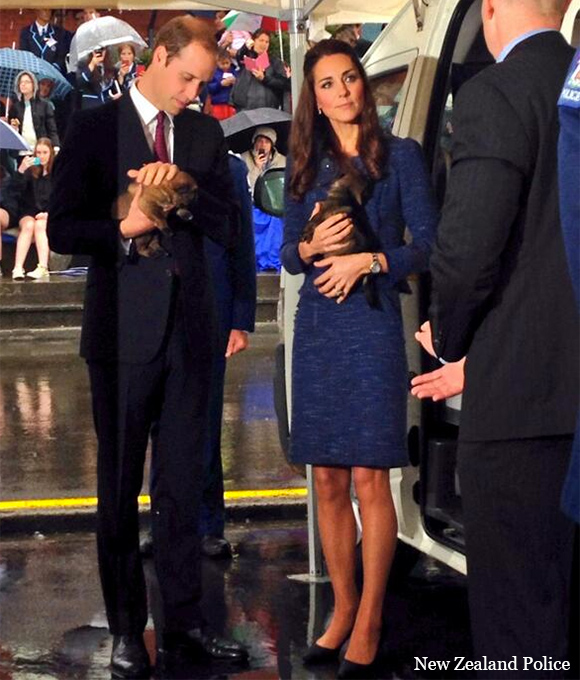 During the visit, the couple also received a couple of cute souvenir gifts to take home to George, including a specially made t-shirt that read "junior recruit."   William and Kate said they hoped the t-shirt would fit George, with Kate adding that "he's grown lots."
Here are a few photographs from the college tour, via New Zealand Police on Twitter: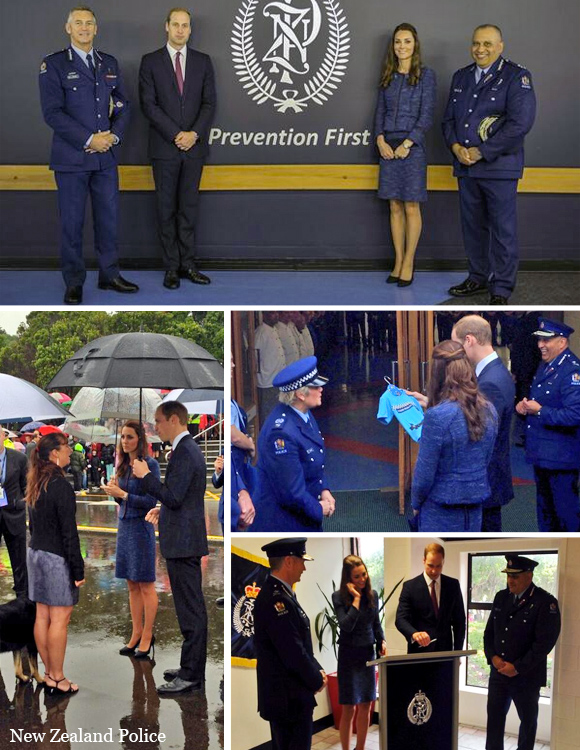 If you'd like to find out more details from the Police College visit, this two-minute long video is fantastic, and captures all the highlights from the event:
http://youtu.be/-7_suy3C-9U
I also thoroughly recommend this Daily Mail article too.  You can read about some the conversations Kate had with the puppies' foster families.
After visiting the Police College, William and Kate took their final New Zealand walkabout, meeting fans who had waited in Civic Square to catch a glimpse, before they headed off to the airport.
Then, William and Kate boarded the plane for Australia, William held Prince George as Kate waved goodbye.  The couple smiled as the gathered crowds waved and cheered.
Kate's outfit:
Kate wore a blue tweed suit from Rebecca Taylor.  It's from the designer's "Sparkle Tweed" collection.  You may recall that Kate wore the suit back in April 2012 to the Scott-Amundsen Centenary Race reception.  Here's a reminder from that event: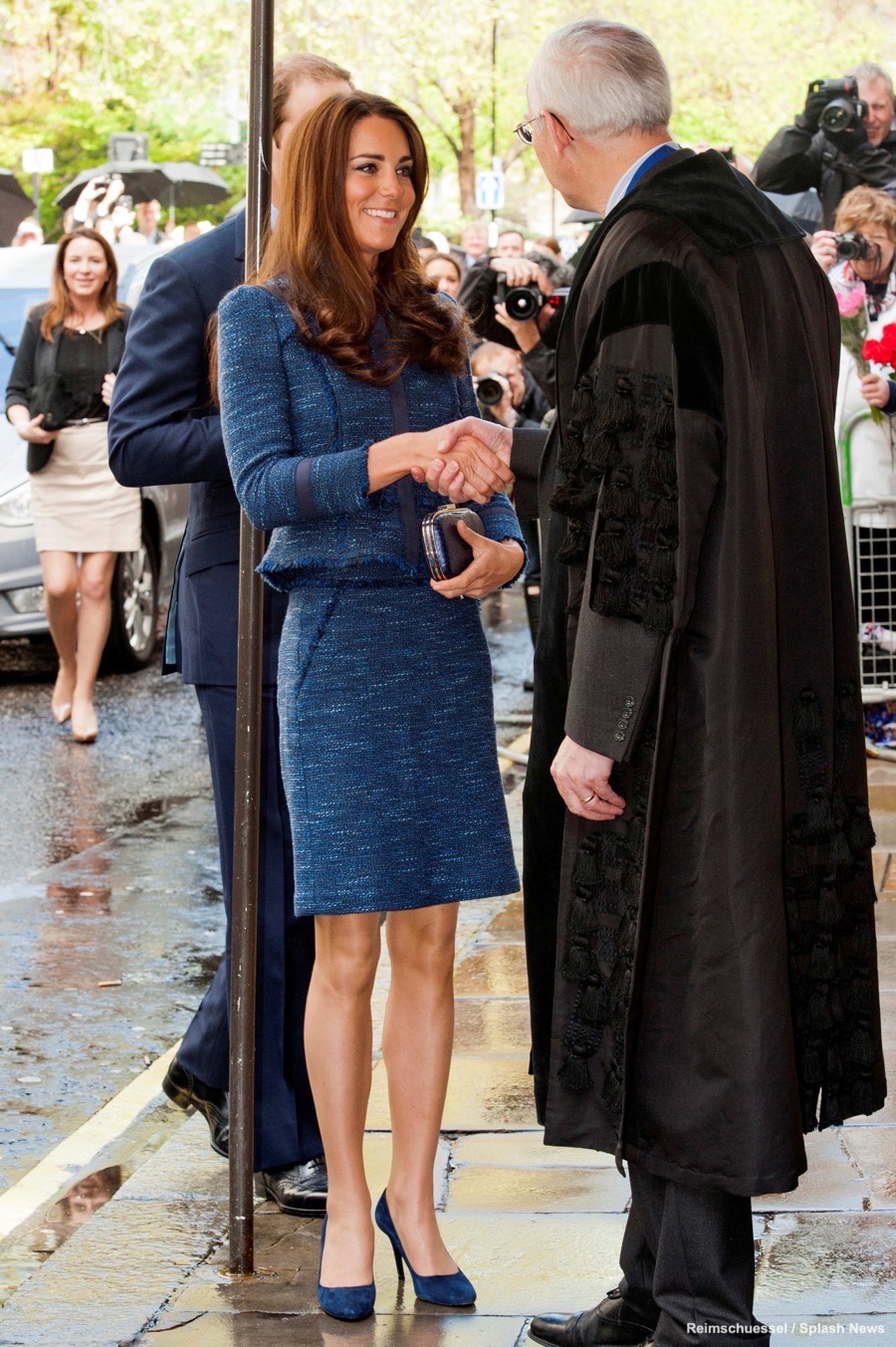 The blue jacket features floral embellishments around the neckline.  It sold for $450 back in 2012-13.  The matching skirt cost $425 back in 2012.  The matching suit can no longer be purchased, those you can still buy a "Sparkle Tweed" blazer from RebeccaTaylor.com if you're looking for something similar.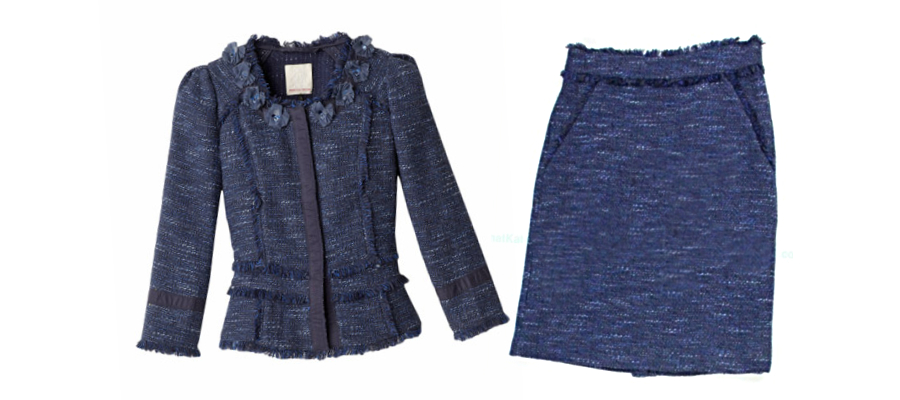 Kate accessorised the skirt and jacket with her Stuart Weitzman Muse clutch bag in blue suede.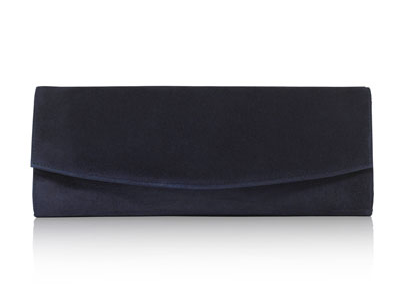 She wore her co-ordinating Alexander McQueen pumps.  (Pictured below on another occasion).  We believe the shoes were custom-made for Kate.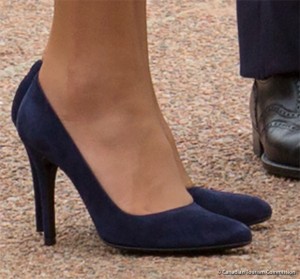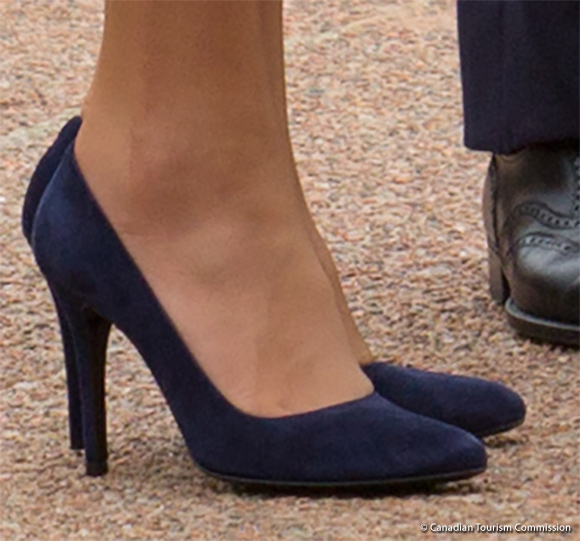 Kate added a little bling to the outfit with her sapphire and diamond earrings, speculated to have belonged to the late Diana, Princess of Wales.  Again, pictured below on another occasion: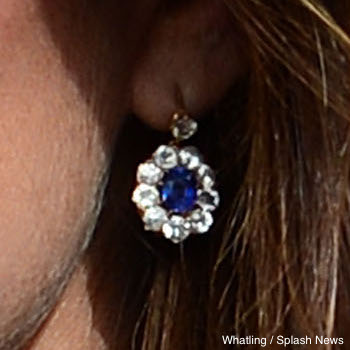 Kate wore her Cartier Ballon Bleu watch too: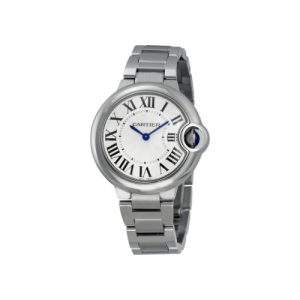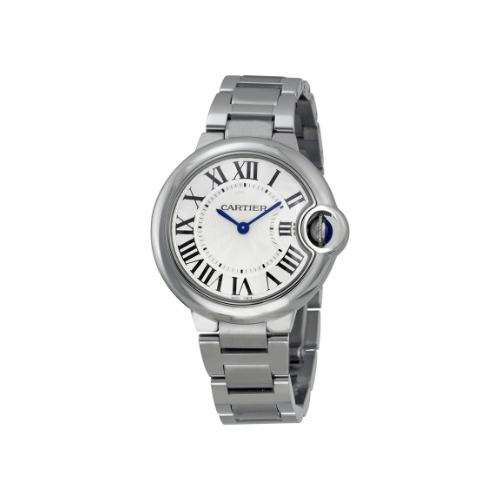 Finally, you can see Kate's wearing her Mappin & Webb Fortune necklace: