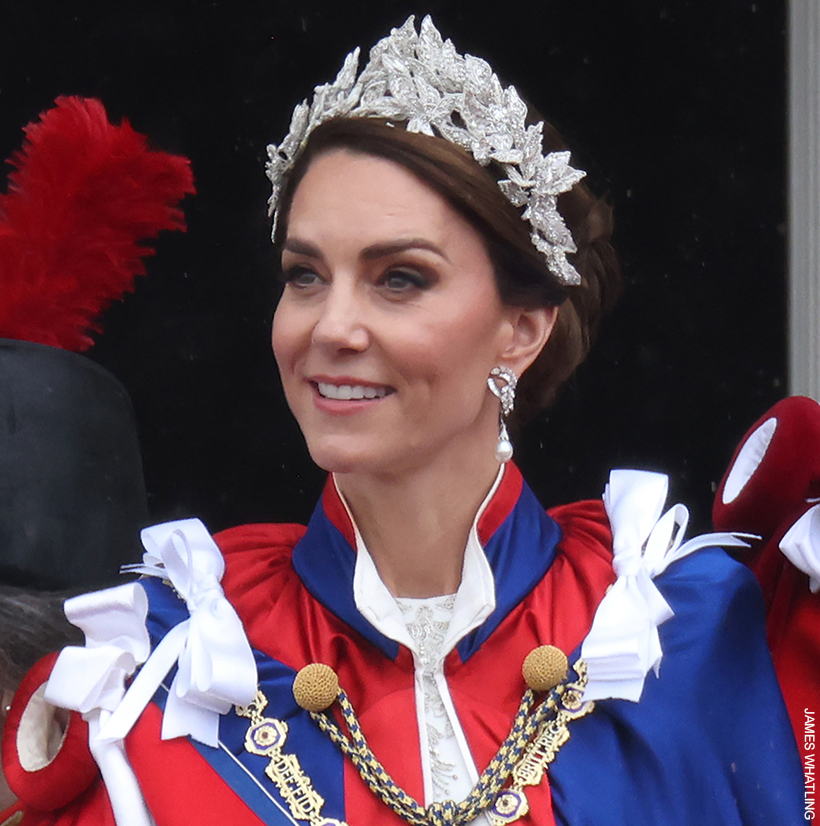 The Princess of Wales looked spectacular at the Coronation of King Charles III on Saturday.
After weeks of speculation over the dress code, whispers that she'd wear flowers in her hair, and the fear that we'd see her in attire no more glamorous than daywear and a hat, we royal watchers were enthralled to see the Princess step out in an ensemble befitting such a magnificent event.
Kate selected a long white gown and a glittering decorative headpiece. Not technically a tiara—but certainly headgear worthy of a coronation. She exuded regality.
As expected, Kate turned to Alexander McQueen for her gown. They're her atelier of choice for such high-profile occasions. I didn't doubt for one minute that she'd go with the British label.
According to Sky News's Sarah Hewson, the gown is made from ivory silk crepe with silver bullion and thread work embroidery featuring rose, thistle, daffodil and shamrock motifs—symbols of the countries of the United Kingdom.
Kate's grand headpiece was a collaboration between milliner Jess Collett and Alexander McQueen. It features intricately embroidered three-dimensional leaves, also crafted from silver bullion embroidery thread, I believe.
Over the gown, Kate wore her ceremonial robes. They signify her position as a Dame Grand Cross of the Royal Victorian Order. The ensemble comprises a mantle of blue and red satin that bears a representation of the order's star on the left-hand side. Also note the order's insignia—the Royal Victorian Order's livery collar and the cross medallion hanging from the chain.
In terms of jewellery, Kate wore Princess Diana's diamond and pearl earrings. The iconic earrings were a favourite of the late princess, who wore them on a number of occasions throughout the 90s.
Middleton Maven thinks Kate wore a new pair of Gianvito Rossi 105 pumps in white silk satin under her grown. I suspect she's correct, but I cannot confirm this right now — I need to check out more photos.
If Middleton Maven is correct, this will be Kate's 11th pair of Gianvito 105 pumps, as far as we know! She's clearly a fan, and the shoe is her go-to.
Princess Charlotte looks completely adorable in an Alexander McQueen dress and matching cape. Her hairband is similar to her mother's and is also Jess Collett creation. I have a full write-up of Charlotte's ensemble on this page.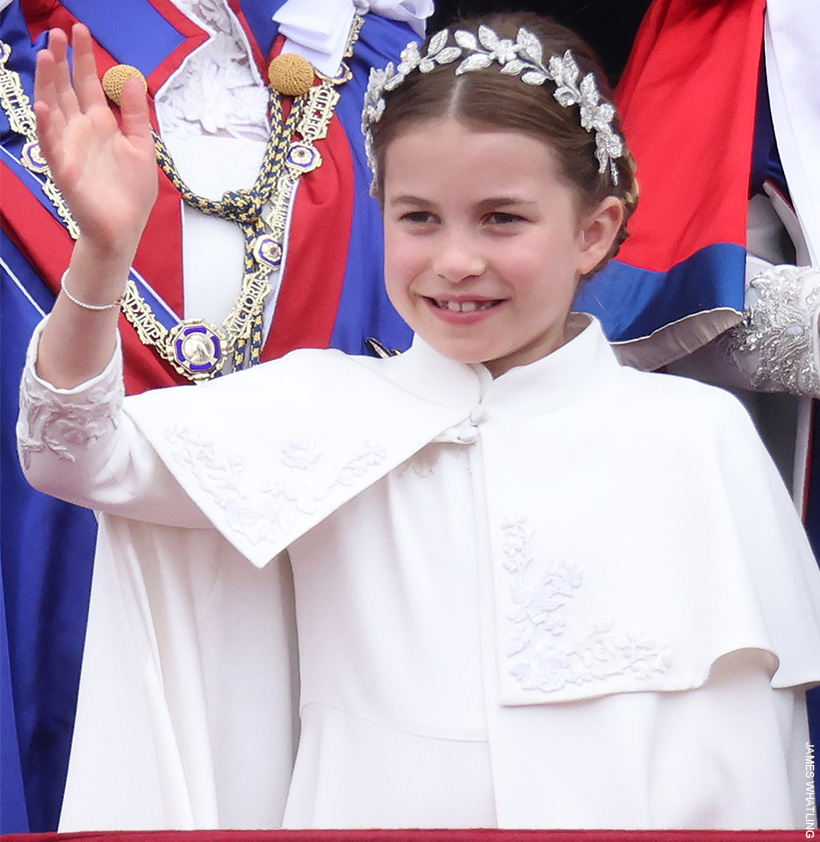 The Wales family, Edinburghs and Princess Anne on the balcony of Buckingham Palace during the flyover: