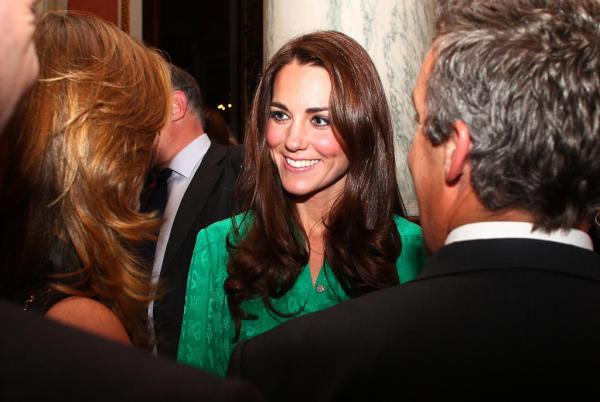 On the 28th of November 2011, The Queen hosted a reception for 350 members of the media at Buckingham Palace.  Attendees included famous faces Fearne Cotton and Philip Schofield.  Of course, William and Kate attended the event too.
The reception was in aid of the Queen's Diamond Jubilee celebrations (2012).  It was the first event of its kind for ten years (the previous being for the Golden Jubilee in 2002).
Although cameras and mobile phones were banned in the palace, journalists were able to tweet and text from a dedicated "Tweet Suite."
Kate's outfit:
Kate wore a green pleated dress from British fashion company Mulberry to the reception.  The cabbage coloured "Peace and Love" shirt dress featured a jacquard motif print on the fabric.
The dress has long sleeves, is pleated all over, has a Peter Pan-style collar and comes with a co-ordinating gold belt.  It originally retailed for £1,400 ($2,216).  It is long sold out, as it's from Mulberry's 2011 collection.
Kate wore the dress with her gold bracelet with the monogram symbol on a charm.  It's a mystery piece thought to have been a gift from the Duchess of Cornwall.
Shop green shirt dresses:
During the reception, Catherine confessed to Grazia's editor-in-chief that she had only just realised Mulberry made clothes as well as accessories.
It is not known which shoes the Duchess wore to this reception.