This morning, Kensington Palace shared the Cambridge family's 2017 Christmas card.  It features the William, Kate, George and Charlotte.  The four Royals are wearing coordinating blue outfits.
The Duke and Duchess of Cambridge are pleased to share a new photograph of their family. The image features on Their Royal Highnesses' Christmas card this year. The photograph was taken earlier this year by @ChrisJack_Getty at Kensington Palace. pic.twitter.com/p8jm6zDfl0

— The Duke and Duchess of Cambridge (@KensingtonRoyal) December 18, 2017
A little background information about the photo from People magazine –
The image was snapped by Chris Jackson, royal photographer for Getty Images, who also took Prince George's fourth birthday photograph this summer. The Christmas card photo was likely taken on the same day as Prince George's birthday picture, as he's wearing the same outfit.

"Delighted that the Duke and Duchess of Cambridge have chosen to use this family portrait I shot as their Christmas Card this year," Jackson wrote alongside the photo on Instagram. "Merry Christmas!
Kate's wearing the Catherine Walker & Co. skirt suit she first debuted during a visit to the Netherlands in 2016.  It was a bespoke design made in a fabric described by the designer as 'celestial blue'.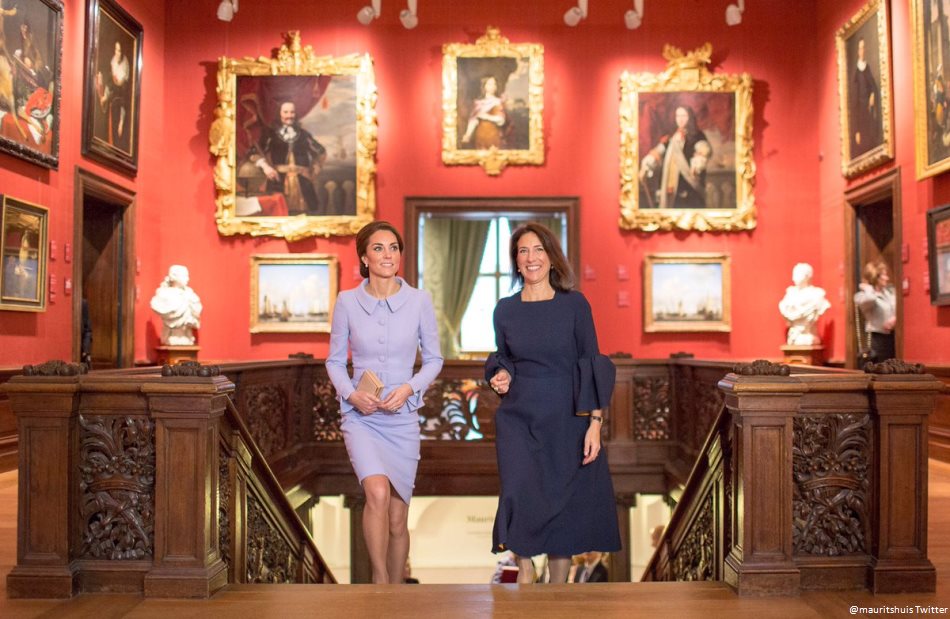 Here's how I described the skirt suit back in 2016 –
Kate's jacket features an oversized collar, a large belt made from matching fabric, chunky fabric-covered buttons, full-length sleeves with a notch cut out at the wrists and a peplum waist.  She wore the jacket with a matching knee-length skirt.
It appears that she's wearing her nude coloured Gianvito Rossi pumps too.  (Pictured below on another occasion).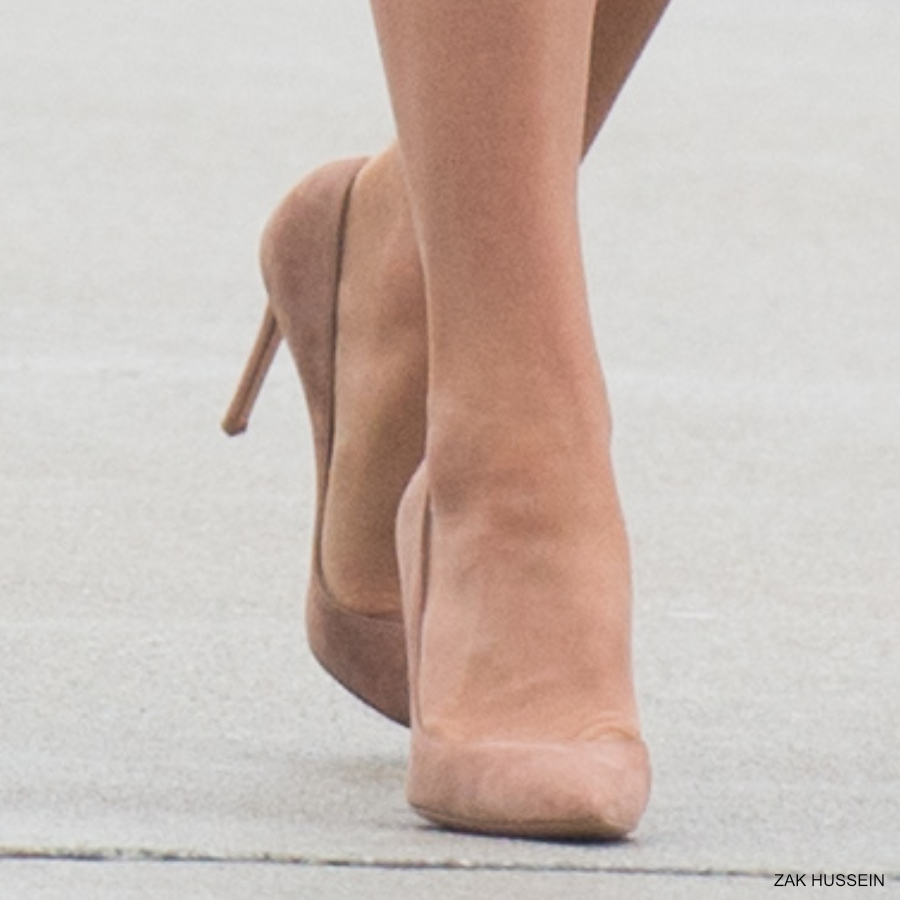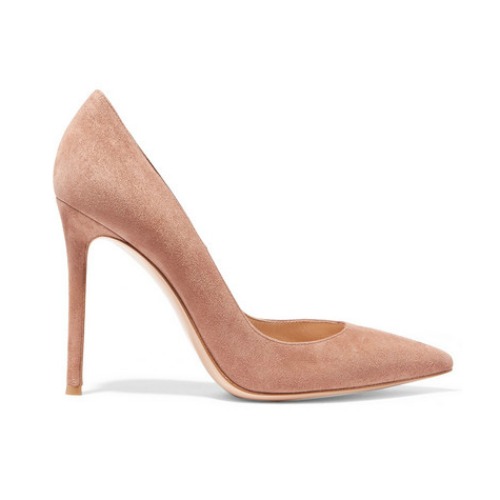 The hand-finished shoes are made in Italy from suede leather and feature an elegant pointed toe and a slim heel.
Gianvito Rossi's signature pumps come in a range of heel heights, including 105mm, 100mm and 85mm.  Kate owns at least five pairs of the pumps in varying colours.  She owns the nude pair in two different heel heights.  It's difficult to tell which size she's wearing in the photo above, though she wears the 105 heel most regularly.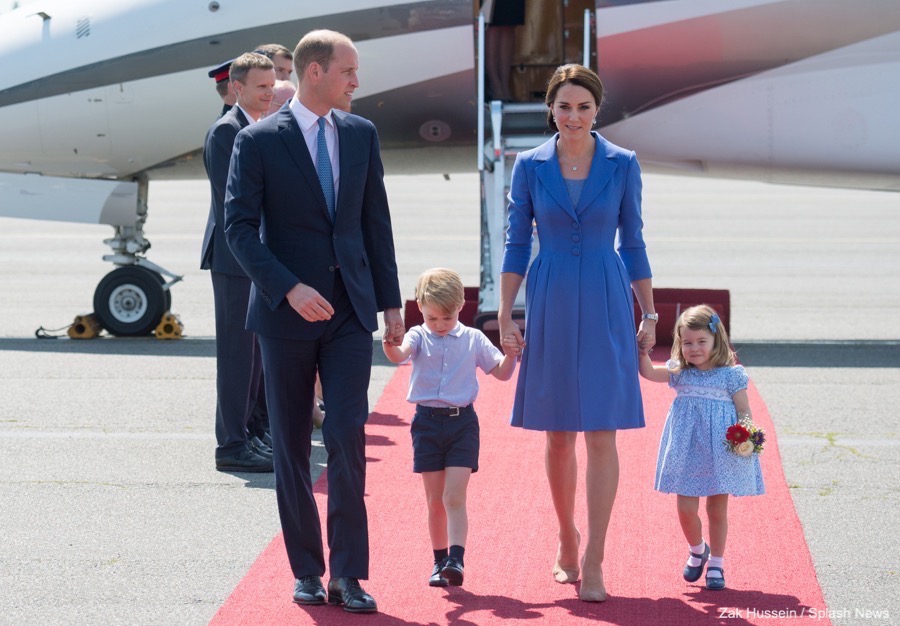 With the Christmas card, Kensington Palace announced that Princess Charlotte will be attending nursery from January 2018.
Their Royal Highnesses have also announced this morning that Princess Charlotte will attend the Willcocks Nursery School in London from January 2018.
The Willcocks Nursery School has said: "We are delighted that The Duke and Duchess of Cambridge have chosen the Willcocks Nursery School for Princess Charlotte. We look forward to welcoming Charlotte to our nursery in January."
More about the nursery hfrom People Magazine:
The two-year-old will be attending Willcocks Nursery School starting in January 2018. The school, which is based in a church hall, is next door to London's Royal Albert Hall, and very close to the family's Kensington Palace home.

A royal source tells PEOPLE, "They chose that nursery because they thought it would be an ideal first step for Charlotte's education and they were impressed by the team who work there."

Tuition at Willcocks runs at £3,050 — or $4073 — per term, with three terms per year. The total annual tuition is £9,150, or around $12,000.  The school says it "strives to maintain its ethos for high standards, excellence and good manners" on their website.