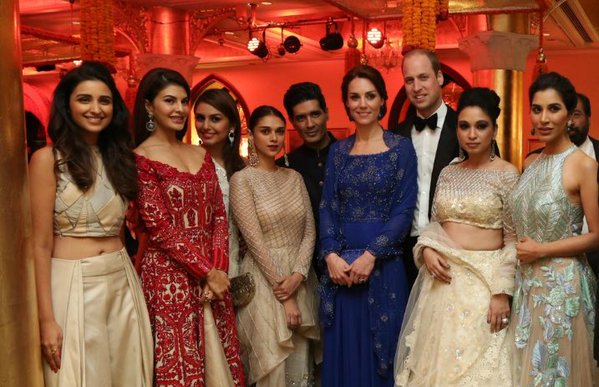 This evening, William and Kate rubbed shoulders with Bollywood royalty at a glittering reception and dinner, held to celebrate Mumbai's film and creative industries.
The Taj Palace Hotel and hosted the reception in their Crystal dining room, where William and Kate later tucked into a "Maharaja's thali supper".  Yum!
The British High Commission and the British Asian Trust organised the evening event, hand-selecting tonight's guest list.  In lieu of buying a ticket (as is usual for these kinds of events), each guest was encouraged to donate local charities via the British Asian Trust.  It's hoped the gala dinner will raise tens of thousands of pounds for charity.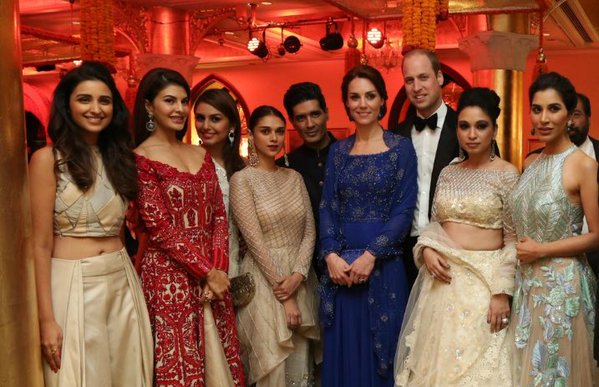 It's also worth adding that Prince Charles spearheaded the British Asian Trust back in 2007.  After having the initial idea, he encouraged 20 British Asian business leaders to form the group.  While Prince Charles founded the group, it is run by the community.  The charity helps disadvantaged people in Bangladesh, India, Pakistan, Sri Lanka and the UK.
https://www.youtube.com/watch?v=KecMjQc7-Qk
At tonight's gala dinner, William and Kate met with a whole host of famous Bollywood stars, sports personalities and business figures.  In total, over 200 of India's biggest stars attended the gala including Shah Rukh Khan (SRK) who's stared in over 80 films; former Miss World Aishwarya Rai, now a leading lady in Bollywood and one of the highest paid actresses in India and former Sri Lankan TV news reporter Jacqueline Fernandez.  Fernandez won Miss Universe Sri Lanka before going on to star in one of India's highest grossing films of all time, "Kick".
After eating, the guests were entertained by Bollywood dancing, which featured plenty of eye-catching outfits:
TRH were treated to an amazing Bollywood dance performance at the Gala #RoyalVisitIndia pic.twitter.com/1VX1LMCZyV

— The Duke and Duchess of Cambridge (@KensingtonRoyal) April 10, 2016
Towards the end of the evening, William delivered a speech.  He revealed that Kate has wanted to visit the country for a long time:
HRH said: "When Catherine and I were married, India was the first place on Catherine's list that she told me that she wanted to visit."

— The Duke and Duchess of Cambridge (@KensingtonRoyal) April 10, 2016
Kate's outfit:
Kate looked absolutely stunning, dressed head-to-toe in Jenny Packham.  The British designer created the dress and long sleeved cape for Kate here in the UK, but Indian artisans completed the intricate beadwork ahead of the tour.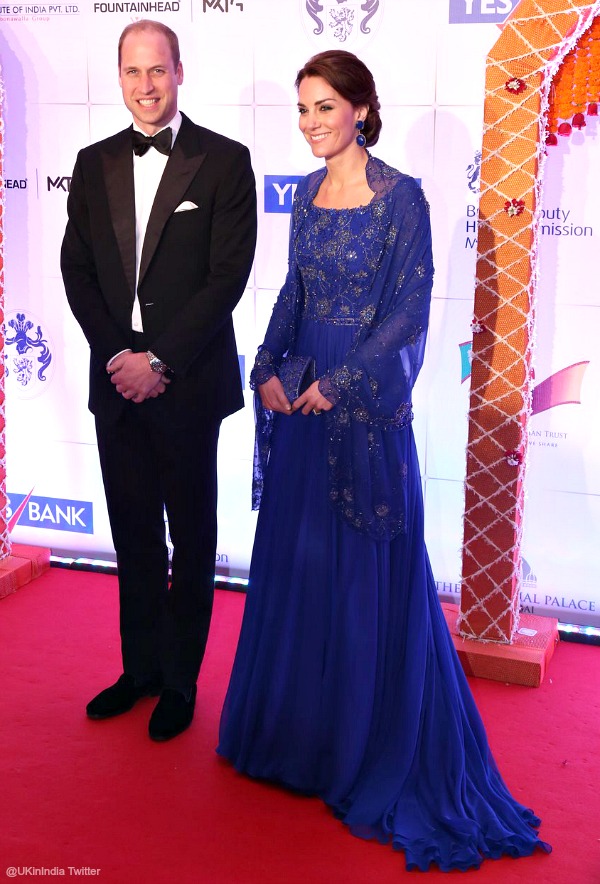 I do not have any specific details about the dress yet – but I'll update when they're known.  I will share the following tidbit though –
It looks the the @jennypackham dress is inspired from the Anarkali style of dress. #RoyalVisitIndia #williamandkate #Bollywood

— Jesal Parshotam (@therealjesal) April 10, 2016
Kate carried a coordinating clutch bag to the gala dinner, likely to be a matching piece created by Jenny Packham.  She created a custom bag for Kate before, to match with the beautiful teal Aspen dress back in 2012.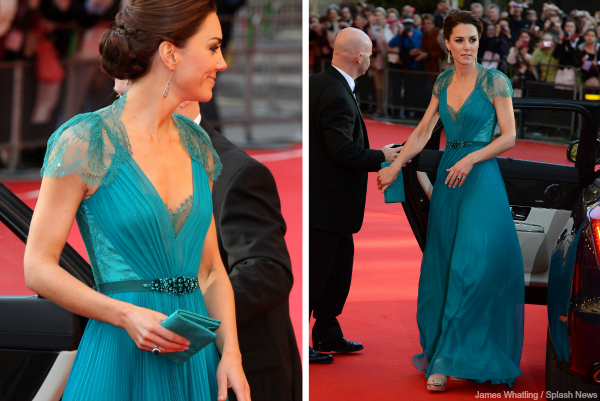 Luckily, Kate wore her hair up this evening, which helped showcase her coordinating earrings by Indian jeweller Amrapali.  We've not managed to find the exact pair online, but these are pretty close:


Kate debuted a new pair of sandals this evening too.  They have a rather unique feature:  wavy straps!  It's thought that they're by Prada though the jury is out on whether she's wearing the designer label's D'Orsay sandal in black suede or this similar style in navy blue suede.