[box title="PLEASE NOTE" color="#333333"]This post is now over a year old. Reiss no longer offer this dress & the discount codes will no longer work[/box]
I have some exciting, semi-exclusive news for you!
My contact at REISS has just emailed me to explain they have re-released the SHOLA dress for the Autumn Winter season in red and blue, in a new style called the "LOLA".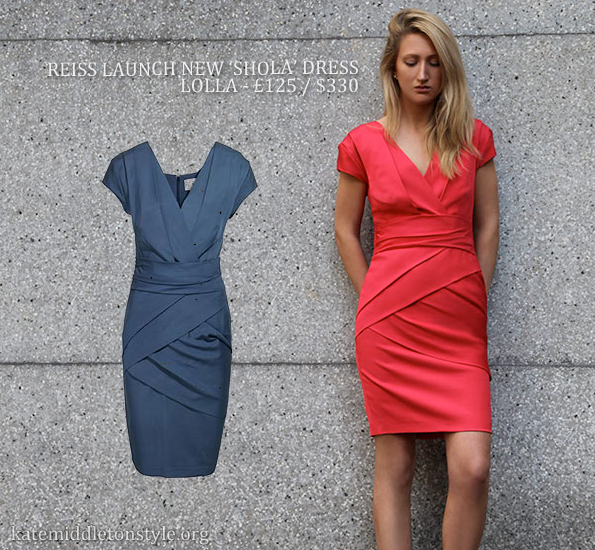 As you'll be aware, Kate wore the now iconic Shola dress in a nude/beige colour to meet the Obamas.  It instantly sold out and has been re-released several times since, selling out instantly.
The blue version of it is available online and Reiss are launching the red version tomorrow.
Links to the blue dress:
UK: http://bit.ly/qlEUM2
US: http://bit.ly/qBvOLp
UPDATED:  *DISCOUNT CODE* For twelve hours only 12p – 12a EST on Friday September 9th, save 10% on any order at Reissonline.com/us! Use the code "FNO10".
Here's the new Lola dress next to the iconic Shola dress, for comparison:
The Lola neckline is slightly updated but the skirt features the same shape and panelling.  The red and blue colours and great for Autumn and I know loads of girls will be pleased, especially those who didn't manage to snag a blue Shola dress in the first place, as well as those who felt the nude wouldn't match their skin tone (me included!)