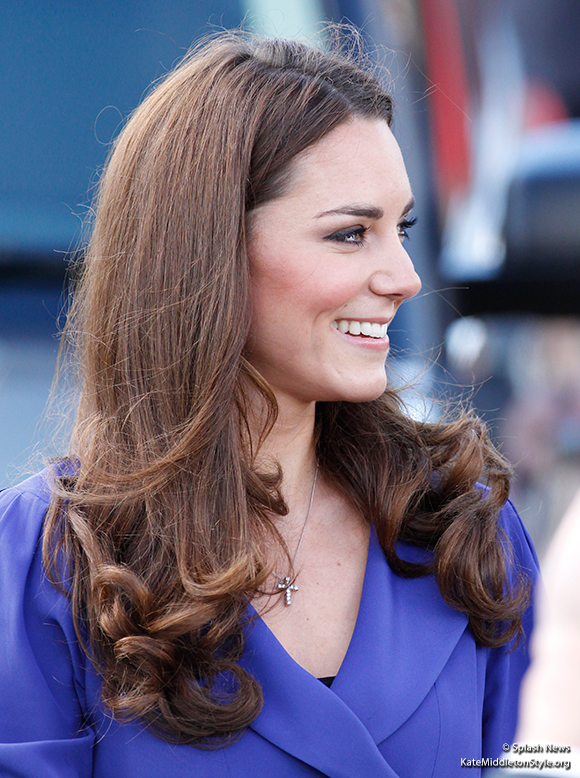 On the 19th of March 2012, The Duchess of Cambridge (Kate Middleton) formally opened The Treehouse hospice in Ipswich, where she toured the facilities and met children and families who receive support and care from the charity.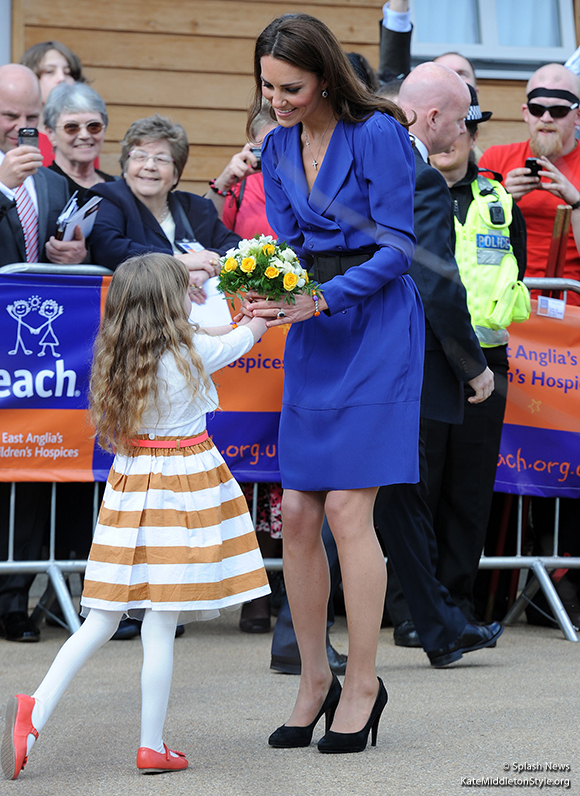 After the tour, Kate made her first public address and then planted a tree in the grounds of The Treehouse hospice to commemorate the occasion.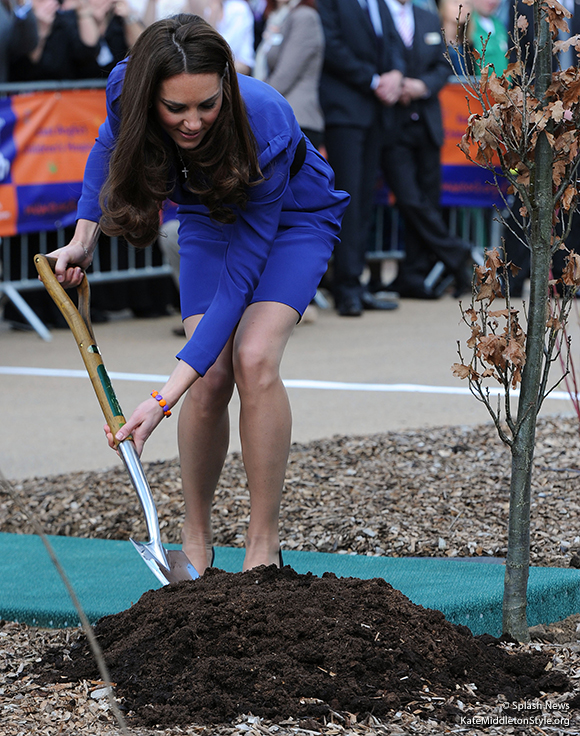 Prior to the event, Kate also penned a foreword for a brochure produced by the charity:
"It is a tremendous privilege to be Royal Patron of East Anglia's Children's Hospices, and I feel truly honoured to be involved with this organisation. EACH is a world leader in the way it cares for children with life-threatening conditions and their families, and is at the very forefront of children's palliative care.

"I have been deeply moved by the work of EACH's dedicated staff – and by the environment of support for families. For me, EACH provides services which demand an unerring and passionate level of understanding, knowledge and sensitivity. I am extraordinarily grateful for the opportunity to be Royal Patron and I strongly encourage you to continue to support EACH's invaluable work."
Kate is a Royal Patron of the EACH (East Anglia's Children Hospices) charity, which built The Treehouse after raising over £3 million in less than 12 months after launching 'The Treehouse Appeal'.
The charity supports families and cares for children with life-threatening conditions across Cambridgeshire, Essex, Norfolk and Suffolk.
Kate's first public speech:
Kate gave her first public speech today, which she had written herself over the past few weeks.  Paul Harrison of Sky News speculated that Kate would have shown the speech to her advisors, and perhaps the charity itself before today.  She read the speech very carefully and very slowly.   Understandably, she sounded a little nervous during the address.
We're also informed that Kate has spent hours with the charity before announcing herself as an official patron back in January.  She has had a good look around the building and spent time getting to know the children.  Her speech reflected this, and it paid tribute to the work of EACH – she described the charity as a "family".  Here are some quotes from the speech:
I am only sorry that William can't be here today, he would love it here.  A view of his that I share – is that through teamwork, so much can be achieved. What you have all achieved here is extraordinary.  I had a pre-conceived idea about what to expect. Far from being a clinical, depressing place for sick children, it was a home.

I have seen again that the Treehouse is all about family and fun. For many, this is a home from home.
Kate's outfit:
Kate wore an electric blue dress with a black cinching belt from Reiss: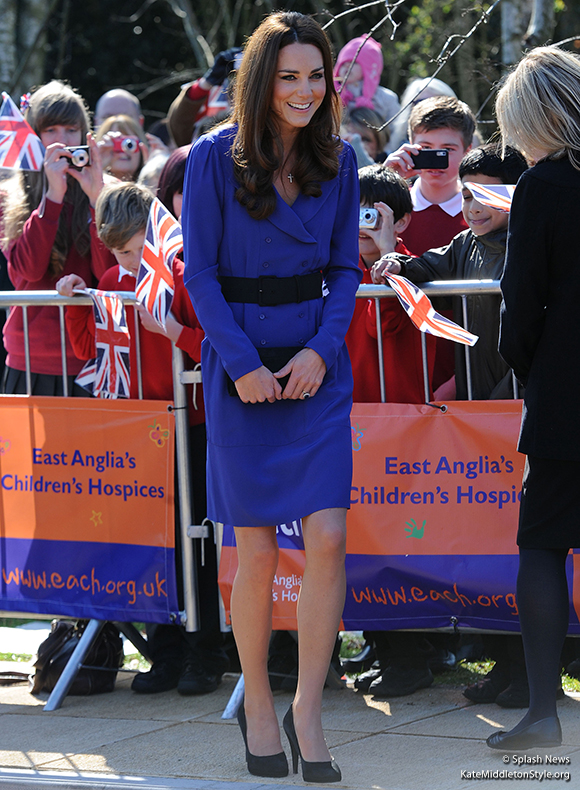 This blog post dates Kate's Reiss dress back to at least 2008.
Interestingly, the same dress was worn by Kate's mum Carole to the Ascot races in 2010.  Journalists spoke to royal aides during the EACH event, who confirmed that Kate is wearing her own dress.  However, they didn't confirm if Carole borrowed it, or whether Kate owns the same garment:


Kate accessorised her blue Reiss dress with her black suede Episode Angel shoes.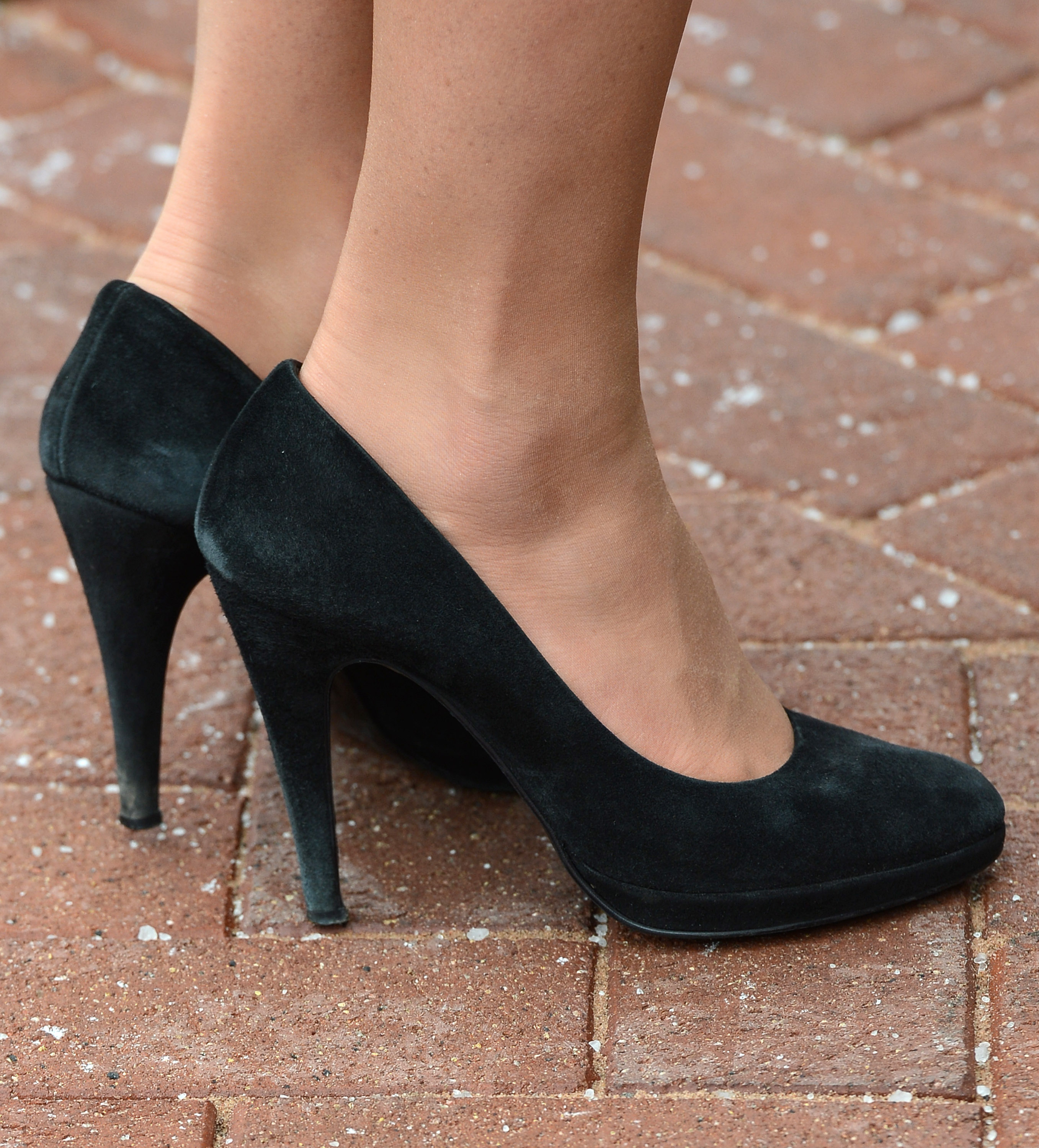 She is carrying her Stuart Wiseman clutch bag in black suede too.  (Pictured below in black suede and gold).

Kate wore a silver cross necklace (ID unknown).  Her earrings are made from blue sapphire and they appear to match her engagement ring.
Here you can see the earrings in more detail, and find out more information about them.
Kate's also wearing a very special bracelet today:
Kate's orange & purple EACH bracelet: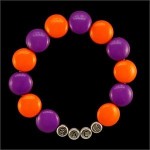 You may notice that Kate is wearing an orange and purple bracelet today.  The bracelet was designed exclusively for EACH by Imogen Sheeran (who, incidentally, is mum to the famous UK pop star Ed Sheeran!)
The bracelet only costs £7 and is a lovely way to make a contribution to the charity.  Click here to buy (and they ship out of the UK too!)