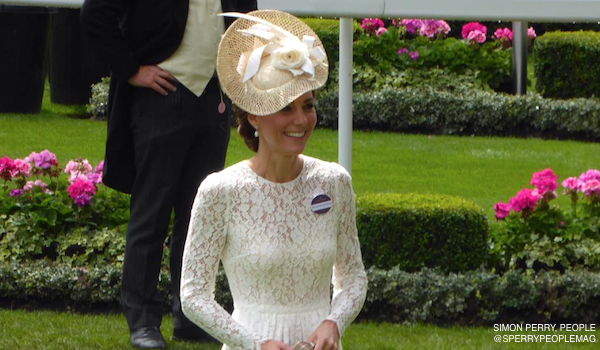 This afternoon, Kate made her long-awaited debut at Royal Ascot: She attended with husband William.  The palace kept their attendance quiet right until the last minute. Royal Correspondent Emily Andrews announced the surprise yesterday evening via Twitter.  Royal fans predicted the couple would make an appearance to mark the Queen's 90th birthday. The Queen is an avid Royal Ascot supporter and attends the races every year. It's said to be her favourite week in the … Read this post »
ADVERTISEMENT
Steal Kate Middleton's style: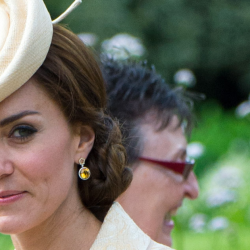 After visiting the U.S. Embassy this morning, William and Kate flew over to Belfast for a Garden Party hosted by the Secretary of State, Theresa Villers. The Garden Party took place at Hillsborough Castle, which is the Queen's official residence in the Northern Irish capital city.  Shortly after their arrival, William and Kate planted a tree to mark the start of the Garden Party. The … Read more »
Latest "RepliKates"
Copy Kate Middleton's style for less! Here are the latest "repliKates" we've found.
LEARN ABOUT the exact nude pumps worn by Kate (L.K. Bennett Sledge) Click here. Otherwise, keep on reading for cheaper alternatives! With spring and summer on the horizon, our diaries are set to fill with occasions to attend. There'll be weddings, christenings, graduation ceremonies and more. A pair of nude heels like Kate's will be versatile, you'll be able to wear them at a number of events. Specifically, Kate wears the L.K. … Read more »
Do you love Kate Middleton's blue suede Corkswoon wedges, by Stuart Weitzman?  We're guessing Kate loves them because she wears them so often!  Here's a photo of Kate wearing the wedges to the Commonwealth Games back in 2014 - An affordable copy: If you love to dress like a princess but don't have the budget, you are going to love these blue wedges!  They're a wonderful, affordable copy of the Corkswoons, see below for prices and … Read more »
ADVERTORIAL* In 2012, the Duchess of Cambridge wore a stunning pink dress by Emilia Wickstead twice within the same month. First, she wore it to The Queen's Sovereigns' luncheon at Windsor Castle. Two weeks later, the Duchess donned the dress again - this time for her first Garden Party at Buckingham Palace. You can view pictures of Kate in the dress here (external link). Kate's dress featured a knee-length skirt and box neckline.   The dress … Read more »