I'm sure all wives with husbands working overseas on the most romantic day of the year sympathised with Kate yesterday.  Although it was the royal couple's first Valentine's Day as man and wife, Prince William could not share the special day with Kate, as he is currently out on deployment in the Falkland Islands.
However, Kate did not let this bother her.  Instead, in what I would assume was a conscious and purposeful decision, she spent the day bringing cheer to the hearts of many people in Liverpool, northwest England.  She spent a jam-packed day carrying out different visits across the city, with  the Prince of Wales website describing this as her first "regional solo day".
The day kicked off at around 11.30am as Kate visited The Brink, an alcohol-free bar run by  Action on Addiction, a charity that helps addicts recover from drink and drug dependency.  You may remember that Kate became a patron of the charity back in January.  At the alcohol-free bar, Kate sampled the charity's new creamy almond cocktail, which was named "The Duchess" in her honour.  After trying the drink she gave the creator, Paula Carey, a nod of approval before saying, "Amazing, well done."  In a video from The Telegraph, you can also hear Kate asking which their most popular cocktail smoothie is, before Miss Carey replies, "you mean, before this one?"  Kate giggles and Miss Carey says: "this is the best seller!"
Kate tries "The Duchess" smoothie at "The Brink", via The Telegraph Newspaper. 
During the afternoon, Kate visited Alder Hey Children's Hospital.  Outside, she spoke to families and patients of the hospital, including a seven-year-old girl who was been a patient at the hospital since she was just nine days old.
Inside Alder Hey, Kate met patients and staff from the Burns and Oncology Units.   After touring the hospital's facilities, Kate took a look at designs for Alder Hey's new hospital, which is to be unveiled next month to the public.
Kate also visited the Ronald McDonald House at Alder Hey, where she spent more time with patients and their families, staff and volunteers.  She unveiled a plaque to officially open new family apartments in the hospital.   Families of sick patients can stay in the apartments for as long as they need, which provides private space and a sense of normality for families who would otherwise need to spend hours travelling across the country to visit the hospital.
Kate unveils plaque at the Ronald McDonald House at Alder Hey, via The Telegraph Newspaper. 
William's Valentine's gift to Kate:
Kate received plenty of gifts and cards from admirers yesterday, including several bunches of flowers and handmade cards.  A young boy named Jaqson gave Kate a gorgeous bunch of red roses and a specially made cupcake with a personalised decoration that read "Jaqson loves Kate". However, we're betting it was one bunch of flowers in particular that brought a big smile to Kate's face: the AFP published a wire story yesterday afternoon with a quote from a 12-year-old girl called Megan and her mother Diane, users of the Alder Hey hospital:
"She told us she had received a Valentine's card and flowers from William this morning."
Awww!
Kate's dog's name:
Megan and Jaqson weren't the only lucky children to speak to Kate yesterday.  Elliot, a young patient of the Alder Hey hospital, spoke to Kate about her new dog, a small black cocker spaniel.  Kate confided the closely guarded name of her new puppy to Elliot, who was sworn to secrecy! Lucky boy!
Kate's outfit: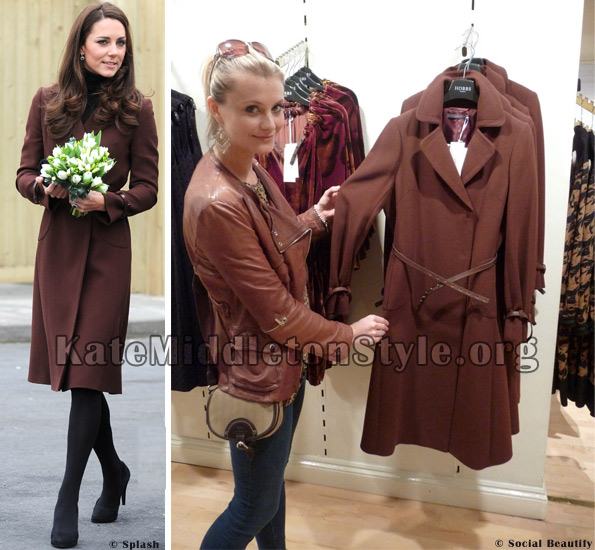 Kate looked amazing in a belted coat from Hobbs.  It was the "Unlimited Celeste" coat in chestnut brown, which is made from 100% wool.  We first heard about the coat back in September, when author of the blog "Social Beautify" (above) visited Hobbs and found out that Kate purchased the coat for full price (£369) in their Sloane Square store.  Most Kate fans spotted it was the same coat within minutes of the Duchess' appearance, I quickly loaded up the coat on the Hobbs' website and most sizes were sold out (though probably due to the coat being on sale, as this was before the newspapers published the information released by Clarence House.)  Only sizes 14 and 16 were left in stock at that time, though these did quickly sell out.  Hobbs say on their page that they'll release more stock later this week, and one What Kate Wore reader informs us that Hobbs have many sizes still in stock in their stores.
It's also worth noting that Kate appeared to alter the belts on her coats, both around the middle and on the sleeves.  My photos aren't the best to illustrate this point, but you can see that the original belts have press studs and Kate's coat has buckles – the Hobbs coat does not have a buckle.  It appears Kate has purchased three new belts, or has had them sourced and made specially to give her coat a unique look: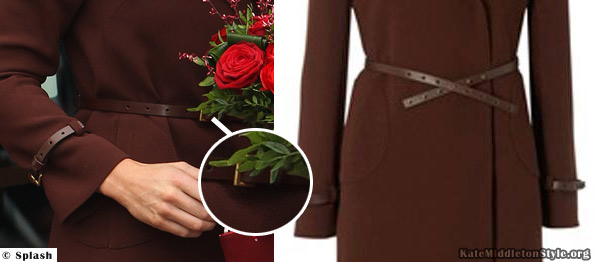 If you take a look on Zimbio's site, you can see other images which highlight the different belts more clearly. We're thinking that Kate replaced the cheap polyurethane belts with a higher quality, longer lasting leather.
It's worth noting that in addition to the Celeste coat, Hobbs also stock a dress that's very similar to the coat (great for Spring maybe?) and a few other goodies in the same "Celeste" line:
Hobbs Celeste
Kate Middleton's Coat and other items from the same range.
Under the coat, Kate wore a long black polo neck dress which was from high street favourite Oasis (certainly one of my favourite shops!) Thanks to journalist @QueenVicMirror who shared this information with us on Twitter, after it was confirmed by Clarence House's PR team.
Kate wore the dress over a pair of opaque black tights.
Oasis confirmed the dresswas at least 3 years old, which means you won't be able to buy it in stores.
20% off Fashion at Debenhams, including Oasis dresses:
This discount code will entitle you to 20% fashion at Debenhams.com, including Oasis dresses.  Use discount code DY49 at the checkout.
20% off fashion online at Debenhams.com.  Valid 1st − 3rd March 2012.  Cannot be used in conjunction with any other discount and can only be used once.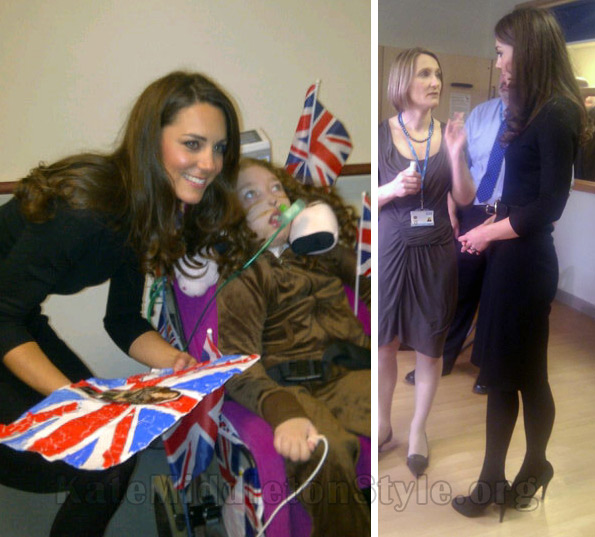 Left: Hannah Forster meets the Duchess at Alder Hey, via @Niknaknooxx on Twitter;
Right: Kate talks to staff in the hospital, via @QueenVicMirror on Twitter.
As for Kate's shoes, the jury is currently out! We're not sure who they're by.
Jewellery fans probably noticed Kate wore the same earrings from Christmas Day, which appear to be by Kiki Mcdonough, and were speculated to be a gift from either Prince William or Kate's family.
Future engagements:
Kate has a number of engagements coming up, so mark these dates in your diary:
Tuesday 21st February 2012: Kate will visit The Art Room's classroom at Rose Hill Primary School, Oxford.  Kate will also be visiting The Art Room's classroom at Oxford Spires Academy School, also in Oxford.
March 1st 2012: Kate will visit Fortnum and Mason's Picadilly store and attend tea in the restaurant with the Queen and Camilla, the Duchess of Cornwall.
March 8th 2012:  Kate will join the Queen and Prince Phillip for a visit to Leicester.  This forms one of a series of Diamond Jubilee visits around the UK.
Our favourite Petite Princess helps Kate's charities:
A Petite Princess owner, Trisha Watts, has set up a fundraising page to help one of Kate's charities "EACH".  She told the Cambridge News:
"I decided to get involved with supporting Each on
www.APetitePrincess.com after spending months reporting on the fashion choices and activities of the duchess, and still feeling like I wanted to do more, knowing that I wanted the site to make a difference.
"When the duchess announced her patronages, Each seemed like a good fit for my personal interests and also a good fit for my most active readers based on their reactions.
"My readers and I know how many smiles the duchess has brought us and we want to put smiles on the faces of young children as they are going through this challenging time in their lives any way that we can."
We wish Trisha lots of good luck with her fundraising endeavor.  If you'd like to donate, visit Trisha's JustGiving page here.
Aaaand finally… For a bit of fun!
If you're a Barbie collector AND a Kate/William fan, you'll be pleased to hear that Mattel are releasing two celebratory dolls to commemorate William and Kate's first wedding anniversary.  They'll be available in April 2012, and they'll cost around $100.  You can now pre-order these dolls on Amazon, just click here
.